Already humming the melody to California Dreaming? Can you feel the sun warming your skin? If it's all too easy to picture your next team getaway in San Diego, then you're in the right place.
Corporate events managers have got it tough when it comes to the city of sun, surf, and 70 miles of coastline. For all of the water sports and seafood joints the city has going for it, finding the right neighborhood or hotel to call home for your retreat can get overwhelming fast. Don't worry; we've done the running about so you can leave your sneakers at home. Grab your flip-flops—we're going to San Diego!
5 Neighborhoods perfect for your next corporate retreat in San Diego
1. Downtown San Diego: the heat and heart of the city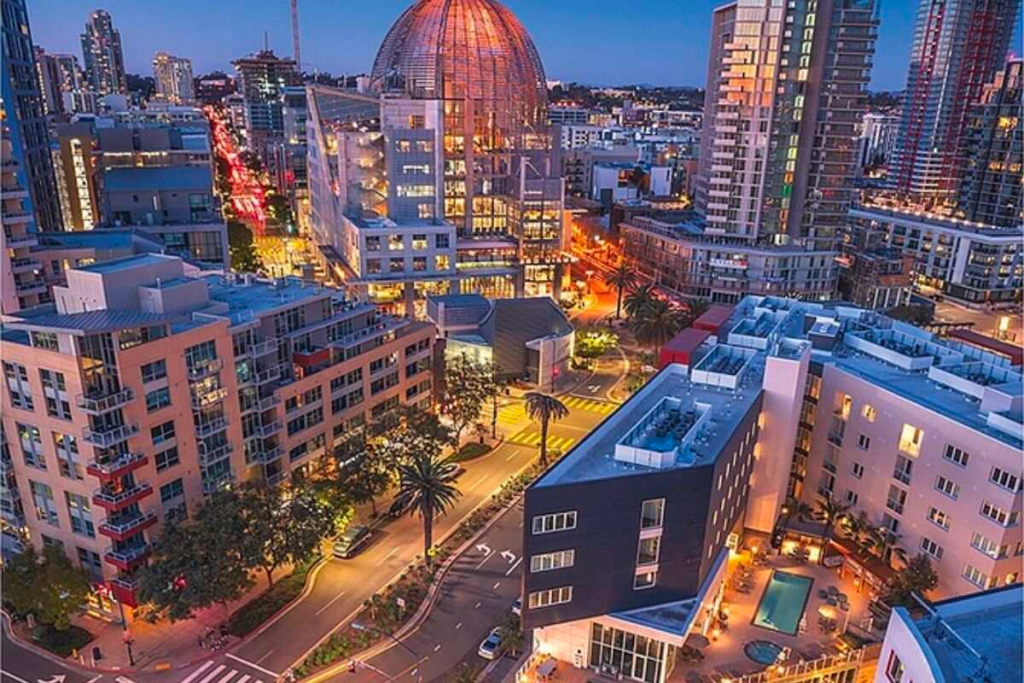 Downtown, the heart of it all. Downtown is flooded with museums, great eateries, the Waterfront Park, and more. You'll be at no shortage of team building event options, and it's guaranteed to make for an action-packed business retreat.
Although Downtown home rentals are notoriously mid — long-term, there are still some great Airbnbs for smaller teams, and you'll find no shortage of hotels in the area. What's more, it's no more than 20 minutes from the San Diego International Airport, and plenty of places to indulge in a boat ride along the waterfront.
Team building activities: take a boat ride, watch a show at one of the many theaters, explore the wine bars and eateries, visit a museum, challenge the team in an escape room.
Best time of year: Spring - Fall
Price meter: $$$$
2. Coronado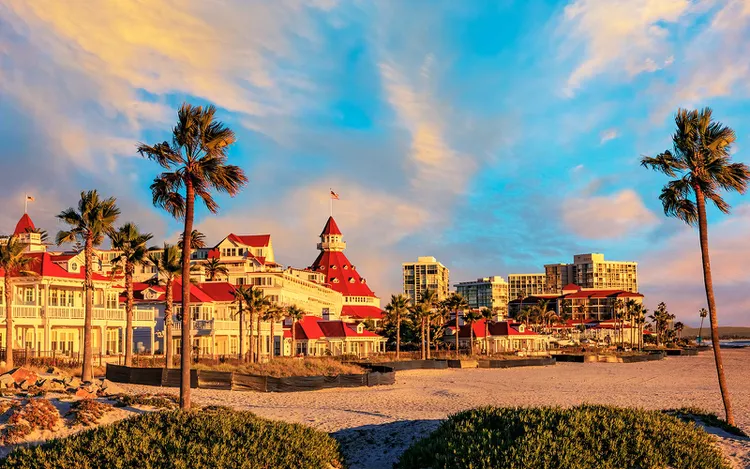 Coronado is a beautiful strip of land hugging San Diego city. It's home to the white sands of Coronado and Breakers Beach, and it's got enough outdoor space to keep everyone happy and on the move. This area is great for large teams or teams that won't shy away from a round of golf (or two!).
Coronado is relatively easy to get to by car or ferry, has a great selection of restaurants—Il Fornaio Coronado being high on the list for many—and the views of the city from Bayview Park are spectacular. This location is perfect for teams looking to disconnect.
Team building activities: cooking classes, beach days, ferry rides, seafood restaurants.
Best time of year: Summer
Price meter: $$$$
Did you know that TravelPerk has a specialist Group Travel and Meetings & Events team?
3. Roseville - Fleet Ridge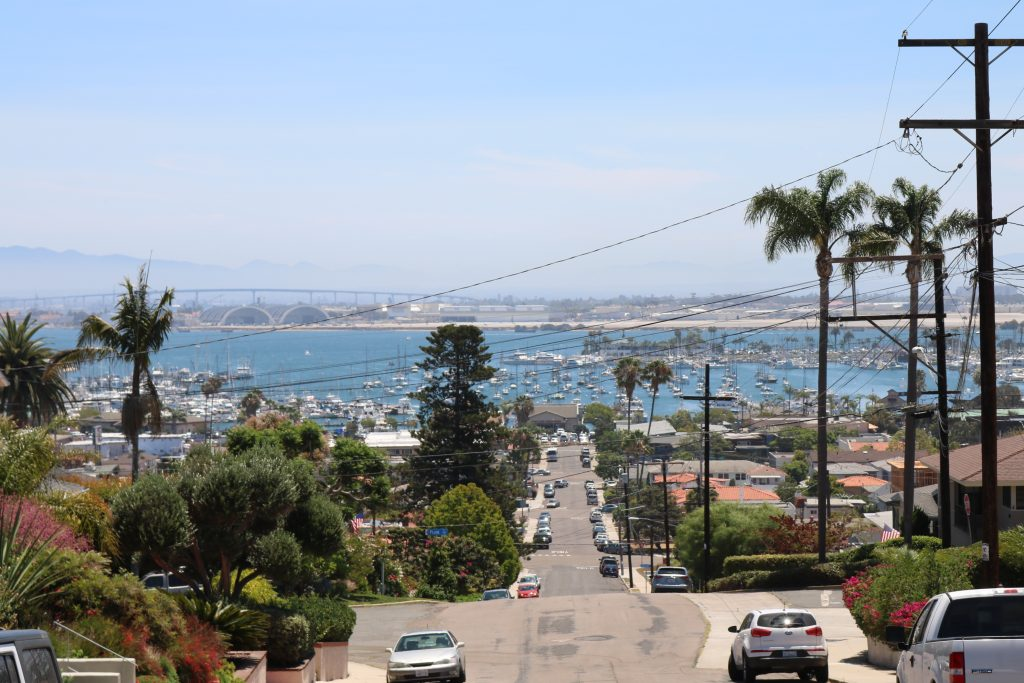 This is a fantastic area no more than a 10-minute drive from the airport. The quieter neighborhood is peppered with low-maintenance hotels and can be a good option for staff retreats on a tighter budget. Plan your trip right, and you can catch a show at Humphrey's Concerts by the Bay; if not, your team will never tire of walking the harbor.
The area is walkable, quiet, and a great location for teams looking to get their heads down and dive into some deep work on your staff retreat.
Team building activities: see a concert on the harbor front, walk down to Shelter Island Pier, grab a bite at Jimmy's Famous American Tavern.
Best time of year: Summer - Winter
Price meter: $$
4. Ocean Beach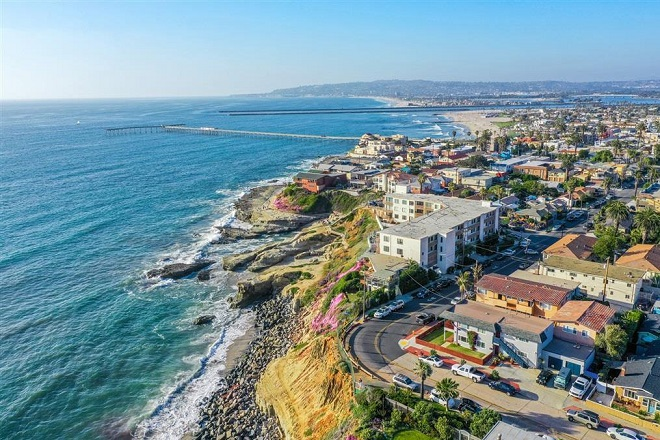 Now this has got to be one of the best retreat locations for companies wholeheartedly focussing on employee wellness and wanting them to disconnect. Picture yourselves surfing in the mornings, entertaining long lunches around picnic tables, and kayaking your way into the late afternoons. Ocean Beach is a must for outdoorsy teams.
The neighborhood has the perfect blend of locals and visitors alike; some say it's where California began. This beach town attracts surfers, skaters, and those corporate retreats looking to completely unwind from the hustle and bustle of the corporate world.
Team building activities: surfing, paddle boarding, beach volleyball, water skiing, and any other water sport you can think of.
Best time of year: Summer
Price meter: $$$

5. Mission Bay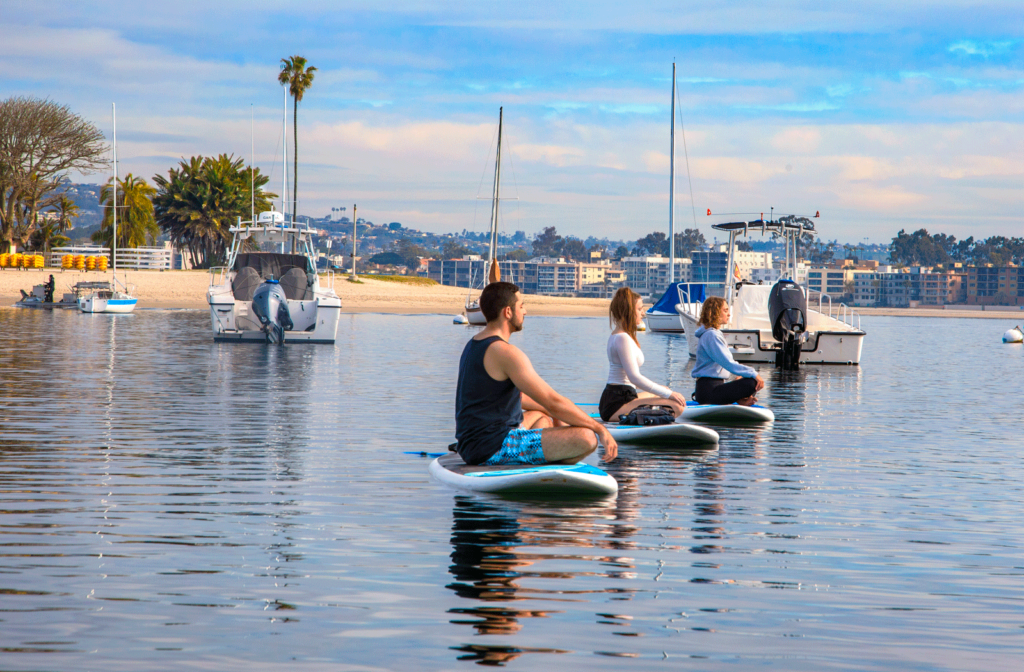 If Balboa Park isn't quite cutting it for you for green space, and you want to get out of the bustling heart of San Diego, then Mission Bay should be worth considering. Dotted with charming wineries, bookended by coworking spaces, and packed restaurants to take you around the world, Mission Bay has a mix that everyone can get stuck into.
The area is reasonably well-connected by bus, but if you don't want to be tied down to timetables, it may be worth looking into renting cars. Here, your team will spend long afternoons in Fiesta Island Park, cruise on sailboats, or share a plate of nachos at Baja Beach Cafe. Definitely one for those looking to get away from it all.
Team building activities: surfing, sailing, wine tours, escape rooms, Sea World, walk the Mission Beach Boardwalk.
Best time of year: Spring - Summer
Price meter: $$$$$


5 Hotels for a team building retreat to remember in San Diego
1. Hotel Republic San Diego, Autograph Collection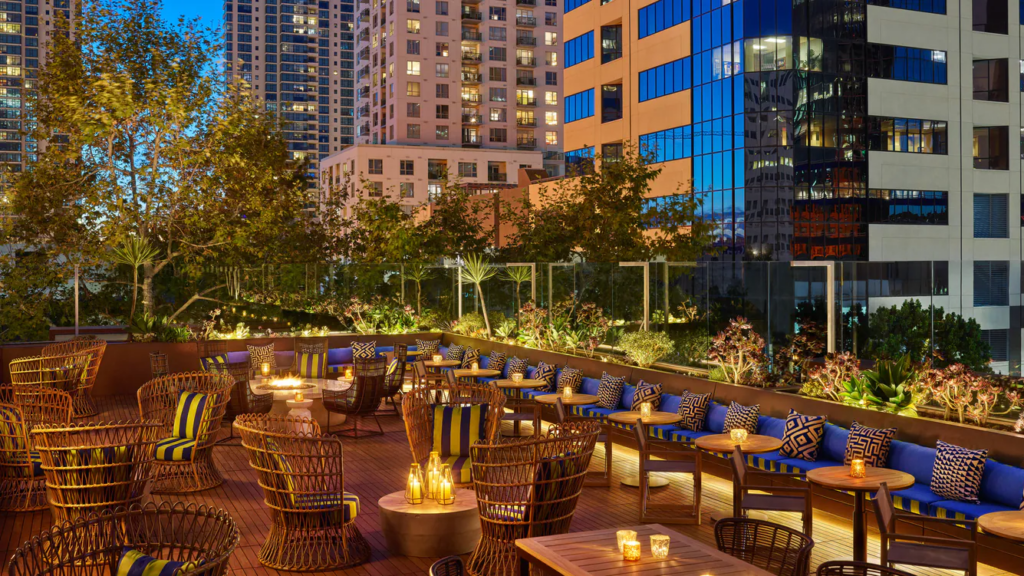 This Gaslamp Quarter Hotel will have you diving into the depths of Downtown in no time at all. The charming hotel has an event space and meeting rooms, a dry cleaning service for the more formal days of your offsite, a fitness center, and a terrace kitchen and bar famous for its Sunday brunch with live music. It's near the Santa Fe Depot bus station, and your nearest subway station is San Diego Trolley.
Team building activities: Harbor Cruise & Sea Lion Adventure, Riverwalk Golf Club, San Diego City Lights Night Tour.
Best time of year: All year around.
Price meter: $$$
2. Moxy San Diego, Gaslamp Quarter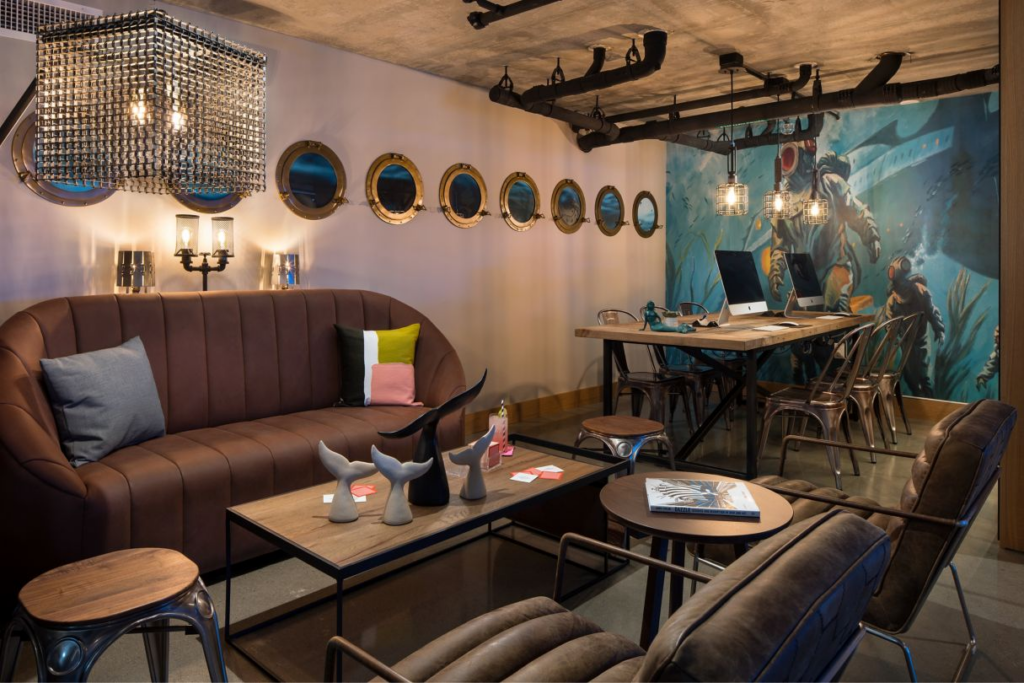 Also in Downtown, the Moxy brings a more underground, young, and artsy vibe to the previous hotel on our list. Located near Petco Park, this hotel provides a full continental breakfast, all the coffee you could need, and takeaway snacks for those days your team needs to sleep in. The Moxy also has a 220-square-foot event venue for special events—guaranteed to win your company's facilitators a lot of praise.
Near Seaport Village and the famous San Diego Zoo, the moody vibes of this hotel (and its meeting rooms) will provide you with a hip retreat in the heart of Downtown.
Team building activities: San Diego Zoo, Whale watching expeditions, Old Town tours, Helicopter tours.
Best time of year: All year around
Price meter: $$$$
3. San Diego Mission Bay Resort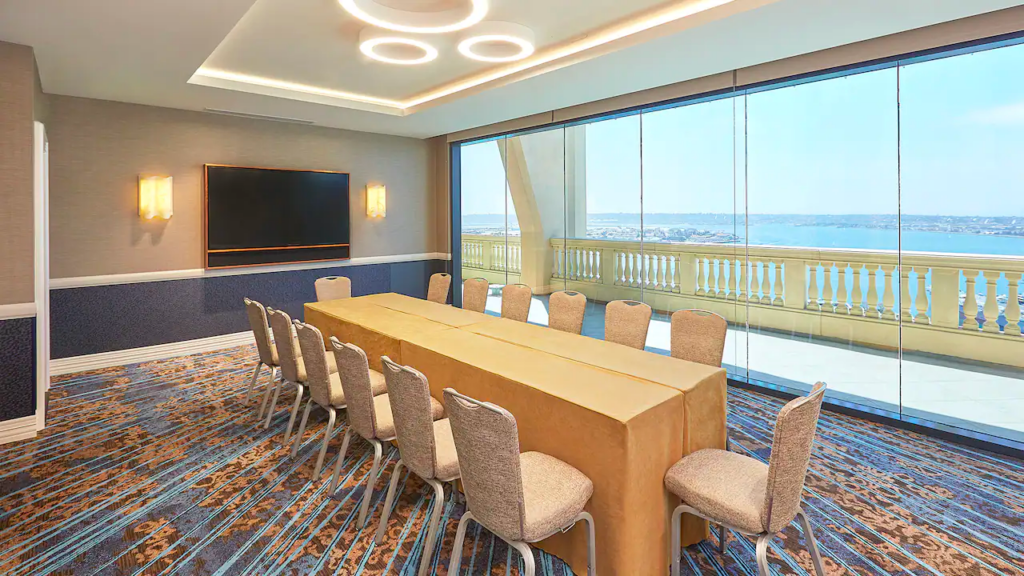 Team meetings on the waterfront, an endless supply of watersports in your free time, and spa treatments to help the team overcome lengthier journeys to get there. The newly renovated San Diego Mission Bay Resort has got a lot on offer. They've also got a ton of unique team building activities on offer, group wellness sessions, indoor meeting rooms, and outdoor meeting spaces to catch some of that San Diego sun while staying productive.
Team building activities: bike and segway tours, beach sports activities, or go all-in with the San Diego Sand Survivor competition.
Best time of year: Summer
Price meter: $$$$
4. Manchester Grand Hyatt San Diego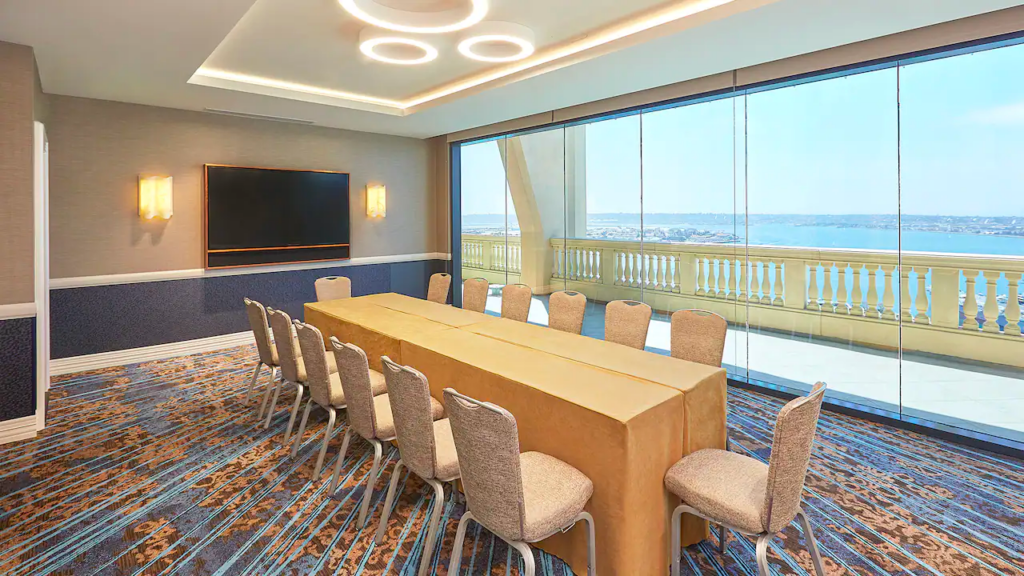 With rolling ocean or city views, the Manchester Grand Hyatt San Diego can be the perfect stomping ground for your company's private event. The hotel has 320,000 square feet of space for you to make the most of, including configurable ballrooms which are said to be some of the largest San Diego has to offer. What's more, their huge selection of on-site restaurants and bars will keep your team happy and bellies full.
Team building activities: bicycle and water rentals, rooftop cinema club, cabana rentals, or catch a live show at the Belly Up Tavern nearby.
Best time of year: Spring - Summer
Price meter: $$$$
5. Fairmont Grand Del Mar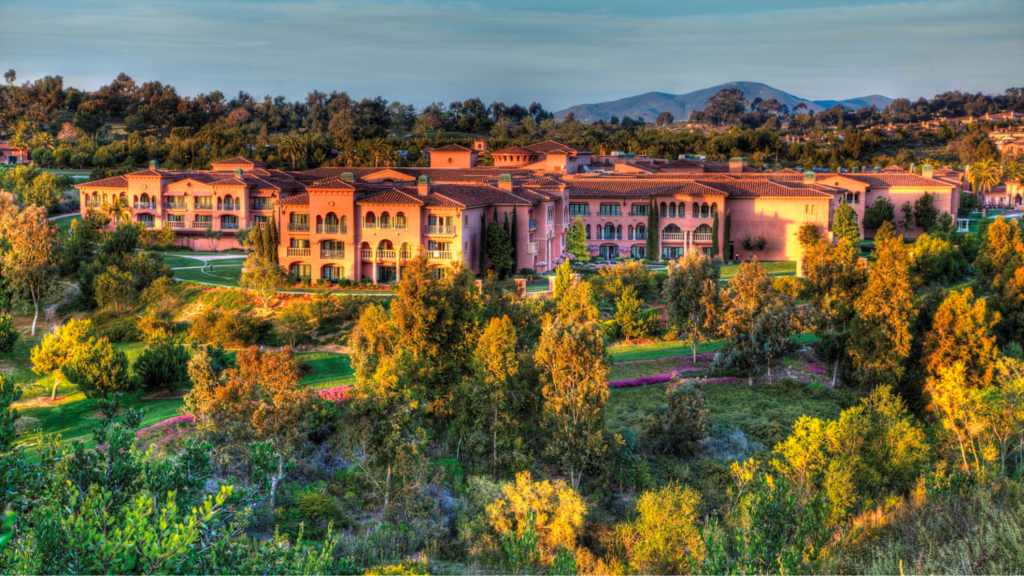 The Fairmont Grand Del Mar is like no hotel out there. Set in the depths of Carmel Valley, it's about a 20-mile trip from San Diego International Airport, but well worth the ride. This golf resort and spa is a true slice of California luxury. With a mix of magazine-worthy rooms, suites, and villas, you'll have no shortage of options on how you can spoil your team for all their hard work.
Team building activities: horseback riding, Pickleball, tennis, off-road bike routes, kayaking the Seven Caves of La Jolla.
Best time of year: Spring - Fall
Price meter: $$$$$
San Diego calling! Make your next company retreat one to remember
Southern California has truly got it all for your company event. From the rolling waves of San Diego Bay to the sweeping hills of Carmel Valley, you're at no shortage of options to wine, dine, and outright spoil your team.
However, getting things in order can get overwhelming, fast. Endless email chains with suppliers, more tabs open than anyone would like to see, and trying to collect invoices for your finance team—it's hardly the California dream. TravelPerk Events offers stress-free organization and guarantees to get you enjoying your retreat as much as the rest of the team. Pack your swimmers; we'll see you in San Diego.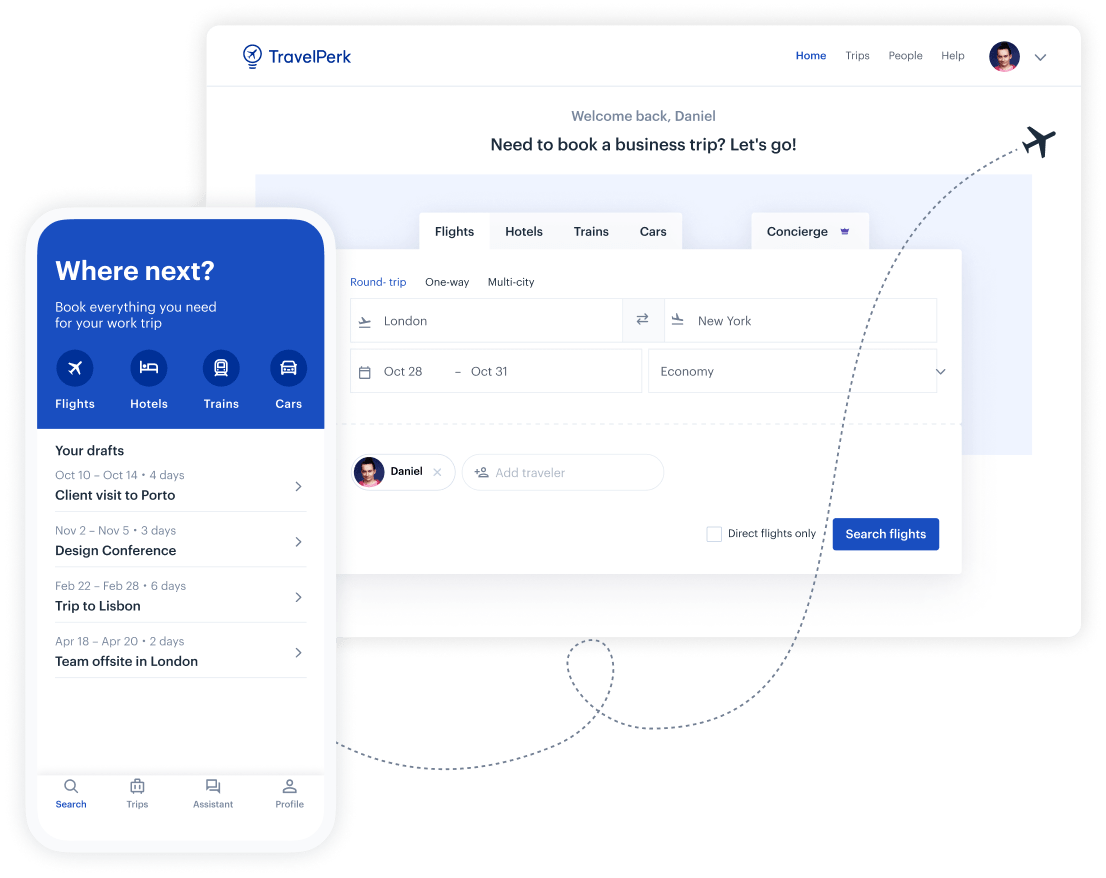 Make business travel simpler. Forever.
See our platform in action. Trusted by thousands of companies worldwide, TravelPerk makes business travel simpler to manage with more flexibility, full control of spending with easy reporting, and options to offset your carbon footprint.

Find hundreds of resources on all things business travel, from tips on traveling more sustainably, to advice on setting up a business travel policy, and managing your expenses. Our latest e-books and blog posts have you covered.

Never miss another update. Stay in touch with us on social for the latest product releases, upcoming events, and articles fresh off the press.