New York, the city that never sleeps, the big apple, Gotham. Whatever you want to call it, it's understandable why you're eyeing it up for your corporate event getaway. From Lower to Upper Manhattan, Greenwich Village to Glendale, New York is packed with opportunities to make your off-site everything your team needs.
We've rounded up everything east of the Hudson River to bring you 10 epic places for your next company retreat. From wellness sanctuaries in the middle of the bustling big apple to places with a conference center to blow the socks off the Statue of Liberty, we're covering it all.
Welcome to NYC!
5 Neighborhoods perfect for your next corporate retreat in New York City
1. Bushwick: for the artsy folk wanting an out-of-the-box retreat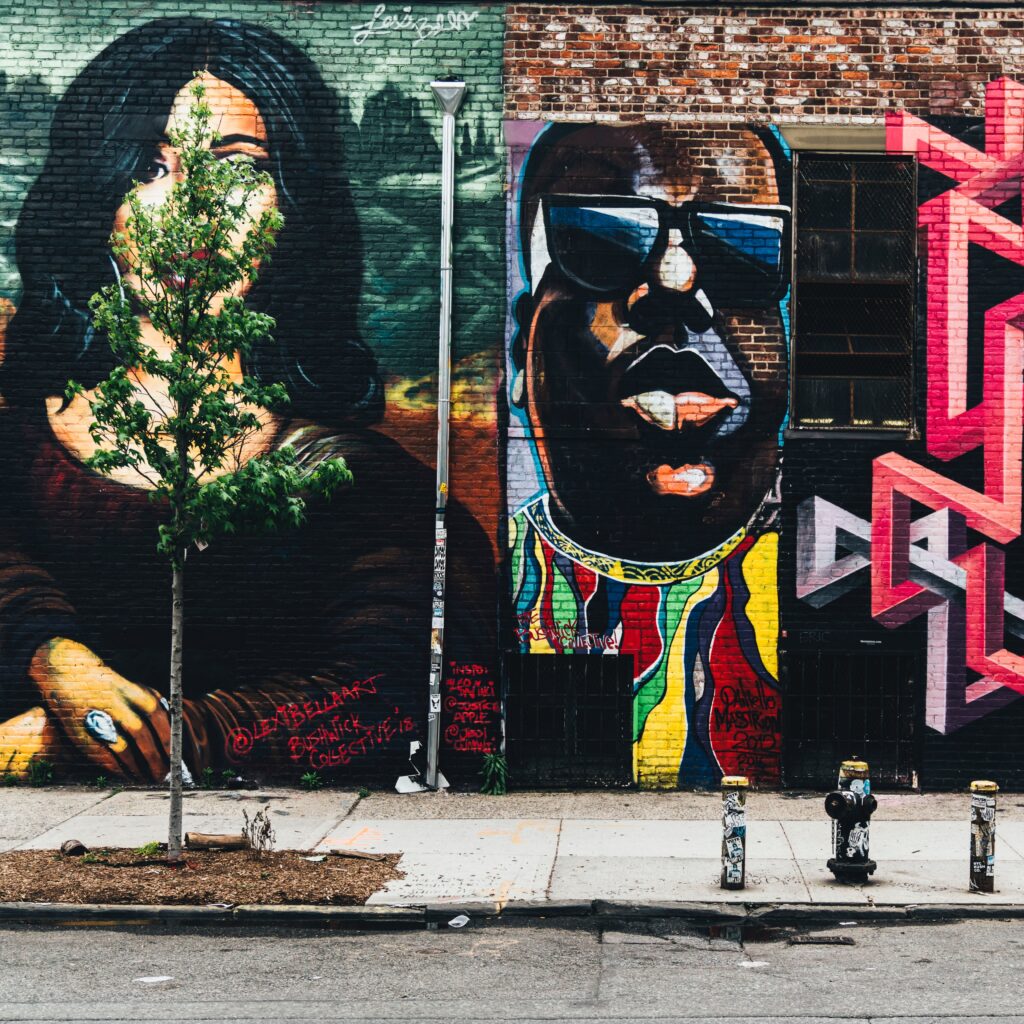 Brooklyn's finest: Bushwick. Home to the land of iced lattes, street art, and creative souls. Bushwick is perfect for creative teams looking to invest in some city-related outdoor activities throughout the year.
The neighborhood sits snugly on the M and L subway lines giving your team plenty of opportunity to get about the rest of New York, but if you're keeping things local, then biking is the way to go.
As far as company retreat locations go, Bushwick is packed with artsy coworking spaces and working coffee shops. Plus, it is the closest on our list to JFK Airport—so it's a great option if out-of-state team members are joining.
Team building activities: House of Yes, Sports at Maria Hernandez Park, Street Art and gallery tours, brewery tour.
Best time of year: Summer - Fall
Price meter: $$$
2. East Village: a tranquil spot at the core of the Apple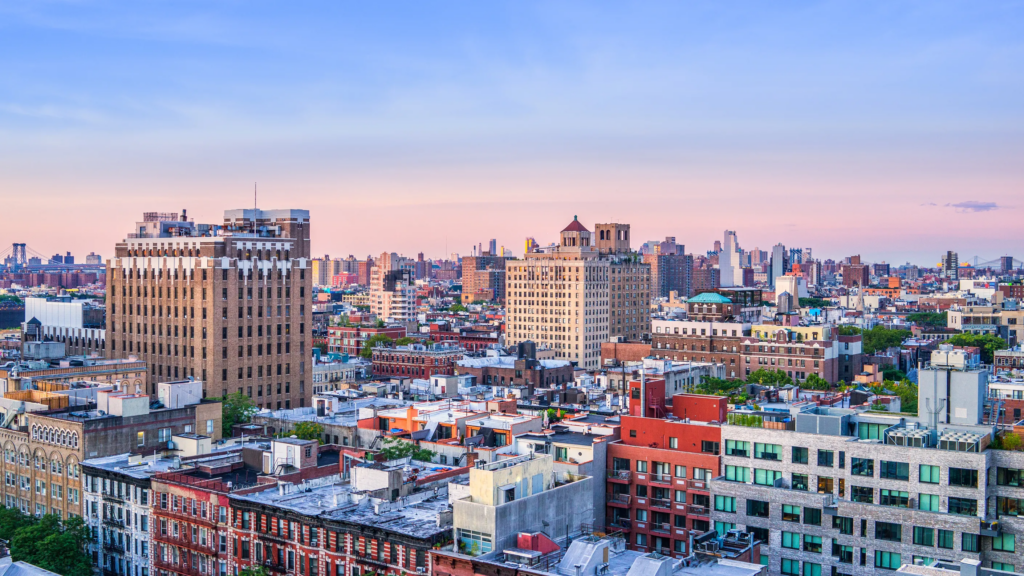 Both a local's favorite and a popular haunt for Big Apple guests too. What it lacks in public transport, it makes up for in things to do. Your corporate team will never have to leave the area. East Village is packed with fine eateries, great bars, and is peppered with green spaces for those small lunchtime strolls.
As far as New York goes, the neighborhood is pretty walkable and your team will soon feel at home alongside the East River. Plus, if you're ever looking for a change of scene, the Williamsburg Bridge and an Uber will have you in the heart of Williamsburg in around 15 minutes—traffic permitting.
Team building activities: cooking classes, go to a poetry slam at Nuyorican Poetry Cafe, visit the cocktail bars, team picnic at Tompkins Square Park
Best time of year: Spring - Fall
Price meter: $$$
Did you know that TravelPerk has a specialist Group Travel and Meetings & Events team?
3. Lower East Side: great for the foodies and first-timers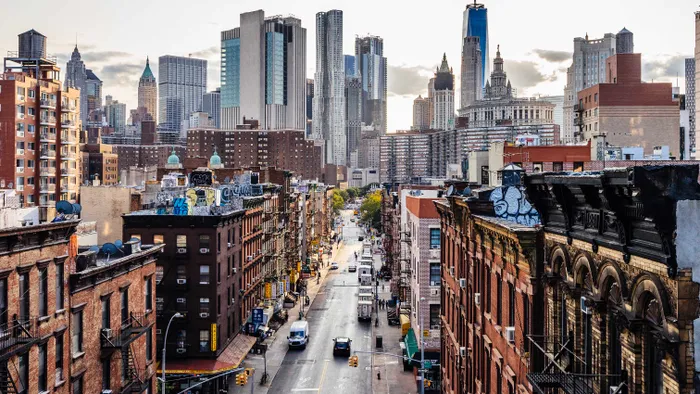 Manhattan's Lower East Side is the area for young professionals and those company retreats catering to a team of foodies. Well located on the B, D, F, and M subway lines, it'll be easy for your team to get around the city, that's if they want to leave this buzzing neighborhood.
Your team will be spoiled for choice when it comes to places to eat and drink. From grabbing a pastrami sandwich at Katz's to a 5pm beer at Lorely beer garden. If they're still looking for more, Chinatown is just a short stroll away for the best Chinese food in the whole of New York State.
Team building activities: Visit the Tenement Museum, take a food tour, grab a pastrami sandwich at Katz's Delicatessen.
Best time of year: Winter - Summer
Price meter: $$
4. Williamsburg: an ideal location for the outdoorsy type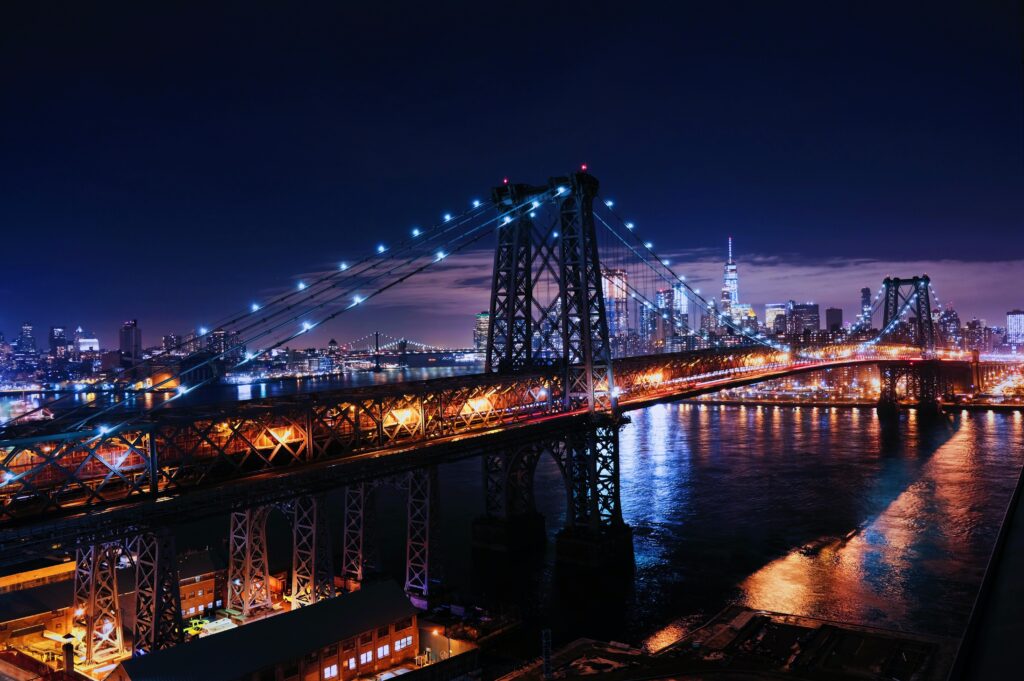 Possibly one of the most popular neighborhoods in New York City, cross the bridge from Manhattan, and you'll find Williamsburg at Brooklyn's doorstep. The neighborhood is dotted with coworking spaces, street art for the commute, and some cozy coffee shops to warm the weekends. Plus, it's around 40 minutes from JFK Airport.
Williamsburg offers tennis courts and spectacular city views from Hurricane Point. Taking a sunrise bike ride on the Williamsburg Bridge is an absolute must. The area is affordable, has great public transport options, and is extremely walkable—what more could you need for a staff retreat?
Team building activities: Street art tour, Escape rooms, Donut tour, take a bike tour.
Best time of year: Summer
Price meter: $$$
5. Greenwich Village: perfect for the hearts of the LGBTQ+ community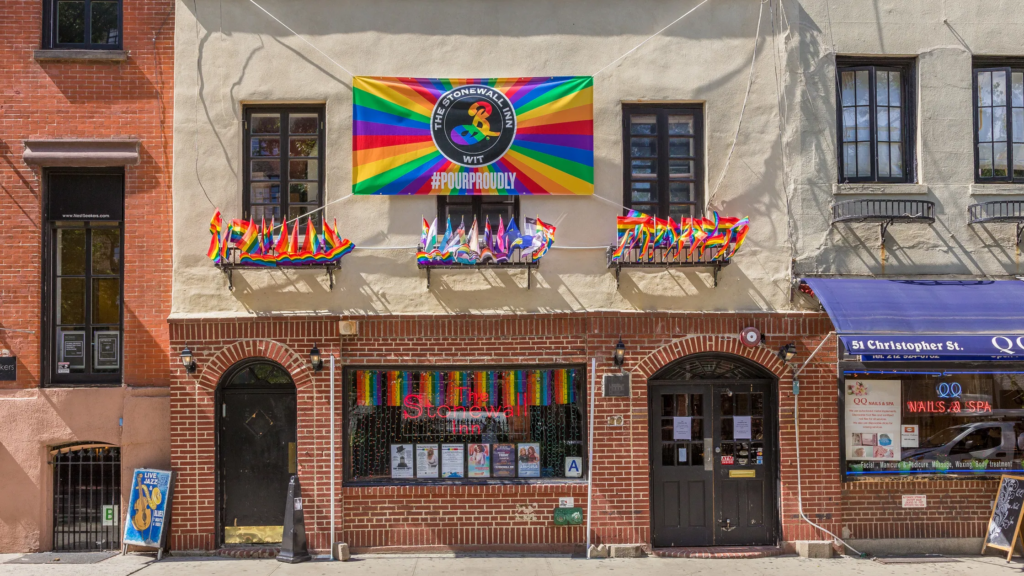 A Bohemian paradise and pillar in the history of the LGBTQ+ community. Greenwich Village is home to The Stonewall Inn, making it a neighborhood many hold dear to heart. Kissing the Hudson River, the neighborhood houses the iconic Washington Square Park, the Whitney Museum of American Art, and the architectural intricacy of Little Island Park.
The neighborhood is around an hour's trip from Newark Liberty International Airport if you're looking to fly your team in from overseas. It's also well-connected by bus and has two subway stations in the neighborhood. It's definitely worth considering for international teams coming to New York for the first time.
Team building activities: team outing to the Comedy Cellar (avoid sitting in the front row!), walk alongside the Hudson River, find a Jazz cafe, visit the Stonewall Inn.
Best time of year: All year around
Price meter: $$


5 Hotels for a team building retreat to remember in NYC
1. Graduate New York: an island retreat on the East River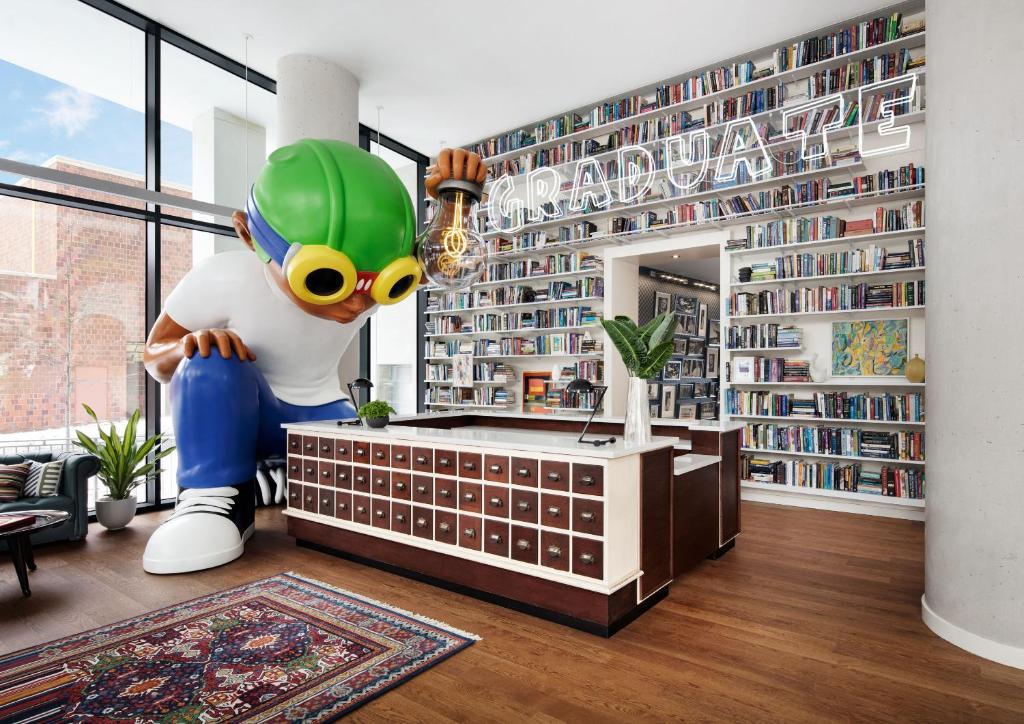 A truly iconic space and location, the Graduate Hotel has over 3,800 square feet of meeting space for you to work with. The guest rooms showcase New York at its best from every window, and a state-of-the-art event space guarantees to wow your guests. You'll have complimentary Wi-Fi throughout the hotel, keeping your team productive, and happy.
Team building activities: Explore Roosevelt Island, take a picnic at Lighthouse park, hop over to Lenox Hill or Hunters Point.
Best time of year: Summer
Price meter: $$
2. CitizenM New York Bowery: come for the rooms, stay for the views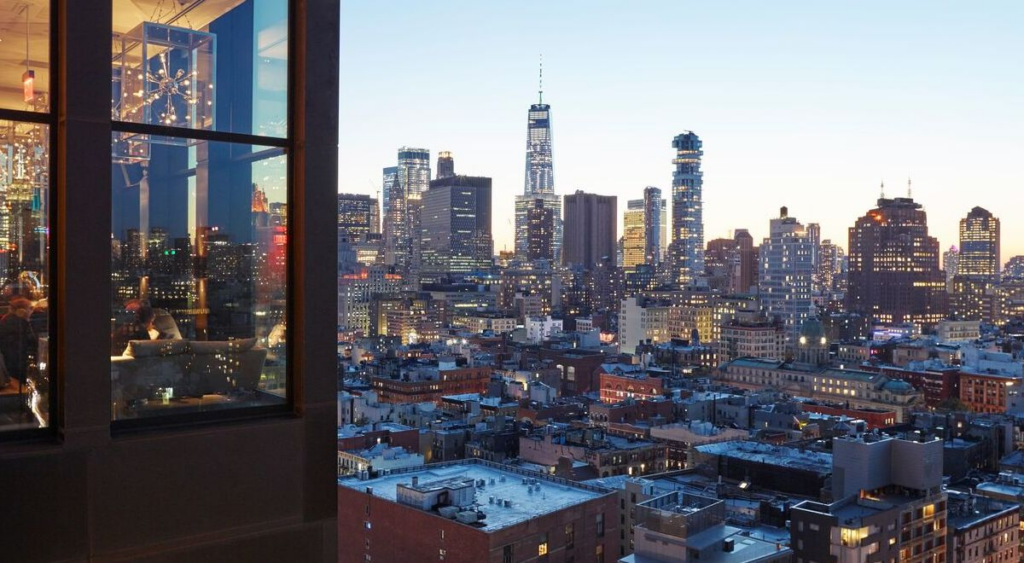 The Lower East Side CitizenM is a great spot if you're looking for a tranquil base in the heart of it all. They've got an on-site Street Art Museum, an affordable rooftop bar, speedy (free) wifi, and promise the world's fluffiest pillows. As far as retreat venues go, this one's pretty unique. Also, check out the Time Square location if you're looking for something more central.
Team building activities: food tours, brewery visits, escape rooms, New Museum
Best time of year: Spring - Summer
Price meter: $$$
3. Hotel Beacon: an affordable corporate-vibe option for enterprises looking to impress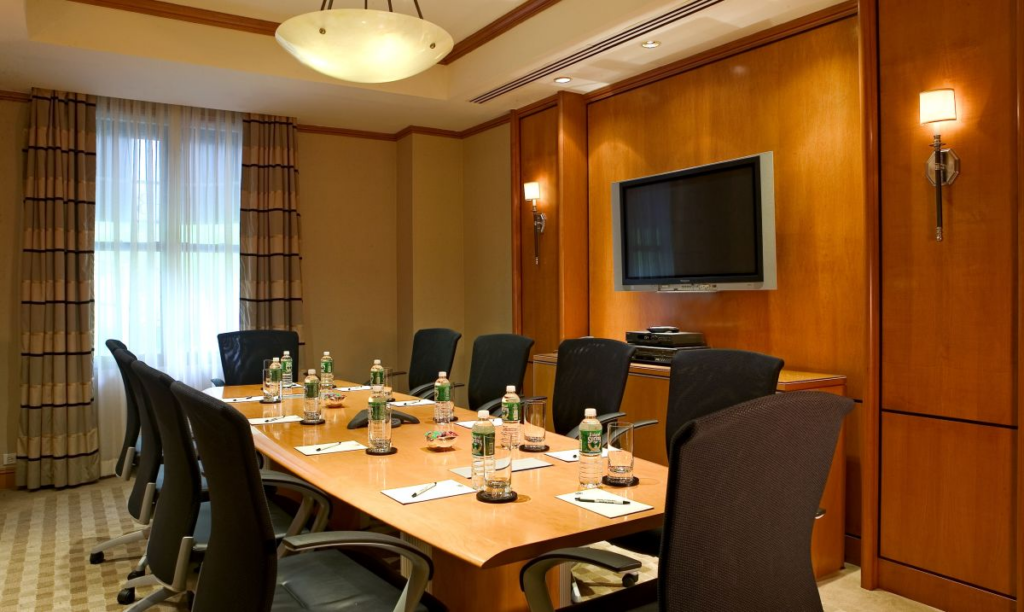 A jewel on the Upper West Side, the Hotel Beacon is reviewed fabulously for hotels in New York state. It's a great option for a team building event or business meeting, with fully-equipped meeting rooms accommodating 10 - 150 people. Located at the corner of Broadway and W 75th, the Hotel Beacon is a few blocks from central park and has led the way for nearly 100 years.
Team building activities: visit Central Park, catch a show at the Theater District, go to the "top of the Rock"
Best time of year: All year around
Price meter: $$
4. Omni Berkshire Place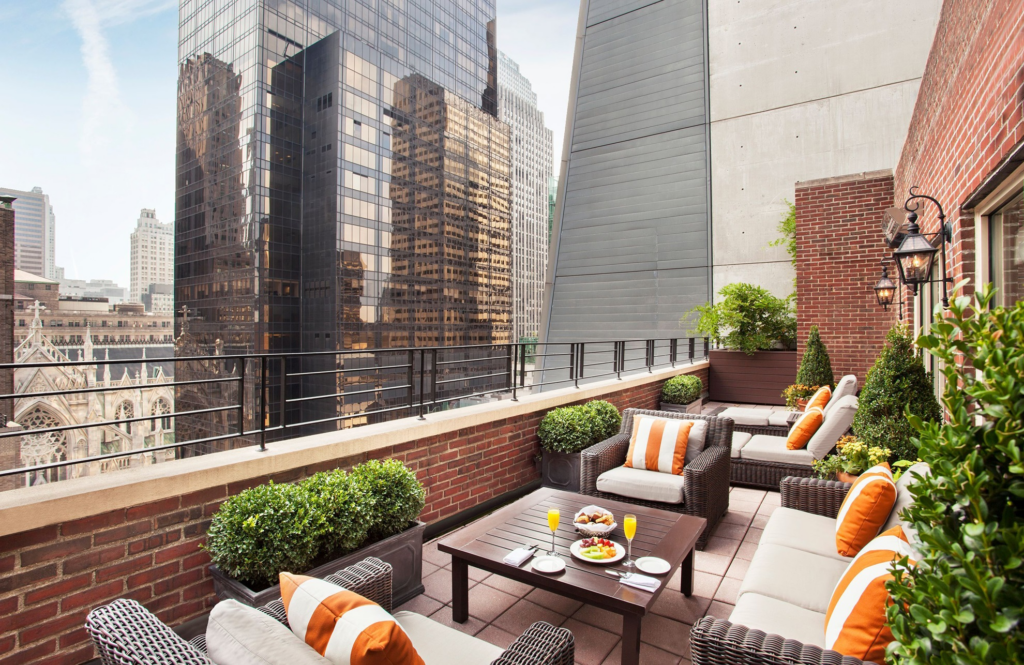 A Midtown Manhattan residence you'll never want to leave. Omni Berkshire Place offers a wellness center with a fully-equipped gym—although you'll need to source massages elsewhere! The suites are a true stamp of luxury; they're spacious, have some stunning terraces, and have complimentary Wi-Fi. Your team will feel at home in no time at all.
Team building activities: visit the Rockefeller center, The Museum of Modern Art, Times Square, Empire State Building.
Best time of year: Summer - Fall
Price meter: $$$
5. Lotte New York Palace: a true slice of luxury in Midtown, Manhattan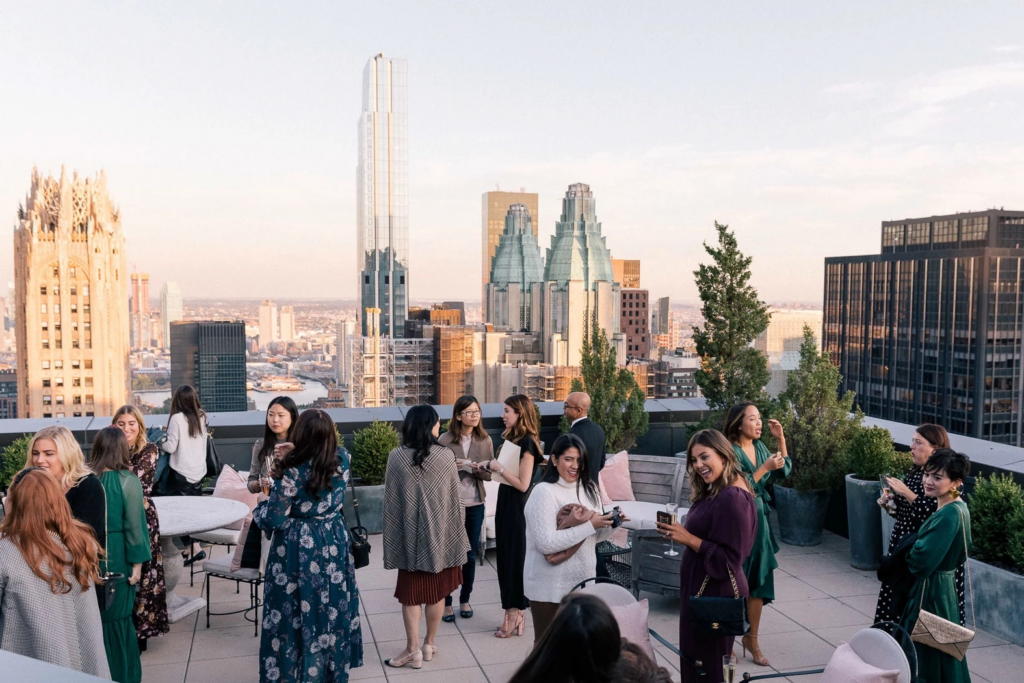 The Hamptons comes to New York with this luxurious 14-floor, 5-star hotel. The guest rooms offer skyline views, custom furnishings, and a surprisingly satisfying blend of classic and contemporary.
For getting things done, statement event spaces will make any conference center catch its breath, exquisite catering options, and a gallery for those hard-hitting presentations. When work is all said and done, treat your team to an award-winning spa experience: massages, sound-healing experiences, a yoga studio, and farm-grown organic ingredients. Who knew the Big Apple could taste this sweet?
Team building activities: food and drink tours, Times Square, Madison Square Garden, visit the wellness center
Best time of year: All year around
Price meter: $$$$
Bonus! Cedar Lakes Estate: if you want to get out of the city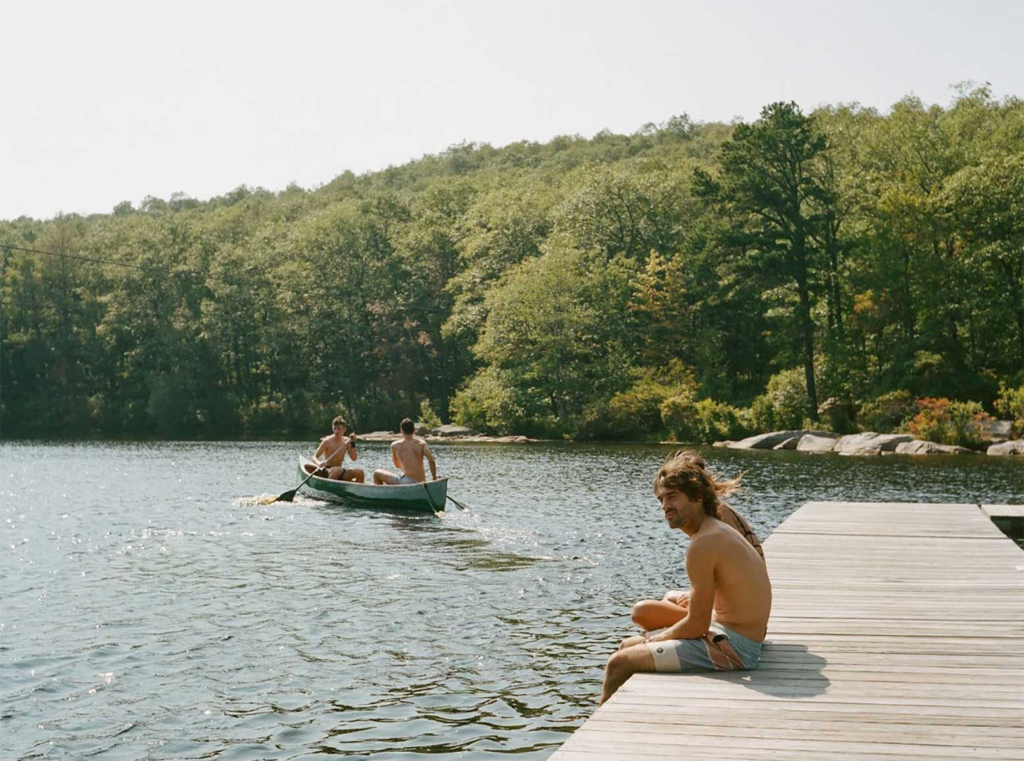 If you're looking for an altogether different stay and what to stay in the state but out of the city, then consider venturing into upstate New York. Set your retreat up as a company summer camp at Cedar Lakes Estate.
Picture your team huddled around a fire pit melting s'mores, glamping next to the lake, zip lining, practicing archery, paddle boarding, kayaking, or exploring the golf course at the nearby The Lynx at River Bend Golf Club. A truly unforgettable experience many city-based teams will always remember.
Team building activities: zip lining, kayaking, paddle boarding, golf, hiking, yoga.
Best time of year: Spring - Summer
Price meter: $$$$
New York calling! Make your next company retreat unforgettable
If planning for your next on-site or offsite is getting too much, and Google keeps telling you to go make s'mores in Catskills no matter how many times you type in New York City, then hand the reins over to TravelPerk Events.
The team offers stress-free organization and guarantees to get you away from your desks and up to the Hudson Valley. All you'll need to do is pack your bag and follow the bat signal to Gotham City.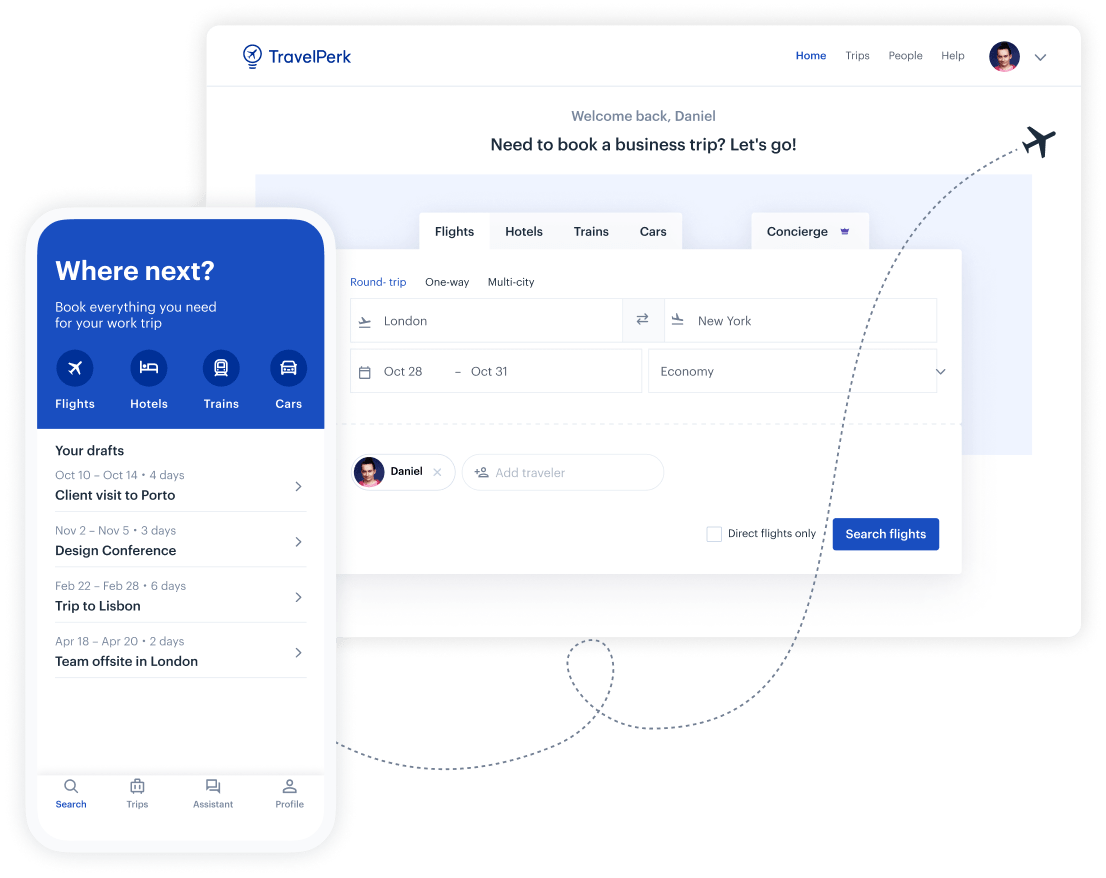 Make business travel simpler. Forever.
See our platform in action. Trusted by thousands of companies worldwide, TravelPerk makes business travel simpler to manage with more flexibility, full control of spending with easy reporting, and options to offset your carbon footprint.

Find hundreds of resources on all things business travel, from tips on traveling more sustainably, to advice on setting up a business travel policy, and managing your expenses. Our latest e-books and blog posts have you covered.

Never miss another update. Stay in touch with us on social for the latest product releases, upcoming events, and articles fresh off the press.