Business travel expense management is a significant challenge for finance managers and admins. With invoices coming in left and right, it's hard to gain visibility over the whole process.

Manual tools, like spreadsheets and documents, are time-consuming and often don't give you a full picture of business travel costs and cash flow. Doing things manually involves many different tasks and can lead to errors, which may result in accidentally going over budget or delaying traveller reimbursements.

Luckily, there are solutions and service providers out there that can help. TravelPerk makes your travel expense management process easier—from centralising your invoices all in one place to automating travel policy compliance.

Recently, we've introduced some new features to help you get even more value out of invoice management with TravelPerk.
Three ways TravelPerk will help you with travel invoicing and expense management
1. Easily understand and categorise invoices

To understand where your budget is going, it's helpful to have as much information as possible about each trip. When you receive your online invoices from TravelPerk, you'll have access to all the payment details and invoice features you need, including:


Business name and address
Unique invoice number
Trip purpose
Travellers on each trip
Cost centres and labels assigned to each trip

This way, you'll be able to categorise your invoices at a glance and make it easier to forecast and allocate costs.

2. Keep track of VAT and tax data
VAT reclaim is a major consideration for finance managers. But asking travellers to collect VAT invoices from every hotel they stay at is a hassle. It's easy for travellers to forget this sort of thing during a busy business trip, so you'll often end up with missing invoices. If this happens, you'll have to phone each hotel individually to ask them to send invoices to you.
To simplify your invoice management process, TravelPerk is now providing our new UK customers with a single, consolidated invoice, issued by our local entity in the UK. You can choose to receive these invoices instantly, weekly, or monthly.
Invoices issued to new Premium and Pro customers will include a VAT breakdown of costs incurred at hotels within the UK. Over the next few months, we will be adding others as well. These invoices can be paid using the main online payment methods and payment solutions offered by TravelPerk (credit card, bank transfer, BACS direct debit). They can also be used as billback documents, so you can spend less time managing your quarterly VAT submissions.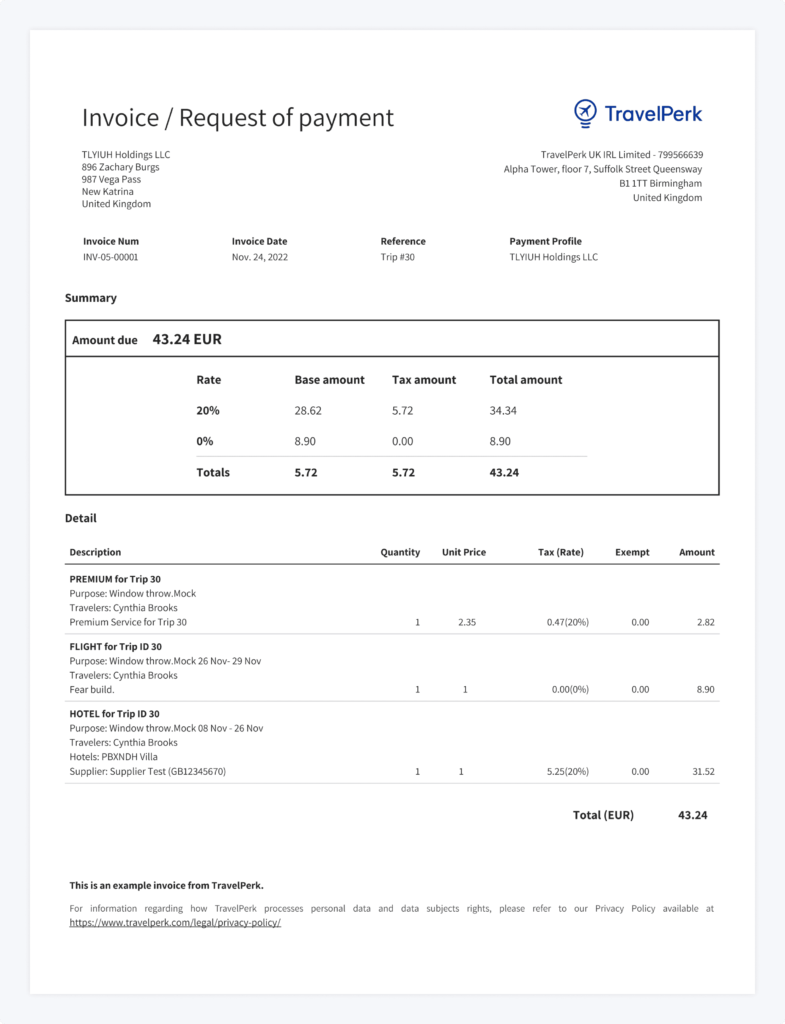 This is just one of the many ways the TravelPerk platform can help you manage VAT costs, whether you're in the UK or elsewhere. You can also:


Use our extensive travel inventory (the world's largest) to find more VAT-recoverable booking options
Save time with our VAT-ready invoices, or use our invoice collection service
Calculate your reclaims with our VAT refund calculator
Streamline your process by integrating TravelPerk with your expense management or invoicing software and VAT reclaim apps
Use our VAT insights reports to help you plan your budget and save more money
See how easy it is find out how much VAT you could recover
Save time and money with Travelperk's VAT solution
The TravelPerk VAT solution could help you save up to 25% of your business travel budget. We know there are so many complicated tax regulations in different countries so we've done the hard work (and lengthy calculations) for you. We make recovering VAT and optimizing your travel budget stress-free.
3. Customise your expense reports

Different companies have different requirements for expense reporting. Your travel management software should offer an easy way to create the exact type of reports you need. That's why you can now create a customised .csv file download of all your company's travel data within TravelPerk, so you can do reporting your way.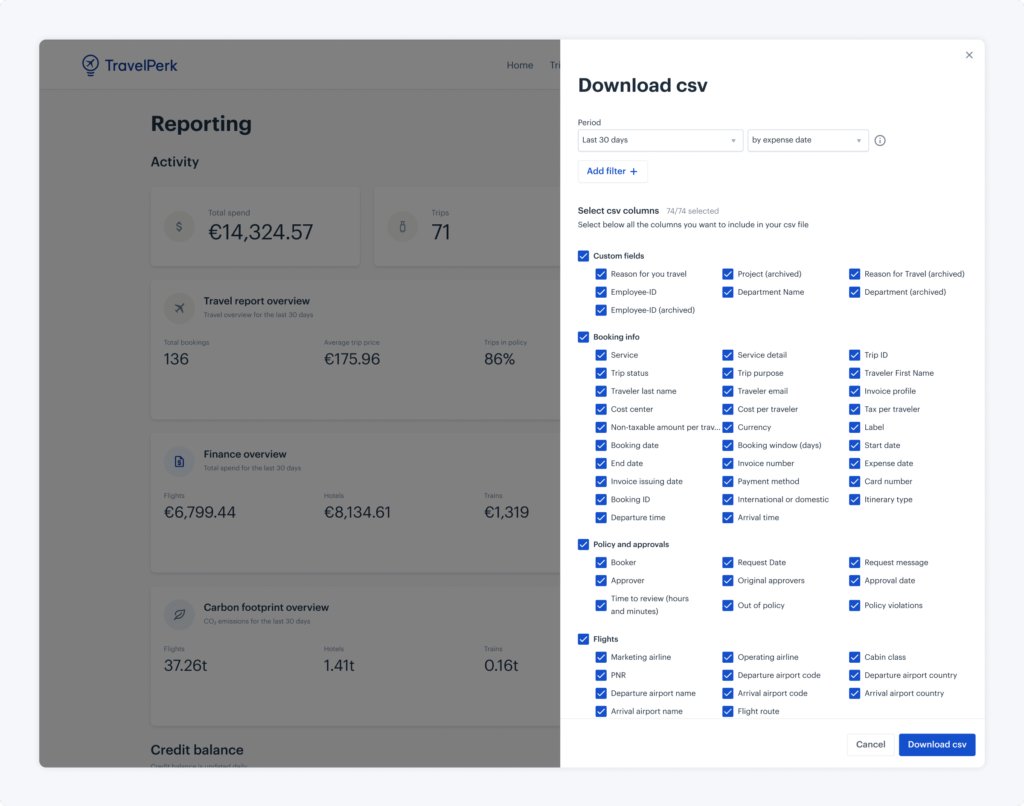 Improve your invoicing and expense processes today
Wondering how you can start improving your invoice management and payment process today? Book a demo today or try TravelPerk for free!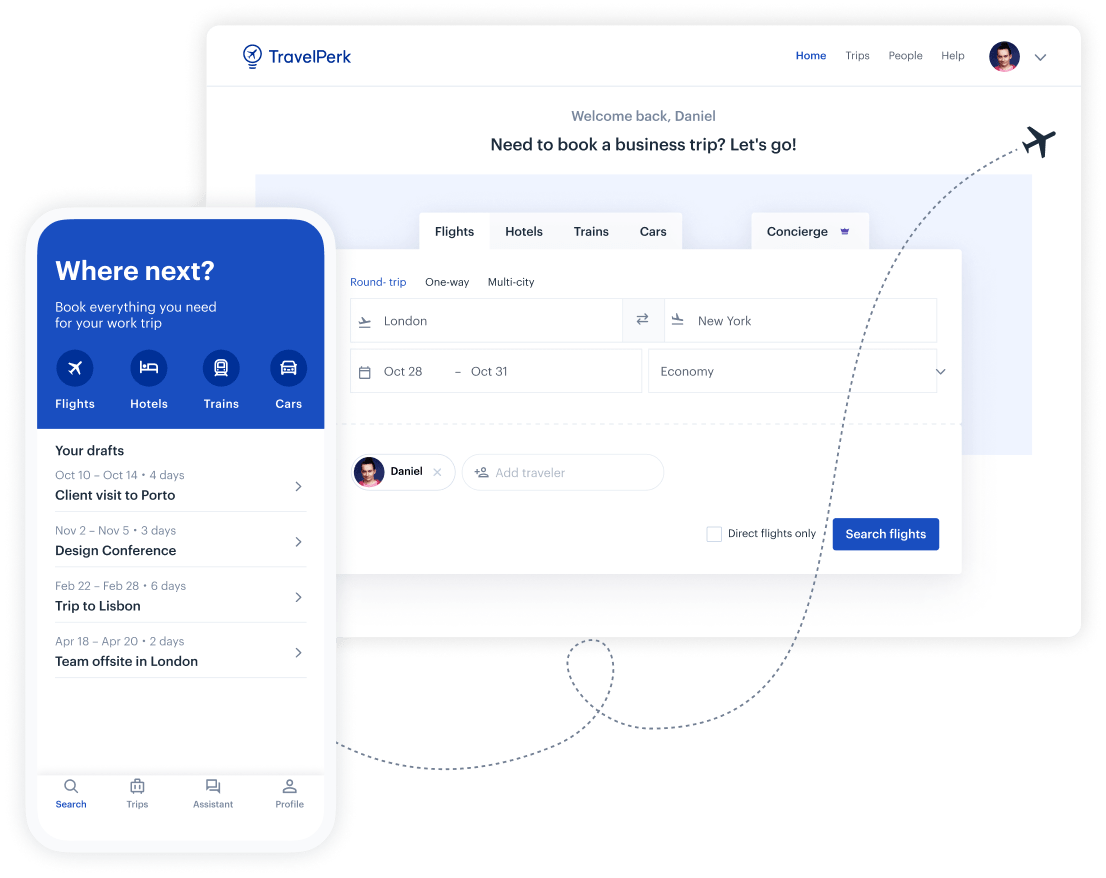 Make business travel simpler. Forever.
See our platform in action. Trusted by thousands of companies worldwide, TravelPerk makes business travel simpler to manage with more flexibility, full control of spending with easy reporting, and options to offset your carbon footprint.

Find hundreds of resources on all things business travel, from tips on traveling more sustainably, to advice on setting up a business travel policy, and managing your expenses. Our latest e-books and blog posts have you covered.

Never miss another update. Stay in touch with us on social for the latest product releases, upcoming events, and articles fresh off the press.