Businesses expanding worldwide often need to hire new people or relocate skilled employees to newly opened offices.
The right people need to be in the right place for business success. However, shifting locations can be overwhelming for your talent. The pressure is on your global mobility, relocation team, or HR team, to ensure a smooth relocation experience for employees.
This article walks you through the essential components of a stellar employee relocation policy, whether you want to attract new hires or retain existing employees while taking your business global.
What is employee relocation?
Employee relocation is when a company decides to move talent to new locations for better work opportunities, or when new hires are brought over from other locations. Employers often relocate employees to new business units or subsidiaries for better business growth.
Potentially saying goodbye to long-term homes, family, and friends makes moving to a new location stressful for employees—and a daunting task. That's exactly why companies create well-thought-out relocation policies, minimizing the risk of losing exceptional talent they've developed over the years.
What is a corporate relocation policy?
A corporate relocation policy offers financial and administrative assistance to minimize employees' inconvenience and motivate them to stay productive and make the move. Companies use this policy to relocate employees to new locations for 6-12 months or more.
Global mobility and corporate relocation benefits often include:
Re-decision counseling
Departure and destination assistance
Household goods move.
These benefits enable employees to settle in stress-free and companies to send their best and brightest for new business operations, or recruit the best talent.
What should a relocation policy contain?
A relocation policy outlines benefits available to individual staff members or employees who move to new job locations. An employee relocation policy also outlines employee rights during relocation and employer responsibility for financial expenses.
When drafting or reiterating relocation policies, companies should specify relocation costs and non-financial benefits they offer.
No two relocations are the same. Employers should be open to dealing with unexpected expenses. A well-rounded policy also mentions steps employees should follow in case of unforeseen spending or circumstances.
A formal relocation policy address the following questions:
Eligibility: who's eligible to receive relocation benefits? Do these benefits differ based on employment status, employment type, or relocation distance?
Benefits: what are the relocation benefits and limits?
Claims: how should employees claim relocation benefits?
Taxes: are there any tax implications of relocation benefits?
Loss of reimbursement rights: will employees lose relocation reimbursement rights in case of dismissal or voluntary termination?
Non-reimbursable expenses: are there costs that the employer will not cover?
Relocation support: does the employer provide information packets about the new location?
Family employment support: does the employer help employees' family members find new jobs?
Payback: do employees have to pay if they decide to leave the organization within a specified period?
Some companies create sub-policies, depending on the seniority levels of the relocating employees. It's best to mention benefits so that employees know what to expect. A detailed relocation policy brings in fewer questions for your HR department.
What is a relocation allowance?
A relocation allowance is the financial benefit that employees receive before or after relocating. Organizations may offer this allowance as a lump sum or as reimbursements upon receipt submission.
A relocation allowance covers the following expenses:
Moving, packing, and transportation costs
Airfare or train ticket costs
Meals
Temporary lodging
Personal item storage costs
Incidental spending while settling in at a new location
Employees must mention relocation expenses as taxable incomes on their IRS W2 forms. If you're working with a travel management company (TMC), like Travelperk, then a lot of this will be included as a service from your TMC provider.
What does a relocation package include and what does it cover?
Companies generally reimburse employees for major relocation expenses regardless of the relocation package. Consider covering the following costs in your relocation benefit plan.
Temporary housing, travel, and food: these expenses help employees during house hunting trips at a new location. Some companies also provide childcare expenses during relocation trips.
Moving household items: companies usually reimburse employees for packing, moving, storage, and unpacking fees. However, you may add exemptions for cleaning, repair, fixture purchases for a new property, furniture assembly, and fixture removal from the old property.
Personal expenses: cover travel, accommodation, and meal costs for employees and their immediate family members or dependents.
Agent and legal fees: help homeowners meet real estate agent fees and legal costs during a home sale.
New residence costs: include agent fees, survey costs, and referencing costs for a new property rental or purchase.
Rental contract termination costs: enable renter transferees to meet rental termination costs while vacating rental properties before the term of the agreement ends.
Miscellaneous relocation costs: cover other related expenses. For example, you may offer expenses like washing costs, phone line installation changes, and appliance installation fees.
Apart from these expenses, relocation packages also offer non-financial support. For example, some companies may provide spousal employment assistance, telephone counseling, and new location information packs. Set clear instructions so employees can make the most out of relocation services and claims.
If you're working with a TMC like TravelPerk it can often be a huge help as relocating employees don't need to swallow the costs of their travel and get reimbursed later—instead they can do everything via the TMC app or support team. 


What is HR's role in designing a corporate relocation policy?
Human resources teams handling employee relocation programs work with business and finance departments to ensure strategic business growth. That's why their role in relocation management is super important.
Relocation or mobility managers within HR usually perform the following tasks:
Create and manage policies: partner with key business stakeholders and chief operating offices to write or revise policies or processes.
Coordinate with managers: identify employees suitable for mobility opportunities.
Select vendors: create a list of external service providers (for example, movers) that employees can trust.
Work with the legal team: identify potential legal issues and answer tax or immigration-related questions.
Providing strategic people's value to a company is the ultimate mission of the HR department. They should evaluate relocation programs strategically, operationally, and financially before relocating employees.
How are relocation allowances used and paid?
Relocation isn't a one-size-fits-all approach. Companies choose different relocation assistance plans based on several factors.
These packages are as follows:
Lump-sum package: this relocation benefits plan offers a set amount of money that employees can use for their move. Companies providing this package sets a move-specific budget that gives employees the flexibility to spend during relocation.
Tiered package: these packages are customized to fit employees' experience, seniority level, and their number of family members. For example, an entry-level employee may not receive the same benefits as vice presidents or other senior executives.
Expense reimbursement package: these relocation plans reimburse employees based on actual expense bills. In this case, employees pay for all moving expenses and file reimbursement requests. Some companies may set a reimbursement limit—which is a wise move.
Fully-covered relocation package: this package fully covers all relocation process expenses. Companies typically grant these packages to senior-level employees.
How to write an employee relocation policy in five steps?
A written relocation policy helps employees to find answers to questions. HR teams use these policies to establish processes, outline benefits, and reduce incoming questions from employees.
Here's how you can go about writing a relocation policy:
1. Start with a plan
You can't create an employee relocation policy overnight. That's why it's best to plan ahead of time. Use the planning phase to get necessary approvals from key stakeholders. Also, speak to hiring managers and finance teams about the new policy—their input is essential.
2. Build collaboratively
As you write the policy, remember to uphold and reflect company values. This is a good time to collaborate with other teams to outline:
Move duration
Potential bonuses
Relocation benefits
Tax difference
Relocation coverage and perks
3. Set clear expectations
Use clear and direct language to communicate expectations and benefits to employees. Make sure your policy answers questions related to expenses and reimbursements. Mention a point of contact (POC) so that employees know who to connect with in case of queries.
4. Get everyone's sign off
Once complete, send the first draft to every stakeholder for approval. For example, you may need hiring managers, the finance team, operations team, and HR department to approve your relocation policy.
5. Evaluate and optimize
Now, it's time to see the policy in action. Use the relocation policy to manage a couple of relocations. Once you have relocated a few employees using the policy, ask them for feedback and optimize your relocation policy terms accordingly.
Closing out your quick guide on writing a relocation policy
Consider keeping your policy flexible so that your company can scale its relocation program faster, and be open to change quicker as new opportunities pop up along the way.
Ensure your relocation policy is as smooth as a turbulence-free flight. Call in the TravelPerk team, and see where they can take your business.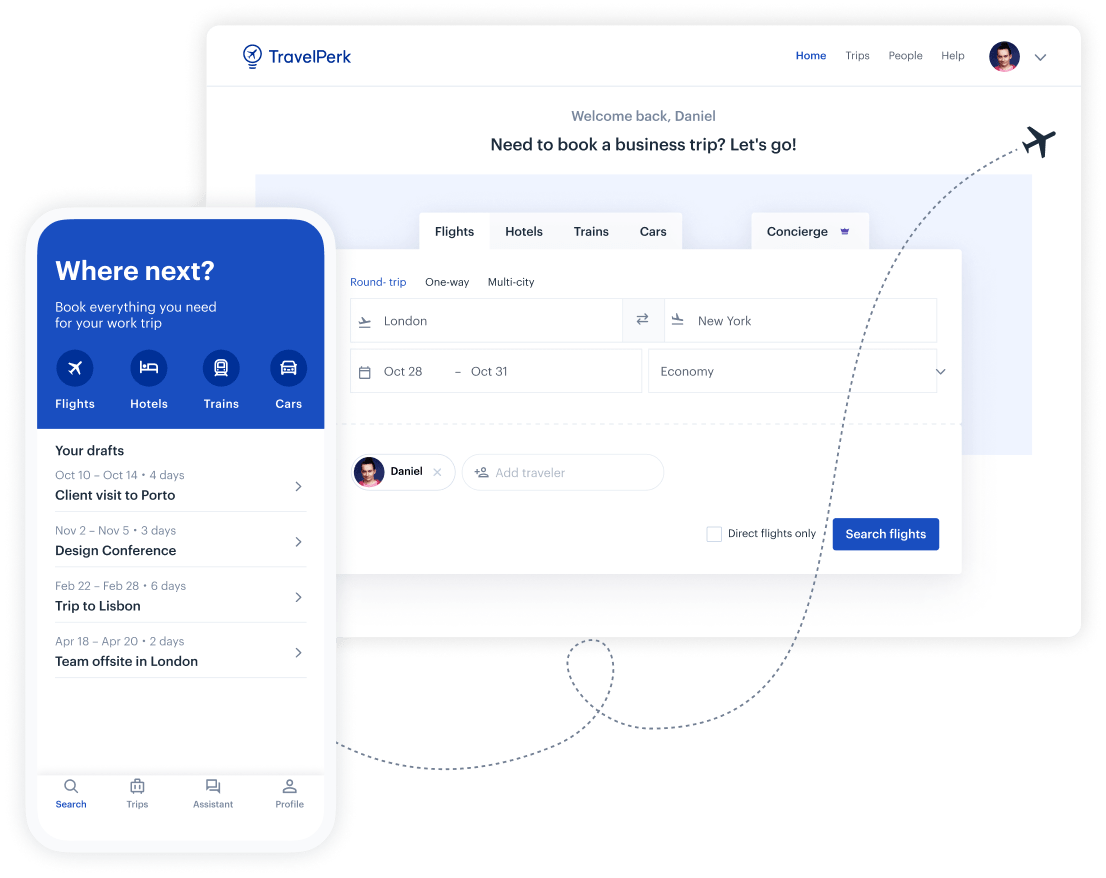 Make business travel simpler. Forever.
See our platform in action. Trusted by thousands of companies worldwide, TravelPerk makes business travel simpler to manage with more flexibility, full control of spending with easy reporting, and options to offset your carbon footprint.

Find hundreds of resources on all things business travel, from tips on traveling more sustainably, to advice on setting up a business travel policy, and managing your expenses. Our latest e-books and blog posts have you covered.

Never miss another update. Stay in touch with us on social for the latest product releases, upcoming events, and articles fresh off the press.