As a frequent traveller, you will likely be familiar with scoping out the latest advice from the Foreign, Commonwealth & Development Office. But what if an assignment requires you to travel to a country considered risky by the government?
What are travel warnings?
Travel warnings are notices issued by the government to give travellers an insight into potential safety problems in their desired destination. Also known as travel alerts or travel advisories, these frequently include severe weather warnings, natural disasters like earthquakes or tsunamis, or acts of terrorism and civil unrest.

The Foreign, Commonwealth & Development Office or FCDO publishes these updates to keep travellers informed of the latest potential hazards when travelling to different destinations abroad. Countries deemed to have significant dangers are designated high risk. High-profile examples of recent travel warnings have included the Ebola outbreak in Africa, the Zika virus in Brazil, and the terrorist attacks in Paris.

With the event of the COVID-19 pandemic, we have faced a new wave of travel regulations. Different countries within the UK are working to varying restrictions in line with their latest coronavirus levels. For example, if you are travelling from Wales, you might not be subject to the exact entry requirements as a traveller from England or Scotland. With traffic light systems, PCR tests, and the need to self-isolate, travellers have various pre and post-departure considerations.


What does travel insurance typically cover?
Under ordinary circumstances, travel insurance will usually cover both you as the traveller and your possessions while you are on the road. A standard insurance policy will have coverage for cancellation, but the success of your claim will depend on why you can no longer travel.

Travellers will typically have cover for situations such as theft, fire or personal accident while in-country, and coverage for any emergency medical expenses as long as it does not relate to a pre-existing medical condition.

Some policies will also have an allowance for repatriation should you need urgent medical care in another country. Others could also offer to pay for replacing any lost or stolen documentation like passports or driving licences.
How does travelling to a high-risk country impact your travel insurance cover?
Regardless of the travel warnings in place, you can still purchase an insurance policy for your destination. However, depending on when a high-risk warning is issued and the nature of your claim, you might find that you return home to some nasty and unexpected bills!
What is usually covered under insurance when travelling to a high-risk country?
If the incident arises where the government issues a travel warning while you are already travelling or you have a policy in place for an upcoming trip, you would typically have cover for the following;
Medical cover - Any costs for medical treatments, including evacuation or repatriation, would be included in most circumstances. However, many providers have caveats for acts of terrorism or war.
Cancellation cover - If you have an insurance policy in place pre-departure and a warning is issued, there should be clauses that would enable you to cancel your upcoming trip.
Disruption - If a travel warning alters your trip, you can get reimbursement for any additional expenses you incurred as a result.
Unrelated claims - If you are in-country when a travel warning is issued, you may still be able to submit a claim for an unrelated incident. For example, you are travelling in Brazil, and the government issued a travel warning regarding the Zika virus. During the remainder of your trip, your bag is stolen. On your return, you would likely still be able to successfully claim for your missing possessions as the event does not directly relate to the travel warning.
What is usually not covered under insurance when travelling to a high-risk country?
As with all insurances, several exclusions apply when travelling, especially if your destination is suddenly deemed risky by the FCDO travel advice. There are many scenarios where travellers planning to visit a high-risk country could invalidate their insurance or find themselves unable to take out a policy for example;
If you book a trip to a country that is already deemed high-risk by the FCDO, this is usually considered personal liability, and you will likely not be able to claim under most standard policies.
If your destination status changes while you do not have an insurance policy, you will not be covered if you try to purchase one after the warning is in place. For example, say you have booked a trip to Miami, but your annual policy has just expired. Florida is currently on a green list, but you hear on the news of an approaching hurricane, so you call up to get a quote for some travel insurance. In this instance, you would be unable to claim cancellation costs on your new policy.
You are also unable to claim on an existing policy if you decide not to travel. For example, perhaps there is suspicion regarding a possible terrorist attack in your destination. Until the government issues a warning, you would be unable to cancel through your insurance if you decided not to travel.
Some general exclusions could be especially relevant for travellers looking to go to high-risk countries. For example, many insurers will have clauses regarding acts of terrorism, war, and pandemics in their policies. After the arrival of coronavirus, some insurers did extend their travel insurance policies to cover travellers for medical expenses or cancellation charges due to regulations from the pandemic. However, this was not true across the board, and specialist insurance services are still the safest option for travellers needing covid cover for red list destinations at this time.

Can you still take out insurance if you are travelling to a country against government advice?
As we have seen, travellers who choose to travel to a country designated as high risk by the FCDO advice will usually find they have invalidated any pre-existing insurance policies. However, there are many cases where people will still need to travel to these destinations, most commonly to conduct business or in their capacity as an aid worker or NGO consultant.

You will always be able to take out an insurance policy, but transparency around your level of cover can vary. Every insurance provider and procedure will have different rules that travellers will need to bear in mind. The last thing any traveller needs after a stressful experience abroad is to find no reimbursement for their expenses.

Although it's tedious, you should always read through the full details of your particular policy. You could discover you have no cover at all due to the nature of your trip. If anything in the terms and conditions is unclear, call the insurer to clarify, especially if you are travelling to a destination with a travel warning.

Depending on your itinerary, the most efficient option could be to take out an insurance policy with a company that specialises in single or multi-trip policies to more dangerous destinations such as High-Risk Voyager. While the initial outlay might be higher, you will likely have more comprehensive coverage and can tailor your policy to the specific region you are visiting.

Whichever insurance policy you opt for, you will need to bear in mind that it will be a long process to obtain refunds for your cancelled travel plans, and you will be subject to fees and excesses. One more efficient solution for business travellers is to use a service like FlexiPerk, where you can cancel up to two hours before you travel, no questions asked and be guaranteed to receive a refund of at least 80%.
How can you keep yourself safe while travelling to medium or high-risk countries for business?
If you need to conduct essential travel to a medium or high-risk country, you can take steps to protect yourself and reduce your potential exposure to danger.
Do your research
Take time to read up and scope out the latest news in your intended destination. Make sure you are not travelling to particularly volatile regions and if there are reports of heightened issues, change your plans to avoid hotspots for trouble.

Consider speaking to a tour operator or a fixer with extensive experience to run through your itinerary and highlight any potential concerns. Talk to your doctor about any possible medical considerations and reduce your risk of contracting certain illnesses on the road by ensuring you are up to date on your vaccinations.
Sign up for real-time updates
Whether you take a single trip or travel to various high-risk destinations each year, technology can significantly streamline your experience. With TravelCare, business travellers and travel managers are alerted in real-time to any changes to their upcoming or current itinerary.

The ultimate travel risk management tool, users can feel assured they are up to date with all the latest on the ground and have the support of our dedicated 24/7 emergency response care. Plus, in the age of coronavirus, TravelCare saves travellers from scrolling through complicated websites to discover if they have moved from the amber list to the red list.
Make sure you can keep in touch
Ensuring you are contactable is another crucial step in mitigating the risk of travelling to flagged countries. Having a phone contract with straightforward international roaming is an excellent first step, but depending on your destination, you might need to look at different methods of keeping in touch. A local guide or tour operator can best advise what will work most efficiently for your trip.
Make sure you have access to emergency funds
If you get caught in a crisis in a foreign country, you will need access to emergency cash and a reliable credit card. Depending on the nature of the situation, you might not be able to use an ATM. Having access to an emergency amount of both cash and credit will cover you for a broader range of situations.

If you are a business traveller or travel manager with staff travelling to unstable regions, be sure to discuss emergencies and the expenditure they might incur. Even with the best insurance policy in place, you won't have immediate access to those funds, and travellers will need to feel reassured that they can act fast when required.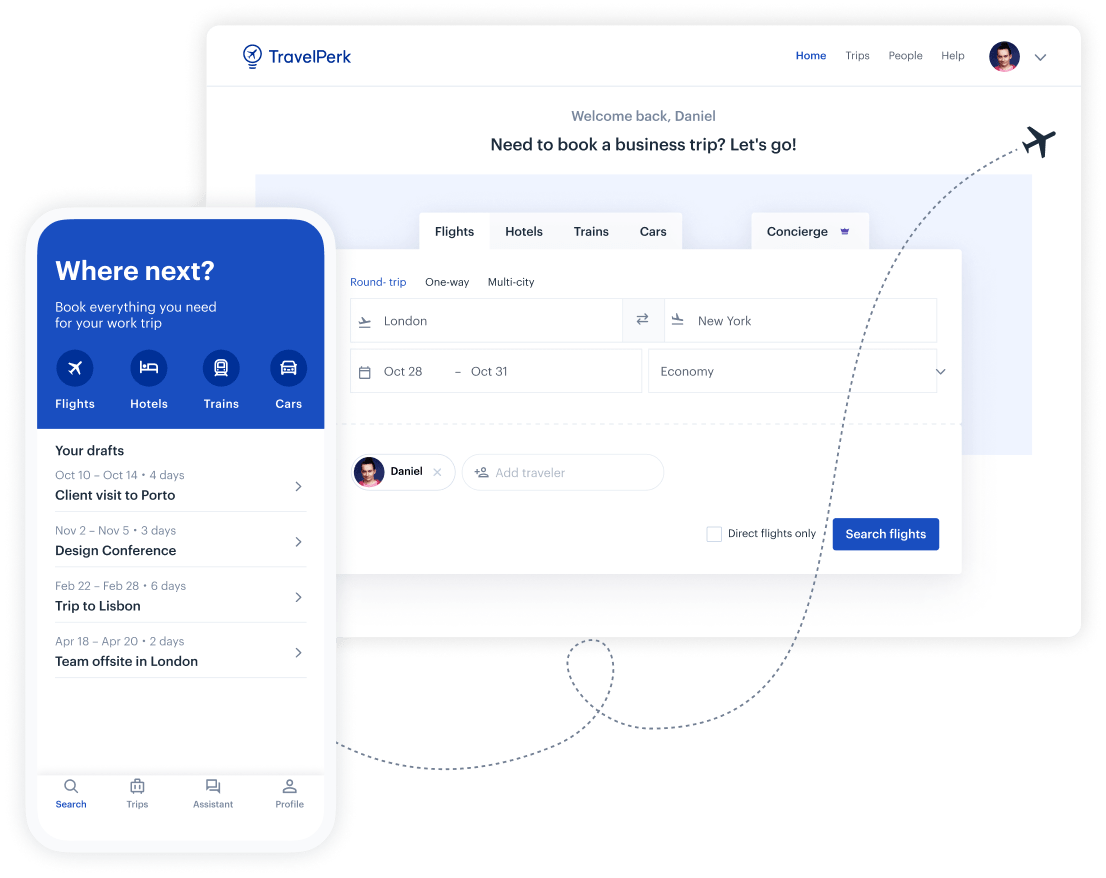 Make business travel simpler. Forever.
See our platform in action. Trusted by thousands of companies worldwide, TravelPerk makes business travel simpler to manage with more flexibility, full control of spending with easy reporting, and options to offset your carbon footprint.

Find hundreds of resources on all things business travel, from tips on traveling more sustainably, to advice on setting up a business travel policy, and managing your expenses. Our latest e-books and blog posts have you covered.

Never miss another update. Stay in touch with us on social for the latest product releases, upcoming events, and articles fresh off the press.