Whether you're planning a last-minute vacation or heading off on an unplanned business trip, securing travel options that won't break the bank can be a daunting task. Let's face it, last-minute flights aren't usually the cheapest airfares. Sometimes, spontaneous trips are necessary, so it's good to know what your options are to save money on your speedy travel plans.
In this article, we're going to guide you through the process of booking a last-minute trip without breaking the bank, catering to the needs of both leisure and business travelers.
Leisure travel: mastering the art of last-minute travel deals
Any last-minute travel booking can be stressful, whether it's for business or leisure. Each comes with its own challenges, so we've decided to look at each individually—this way you'll know exactly what you're dealing with, and common pitfalls (and solutions) to look out for.
You might be heading off on a snap holiday, or you might have an under-the-wire family event. Whatever the case, here are the main challenges you might face as a leisure traveler.
The challenges of last-minute leisure travel
Limited availability
You might have a specific destination in mind, say Chicago or San Diego, but if you're booking a last-minute journey, you might find that there's very little availability on booking websites like Expedia. It helps to let go of any specific requirements and be open to different arrangements.
Practical reasons
Some holidays require planning in advance, whether that's sorting car hire, planning ski rental, or booking specific attractions. Some top destinations might require booking ahead for activities and tours, particularly during peak season, so booking at the last minute can often mean you risk losing out on the best attractions.
It's worth considering the time of year (for example, New York at Christmas or Thanksgiving) and see if you can avoid those holiday periods. Booking far in advance also means you can enjoy the wait—for many people, half the joy of a holiday is in counting down and looking forward to it.
Special occasions
If you have specific travel dates in mind, for example, if you're celebrating an occasion like a honeymoon or an anniversary, booking at the last minute can lead to disappointment. Coinciding with a special day isn't very conducive to the book-and-go approach, as you may find yourself with limited options.
Our top tips for last-minute holiday bargains
Booking a holiday at the eleventh hour while looking for cheap flights and well-priced vacation rentals isn't easy. But it most definitely can be done— in fact, there are even certain perks!
Here are our hacks to securing the best deals for your next spontaneous getaway, without doing too much damage to your credit card.
Check accommodation and travel simultaneously
A common pitfall in last-minute travel planning is overlooking the total cost of the journey, especially if you're planning a round trip. It's not uncommon for flights to seem well priced, only for you to discover that accommodation is wildly expensive, or vice versa. To strike the right balance, it's worth exploring platforms that offer vacation packages for both travel and accommodation.
Leverage loyalty and credit card deals
Frequent leisure travelers can capitalize on their loyalty program points and credit card rewards to significantly reduce travel expenses. Airlines, hotel chains, and credit card companies often provide exclusive offers, discounts, and perks that can make a significant dent in the overall cost of your journey. For the best offers around, join newsletters or download their apps.
Embrace flexibility in your plans
Flexibility is your best friend when it comes to securing last-minute deals. If you can adapt your departure dates, you'll be well on your way to finding better vacation deals. Take advantage of flexible date search features on booking platforms to uncover the best offers, from last-minute hotel deals to car rental cancellations. Are you planning a road trip around Europe? Or are you set on a beach holiday in California?Or maybe Cancun?Wherever you have in mind, we'd recommend keeping your options open as far as possible.
Consider staying away from the center
In addition to flexible travel dates, it's worth being flexible about your location. During your quest for affordable last-minute travel, consider hotels, hostels or Airbnbs located slightly away from the city center and trending tourist hotspots. These options are usually much more budget-friendly, and you know what they say: less-traveled paths can lead to hidden gems.
Explore alternative airports
If your last-minute plans allow for flexibility in your arrival airport, consider exploring smaller airports—or even airports in neighboring cities. These may offer more availability and more attractive pricing options. Just be sure to factor in transportation costs and convenience when making your choice! Now you know the best tips to book last-minute leisure travel without breaking the bank, let's move on to business travel
Business travel: making each trip count
Corporate travel is subject to change. Deals and meetings often move around faster than you can keep up, and demand rapid, efficient, and cost-effective solutions.
You might be dealing with crisis management, meeting client demands, or working around employee schedules: there are multiple reasons why business travel might be a last-minute ordeal. Knowing how to secure the best travel deals each time is essential.
Before we get onto our top tips, here are the main drawbacks of last-minute business travel.
Challenges of last-minute corporate travel
High costs
Last-minute flights and accommodation usually come with a hefty price tag, but particularly for corporate travelers. You might need to book a corporate venue, for example for a board meeting, and often you'll be faced not only with limited availability but also much higher prices than usual.
Time-consuming search process
Scouring multiple booking websites for the best options is a time-consuming task. Business travelers often have limited time to plan and book their trips, so efficiency is a top priority. Employee time spent combing through various booking sites isn't time well spent.
Limited availability
Last-minute options can be scarce, especially during peak travel seasons or when attending important events. Business trips usually come with more fixed times, meaning you have less flexibility when booking. Securing the right flights and accommodations can be challenging.
Policy compliance
Last-minute travel often falls outside of corporate travel policies due to its higher costs. Finding cost-effective options that align with company guidelines can be tricky. Employee duty of care is also something to bear in mind—it's harder to implement when plans have been made at the eleventh hour.
Our top tips for last-minute corporate travel options
Navigating spontaneous business trips isn't always a simple task, but with strategic planning and access to the right resources, it is possible to book efficiently. Here are our tried-and-tested hacks for keeping those costs low.
Utilize an all-in-one business travel platform
One of the most effective ways to streamline the process of last-minute business travel is by using an all-in-one business travel platform like TravelPerk.
You can easily compare prices and availability while staying within your company's travel policy guidelines. The convenience of booking all your travel essentials in one go allows employees to take control of their itineraries, reduce costs, and minimize the hassle associated with last-minute bookings.


Take advantage of exclusive negotiated rates
If last-minute travel is a frequent occurrence in your company, negotiating your own rates with individual providers can be a major drain on employee time.
Instead, you can leverage the exclusive negotiated rates available through business travel platforms like TravelPerk. These platforms continuously collaborate with various suppliers and have access to rates that often surpass those you can find independently through leisure travel websites. Allow them to handle the negotiations while you enjoy the cost savings.
Book flexible options
Given the often unpredictable nature of business travel, it's important to be as adaptable as possible and well-prepared for any changes. With TravelPerk you can access bonus extras like FlexiPerk to provide flexibility in your travel plans and guarantee money back in case of last-minute changes.

Don't waste a second—prepare a game plan for your next last-minute trip
The bottom line is that you're always better off when looking for a last-minute trip outside peak times, but this isn't always possible, especially when traveling for business reasons. Part of the trouble is spending time trawling the internet for the best options—but you don't have to.
Instead of wasting precious employee time on multiple websites searching for deals, you can book everything you need in one place, including flights, hotels, car rentals, apartments, and even train tickets. With all-in-one platforms such as TravelPerk, you can access an industry-leading inventory that provides you with a wide array of options at your fingertips.
Travel can't always be planned months in advance, we get that, so if you've got to book a last-minute trip, do it right.
Start saving money on business travel for your company today!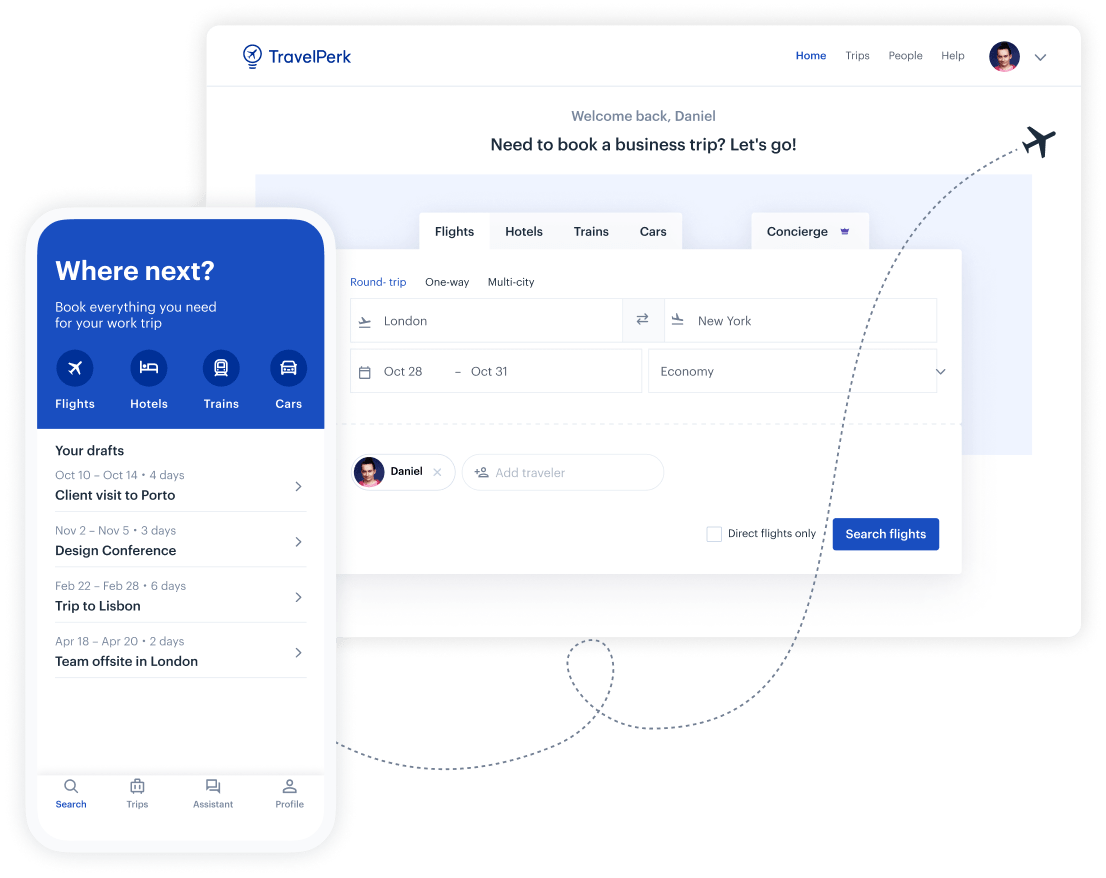 Make business travel simpler. Forever.
See our platform in action. Trusted by thousands of companies worldwide, TravelPerk makes business travel simpler to manage with more flexibility, full control of spending with easy reporting, and options to offset your carbon footprint.

Find hundreds of resources on all things business travel, from tips on traveling more sustainably, to advice on setting up a business travel policy, and managing your expenses. Our latest e-books and blog posts have you covered.

Never miss another update. Stay in touch with us on social for the latest product releases, upcoming events, and articles fresh off the press.