Whether you're a travel manager looking for a streamlined self-booking solution for corporate travel or a tour operator looking to maximize bookings by integrating an online booking engine into your website, this article provides an overview of the 10 best online travel booking systems to help boost your operations.
What is an online travel booking system?
An online travel booking system is a platform that enables users to search, compare, book, and manage various travel services including flights, hotel booking, car rentals, and activities. These systems help users to compare and book travel services from multiple providers.
There are generally two types of online travel booking systems that serve the travel industry: B2B-focused systems are aimed at travel management companies, travel agencies, and tour operators, while B2C-focused systems are typically designed for customers searching for leisure travel arrangements.
Main features of an online travel booking system
When evaluating the best online travel booking options for your unique business needs, there are several features to look out for:
A user-friendly interface that enables users to search for and book travel services based on their preferences.
Secure online booking and payment processing.
Real-time availability and pricing information.
Travel itinerary and reservation management tools.
Customer support and traveler assistance.
Reporting and analytics capabilities.
Best online travel booking systems for B2B
Online travel booking systems for companies
1. TravelPerk
TravelPerk is an all-in-one digital platform for businesses and corporate travelers. It empowers travelers to handle their entire travel booking process independently, providing access to an unrivalled travel inventory for flights, accommodation, train travel, and rental cars.
As well as intuitive self-booking capabilities, TravelPerk ensures seamless trip planning. The platform offers a wide range of capabilities, including reporting, trip approvals, policy compliance, and traveler safety features to enhance corporate travel experiences.
TravelPerk main features
An intuitive, user-friendly online booking platform -- all traveler data, preferences, and loyalty points are stored.
A simplified travel expense process with real-time expense reports.
FlexiPerk, an add-on that allows users to cancel their travel plans up to two hours before departure with a guaranteed refund of 80%.
24/7 business travel assistance with a target 15-second response rate from the 7* customer care team.
A VAT recovery solution to help businesses save up to 25% on business travel expenses.
TravelCare, a travel safety and alerts system.
Centralized invoicing for all business travel, eliminating the need to send invoice requests and reminders.
A vast catalog of integrations with third-party software.
Trip Assistant -- a mobile app available on iOS and Android -- that stores all trip information in one place, even when you're offline.
How customers rate TravelPerk
G2 rating: 4.6/5 (as of June 2023)
Capterra rating: 4.8/5 (as of June 2023)
TravelPerk pricing
TravelPerk offers four pricing plans to suit businesses of all sizes. All plans have access to the world's largest travel inventory and the 7* customer care support team. Plus, businesses only pay a monthly fee if they travel within that month.
Starter: The first 5 bookings each month are free, with a 5% booking fee thereafter.
Premium: $99/month with a 3% booking fee. Includes concierge services for special requests and savings of up to 25% with VAT-ready invoices..
Pro: $299/month with a 3% booking fee. Includes unlimited policy and approval workflows, unlimited budgets by cost center, and access to exclusive negotiated rates.
Enterprise: Designed for enterprise businesses that need customized requirements. To find out more about this plan, get in touch with an expert.
Start saving money on business travel for your company today!
2. SAP Concur
SAP Concur is a software-as-a-service (SaaS) expense management platform with a travel management module designed to automate corporate travel-related processes.
The platform offers an extensive network of travel suppliers, consolidates travel data into a single dashboard, and provides businesses with insights into travel spending, trends, and compliance to help them optimize corporate travel costs.
SAP Concur main features
Automated expense reporting and reimbursements.
Self-booking for flights, hotels, trains, and car rentals through the platform.
Real-time alerts, notifications, and reminders for traveling employees.
How customers rate SAP Concur
G2 rating: 4/5 (as of June 2023)
Capterra rating: 4.3/5 (as of June 2023)
SAP Concur pricing
SAP Concur doesn't share public pricing information. To obtain a quote, contact SAP Concur directly.
Click below to compare TravelPerk and SAP Concur's features and benefits
Travel booking systems for travel agencies
1. Ezus
Ezus is a cloud-based travel agency platform designed for agencies, destination management companies (DMCs), and inbound and outbound tour operators.
Travel businesses can plan customized trips and itineraries for individual and group travel, meetings, events, conferences, and exhibitions. Users can create tailor-made travel offers and itineraries and provide clients with the best prices for their trips.
Ezus main features
Automated trip costing and dynamic pricing options.
Creation of mini travel websites for each project.
Centralized customer relationship management software (CRM) features and travel portal for visibility into customer history and upcoming opportunities.
How customers rate Ezus
G2 rating: 5/5 (Based on 7 ratings, as of June 2023)
Capterra rating: 4.5/5 (as of June 2023)
Ezus pricing
Ezus offers four pricing tiers:
Starter: $139/month when billed monthly.
Professional: $399/month when billed monthly.
Premium: $849/month when billed monthly.
Enterprise: Customized subscriptions for larger enterprises.
2. Travelport
Travelport is a web-based Global Distribution System GDS that serves as a centralized platform to connect travel providers with travel agencies. The tool aggregates data from airlines, hotels, and car rental companies to help agents compare and select trip options.
Travelport main features
Itinerary management, fare shopping, and ancillary service integration, including extra travel products such as baggage options, seat upgrades, and in-flight services.
Personalized and branded itineraries.
The "Productivity Automator" feature is designed to streamline workflows and reduce the number of manual back-office tasks.
How customers rate Travelport
G2 rating: 4.5/5 (as of June 2023)
Capterra rating: 4.5/5 (Based on four ratings, as of June 2023)
Travelport pricing
Travelport doesn't share public pricing information. To obtain a quote, contact Travelport directly.
Travel booking systems for tour operators
1. SiteMinder
SiteMinder is a hotel commerce platform that enables hotels to sell their rooms on their own websites and through third-party online travel agencies (OTAs). The tool offers channel management features and a reservation system to help hotels manage their online presence and bookings.
Hotels can also optimize their inventory management processes across multiple online distribution channels to prevent duplicate bookings and expand their reach.
SiteMinder's main features
Hotel website builder with templates to showcase unique branding.
Rates are updated in real-time across all channels to prevent rate disparities.
Optimized pricing with revenue management systems that dynamically adjust rates based on factors such as demand, competitor pricing, and market conditions.
How customers rate SiteMinder
G2 rating: As of June 2023, SiteMinder does not have any customer ratings listed on G2.
Capterra rating: 4.1/5 (as of June 2023)
SiteMinder pricing
SiteMinder offers three pricing options:
SiteMinder: Starts at $99/month and is aimed at independent properties looking for channel management, performance and insights, and property management system (PMS) integration.
SiteMinder Plus: Starts at $129/month and is aimed at independent properties that want all of the SiteMinder features plus a booking engine, hotel website builder, and competitor intelligence.
SiteMinder Groups and Chains: This plan is aimed at groups and chains. Pricing is customized and can be obtained by contacting SiteMinder directly.
2. HotelBeds
HotelBeds is a travel technology company and B2B hotel distribution marketplace that connects accommodation providers with travel sellers that need inventory. The platform provides accommodation and ancillary products to agencies and tour operators rather than directly to the consumer.
HotelBeds' main features
Ancillary products including tours and attractions.
A booking API helps users choose flexible booking dates, filter hotels under different metrics, and obtain upgrades.
Features to help tour operators manage bookings and access reporting and analytics.
HotelBeds pricing
HotelBeds doesn't share public pricing information. To obtain a quote, contact HotelBeds directly.
3. Flights Logic
Flights Logic is an airline shopping, booking, and aggregation platform for travel agents, tour operators, and travel companies. The platform has suppliers from over 100 countries and a flight inventory from over 900 airlines.
Flights Logic's main features
Automated fare loader helps users stay ahead of competitors.
Booking software helps tour operators accept online bookings from various platforms.
Tour operators can accept online payments from their chosen payment gateways.
Flights Logic pricing
Flights Logic doesn't share public pricing information. To obtain a quote, contact Flights Logic directly.
Best online travel booking systems for B2C
1. Skyscanner
Skyscanner is a travel search engine and aggregator that uses a metasearch engine to compare flight prices from various travel providers. Users select their flight options and click through to the provider's website to complete the booking.
SkyScanner key features
Search filters including layovers, departure times, and airlines.
Real-time pricing and flight availability information.
Multi-city search functionality enables users to search for flights with multiple destinations.
How customers rate Skyscanner
Skyscanner has a Trustpilot rating of 4.3/5 from over 15,000 reviews.
2. Booking.com
Booking.com is an online travel platform and aggregator that enables users to search for accommodation options and compare prices. Travelers can book various accommodation options, including hotels, bed and breakfasts, hostels, vacation rentals, and entire apartments and rooms.
Booking.com main features
Search filters including budget, property rating, and property type.
Guest reviews and ratings for each property.
Flexible booking options including free cancellation and the ability to modify bookings within certain timeframes.
How customers rate Booking.com
Booking.com has a Trustpilot rating of 1.2/5 from over 43,000 reviews.
3. Rental Cars
Rental Cars is an online car rental platform that operates as an intermediary between customers and multiple rental car companies. Customers can search, compare, and book car rentals from multiple suppliers in locations worldwide.
Rental Cars main features
Search for, compare, and book a range of vehicle types and sizes.
One-way rentals, long-term rentals, and flexible pickup and drop-off locations.
Multilingual customer support.
How customers rate Rental Cars
Rental Cars has a Trustpilot rating of 3.5/5 from over 152,000 reviews.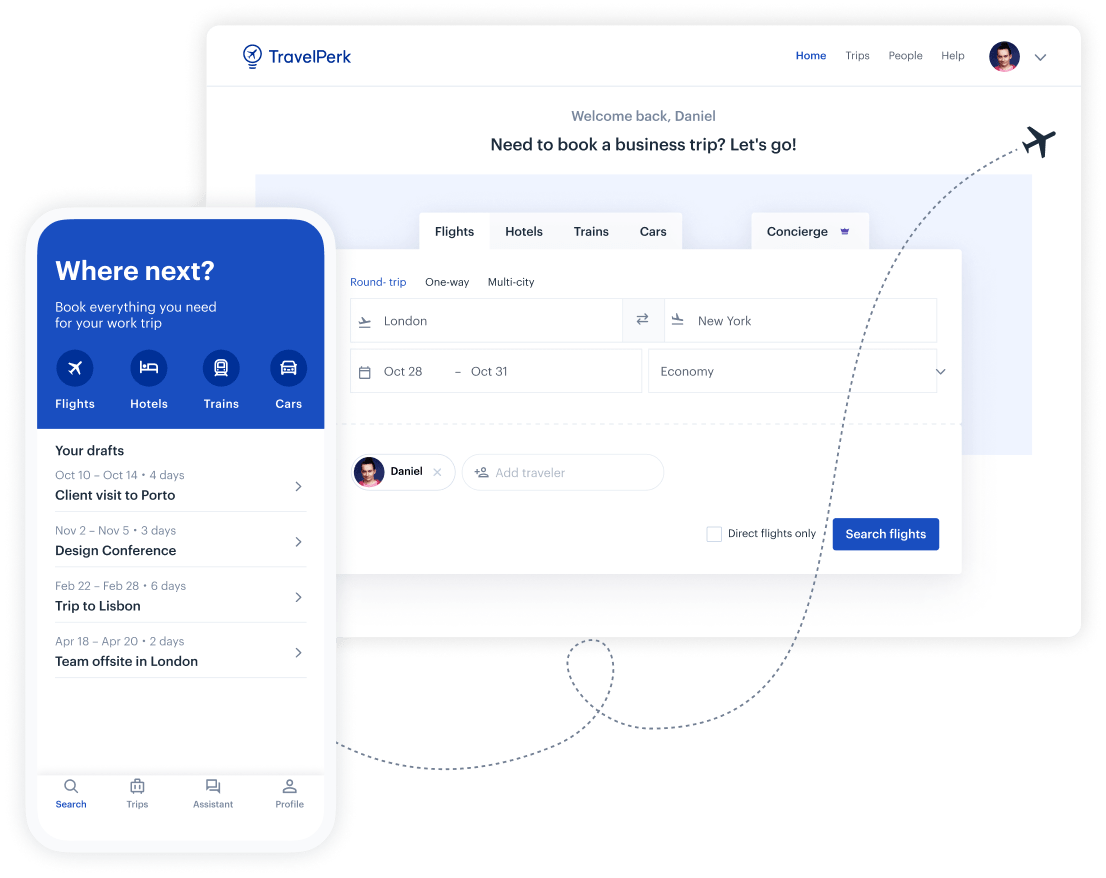 Make business travel simpler. Forever.
See our platform in action. Trusted by thousands of companies worldwide, TravelPerk makes business travel simpler to manage with more flexibility, full control of spending with easy reporting, and options to offset your carbon footprint.

Find hundreds of resources on all things business travel, from tips on traveling more sustainably, to advice on setting up a business travel policy, and managing your expenses. Our latest e-books and blog posts have you covered.

Never miss another update. Stay in touch with us on social for the latest product releases, upcoming events, and articles fresh off the press.