Hallo, Deutschland! Land of beer, bread, and booming businesses. With cities like Berlin and Munich housing equal parts culture, as they do German business opportunities, the central European country is on many people's lists as a must-visit location. 
However, thumbing through the hundreds of German tour operators offering services in Germany, Europe, and beyond, can be time-consuming, and overwhelming. Not to worry, we've done the heavy lifting for you and have rounded up the top German travel agencies for business and leisure travel to help ensure your next trip is Wunderbar!
Best online travel agency for business travel
When considering the best online travel agencies, TravelPerk is a top contender, with an innovative, end-to-end solution for modern corporate travel. It's an all-in-one, intuitive online booking platform, which is a refreshing change from the typically clunky UI of business travel apps and websites.
Corporate travelers have a mission with each journey they take—it's not the moment to waste precious time worrying about travel logistics. TravelPerk understands this, and efficiency is at the core of the team's offering.
Businesses can boost efficiency even further with TravelPerk's numerous tool integrations, centralizing expenses with software such as Expensify or Divvy, or sharing travel plans over Slack. Streamlining a workflow in a way that suits your company needs is key to successful business travel.
Another huge plus is that TravelPerk enables you to make flexible bookings for employees with FlexiPerk. Business travel is often subject to last-minute changes, and TravelPerk's flexible booking feature gives you the necessary leeway to change plans and get 80% of your spend back. Plus, booking with TravelPerk gives you the option to offset your carbon footprint with GreenPerk—a must in today's eco-conscious world. TravelPerk strives to ensure employees are traveling stress-free and comfortably, without breaking the budget.
Main offerings and features: 
Extensive inventory of travel services

Flexible booking with FlexiPerk

Safety alerts with TravelCare

Integrated travel policy & approval flows

Centralized invoicing

Easy & real-time expense reports

Carbon offsetting with GreenPerk
Start saving money on business travel for your company today!
Best German online travel agencies for leisure travel
The travel industry is a saturated market, and travel agencies are putting a lot on the table to stand out: luxury travel, cruises, excellent service, sightseeing private tours, you name it. We've taken it all into account and brought you the best of the best.
2. TUI: the perfect all-rounder for leisure travel
Aptly known for being "the world of TUI", and with 100+ years of experience on their passports, this travel company offers services in English, German, Dutch, Polish, French, Swedish, and more. They offer everything from skiing holidays to cruises, and you'll be able to discover it all in a few clicks via their easy-to-nav booking engine.
What's more the TUIApp will ensure you've got complete control of your trip on-the-go, and their 24/7 customer service is a win in today's ever-changing travel climate.
Features and highlights include:
24/7 customer service and travel experts
A company-wide promise to sustainable travel and greener getaways
Over 5,000 multi-destination trips to choose from
TUI owned and operated airline: 737 Dreamliners & 737 MAX
180 worldwide destinations: Austria, France, Switzerland, and much further afield!
3. Holiday Check: great for real review and user photos
Originating from the capital of Bavaria, Munich, Holiday Check has been running for 20+ years and boasts an impressive 10 million verified ratings to help curious travelers make the best decision.
Plus, if they're still stuck, they now host over 13 million user photos and videos to give bookers an authentic insight into life at some of their hotels on offer. Today, the travel company offers package holidays for individuals and small groups, and most recently have added car rentals to their customers.
Features and highlights include:
Tons of last-minute deals on the table
Travel protection plans for out-of-your-hands flight cancellations
An on-trip tour guide to ensure your trip runs smoothly
Destinations across Spain, Greece, greater Europe, and Africa & Asia
4. Ltur: a fit for those that want to book with a human, offline
The travel company has a wealth of shops scattered across Germany, Ltur is a great option for those that don't feel comfortable booking an entire holiday online. The flight & hotel booking platform offers destinations like Mallorca, Turkey, Greece, Dubai, and Spain—the list is long, and the discounts are rife. Plus, you can filter your trip by themes like wellness holidays, award-winning hotels, beach vacations, luxury holidays, you name it.
Key features include:
Refer a friend plan to earn cashback for future trips with Ltur
Plenty of offline shops to book your trip with a travel agent
Rotating deals for the spontaneous travelers among us
Optional, affordable, travel insurance packages via HanseMerkur
5. Weg.de: great for easy-to-use technology
Founded in Munich in 2005 and acquired by lastminute.com in 2017, Weg travel providers are putting their tech at the forefront of their offering, supporting travelers with an easy-to-use booking engine alongside excellent service. They offer flexible cancellation deals, small group tours, plenty of last-minute offers, and package holidays across Ibiza, Croatia, Rhodes, and so much more.
Key features and highlights:
Intuitive booking platform: ability to search by list or on the map
Good hotel overview with reviews, features, and ratings
Top Secret Hotels: great (secret) hotels at discounted prices, for the adventurous travelers!
Weekly booking calendar to pick the nights that best suit your budget
6. Travel Scout 24: a Germany tour company for online-only searchers
Offering a range of all-inclusive packages, last-minute offers, and plenty of themed holidays, TravelScout makes the list for being a great German online travel agency. The travel team is able to offer independent advice via phone, and their booking portal is equal parts comprehensive and extensive.
Their website hosts a multitude of offers that will open your mind to other potential destinations as soon as you see the affordable price tag they come with!
Key features and highlights:
Filter your search from 1-5 stars
Filter your search by your ideal food situation: half board, breakfast, all inclusive, and more
Car rental options for those looking to road trip
Wrapping up German tour companies for a spectacular trip
Whether you're traveling for business or leisure (or even bleisure), you're bound to find the ideal German booking portal on this list. Remember to take into consideration their destinations on offer—some companies stick to popular European destinations, while others will be able to take you further afield.
If you're booking for business, TravelPerk comes out on top as your booking platform and booking partner. The travel management company handles thousands of trips for businesses little or large, and are ready to help get you to your next destination—Germany or beyond—with a smile every step of the way.
Tschüss for now!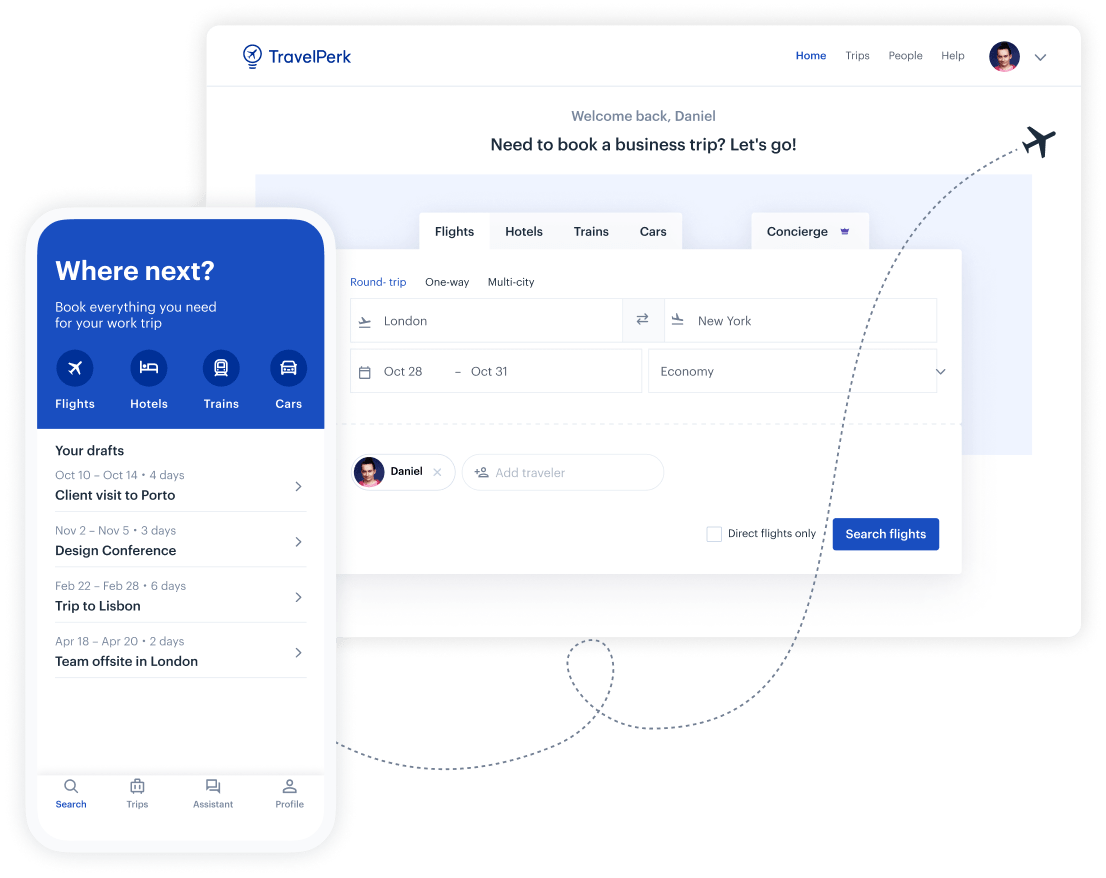 Make business travel simpler. Forever.
See our platform in action. Trusted by thousands of companies worldwide, TravelPerk makes business travel simpler to manage with more flexibility, full control of spending with easy reporting, and options to offset your carbon footprint.

Find hundreds of resources on all things business travel, from tips on traveling more sustainably, to advice on setting up a business travel policy, and managing your expenses. Our latest e-books and blog posts have you covered.

Never miss another update. Stay in touch with us on social for the latest product releases, upcoming events, and articles fresh off the press.