Leadership conferences offer a chance to learn from new perspectives, interact with global leaders, and make use of networking opportunities, in a way that will contribute to both personal and professional development.
By bringing together CEOs and business leaders from across the world, the best leadership conferences promote the sharing of tips and experiences from entreleadership to leadership development.
We've compiled the best leadership conferences this year, promising the best insights and strategies, workshops, and professional networks around.
Let's dive in.
1. Deloitte Entrepreneur Summit: a unique networking event for private businesses seeking investors
Join business owners, senior executives, co-founders, and industry specialists from around the world for this highly-anticipated annual summit. The summit offers privately-held businesses the opportunity to connect with over 250 investor groups—including private equity firms, family offices, pension funds, and sovereign wealth funds—which collectively manage around $4 trillion in global assets.
This conference stands out for focusing on engagement and connectivity, with one-on-one meetings, inclusive panel discussions, and in-person networking opportunities designed to help you come away with budding partnerships and new connections.
2. SHRM Annual Conference and Expo: a prestigious leadership event for the real innovators
Calling all business leaders with curious minds—this prestigious event is for you. SHRM is an opportunity to propel your career forward by sharing ideas with emerging talent, learning from thought leaders, and making partnerships with business leaders from around the world.
The event focuses on themes like employee engagement, structural change in the workplace, giving leadership training through workshops and seminars. With an all-star line-up of speakers, this event isn't one to miss.
3. Gartner Digital Workplace Summit: an event to help your company fly towards the future
This is your chance to join a world-class community of digital workplace leaders, architects, and IT executives. It may be one of the pricier events on our list, but there's a fantastic group rate discount when you register as a team.
If you're a CEO looking to boost workforce productivity and agility in your company, this is the event for you. With workshops covering topics from optimizing technology to constructing solid infrastructure, this conference showcases a holistic approach to leading your company to success.
TravelPerk's Meetings & Events team can help you book venues and get exclusive discounts on group travel
4. HOSA Annual International Leadership Conference: a masterclass in all things leadership for health professionals
With over 11,000 HOSA members, this is the top conference for health professionals and leaders. The four-day event combines educational seminars with competitive events, workshops and exhibits—and of course fantastic networking opportunities.
Innovation and collaboration are at the heart of the event's mission, working with the global health community to make a real difference. The agenda is jam-packed with events and talks, and it's definitely on the cheaper side for those seeking an economical conference: it's not one to miss!
5. Collision: the unmissable 'Olympics of the tech world'
This one's a can't-miss for tech leaders—whether you're based in Canada, the US, or further afield. Named "North America's fastest growing tech conference", it brings together the people and companies redefining the global tech world, with 2,000 startups represented and 40,000 attendees.
The 2023 speakers list boasts some of the most successful C-suite executives in the sector, providing an opportunity for significant networking opportunities, masterclasses in leadership skills, and plenty of innovation and inspiration.
6. Inbound by HubSpot: a premiere hybrid event bringing together the best of the best
The event promises "the energy of an incubator and the intel of an accelerator" and that's pretty much all you need to know. We'll give you some more information though. This event is about bringing together the best of HubSpot's culture, innovation, and creativity, and transferring that to businesses and business leaders to inspire collective growth and progress.
With glowing reviews, Inbound offers unparalleled networking opportunities, and exclusive events designed to propel careers forward and scale businesses.
Need to organize travel for your team for an upcoming conference?
7. Dreamforce by Salesforce: a three-day masterclass in building customer satisfaction
The highly anticipated Dreamforce event is returning this September. If you can't make it to the in-person conference, fear not: you can watch over 1,000 motivating sessions for CEOs, entrepreneurs, and professionals across the industries—for free!
Covering topics from sustainability to wellness initiatives, this vast archive of talks and workshops is available all year round on the Salesforce website. Salesforce's flagship event, Dreamforce, is the largest software conference in the world, offering an exclusive opportunity to connect, learn, and inspire.
8. The Women Leadership Festival: an exclusive opportunity for women leaders to come together
This event is a hotspot for some of the world's top women leaders in business, including nonprofits, public policy, science, and the arts. With discussion topics covering gender equity, the role of businesses in providing childcare, and women of color advancement in leadership, the event is open to senior-level women and men who support women's career advancement.
The conference schedule is full of exciting talks and brainstorming sessions, with keynote speeches by representatives from the #MeToo movements to a percussion performance by an all-female group during a discussion about Women in the Arts.
9. The Forbes Under 30 Summit: where the most innovative and awe-inspiring young business leaders come together
This event sees over 9,000 young leaders and innovators from across all industries come together for a four-day leadership summit—both online and in-person. From case studies to social media workshops, this event is designed to engage and challenge promising global leaders: the future of the business world.
It promises a combination of connecting, learning, teaching, and building geared towards enhancing professional development and optimizing leadership skills. With previous speakers such as John Zimmer, Megan Thee Stallion, Kygo, and Rafael Ilishayev, this event attracts the A-listers of the entrepreneurial world
10. Ernst & Young Strategic Growth Forum: an exclusive event designed to fuel ambition
This is a prestigious two-day conference for the country's highest-performing CEOs and high-growth entrepreneurs. From thought-provoking panels to one-to-one meetings, and incredibly high-value networking to fuel economic growth, an opportunity to attend is worth its weight in gold.
Executives attend this event to supercharge company growth, learn the latest on the strategic transaction marketplace, and hear inspiring stories from entrepreneurs to enhance their leadership skills. The event comes to a close with the renowned Entrepreneur of the Year US National Awards celebration—the largest gathering of entrepreneurs in North America. Ideal if you're looking to rub shoulders with inspiring global leaders and business owners.
Get involved in world-leading leadership conferences for CEOs
Being a CEO can often feel like you're expected to do everything—and more—to keep your company thriving. Attending a leadership conference can help you fire up your imagination, think outside the box, and simply connect with others in the industry. Plus, play your cards right, and you might end up leaving with some new business.
Leadership is a skill—one you'll likely spend years perfecting. Whether you're a conference novice looking to rub shoulders with the mentors and leaders you look up to, or are a familiar face at these events—you'll find a conference to suit your needs on our list.
What are you waiting for?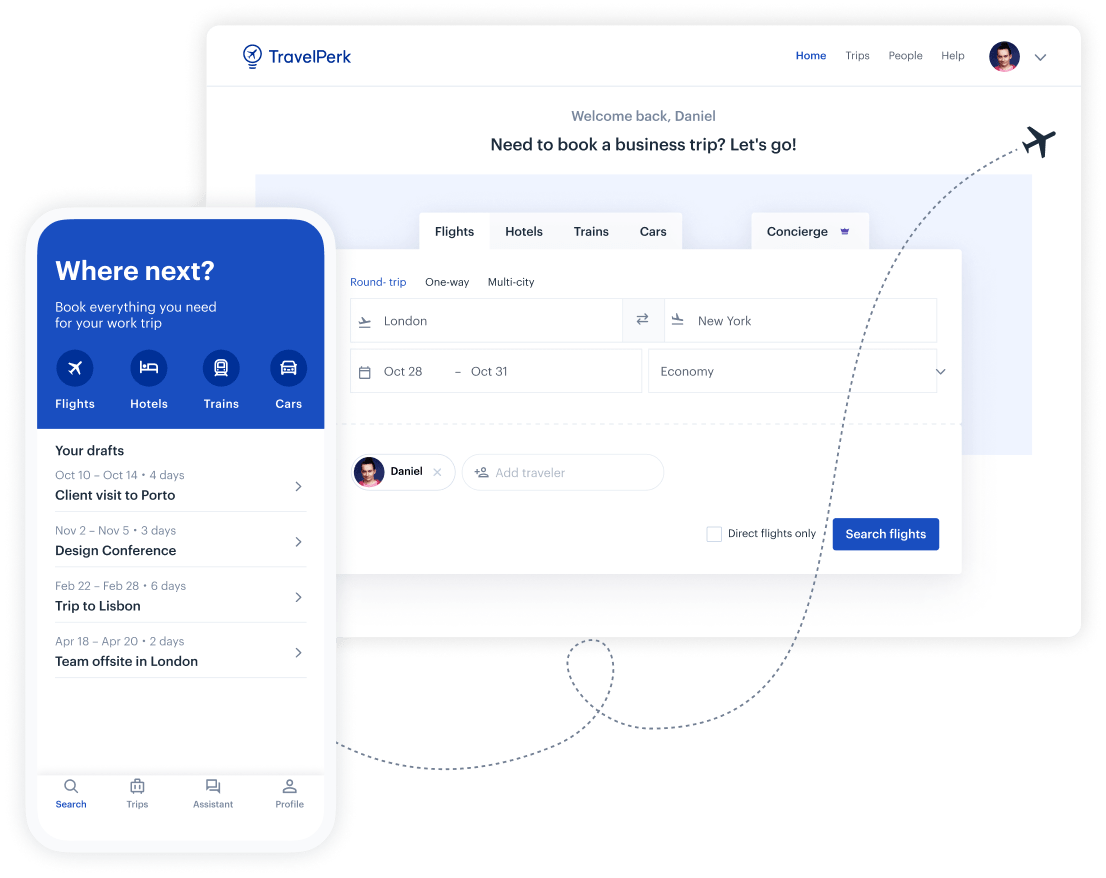 Make business travel simpler. Forever.
See our platform in action. Trusted by thousands of companies worldwide, TravelPerk makes business travel simpler to manage with more flexibility, full control of spending with easy reporting, and options to offset your carbon footprint.

Find hundreds of resources on all things business travel, from tips on traveling more sustainably, to advice on setting up a business travel policy, and managing your expenses. Our latest e-books and blog posts have you covered.

Never miss another update. Stay in touch with us on social for the latest product releases, upcoming events, and articles fresh off the press.