For many companies, corporate travel is a crucial part of doing business – but it's also difficult to manage efficiently.
If you're an admin or a travel manager, you know that planning business trips is complicated: finding the best rates, collecting and logging all invoices, managing last-minute changes all take time and resources. If you also need to manage international travel, your task becomes even more complex.
And if you decide to delegate this work to a travel agent or a travel management company, you need to find the right one for your business – which is a challenge on its own.
In this article, we'll look at the top 4 best corporate travel agencies in San Jose, California and the region (Santa Clara, Sunnyvale, San Diego), to help you pick the one that best suits your needs.
Features to look for when choosing a travel management company
Many travel management companies for businesses in San Jose offer travel technology to assist with booking processes or have dedicated agents to help you book your trips.
Keep in mind, however, that a local travel management company with physical offices isn't necessarily the most suitable option to help manage your company's business travel needs, because it might simply not have all the features you need to optimize your travel program.
Choosing a travel management company that doesn't offer all of the features you need leaves you back at square one with all of the same limitations you faced in the past.
Below, we detail the key features you need to look out for when comparing travel management companies that will help you save money, protect your business travelers, and streamline your entire travel management program.
Extensive travel inventories: It's essential that the travel management company you choose gives you access to comprehensive inventories of transportation and accommodation, as well as enabling you to compare prices, dates, and offers that best suit your travel needs.
Built-in approval workflows: Embedding your travel approval workflows and travel policy into your travel management company's platform helps you increase policy compliance rates and eliminates the need to manage travel and expenses via long email threads.
Centralized invoice collection: Some travel management companies don't act as a single vendor meaning that you'll still need to collect and collate invoices from various companies. Travel management companies that offer a system that consolidates all of your monthly invoices into one single vendor invoice can save you a lot of time and hassle.
Flexible booking options: Flexible booking options enable businesses to accommodate any last-minute changes to trip dates or cancellations after booking for free or at a reasonable cost.
24/7 Customer support: Unexpected events are inevitable in business travel, and you need to know that your travel management company will be there to help you should things go wrong. A prompt, easy-to-access customer support function is essential to help your travelers manage any issues that arise.
Reporting capabilities: The ability to access travel data that is broken down by individual business travelers, mode of transportation, booking type, and cancellations, helps you carry out significant spend optimization activities.
The 4 best corporate travel management companies in San Jose
Now that we've talked about the most important features to look for when selecting a travel agency, we'll look at the best corporate travel agencies for companies based in San Jose to help you pick the one that best fits your needs, travel policies, and budget.
1. TravelPerk
TravelPerk is a comprehensive travel management solution that enables you to manage all aspects of your company's business trips.
TravelPerk puts the traveler experience and self-management at the center, providing both admin staff and travelers with all the tools they need to manage business travel, including risk management, easy cancellations, and real-time expense reports.
Last year, TravelPerk acquired US business travel specialist Next Travel to gain a foothold in the US and provide its US customers with the best support and travel options they can get.
TravelPerk offers multiple benefits to companies looking to improve travel management:
We have an extensive inventory worldwide that enables you to find and select the most convenient options for travelers while saving on costs
Flexible booking with FlexiPerk makes it easier to change travel plans, even last minute: You can cancel a trip up to 2 hours before traveling and you'll get 80% of your money back
Travelers receive safety alerts before and during their trips
Integrated travel policy and approval flows facilitate the decision-making process, improve compliance, and make sure your travelers stay within budget
Centralized invoicing speeds up and simplifies invoice collection
Real-time expense reports streamline expense management
Carbon offsetting enables companies to make corporate travel more sustainable
Integration with third-party software helps you keep all your apps in sync and have them exchange information automatically (including expense management apps)
Events management helps remote and hybrid teams plan meetings and events
On top of all that, TravelPerk has 24/7 customer support where travelers receive a reply within 15 seconds; according to G2 reviews, the quality has consistently impressed travelers and enabled them to make changes as needed and minimize stress.
To find out more about how TravelPerk can help you optimize business travel at your company, get in touch with us to book a free demo and see the platform in action.
See how TravelPerk makes business travel stress free
2. JALB Travel
JALB Travel is a traditional travel management company (TMC) based in San Jose.
It prides itself in being a women & minority-owned travel agency that is also ARC/IATAN-certified. It offers both business and leisure travel management (including cruise planning) which also means that it isn't a corporate travel-first company at its core.
JALB Travel offers the following benefits to corporate clients:
24/7 service
Low service fees
Credit reports to keep track of unused tickets
Detailed expense reports
However, JALB Travel does not have a self-booking tool, which means that travelers need to rely on the company's agents to book transport and accommodation for them.
The agency doesn't offer a centralized invoicing and reporting tool either, nor third-party integrations with other expense tools, which makes the work of admin staff more difficult. Additionally, there are no travel alerts for changing health and safety requirements in destination locations.
3. Direct Travel
Direct Travel is a travel management company headquartered in Centennial, Colorado, that has two main branches: corporate travel and personalized experiences for leisure travelers (including specialty travel and cruises). The corporate travel branch of Direct Travel covers most business travel needs. It offers:
Travel account management with a proactive, consultative approach
A personalized travel advisor experience
Proprietary travel compliance technology for business travel policies
Different cost optimization features with contract optimization, unused tickets management, and direct savings desk, and more.
It's important to note, however, that Direct Travel uses SAP Concur as their online booking tool. While a solid platform, SAP Concur has its issues, too, and isn't as user-friendly as travelers and admins would like it to be – plus, its travel inventory isn't as extensive as TravelPerk's and doesn't feature low-cost carriers and Airbnb.
Additionally, it doesn't feature a flexible program with the option to claim a refund for canceled trips.
4. Corporate Traveler
Corporate Traveler is the last contender in our list of business travel companies that serve organizations in San Jose.
It was founded in the UK in 1999 and therefore is one of the more established companies in the business travel industry; currently, it operates in seven countries, including the States, and has launched Melon, its platform for online self-booking, safety information, reporting, expenses, and policy management.
Some of the other travel services it offers are:
Discounted travel fares
24/7 support and a dedicated travel agent
Solutions adapted to the needs of different industries
Reports and tools enabling sustainable business travel
The tracking of expenses and travel policy management
TravelPerk, however, offers better third-party integration features and a wider inventory of accommodation, airfare, and car rental options. Corporate Traveler doesn't enable you to create different profiles for guests (i.e. people outside of your company) and book trips for them.
Click below to compare both platforms' features and benefits
The takeaway
If you'd like to optimize business travel at your company, you have a number of options to choose from — but keep in mind that a local travel management company in San Jose isn't necessarily the best choice and might simply not offer all the features you need.
TravelPerk, on the other side, has a simple and intuitive interface and a ton of features to help you streamline corporate travel, such as a large inventory, a flexible self-booking platform, and a comprehensive safety and risk management solution.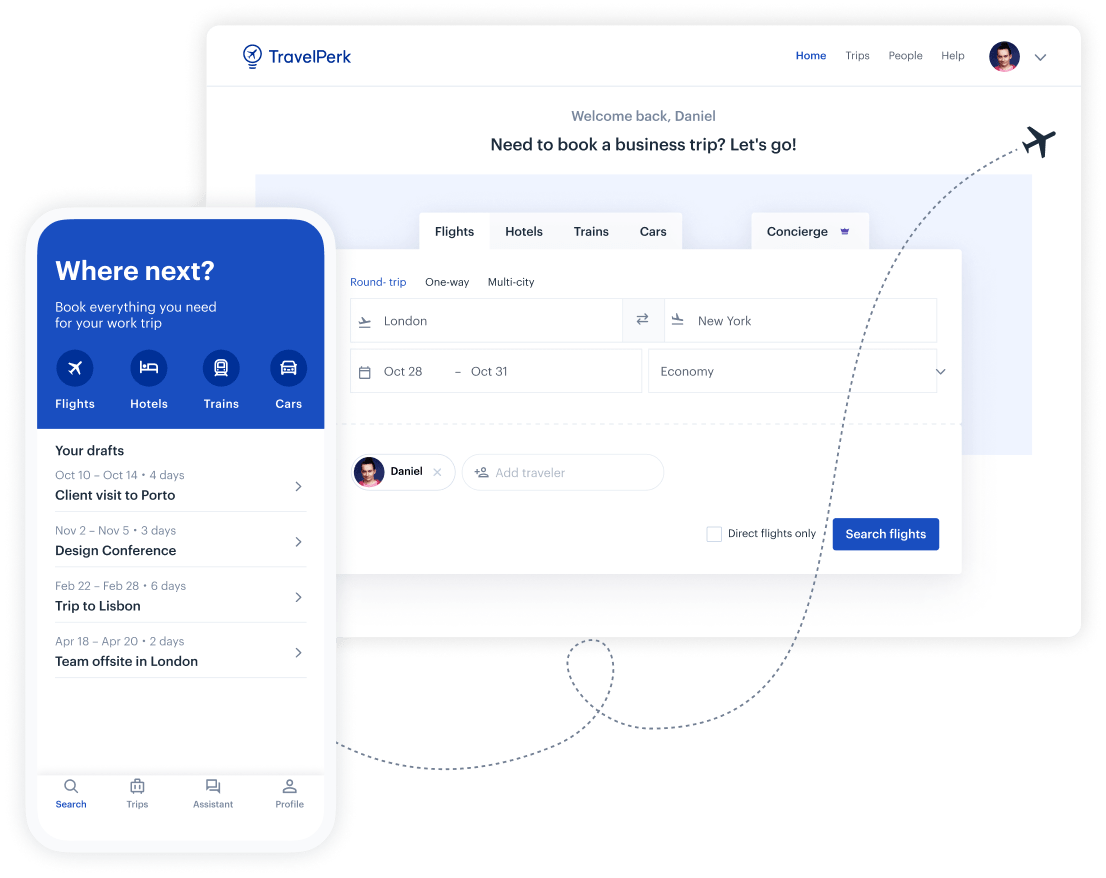 Make business travel simpler. Forever.
See our platform in action. Trusted by thousands of companies worldwide, TravelPerk makes business travel simpler to manage with more flexibility, full control of spending with easy reporting, and options to offset your carbon footprint.

Find hundreds of resources on all things business travel, from tips on traveling more sustainably, to advice on setting up a business travel policy, and managing your expenses. Our latest e-books and blog posts have you covered.

Never miss another update. Stay in touch with us on social for the latest product releases, upcoming events, and articles fresh off the press.