Booking business travel can be grueling. Trying to manage everyone's agenda, snag the best flight deals, and find hotels within walking distance of the office, it can all get pretty overwhelming, pretty fast.
Whether you're a business in Alabama looking for state-wide—even global—corporate travel options, or you're looking to niche down with a travel company that specializes in Alabama travel, this article's got you covered.
The benefits of using a travel management company
There's a high chance you don't need convincing to invest in a travel management company (TMC), but, just in case you do, let's cover the advantages of using one.
A centralized platform: invoices, expenses, and online booking tools all under one roof makes things a lot easier to manage.
Cost-effective: the money you put into your TMC you'll win back by saving on travel deals, VAT recovery, time, and optimizing your travel strategy for slimmer overheads.
Around-the-clock support: is so essential for your on-the-go employees, surprises pop up and you'll have a responsive customer care team to handle them.
A smooth travel experience: with an all-in-one app employees are finally getting the travel experience they deserve. Eliminate the fluffy processes and get your employees where they need to be in a way that suits them.
Features to look for when choosing a travel management company
Flexible cancellation policies options
When it comes to booking travel in today's world, flexibility is more important than ever. Travel is unpredictable and there's bound to be some bumps in the road. Maybe this means your travelers will need to change plans last minute, maybe it means they'll need to cancel them altogether. Ensure your TMC accommodates for both without being a great loss to your bank account.
A huge travel inventory
A travel inventory today doesn't just mean hotels and flights. There are so many more ways to travel and there are so many more ways to stay.
You'll need to find a TMC that offers everything from rail tickets to car hire, hotel suites, to fully-serviced apartments, no matter if you're traveling along the Gulf Coast or taking things further afield.
Exceptional customer service
When assessing your next TMC, look out for those with 24/7 customer support and shortlist them—we've done that for you here! Also, pay special attention to the reviews of their customer support team: you'll need rapid response rates and service with a smile to ensure your employees are getting the travel experience they deserve—even in a crisis.
Third-party software integration
A new tech solution is of no use to your business if it doesn't integrate with what you're already using. Ensure your TMC's solution can integrate smoothly with the apps and tools that currently get you through your day-to-day.
Easy-to-digest reporting
Look for a TMC that's able to break down your travel data by person, type of transport, canceled trips, bookings, and VAT—to name a few! You'll soon highlight areas for improvement and where you're best spending your travel cash.
Four best business travel management companies for businesses based in Alabama
If you're based in Alabama, then there are a few TMCs for you to consider. We're keeping in mind your standards are probably rocket high, so you've got the best of the best. Let's get going.
1. TravelPerk
As one of the best travel management solutions available on the market, TravelPerk is a must-have for any travel manager, Alabama-based or not. It offers a feature-rich catalog to make your job run that much smoother.
Some of the features TravelPerk includes:
Flexible bookings with FlexiPerk: Need to make a last-minute change to your travel arrangements? No problem, no wait lines, and 80% of your money back if you need to cancel two hours or more ahead of departure.
Safety alerts with TravelCare: Keep your traveling employees safe and in the know, with local safety alerts delivered straight to your phones.
Carbon offsetting with GreenPerk: Offset your business travel carbon emissions with TravelPerk's green initiative—contribute to VERRA-certified projects helping to keep our planet clean and green.
Best-in-class travel inventory: TravelPerk's travel inventory covers flights, hotels, car rentals, rail tickets, serviced apartments, and is the industry-leading inventory. 
3rd-Party software integrations: Integrate the tools already in your tech stack without the need to pester your software engineers for their time. Integrate the tech you love in a matter of clicks.
24/7 fast customer support: 7-star service, operating at a target 15-second response time and reviewed as raising the bar for customer support in the travel industry.
An interface worth raving about: TravelPerk's easy-to-use interface is often a fan favorite. One customer said the interface is: "extremely intuitive and user-friendly."
These are just a handful of the features that put TravelPerk as a top option for businesses in Alabama. But, don't just take our word for it. TravelPerk receives raving reviews on popular software review websites like G2 and Capterra.
See how TravelPerk makes business travel stress free
2. Brownell Corporate Travel
Brownell Corporate Travel operates as a traditional travel agency, offering travel services for those local to Alabama and beyond.
Here are some of their main features:
Easy to use mobile app: Book and manage your travel on the go with their partners at Trip Case.
Access some of the world's leading airline ticketing resources: Brownell's partnership with Sabre makes it easy to book with a large catalog of airline providers.
Get support for flights and travel with Air Desk: A solid feature provided by the company to help with flight schedules and any problems faced during airline operating hours.
For what Brownell hosts in talent, it lacks in tech. Brownell relies on external providers to provide its tech solutions for clients. It means should you run into technical difficulties throughout your booking or comms process, you'll likely be stuck in the middle with no clear route on who to turn to.
You need to find a solution that houses the tech, and customer care, themselves and in-house. TravelPerk does exactly this to ensure a 360 service, and give a total overview of your account.
3. AdTrav
AdTrav travel management is a modern solution that offers an online booking tool for corporate and government clients. One of the things that AdTrav takes great pride in is its reporting features, offering you easy-to-access data in order to optimize your travel program.
Let's explore some of the features on offer:
Travel Intelligence: get an overview of every air, car, and hotel booking in one dash
Actionable data: presents big data in bitesize chunks, for you to get a better overview of reservations
Predictive analysis: create "what if" scenarios to help you run better risk management for travel
AdTrav lacks some core features that TravelPerk customers love. Things like: offsetting your carbon emissions, flexible cancellations, and instant platform setup are all what help TravelPerk beat AdTrav to number one.
4. Sterling Travel
For Alabama companies, Sterling Travel is a good option to consider, and the last one on this list. Sterling Travel is a more traditional travel agency, helping to make the employees' travel experience run smoother. Whether they're flying to Birmingham, Huntsville, New York, or beyond, Sterling Travel has a well-rounded understanding of US travel needs, and travel experts on hand to help you get to your destination.
A few of its features are:
Reporting suite: their travel reporting studio is said to capture, clean, and categorize your travel purchases, so you have a better overview of where you can save
International Documentation: the Sterling Travel team is on hand to advise you on passport and necessary documentation you'll need when traveling outside of the USA.
Web portal: bringing all of your travel information to your fingertips in a couple of clicks
Admittedly, Sterling Travel seems a little dated. Their tech is behind the times, and their solutions don't come close to what TravelPerk offers. Sterling Travel offers expense integration and 24/7 support, however, they don't offer: an integration with your travel policy, travel alerts, an equivalent of FlexiPerk, or have a particularly large travel inventory to bring you deals and dates that suit your travel needs.
Book a demo with your corporate travel team today
Sweet home, Alabama! It's decision time. Hopefully, you've found this article useful and now have a firm understanding that TravelPerk can offer your corporate travel program everything it needs for success. If you still need convincing, hop over to G2 or Capterra to discover why TravelPerk is rated one of the best-performing global travel management platforms available. Book a demo with TravelPerk today, and see what this TMC can take you.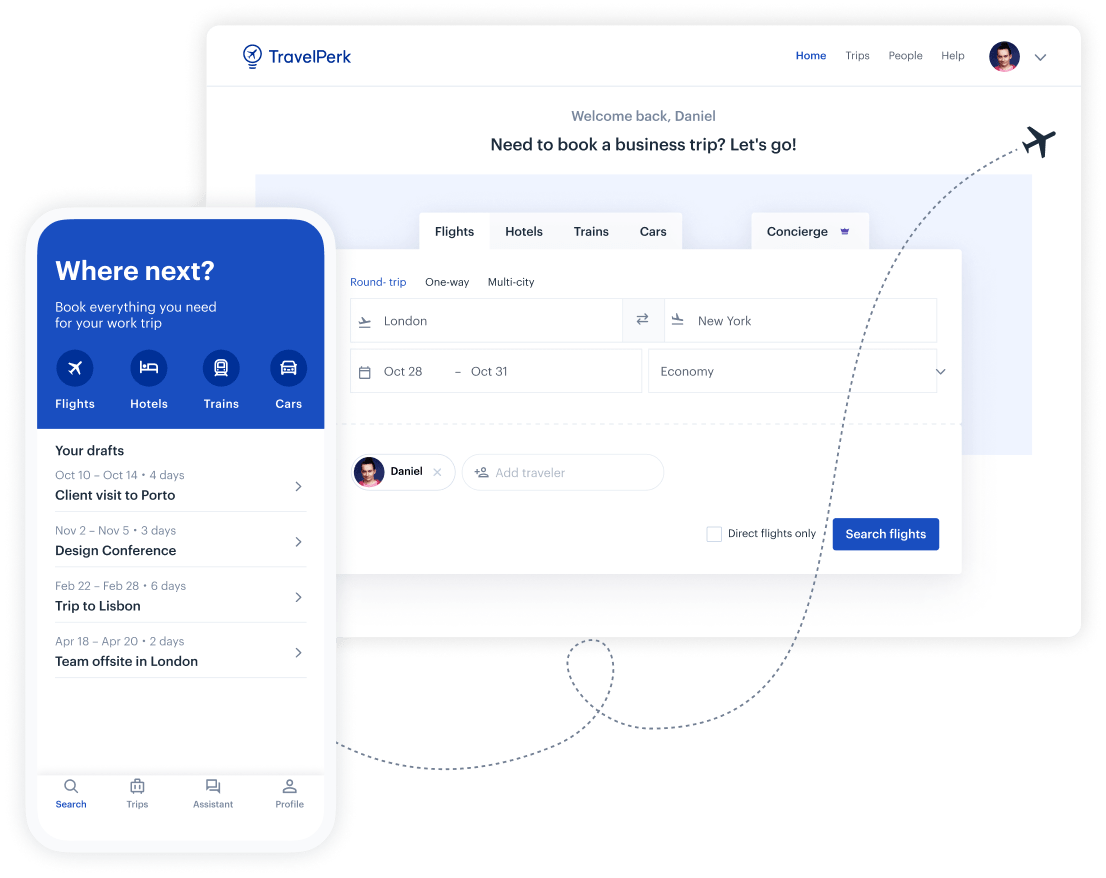 Make business travel simpler. Forever.
See our platform in action. Trusted by thousands of companies worldwide, TravelPerk makes business travel simpler to manage with more flexibility, full control of spending with easy reporting, and options to offset your carbon footprint.

Find hundreds of resources on all things business travel, from tips on traveling more sustainably, to advice on setting up a business travel policy, and managing your expenses. Our latest e-books and blog posts have you covered.

Never miss another update. Stay in touch with us on social for the latest product releases, upcoming events, and articles fresh off the press.