Whether your execs are traveling often or rarely, there's one thing you'll need to make sure of— that they travel well. Your executive team is crucial to the success of your business, their time is precious, and if they're traveling for work you can guarantee that the business trip is destined to bring a high ROI.
You're likely in search of a travel management solution that can provide your execs with the business travel experience they need to do their job well. A healthy, happy exec will translate to their output. STAT.
In this article, we'll cover five of the best corporate travel management companies and travel agents that are providing a top-tier travel solution fit for any exec.
Before we get to our top five, here are a few things you'll need to keep in mind when running through the options in this article.
How to choose the best company providing solutions for executive travel?
Some top tips to consider when selecting executive travel services are:
Reputation: check out online reviews and ask peer companies if they've used the company before for travel arrangements. Just because you've heard of a company or recognize their logo, it doesn't mean they're necessarily providing a good service. Their marketing team could just be working overtime.
Range of travel: with emphasis on range. A stellar travel program needs to encompass all types of travel: car rentals, rail, and air; all types of stays: serviced apartments, hotels, etc, and so much more.
Range of services & features: you may have noticed that working with a travel agency often limits you to just flights and hotels. Look for a TMC that can go the extra mile to provide your exec team with innovative travel solutions like flexible bookings, sustainable options, duty of care opportunities, and more.
Global coverage: From Mexico to Melbourne, travel needs take execs everywhere. Don't limit your travel planning to a country—or even a continent. Find a solution that can take you worldwide.
Personalized support: goes far beyond access to a phone number. No matter how low the pricing may be, don't sacrifice quality for cost. Find a TMC with travel consultants that can provide fast personalized support, and deliver tailored concierge services to keep your execs equal parts happy and productive.
Use the above list as your checklist while you muse through the five companies listed. Remember, what may be a fit for one business doesn't mean it's a fit for yours.
The 5 top companies providing solutions for executive travel
We're grading these TMCs going on:
Company reputation
Key strengths & weaknesses
Customer reviews
Travel itinerary
Customer support
Shall we?
1. TravelPerk: the perfect all-rounder for businesses little and large
TravelPerk is known for providing one of the world's leading travel management services, with Sourceforge, Slashdot, and G2 all ranking them as one of the top travel management SaaS on the market in 2023.
With transparent, honest pricing, competitive airfares, a wealth of choice on ground transportation and so much more, TravelPerk is a go-to for businesses of all shapes and sizes—from those traveling regularly to those that only travel a few times a year.
Let's take a look at some of their most raved-about features:
TravelPerk leaves little room on the table for other TMCs to compete with. However, let's explore your options, with the remaining four executive travel services.
Discover how to give your execs a top-notch travel experience that will have them smiling every step of the way. Book a demo today.
2. CTM: a good option for sustainable travel
Starting in 1994, Corporate Travel Management (CTM) has come a long way from the two-person startup it once was. From Australia to the Caribbean, the company now offers a global travel service combining quality tech with professional service. Their VIP service includes companion bookings, airport services, ancillary services, and more.
Let's take a look at some of their top features:
Airfare forecasting: find the most cost-effective time to travel in the following 21 days
Real-time travel risk management: identify risks and communicate them with your traveling team
Global team of travel agents: across CTM and partner travel agencies
CTM just misses out to TravelPerk on the top spot as they don't own the entirety of their business travel operations. CTM uses a network of independent partner agencies to help deliver on their global coverage, meaning they may not have total control when it comes to customer support, flight cancellations, and last-minute itinerary changes.
3. Executive Travel: good for travel consulting services
Founded in 1986, it's safe to say that Executive Travel knows a thing or two about the industry. It's also been listed as one of the nation's fastest-growing private companies. Executive travel focuses on savings, security, budget-friendly VIP services, and a great array of hotels for the picking.
Some of ET's top features include:
ETSavings: a 15-point savings plan designed to save your business up to 25% on travel
ETSecure: to track your travelers and communicate with them easier on the go
ETSourcing: people-powered sourcing beats Expedia by an average of $36.41 per night on hotels
Despite ExecutiveTravel.com having so many years of experience in the industry, it appears that their way of doing things is outdated, and not fit for scale. The agency is heavily people-powered and its lack of an easy-to-use booking app, sees customers opting for TMCs like TravelPerk, where booking doesn't always need to rely on someone on the other end of an email or phone call.
4. FCM Travel: provide solid travel risk management features
FCM Travel makes the list as one of the best travel management companies for executives. FCM Travel has set up a VIP feature that combines high-touch tech to give equal parts autonomy and support to your traveling execs. The company offers multinational support across 95 countries which runs 24/7.
Let's take a look at the most exciting FCM Travel features:
AI-powered alerts: based on your preferred carriers via the FCM app
Travel risk management: dashboards and tools to make smart decisions at times of high-risk
Expense management: a partnership with AirPlus to provide an end-to-end expense management solution
For all of the pluses that come with FCM Travel, there are a few areas where it falls short and TravelPerk makes the most sense. For example, your FCM Travel pricing will fluctuate depending on the number of transactions you make with the platform. TravelPerk, however, provides fixed, honest pricing so you know exactly what you're paying for and your finance team can better predict your monthly expenses.
At the same time, FCM Travel will see you paying for customer support, whereas TravelPerk provides 24/7 support in a target 15-second response time for free, for every account. Unfortunately, FCM Travel has seen some disappointing reviews revolving around their "nightmare" service.
5. Egencia: good for high-flying execs with a budget to burn
Last on the list for top exec travel services is Egencia. Starting in 2002, Egencia has gone through a series of acquisitions throughout the years, most recently acquired by Amex GBT in 2021. Today, the Egencia team offers an exec service that connects your traveling execs with a team of "elite" travel agents to help them get from A to B smoothly.
Let's explore some of their top features for execs:
Airport services: baggage handling, meet-and-greets, and fast-track passes
Conference & meeting room bookings: for groups of any size
VIP travel: helicopter or private jet charters
Elite car services: including limousine hires, and companion bookings
Although Egencia are providing a solid travel experience for execs, many still turn to TravelPerk for a few of TravelPerk's out-of-the-box offerings.
For example, TravelPerk wins new users by offering an easy-to-use app and booking platform over Egencia's which comes under fire by users. TravelPerk's customer service, 24/7, in a target 15-second response time also beats Egencia's, which sits at 20 seconds but has been reviewed as "terrible."
Find a TMC to take your execs places they won't forget—for all the right reasons
From Napoli to New York, execs are on the go, and they're going faster than most can keep up with. Picking a TMC that can cater to their needs is a big decision, and can be a little daunting. Hopefully, you've got a clearer understanding of the top travel service companies on the market and can make a more informed decision, based on your business needs.
Remember your checklist when assessing a potential: reputation, range of travel, range of services & features, global coverage, and personalized support. Happy traveling!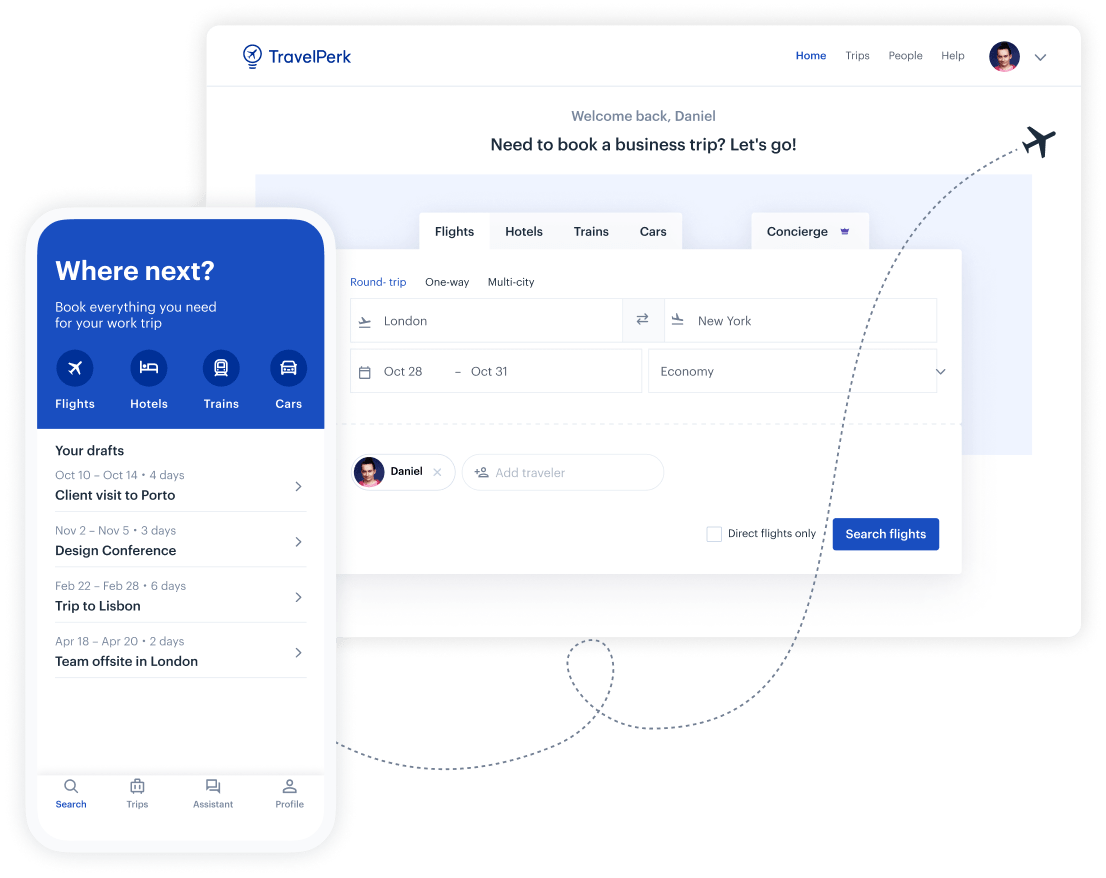 Make business travel simpler. Forever.
See our platform in action. Trusted by thousands of companies worldwide, TravelPerk makes business travel simpler to manage with more flexibility, full control of spending with easy reporting, and options to offset your carbon footprint.

Find hundreds of resources on all things business travel, from tips on traveling more sustainably, to advice on setting up a business travel policy, and managing your expenses. Our latest e-books and blog posts have you covered.

Never miss another update. Stay in touch with us on social for the latest product releases, upcoming events, and articles fresh off the press.