If you're looking for a Spanish car rental site offering both high-quality vehicles and competitive rates, you've come to the right place. Finding the right car rental company—especially when you're abroad—can be a real headache. It's a competitive market, and so much choice can result in a serious case of option paralysis.
Luckily Spain is home to some of the top car rental agencies in Europe. To save you time—and headaches—we've gone through the top car rental companies in Spain with a fine tooth comb. To best compare the options, we searched each website for a 3-day midweek rental in Madrid, for dates two weeks out from the time of writing this piece.
Armed with this list (and a valid driver's license) you'll be zipping down those Spanish roads and motorways in no time, knowing that you've got one of the best rental prices on the market.
Let's go! Or, should we say, vamos!
The 5 best car rental companies in Spain 
1. TravelPerk: perfect for corporate trips
If you're searching for the best car rental deals for business trips, travel management company TravelPerk might be your best bet. With multiple types of car available, from Compact to Economy, Intermediate to Mini, you're free to pick the style that best caters to your specific needs.
TravelPerk offers a vast inventory, including both manual and automatic cars, from which to choose your rental car. If you're looking for a sustainable option, there's also a selection of electric cars available. Plus, VAT-friendly invoices are available for a number of car rental companies offered by TravelPerk, saving you a lot of time, hassle, and money.
TravelPerk works with some of the top names on the market, including Avis, Enterprise, Europcar, Hertz, National and Sixt. The list doesn't end there—if you have specific needs requiring a specialized service, TravelPerk can get in touch with extra providers to find your ideal vehicle. From pick-up trucks to lorries to group convoys, the options available at TravelPerk are second to none.
TravelPerk's key features include:
Partnerships with leading car rental companies
Intuitive booking tool and all-in-one platform
Available in four languages: English, French, Spanish, German
Bonus feature GreenPerk to offset your carbon emissions
Paid extra FlexiPerk, enabling passengers to cancel up to two hours before a journey starts and receive 80% of their money back
A three-day family car rental for the start of August, booked two weeks in advance, offered various options between 66€ - 580€.

Save money on car rentals for business trips today!
2. Centauro: ideal for tourists and sightseeing trips
With over 45 years in the industry, Centauro Rent a Car is the ideal option for leisure or holiday travel, with offices in the most popular tourist destinations in Spain, Portugal, Italy and Greece. They boast a huge fleet of 40,000 hire cars, including economy, family, convertible, automatic, van and minibus options.
Additionally, their fleet is renewed for the start of each season, ensuring that each car is in the best possible condition.
Centauro's head office is located in Alicante, Spain, with car rental offices at the main airports and AVE (high speed) train stations on the Mediterranean coast—with branches in Barcelona, Madrid, Seville, Benidorm, Valencia, and more. Whether you're kickstarting a road trip from Malaga airport, or you're keeping things business-minded in Madrid, Centauro have got a healthy selection of vehicles on their books.
Centauro's key features include:
Centauro Gold Club loyalty program
Website offered in 12 languages (including Greek, Catalan, and Swedish)
24/7 road assistance
No additional charges, final price guaranteed
No deposit, no excess option
Choice between the full-empty or full-fuel policy
Young and Senior Driver supplement
Express Check-In service
GPS rentals
We found that a three-day family car rental for the start of August, booked two weeks in advance, offered various options between 118€ - 410€.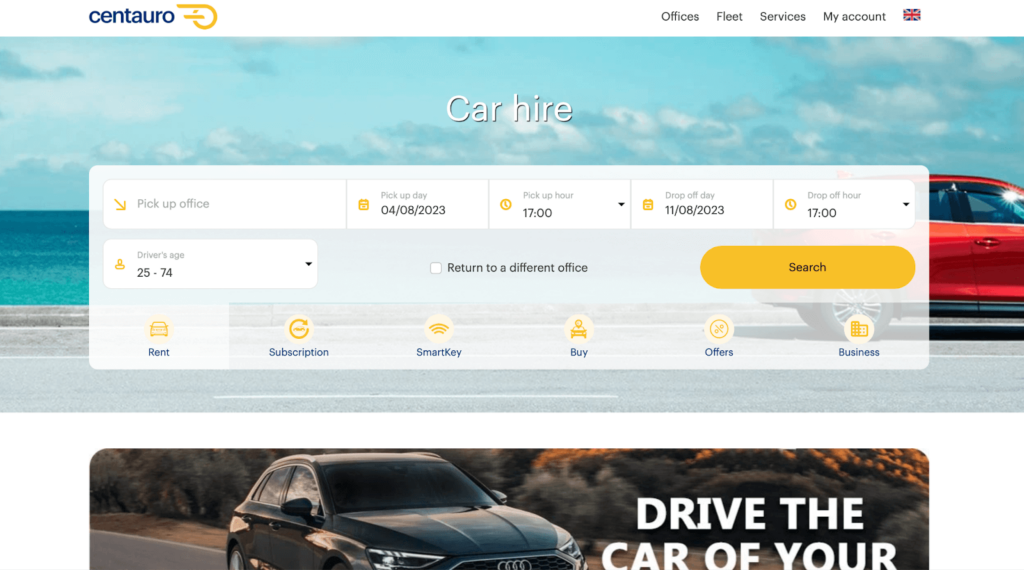 Wondering where to find the best bargain?
3. Record Go: reliable and kind on the credit card
If you're seeking an affordable car hire company in Spain, Record is a top contender, with 15 years' experience in the Spanish holiday sector. Offering cars, vans, and motorbikes, they can cater to the needs of those traveling for business or leisures—or even bleisure.
Record's stand-out feature is their selection of rates. For example, the 'Just Go' rate which includes total insurance cover, and Premium Roadside Assistance. The 'Go Easy' rate is the most affordable option, collision and theft damage coverage with excess depending on the vehicle model. Speed limits aside, keep an eye on their Record go Club for healthy loyalty points and turn your road trip into a reward for the future adventures.
Record's key features include:
Unlimited mileage
'Record go Club' membership loyalty program
All rates include either basic or full coverage
Free cancellation up to 24 hours in advance
Free shuttle service at airports in Ibiza, Menorca, Bilbao, Valencia, and Sevilla
Electric car and van rental
During our research, prices for a family car rental at the start of August, booking two weeks' in advance, gives options at around 149€ - 218€.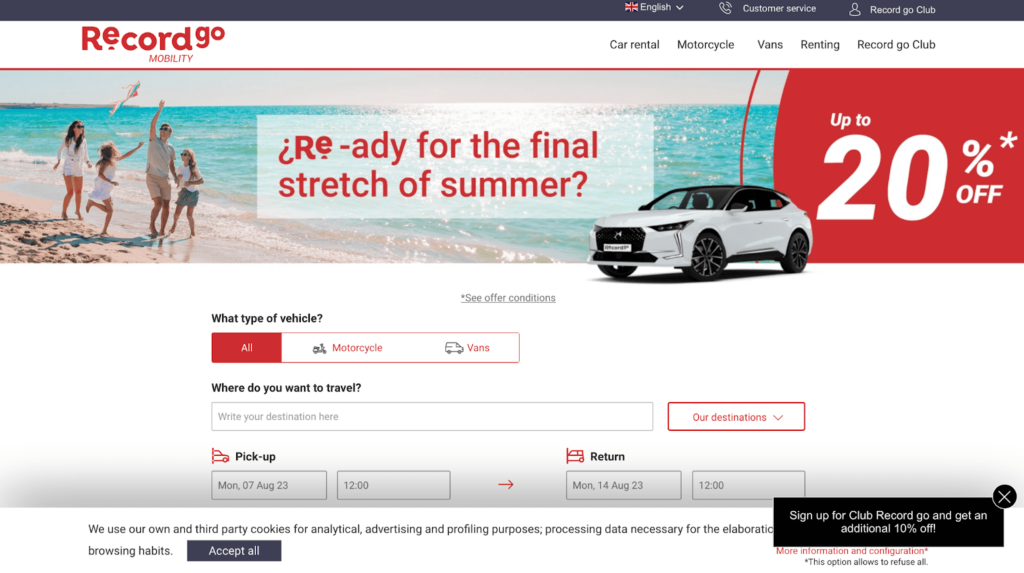 4. Drivalia: some of the best prices on the market
Drivalia, an CA Auto Bank Group company, provides travel solutions from car rental and car sharing to electricity mobility and second-hand car sales. Drivalia specializes in all-inclusive car hire, with a transparent pricing system.
With over 10 years' experience, Drivalia offers one of the most respected and reliable car rental services in Europe. Their fleet consists of 4,000 vehicles, updated once every six months.
They have a strong European presence, in the largest Italian, French, and Spanish cities. In Spain, you can find Drivalia car hire services in Alicante, Mallorca, Valencia, Bilbao, Girona, Murica, Santiago, Sevilla, Madrid, and Barcelona.
Drivalia's key features include:
Website available in 10 languages
Transparent pricing, with no extra fees
Full to Full default fuel policy
Drivalia Ultimate package option
Paid extras including out-of-hours car collections, child seas, and GPS navigator
Our research showed that searching for a three-day family car rental for the start of August, booked two weeks in advance, stood at 75€ - 185€.
5. Auto Valls: the top pick for Mallorca
Whether you're traveling to Mallorca for business or leisures (let's face it, hopefully leisure), moving around the island is made much simpler by hiring a car—and Valls is your best bet. They boast over 40 years' experience renting cars exclusively in Mallorca. With offices in all the hotspots, including Mahon Downton, Mallorca Airport, Son Parc, and Binibeca, you can find Valls all around the island.
Valls prides themselves on their transparent and all-in pricing system, avoiding any hidden fees. From nifty Fiat 500s to accommodating Hondas, Valls is a brilliant partner for your next trip to Mallorca.
Auto Valls' key features include:
Website available in English, Spanish, Italian, and German
15 pick-up/drop-off locations around the island
Standard rental rate includes Civil and Voluntary Liability Insurance up to €50,000,000, occupant insurance, theft coverage, roadside assistance, unlimited mileage, and full fuel tank
No surcharge for changes or modifications to the reservation
Free minibus service for delivery and return to Mahon-Menorca airport
Our research showed that the average price for a three-day family car rental from Mallorca airport at the beginning of August stands between 180€ - 250€.
Find the right vehicle for you, today!
From Andalusia to Granada, across to Malaga and along the Costa del Sol, these are your best options to find the most reliable, cheapest car rental on the market. Whether you're attending a week-long conference or a week-long wine-tasting tour, you'll be heading down those autovías in no time.
In terms of minimizing hassle, TravelPerk comes out on top for corporate travelers. Its all-in-one platform means that you can easily visualize your options, get access to the best rates on the market, and avoid lengthy booking processes. It's also ideal for those non-Spanish speakers out there, as the website's available in English, French, and German.
All that remains is to avoid those pesky toll roads, pack your international driver's license, fuel up with some tapas, and away you go!
Buen viaje!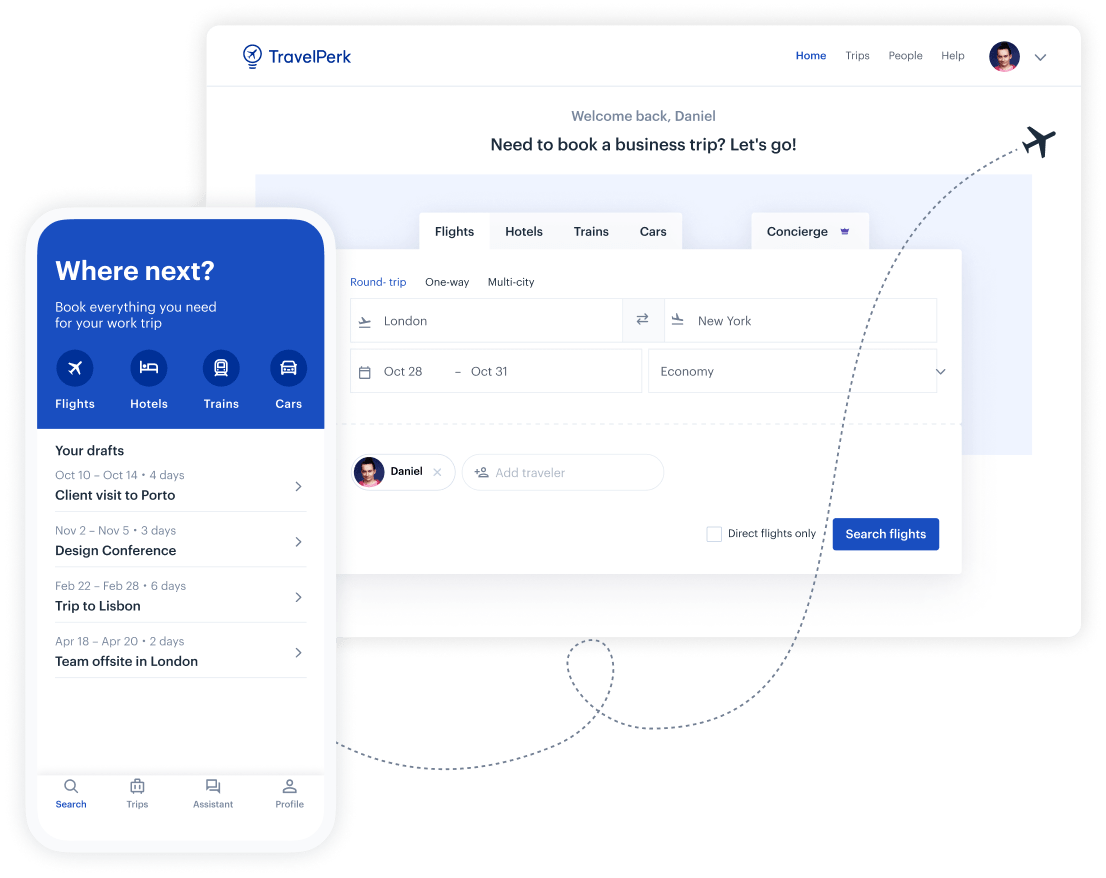 Make business travel simpler. Forever.
See our platform in action. Trusted by thousands of companies worldwide, TravelPerk makes business travel simpler to manage with more flexibility, full control of spending with easy reporting, and options to offset your carbon footprint.

Find hundreds of resources on all things business travel, from tips on traveling more sustainably, to advice on setting up a business travel policy, and managing your expenses. Our latest e-books and blog posts have you covered.

Never miss another update. Stay in touch with us on social for the latest product releases, upcoming events, and articles fresh off the press.