Renting a car can be a necessity, especially if there's no public transport available, if you need to pick up heavy or awkward items, or if you simply don't have your own car. It can be a great solution—but it can also be a costly hassle.
Car rental services are on the rise. Demand is booming as cheap car hire becomes an increasingly popular option in both rural and urban areas. It can be a cost-effective alternative to buying a car, you can choose vehicles based on your needs, and it's a relatively simple process.
The cheapest car rental agencies: in numbers
Forget trawling through a bunch of search results, we've done the hard work for you. We've compiled some charts based on the rates you can find on our platform when renting cars—the best prices on the market.
Whether you're after a minivan, a luxury car or a pickup truck, we've got you covered (as will your car insurance!). First, let's look at the numbers.
Booking your car rental through the TravelPerk platform will save you more money than going direct with the supplier. How? We use the combined buying power of our customers to negotiate competitive rates on car rental.
For instance, as shown below, Europcar is on average 38% cheaper to book via the TravelPerk platform than going direct.
Here's our list of the best discount car rental sites, cutting the time it takes for you to find the lowest prices and last minute deals.


1. SIXT
In the business for over a century, SIXT is also a major player in the world of cheap car rental companies. It offers competitive rates and high-quality vehicles, from vans to pickups to luxury cars. Let's look at some of its stand-out features.
With over 2,200 locations in over 100 countries, including multiple airport locations, there's no shortage of car rental pick-up points for you to access, wherever you're starting your journey.
SIXT has a long list of airline, hotel, and specialty partners to help you save in all the ways you travel. For example, their partnership with Delta Air Lines Skymiles entitles you to up to 500 miles' worth of flight credits per rental, as does Virgin Atlantic, Lufthansa, and many more. Their hotel partnerships include Best Western, Marriott, and Radisson.
SIXT offers very cheap car rental prices, with the SIXT Advantage Circle offering exclusive benefits and perks every time you rent a car. Registering entitles you to 15% off your next car hire. They're a great option if saving money is your highest priority.
With Gold, Platinum or Diamond membership, US residents are entitled to one free additional driver. Otherwise, the cost sits at around $5 per day, with up to nine additional drivers allowed per booking.
Pick-up hours are usually from 5am to midnight, and a car will be held for an hour after the scheduled pick-up time. If you cancel 24 hours or more before the agreed time, you'll be charged a $100 cancellation fee, which doubles if it's less than 24 hours before this time.
2. Enterprise
Enterprise is another high-profile car rental agency with a globally-recognized brand name. As car hire providers go, it boasts a pretty impressive bunch of reviews, scoring 4th in Which?'s list of preferred car hire companies. It's known for its reliable and varied fleet of vehicles, and for offering some of the lowest car rental rates in the industry.
Renting a vehicle from Enterprise requires only a valid driver's license, a form of ID, and a credit or debit card in your name.
Being a vast, international firm, Enterprise also offers a wide selection of vehicles, manual or automatic, hybrid or electric, small car or people-carrier.
Like Avis, they also offer a Members' Benefit Program, to help you make significant savings. Signing up to the free program entitles you to 10% off your next car rental.
Enterprise also offers the opportunity to buy used rental cars at heavily discounted rates. These vehicles are necessarily well-serviced and maintained. Like Hertz, Enterprise offers a 12-month/12,000 mile limited powertrain warranty, which is an appealing feature if you want to be confident in your purchase.
If you need to cancel your reservation, do it at least 24 hours prior to the original pick-up date. Enterprise will refund the booking amount minus a small cancellation fee.
At Enterprise, the additional driver fee varies by region, but usually stands at around $15 per day. However, the charges are waived for a spouse or domestic partner of the renter.
3. Hertz
Chances are you've heard of Hertz, and you'd probably recognize their distinctive black-and-yellow logo. Also aiming exclusively for the mainstream traveler with lower prices,Hertz offers top-quality services, often at very affordable rates.
Hertz is a trusted and recognised brand name with plenty of offices around, allowing you to easily pick up and drop off a car in separate locations.
Hertz provides standardized rates which apply to most of its locations, meaning you can have a pretty good idea of how much you'll be paying for a vehicle, wherever and whenever you rent it.
Hertz waives additional driver fees for spouses of their loyalty program members, Hertz Gold Plus Rewards. It's free to join and you can use it to earn free car rentals. You earn 1 point per dollar spent, and can book any car type on offer with your rewards, whether you want a road trip around Wisconsin in a Ford Bronco or drive to New York in a Fiat 500.
With Hertz you also have the option to make the reservation and pay later, though paying earlier will ensure you get the best prices available:
4. AVIS
First up is Avis, a well-established car rental agency with a good reputation. They're a household name, having become one of the biggest players in the industry: they're reliable, and pre-booking with them isn't a risk. Avis is a top choice for many looking for high-quality, yet affordable, rental cars worldwide.
Booking with Avis is a simple and convenient process. You can do it over the phone, with the mobile app or through their website.
With the Avis Preferred rewards program, you can earn points every time you rent a car, with 1 point per $1 on every qualifying car rental, and 2 points per $1 spent on accessories (e.g. GPS, child car seats, roadside assistance). You can trade in these points for attractive deals and hefty discounts on your car rentals. The program membership also qualifies you for priority service, pre-prepared paperwork, and thrifty savings.
Avis also offers a huge variety of car rental deals for anyone in the market for a second-hand car. These cars are guaranteed to be well-maintained, and Avis offers a three-day test drive for anyone interested in buying a vehicle.
In terms of additional driver surcharges, the fee is $13 per day in most U.S. states—but not all. In New York, it's just $3 a day, and in California there are no fees applied to parents, siblings or children of the renter.
Free cancellation for prepaid reservations is generally hard to come by. With Avis, a $50 processing fee will be charged if you choose to cancel a prepaid reservation 24 hours prior to the pick-up time, which triples if the cancellation is made less than a day before the scheduled time.
5. National
Next in our list of car hire providers is National. Easily recognizable in the list of affordable car rental companies, National is a great option for renters looking for a cheap, efficient, and convenient car hire.
When searching for a car with National, your results list will automatically display the least expensive option at the top:
National also has a great membership reward program, called Emerald Club. Among other benefits, you're entitled to a free rental day for every seven rentals, and you won't have to pay extra for an additional driver (normally costing $12).
Emerald members in the U.S. and Canada can choose any car in the exclusive Emerald Aisle and only pay the midsize rental rate.
Like SIXT, National has various partnerships with airlines such as American Airlines and Delta SkyMiles, and hotels including the Hilton chain, giving you access to savings across the board.
You can access these features, manage your rentals and view your Emerald Club membership easily through the National mobile app.
If you cancel at least a day before the pick up time, you'll pay a $50 cancellation fee, if you cancel within 24 hours, it'll cost you $100.
6. Europcar
The final company on our list to help you get the best rental car deals is the well-known car rental agency Europcar. Customers online describe its impressive value for money, praising the company's reliable customer service and easy rental process. It's well-known and well-respected, having become a successful global franchise.
Based on reviews, users find that Europcar performs well in terms of fuel policy, conditions and mileage of the car, and when it comes to opting in and out of additional extras and charges.
Their Europcar Privilege Club entitles members to a permanent 10% discount off every rental, free weekends and discount coupons. Rewards are fast and varied, helping you make savings from day one.
Europcar also boasts an impressive list of partnerships to help you save money:
Europcar offers different rates for additional drivers, charging extra for drivers under 25 and those over 70.
A unique positive of Europcar is their cancellation policy, which allows users to cancel for free up to 48 hours before the pick-up time.
Get started with your corporate car rental today
Wherever you're heading off to, in whichever vehicle you choose, let us help you make your corporate trip as smooth as possible. Corporate car hire is a great business solution for avoiding costly vehicle maintenance and increasing flexibility. In fact, many of the companies above (including Avis and Enterprise) have specialized corporate car hire programs.
A comprehensive corporate travel management platform like TravelPerk can do the website-trawling and number-crunching for you, making sure you get the best car rental out there. TravelPerk has access to an extensive inventory of rental cars for business travel, helping you get the vehicle you need at the price you want. Business travel has never been simpler—or cheaper! 
Get started today to see how TravelPerk can save you money on car rentals for business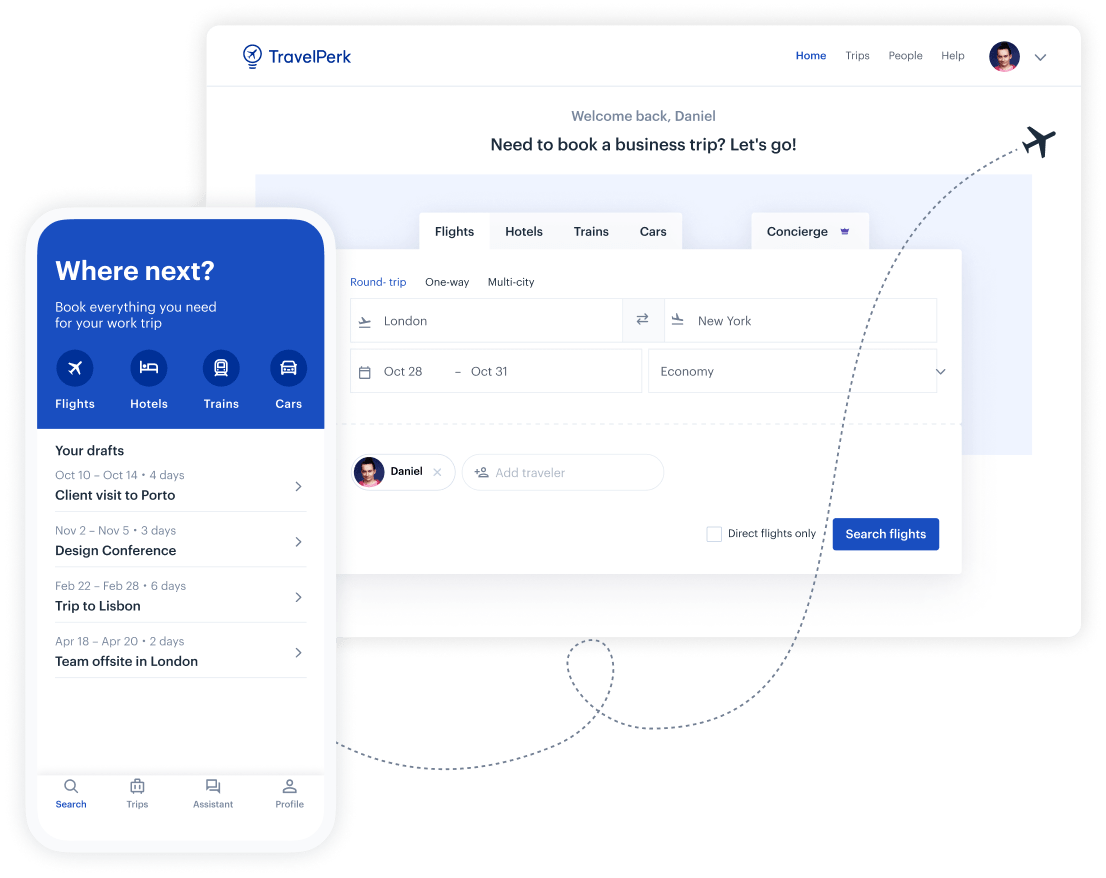 Make business travel simpler. Forever.
See our platform in action. Trusted by thousands of companies worldwide, TravelPerk makes business travel simpler to manage with more flexibility, full control of spending with easy reporting, and options to offset your carbon footprint.

Find hundreds of resources on all things business travel, from tips on traveling more sustainably, to advice on setting up a business travel policy, and managing your expenses. Our latest e-books and blog posts have you covered.

Never miss another update. Stay in touch with us on social for the latest product releases, upcoming events, and articles fresh off the press.