Whether you're touring Germany or taking things across Europe, car rental companies in the land of bratwurst and beer come rife. Being home to BMW and Mercedes-Benz, Germany has a reputation to uphold when it comes to cars.
From Munich Airport to Frankfurt Airport, Hamburg to Dusseldorf, we've covered car rental companies nationwide to bring you the best of the bunch. In this list, we've rounded up the top car rental companies that are kind on the credit card and come with features that make renting your car easy and keep your journey rolling.
To make your selection easier, we've gone through the top car rental companies in Germany with a fine tooth comb. To best compare the options on this list, we searched each website for a 3-day midweek rental in Berlin, for dates two weeks from the time of writing this piece.
Ready? We'll have you zipping down the autobahn before you can say lass uns gehen!
The top 5 best car rental companies in Germany
1. TravelPerk: perfect for corporate trips
From Québec to Cologne, if you're searching for the best car rental deals for business trips, travel management company TravelPerk might be your best bet—and there's no limit to locations! With multiple types of car available, from Compact to Economy, Intermediate to Mini, you're free to pick the style that best caters to your specific needs.
TravelPerk offers a vast inventory, including both manual and automatic cars, from which to choose your rental car. If you're looking for a sustainable option, there's also a selection of electric cars available. Plus, VAT-friendly invoices are available for a number of car rental companies offered by TravelPerk, saving you a lot of time, hassle, and money.
TravelPerk works with some of the top names on the market, including Avis, Enterprise, Europcar, Hertz, National, and Sixt. The list doesn't end there—if you have specific needs requiring a specialized service, TravelPerk can get in touch with extra providers to find your ideal vehicle. From pick-up trucks to lorries to group convoys, the options available at TravelPerk are second to none.
TravelPerk's key features include:
Partnerships with leading car rental companies
24/7 customer service with a target 15-second response time
Intuitive booking tool and all-in-one platform
Available in four languages: German, English, French, and Spanish
Bonus feature GreenPerk to offset your carbon emissions
Paid extra FlexiPerk, enabling passengers to cancel up to two hours before a journey starts and receive 80% of their money back
A vast number of software integrations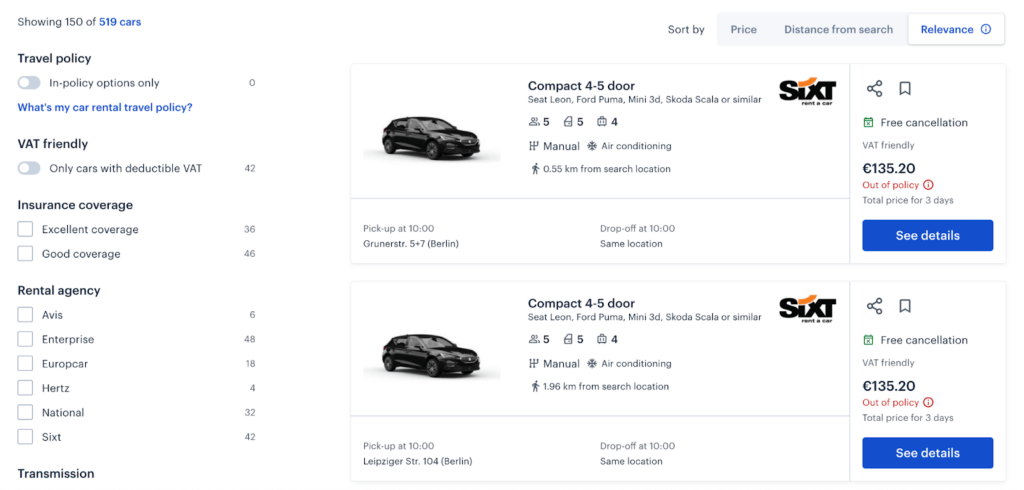 A three-day car rental for the middle of August, booked two weeks in advance, with pick-up and drop-off in central Berlin offered a compact 4-5 door starting at 135.20€.
Save money on car rentals for business trips. Book a demo today!
2. Sixt: great if you're driving on a dollar-tight budget
Sixt is in a whopping 2,000+ locations worldwide spanning 105+ countries—there's no surprise they've got Germany covered, in fact Germany is where it all started for the company back in 1912! This makes them a great option if you're planning on making your road trip a European adventure.
Sixt have ample car rental locations to choose from and cover everything from Convertibles to Passenger Vans.
What's more, Sixt offers a new spin on car rentals with their Sixt+ Car Subscription. You can pick the best price vehicle for your budget, and customize your subscription with mileage packages and coverage options that suit your needs best.
You'll need no down payment, there are no extra financing surcharges, and your vehicle won't depreciate. Plus, you can cancel at any time, so no worries about sticky contracts if you decide you don't need the car anymore.
Take a look at their top features:
A huge selection of different drop-off points
Daily deals and promotions
Sixt+ car subscription plans
Car sharing: expands to bikes, e-scooters, e-mopeds bookable within an app
Personal cars for exec travel: personal chauffeurs to airport taxi shuttles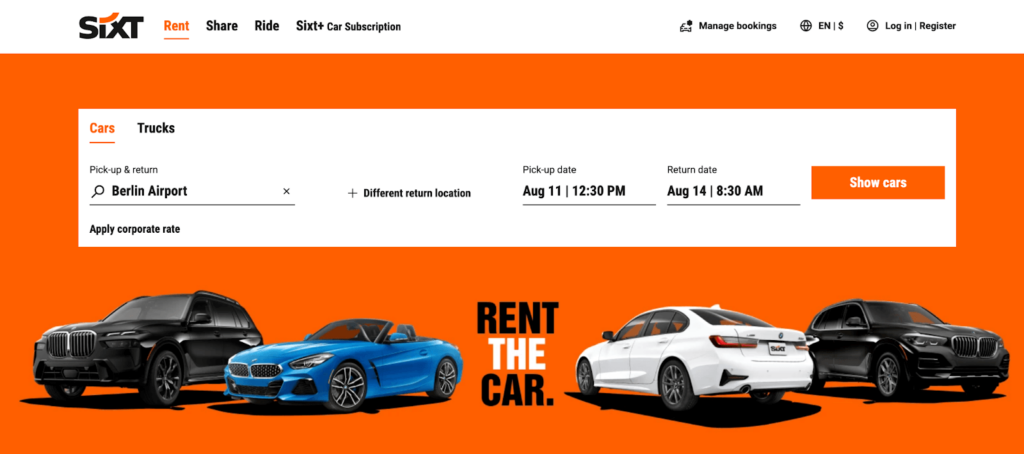 We found that a three-day family car rental for August, booked two weeks in advance, started at $187.18.
3. Buchbinder: for the studious drivers among us
Covering all types of car hire, from short term to long term, Bchbinder will have you cruising from Stuttgart to Saarlouis, Baden-Württemberg through to Bavaria with complete peace of mind. Every rent-a-car option with Buchbinder comes with basic protection, solid customer service, and spans 420 pick-up/drop-off locations.
Need more? Students save 10% when booking van rentals or cars making your move to new student accommodation or back home that much easier on the mind and pocket.
Their fleet service will also ensure your business is staying on the go while optimizing costs—finding you the cheapest solution for the type of travel you need.
It's worth mentioning our research found that while Buchbinder had a large selection of vans and trucks available, they had a limited choice of cars.
More features include:
Long-term rentals for business and individual travelers
Electric vehicles to keep your emissions low and revenue high
Vans & truck hires available
Individual contracts that are designed specifically for your needs
24/7 Germany-wide and Europe-wide customer support in partnership with ADAC
Speedy responses to accidents, breakdowns, or last-minute repairs
Protected insurance rates: even if you have a self-inflicted road accident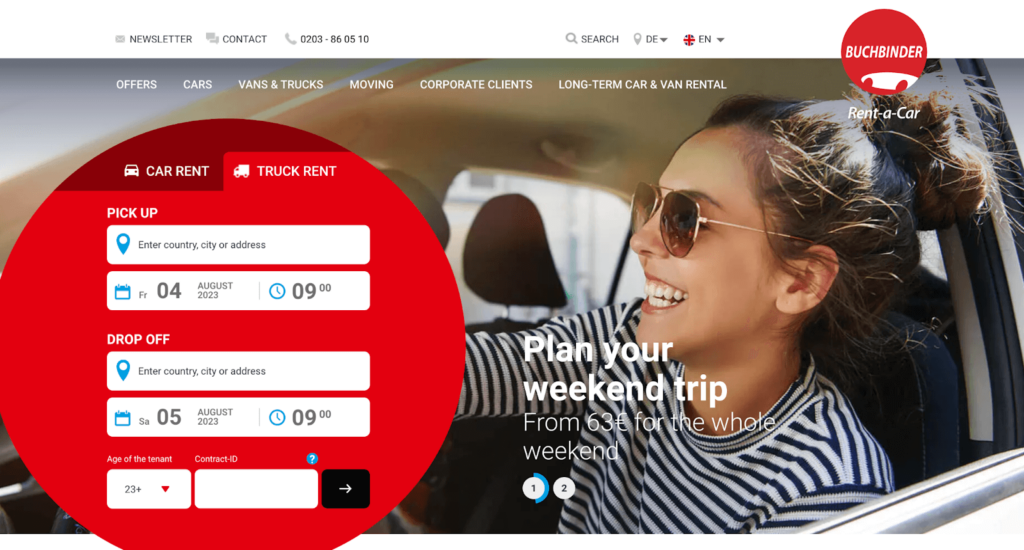 We found that a three-day family car rental for August, booked two weeks in advance, started at €381.95.
Want to explore your options?
4. Hertz: great for frequent drivers looking for a loyalty program
Close to 20 million global members can't be wrong. Hertz is a strong contender when it comes to global rent-a-car solutions. Whether you're heading from Dresden to Dortmund, or taking things further afield, Hertz has everything from luxury saloons to zero-emissions EVs. Hertz is probably most famous in the UK, however, their German rental options are certainly not to be overlooked.
The Hertz Gold Plus Rewards® program has eradicated the fear of lengthy morning queues that are so notorious with car rental companies of the past. As a member of the program, you'll be able to skip the queues and head straight for your car at the pick-up location.
Some of their stand-out features include:
The Dream Collection: a selection of luxury cars (only available in certain locations)
Van rentals by the week, day, or even by the hour
Partner offers to sweeten your trip including American Express, Hostelling International, Sonhaus, Accor, and more
Gold Plus Rewards: earn redeemable points, save up to 10%, guaranteed upgrades, and more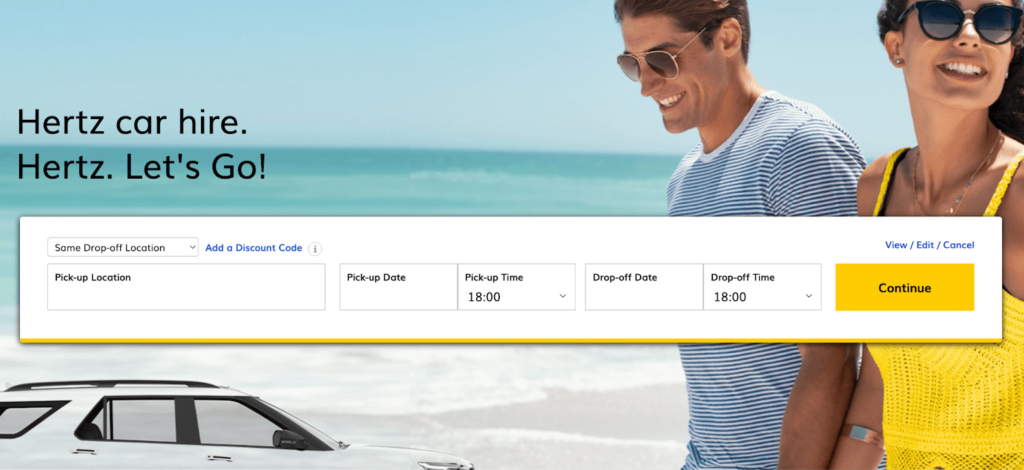 We found that a three-day family car rental for August, booked two weeks in advance, started at 133.13€.
Need a car rental company that spans internationally?
5. Starcar: a local option with some great deals
Starcar is a relatively small player in the car rental game when lined up with some of the other popular car rental companies on this list. However, with pick-up locations spanning across Germany's major cities, it's a strong contender and its small-time offering makes up for big-time discounts. Originating from Hamburg, the car rental company now has over 30 years of experience under its hood.
Starcar offers an accessible rental service, promising good customer support, quick matches for business trips, and everything from moving vans to limousines for your special guests or executive staff members.
There's also a fantastic free rental section: which means if a rental car is available for your desired route, you can rent it for free during the specified period—sehr gut!
Here are some notable features:
Monthly offers: Starcar delivers an e-monthly bang sharing some fantastic offers where the time may be just right
Safety & environmental tech innovation: Starcar jumps on new tech as quickly as possible to deliver a more eco-friendly and safer service.
An expanding list of licensees to take your Starcar experience overseas with partner brands
Camper vans available for those bleisure travelers out there looking to explore some of the German countryside
We found that a three-day family car rental for August, booked two weeks in advance, ranged from 176€ - 200€.
It's time to find a wheely gut German car rental service
There you have it, five rental car companies in Germany to consider for your next road trip. Whether you're traveling for business, leisure, or bleisure, you should be in safe hands, and on four wheels in no time at all. Two more companies to consider are Alamo and Keddy if you want to extend your search a little further.
Out of all of the companies we've shared on this page, TravelPerk comes out on top for its ease of use when it comes to the intuitive mobile booking application, and should be your go-to for business travel. The TravelPerk team works tirelessly to secure car rental deals that you'll struggle to beat elsewhere. What's more, traveling with TravelPerk comes with heaps more benefits beyond your car rentals: you'll have your entire business trip planned from the comfort of one app.
Pack your driver's license, check that speed limit (or not, if you're on the autobahn!), and buckle up; Germany is on the map!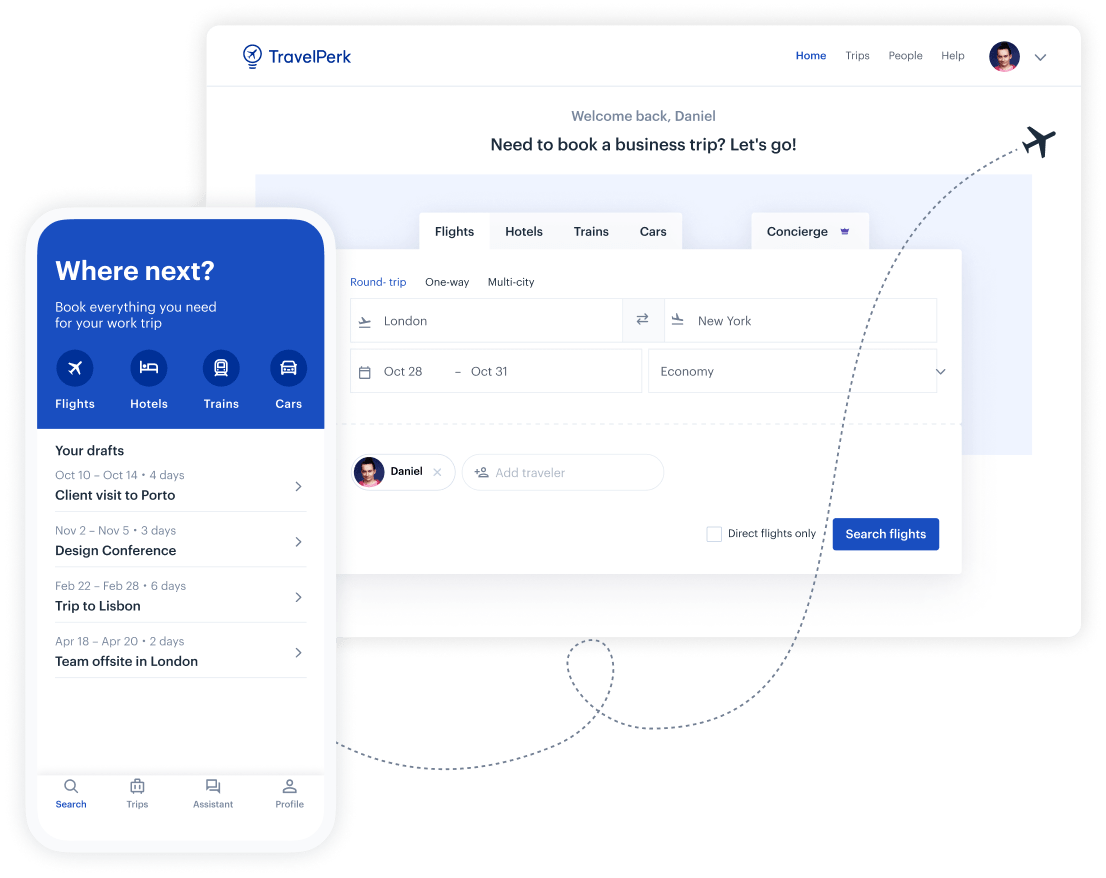 Make business travel simpler. Forever.
See our platform in action. Trusted by thousands of companies worldwide, TravelPerk makes business travel simpler to manage with more flexibility, full control of spending with easy reporting, and options to offset your carbon footprint.

Find hundreds of resources on all things business travel, from tips on traveling more sustainably, to advice on setting up a business travel policy, and managing your expenses. Our latest e-books and blog posts have you covered.

Never miss another update. Stay in touch with us on social for the latest product releases, upcoming events, and articles fresh off the press.