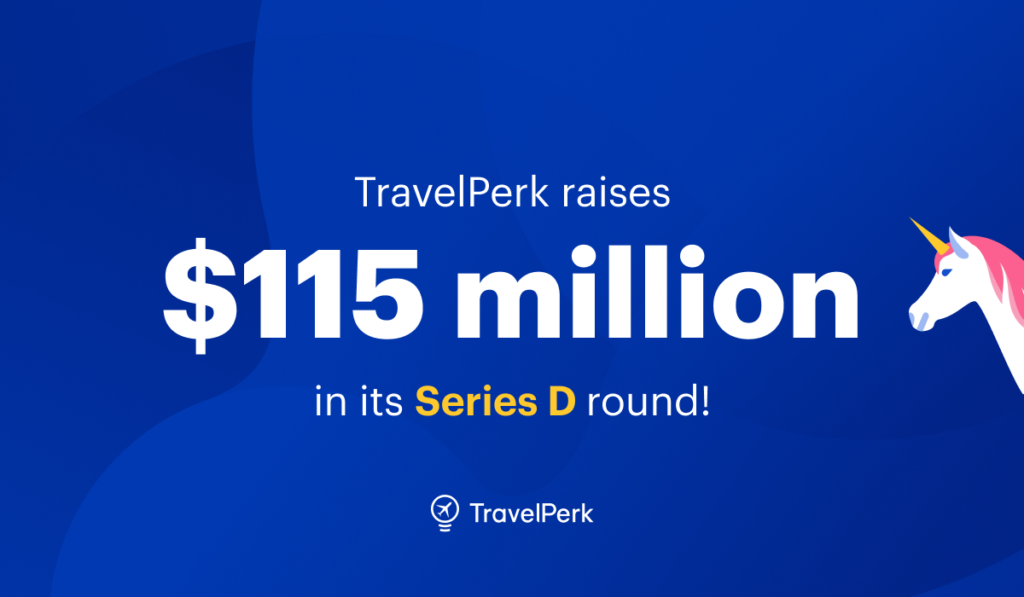 TravelPerk raises an additional $115m in its Series D and unlocks unicorn status to lead the future of work
Valued at over $1bn, TravelPerk achieves unicorn status bringing the total amount raised to date to $409 million
Latest funding led by General Catalyst and Kinnevik; Gillian Tans, ex-CEO of Booking.com, and Joel Cutler from General Catalyst to join the board.
Funding will be used to boost sustainable travel and expand TravelPerk's product offering to meet SMBs' new hybrid and remote working needs
Chicago, London and Barcelona, Wednesday 12th January 2022: TravelPerk, the largest global travel management platform, today announces it has closed its Series D round at $275m by raising an additional $115m to top the $160M raised in April, reaching a valuation of over $1bn.
The investment is led by new investor General Catalyst and existing investor Kinnevik, and takes the total raised by TravelPerk to $409m. Gillian Tans, ex Chairwoman and CEO of Booking.com, who invested personally in this round, is joining the board of directors alongside Joel Cutler, an early investor in Stripe, Airbnb, and Kayak. Mrs Tans and Mr Cutler will help the company further strengthen its position as the clear leader in the $600bn SMB travel industry.
The funding will support TravelPerk's new mission of connecting people in real life in an enjoyable and sustainable way. With this funding, TravelPerk will double down on its efforts in the development of next generation sustainable travel solutions, designed specifically for the era of hybrid working. As businesses continue to adapt to the changes triggered by Covid-19, they face a major challenge: how to maintain the in-person human connections that are essential to building relationships and culture at a time when flexibility and sustainability are non-negotiable for both employees and leaders.
"As time goes by, it is clear that there won't be a replacement for the human touch. We are seeing data on our platform and we are feeling it ourselves." says TravelPerk CEO Avi Meir. "While some technologies are focused on virtual interactions, TravelPerk is building the technology that will help us get together in real life."
The company recently released TravelPerk Events, a revolutionary tool that helps distributed teams come together face-to-face. TravelPerk will continue to develop this product offering going forward in 2022. In an effort to make these in-person meetings as sustainable as possible, the company is leading the charge in their offering for customers to calculate their carbon footprint and offset their emissions through its acquisition of Susterra in 2021. This involves investing in carbon offsetting projects on behalf of TravelPerk customers, all of which are VERRA-accredited and held to the highest standard of the UN Sustainable Development goals. This is one of many sustainable travel initiatives the company is developing.
The new funding will also be used to support significant expansion in TravelPerk's target markets, including the US and Europe, following a period in which TravelPerk has cemented itself as the leading business travel management platform for the SMB market globally. Since 2019, TravelPerk has grown 4x in terms of annualised revenue and doubled its customer acquisition rate.
In 2021, TravelPerk reinvented the way SMBs and travelers manage travel by introducing solutions to make travel safer, more flexible, and more sustainable - all built around the core mission of connecting people in real life in an enjoyable and sustainable way. TravelPerk won a number of major new customers in 2021, including Just Eat Takeaway.com Click Travel, a TravelPerk brand, also recently became an accredited business travel supplier to the UK public sector through the Crown Commercial Service.
The company's zero-layoff strategy that it adopted throughout the pandemic allowed it to continue to invest in and improve its products and technology during a time of widespread disruption for the industry. TravelPerk has been focused on strategic acquisitions to improve its platform and expand the business' global footprint. In 2021, TravelPerk acquired Click Travel, the UK's largest business travel platform, and significantly expanded its US presence with the acquisition of NexTravel and its Miami office opening last October.
Avi Meir, CEO and Co-Founder of TravelPerk, commented:
"The last two years have changed the travel industry forever, but one thing will always remain true: we have a human need to connect and meet with each other.
Businesses will always need to travel, to bring their teams together and to meet with customers. But they need that travel to be flexible, convenient and, more than ever, they need it to be sustainable. Our mission at TravelPerk is to connect people in real life in an enjoyable and sustainable way.
We're incredibly proud of all we've achieved to date and we're thrilled to have secured this funding, from investors that truly understand our vision and mission, which will allow us to accelerate our growth and set new standards for sustainable business travel."
Gillian Tan, Chairwoman and ex-CEO of Booking.com, commented:
"I have been working in the travel industry for many years, and TravelPerk is the one company that never ceases to surprise me. It has solidified its leadership position over the last two years in challenging times for the travel industry, emerging stronger than ever. They are innovative and have been able to anticipate and address their customers' changing needs through major acquisitions, new market entries, and product designs. I'm honored to be joining as an investor and the Board of Directors at TravelPerk and to help the company reach a global leadership position."
Joel Cutler Managing Director at General Catalyst commented:
"Hybrid and remote working is undoubtedly here to stay, but a Zoom call will never be able to replicate the benefits of in-person, face-to-face interaction. We have no doubt that business travel will continue to grow and thrive in the years ahead, with TravelPerk as the clear leader in the space, and we're thrilled to be participating in this funding round."
About TravelPerk
TravelPerk is the next-generation business travel platform pioneering the future of business travel. TravelPerk's all-in-one platform gives travelers the freedom they want whilst providing companies with the control they need. The result is saved time, money, and hassle for everyone.
TravelPerk has the world's largest travel inventory alongside powerful management features, 24/7 customer support, state-of-the-art technology and consumer-grade design, all of which are enabling companies worldwide to get the most out of their travel.
Backed by world-class investors like Kinnevik, General Catalyst, DST, Greyhound Capital, Target Global, Felix Capital, Spark Capital, Heartcore, LocalGlobe, Amplo, 14W—investors in some of the most disruptive companies in tech including Zalando, Slack, Trello, Twitter, Farfetch and Delivery Hero — TravelPerk is reinventing business travel with an end-to-end solution that works. Visit www.travelperk.com or https://developers.travelperk.com for more information.