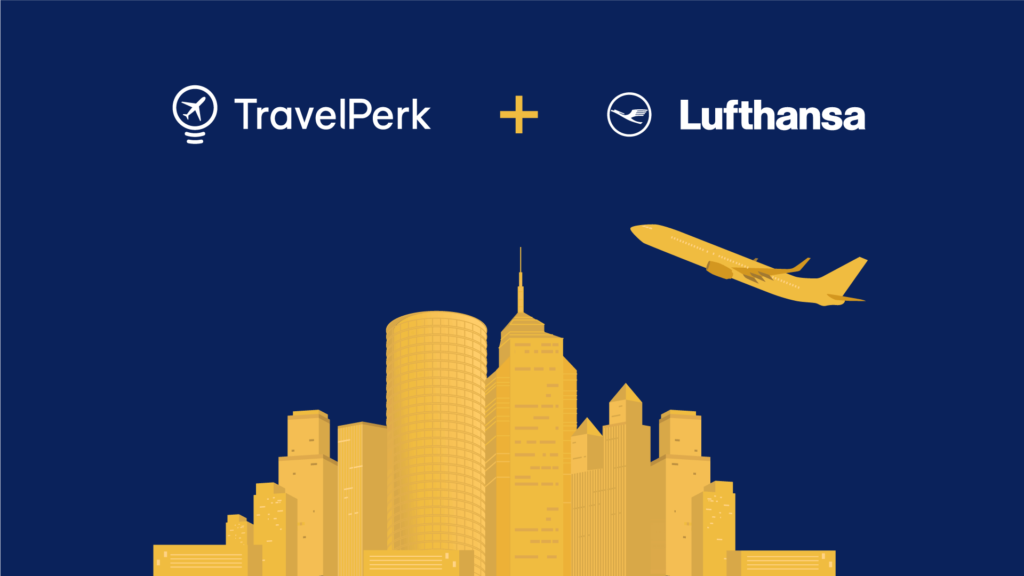 TravelPerk & Lufthansa Group Airlines partner on NDC to bring modern businesses real savings and traveler satisfaction
New Distribution Capability (NDC) is the future of booking travel, and a direct response to business travelers' calls for consumer-level experiences and lower rates.
TravelPerk has been offering select customers NDC functionalities with Lufthansa for six months, and customers are already seeing real savings (in some cases as much as 37%).
The partnership continues TravelPerk's mission to give business travelers the freedom to book trips themselves with unparalleled choice, and in turn provides companies with compliance rates over 90%.
LONDON, Tuesday 25th June: TravelPerk, Europe's leading business travel management platform, and Lufthansa Group Airlines today are going public with their partnership to deliver the latest in New Distribution Capability standards, offering an unparalleled business travel experience. Travelers get more choice, a better experience, and companies see immediate savings and dramatic improvements in compliance.
TravelPerk's connection to Lufthansa Group Airlines' NDC API, unlocks some of the airline's best content. Both the cheapest ticket prices (via the NDC Smart Offer), and the widest range of ancillary options are now available to TravelPerk customers. Select clients have already been taking advantage of this for months.
NDC is a new standard in booking experience for the traveler, and will make it possible to see more details on the flight options available to travelers on things like WIFI, plugs, meals, and seat layouts. This combined with the comprehensiveness of TravelPerk's platform – a one-stop-shop where customers can book everything from hotels, trains, cars and get access to 7-star support 24/7, built-in policies and reporting – gives travelers more choice with a faster less stressful booking experience.
TravelPerk was fast to see the potential for NDC to improve the cost-efficiency and trip quality for business travellers, and has been running a beta test of the Lufthansa offering with a select group of customers over the past few months to refine what is now available to all customers. During the trial, those companies involved in the test have saved as much as 37% on the total cost of flights within Europe.
This is yet another example of TravelPerk combining the best of consumer and corporate travel technology to give modern business travelers a smooth, reliable experience they have come to expect, while simultaneously providing companies increased compliance and control. With over 40% of workers admitting to regularly booking outside of policy, TravelPerk's one-stop-shop approach to business travel offers companies an effective way of getting this figure closer to 5-10%. This is only possible in partnership with other industry innovators, like Europe's largest airline group, Lufthansa Group Airlines.
Lufthansa Group Airlines have taken a bold stance on New Distribution Capabilities (NDC) since the beginning, with the inception of their NDC Partner Program aimed at revolutionizing the airline distribution landscape by offering travelers more options at better rates. This new standard, introduced by IATA, is the next wave in technology modernizing the business travel industry.
"Business travellers expect their company's travel management tool to provide the best prices in the market, with all fare types, and dynamic package offering that they've come to enjoy when booking holidays. If they don't, it leads to lack of trust, frustration and potential leakage.
Our partnership with Lufthansa Group Airlines allows us to solve those problems through the NDC channel by providing tailored NDC content and bundles to meet their specific needs – leading to happy business travellers. Proof of this is our adoption rate of 97%. Companies obviously love this too as it gives them a happier workforce and greater compliance, saving them time and money. Something they've not been able to do previously." Richard Viner, Country Manager UK at TravelPerk.
"We are excited about this partnership as TravelPerk is a fast-growing startup in the distribution landscape," says Dr Stefan Kreuzpaintner, Vice President Sales Europe, Middle East & Africa Lufthansa Group Airlines. "Our customer is always at center stage and we believe that this partnership will foster modern airline retailing and jointly develop a unique customer experience."
TravelPerk CEO Avi Meir says, "We've been leveraging the advancements of NDC over the last six months, working with providers like Lufthansa to provide a level of clarity travelers have never seen before. There's a huge opportunity here for this to help us move the needle in bringing the business travel experience to the next level."
Lufthansa X TravelPerk Promo Assets
About TravelPerk
TravelPerk is the next-generation business travel platform pioneering the future of business travel. TravelPerk's all-in-one platform gives travellers the freedom they want whilst providing companies with the control they need. The result is saved time, money, and hassle for everyone.
TravelPerk has the world's largest travel inventory alongside powerful management features, 24/7 customer support, state-of-the-art technology and consumer-grade design, all of which is enabling companies worldwide to get the most out of their travel.
Backed by world-class investors like Kinnevik, Target Global, Felix Capital, Spark Capital, Sunstone, LocalGlobe, Amplo, 14W—investors in some of the most disruptive companies in tech including Zalando, Slack, Trello, Twitter, Farfetch and Delivery Hero — TravelPerk is reinventing business travel with an end-to-end solution that works.
About Lufthansa
The Lufthansa Group is the world's largest aviation group in terms of turnover as well as the market leader in Europe's airline sector. The Group strives to be the "First Choice in Aviation" for its customers, employees, shareholders and partners. Safety, quality, reliability and innovation are the prime credentials and priorities of all its business activities.
The Lufthansa Group is divided into the three strategic areas of Hub Airlines, Point-to-Point Business and Service Companies. The Group's network carriers, with their premium brands of Austrian Airlines, Lufthansa and SWISS, serve its home market from their Frankfurt, Munich, Zurich and Vienna hubs. With its Eurowings brand, the Group also offers short- and long-haul point-to-point services in the growing private travel market. Brussels Airline is also part of the point-to-point services. And with its service companies, which are all global market leaders in their individual industries, the Lufthansa Group has found success in further areas of the aviation business.
Lufthansa Group airlines serve 343 destinations in 103 countries, offering 13,267 weekly frequencies during summer 2019. The current fleet is comprised of 763 aircraft (as of February 2019) and the Group will continue to take delivery of new aircraft until 2025. In 2018, the Lufthansa Group employed around 135,000 personnel, welcomed 142 million passengers aboard its flights and generated sales of around EUR 35.8 billion.
Press contact
Elisa Llera
Communications & Press
press@travelperk.com