Oyster is a global employment platform that helps fast-growing companies manage remote work and international hiring.
You can find a brilliant sales manager in Lisbon, a software engineer in South Africa, and a designer in Argentina, and use Oyster to provide the same five-star hiring, onboarding, and payroll experience to them all.
Special offer for TravelPerk customers:
Get 20% off your first 7 team members hired using Oyster for their first 12 months*. Sign up here.
*Offer terms apply.
Oyster brings in:
Compliant hiring: Hire from anywhere in the world without setting up a business entity and handle all employment functions from a single automated platform.
Instant payments: Manage payroll, generate reports, and deliver compliant, on-time international payments all in one platform.
Contractors management: Access contractor management tools to streamline paperwork, onboarding, and payments.
Localized benefits: Provide high-quality perks to your remote employees in 180 countries of the world.
Actionable insights: Receive country-specific insights to guide you through the global employment journey.
Learn more about Oyster here.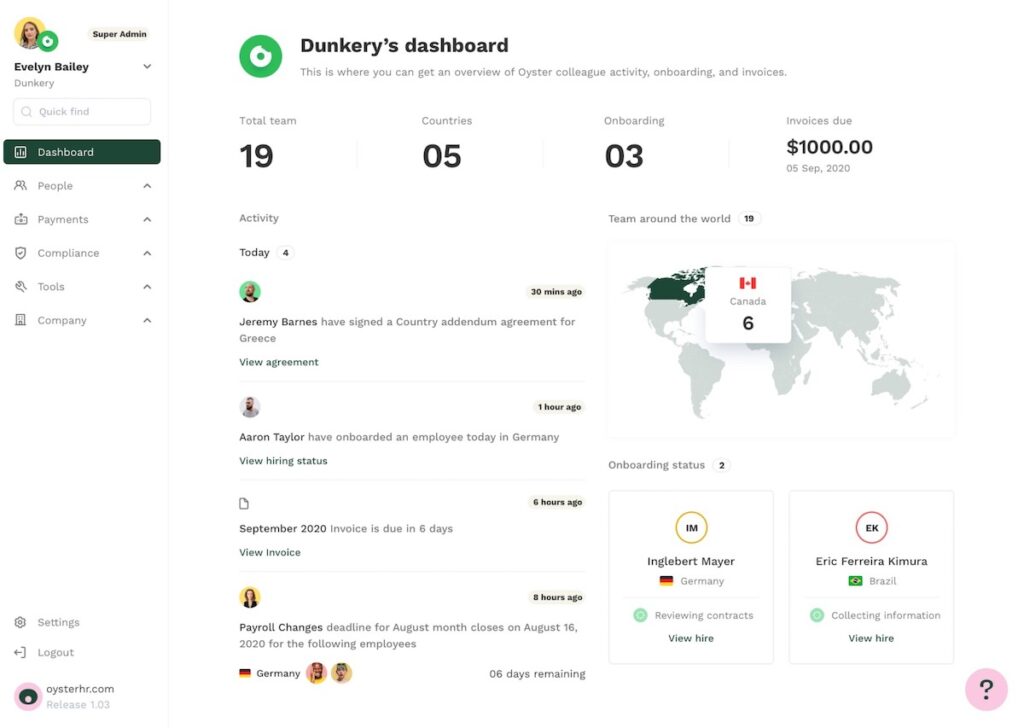 How it works:
STEP 1
Sign up for a free Oyster account. Explore the platform and tools available, including the Employment Cost Calculator, absolutely for free.
STEP 2
Submit a new hire in the platform. Pearl, the virtual hiring assistant, will guide you through the hiring form using country-specific insights and draft the agreement.
STEP 3
The Oyster's real humans team will review the drafted agreement, send it to you for approval, collect signatures, and handle the employee onboarding.
STEP 4
Manage the payroll via Oyster and show new employees that you care by offering special location-based perks.