HiBob's robust yet intuitive HR platform for fast-growing, mid-sized organizations now integrates with TravelPerk.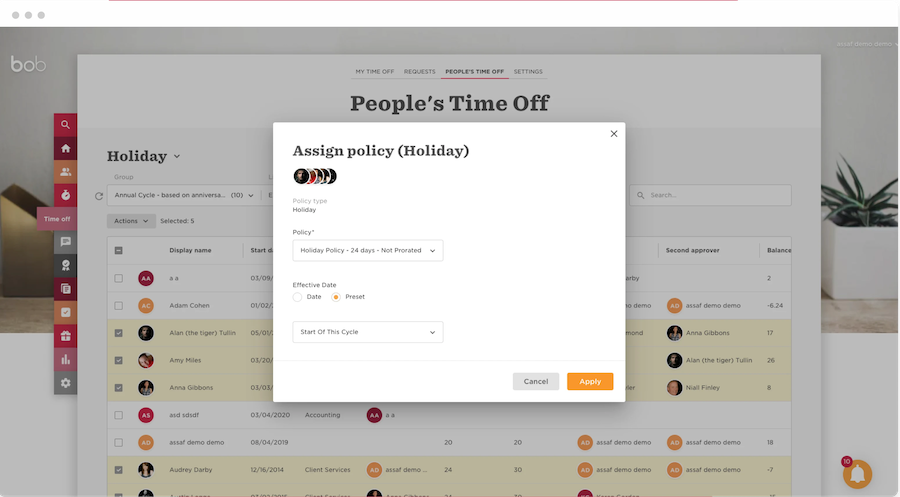 HiBob is on a mission to transform how organizations operate in the modern world of work with its intuitive, data-driven HR platform 'Bob'. It provides comprehensive HR solutions out-of-the-box — from onboarding, workflows, performance, and compensation management to people analytics and more.
Key 'Bob' Features:
Core HR: Automation of HR processes, seamless reports creation, storage of all HR documentation in one, easily accessible location.
Onboarding: Onboarding of new joiners globally with personalized onboarding experiences.
Talent Management: 360° performance reviews, goals, surveys, lifecycle tracking, and analysis tools.
Culture: Shoutouts, Kudos, superpowers and clubs features.
Compensation Management: salary reviews, bonuses, and equity allocation.
People Analytics: Gain meaningful intel and uncover hidden insights with real-time, cross-platform data.
Integrations: Seamlessly connect bob to best-of-breed workplace applications.
The integration with TravelPerk allows:
to import the whole employee directory into the TravelPerk platform;
auto-enrichment of employee profile info in TravelPerk;
manual trigger to sync new employees and archive those who left;
automated setup of account information like Companies, Cost Centers, and Approvals from HiBob.
🌎 Regions supported: the whole world.
💡 The integration requires TravelPerk Premium or Pro Plan
Never heard of TravelPerk?
We're a business travel management platform that saves travel managers and HRs time and money while giving employees the freedom they want. Learn more here or request a demo.