Welcome to another edition of our monthly product and market update. This month we've added some great features that help you to create a mobile covid certificate, use more loyalty programs, and improve your events planning, expenses and reconciliation processes.
And our new plug and play version of TravelSafe, means that our partners can drop travel requirements directly into their website in no time.
Updates for businesses
Get benefits on US flights - for you and your travelers
Both businesses and travelers will love what we've added this month. With the addition of Delta's SkyBonus and United Airline's PerksPlus, Pro customers and their travelers can now use all major US airline corporate loyalty programs.
Once your company and your travelers are registered with a corporate loyalty program, both the traveler and the company will get benefits from the same booking. Speak to your account manager for more details about how to use corporate flight programs
Don't lose your vaccine certificate with our app
If you have been vaccinated in the UK or EU, all it takes is a few clicks to create a digital version of your certificate and add it you your mobile wallet, thanks to our iOS app. Download our App now or learn more on our help center.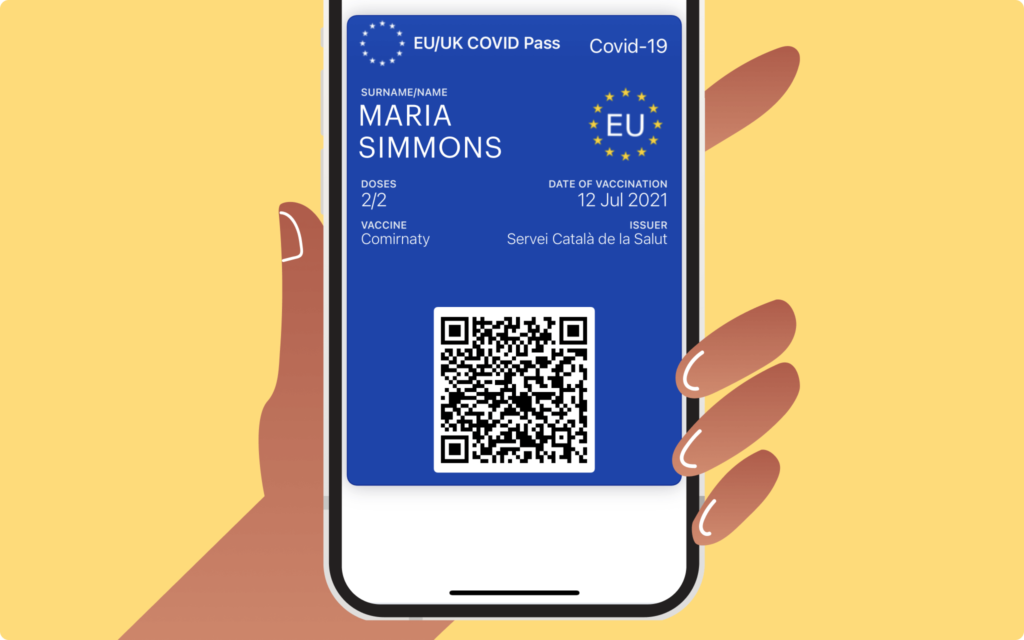 Get cheaper, more flexible european train travel with Thalys corporate rates
You can now get cheaper, more flexible train travel between France, Germany, Belgium and the Netherlands by using Thalys corporate rates. By signing up to their corporate fares program you can earn extra discounts on trips to your three preferred destinations, access to lounges, unlimited exchanges until your trip departs, and even a full refund up until a day after your trip!
Once you receive your Thalys customer ID, speak to your account manager about how to start using their corporate fares in TravelPerk
Peace of mind for all of your company's trips in just a couple of clicks
You can now add FlexiPerk company to your plan in a couple of clicks directly from the plans page in your TravelPerk account. This way you'll put your whole company on a flexible travel plan for 10% per trip, and never need to worry again about losing money over canceled trips.

Add trips to an existing event during booking
Travelers can now add their trips to an existing event in TravelPerk. When a traveler books a trip, TravelPerk will display any events that are in the same city, and within two days of the trip. The option to add the trip to the event will be preselected, making it easier and more effieicnt to keep your event details up to date.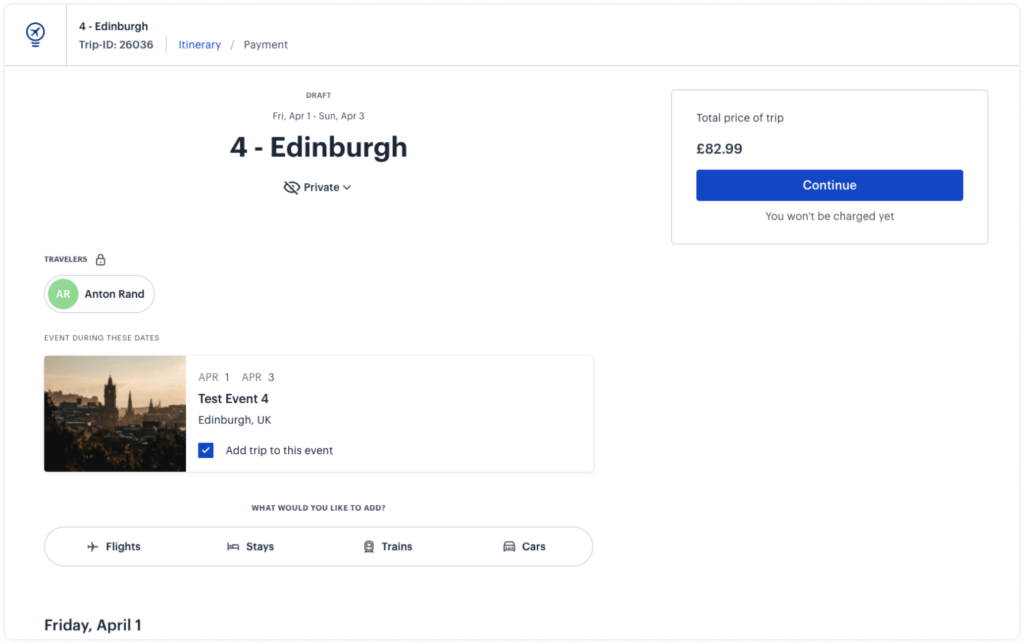 Easier invoice categorization with Labels
We're now displaying Labels on your invoices, to make it easier for you to control and categorize your expenses. This is the first step in making your invoicing reconciliation process faster and more efficient.

Automate your expense reports
Forward your travel expenses automatically to Expensify. The new version of our integration will send all the trip costs (fees included) directly to your Expensify account, giving your finance teams full visibility on total trip expenses. This will ensure easy and accurate reporting across all business spending, saving your teams precious time and money.
Connect TravelPerk to Expensify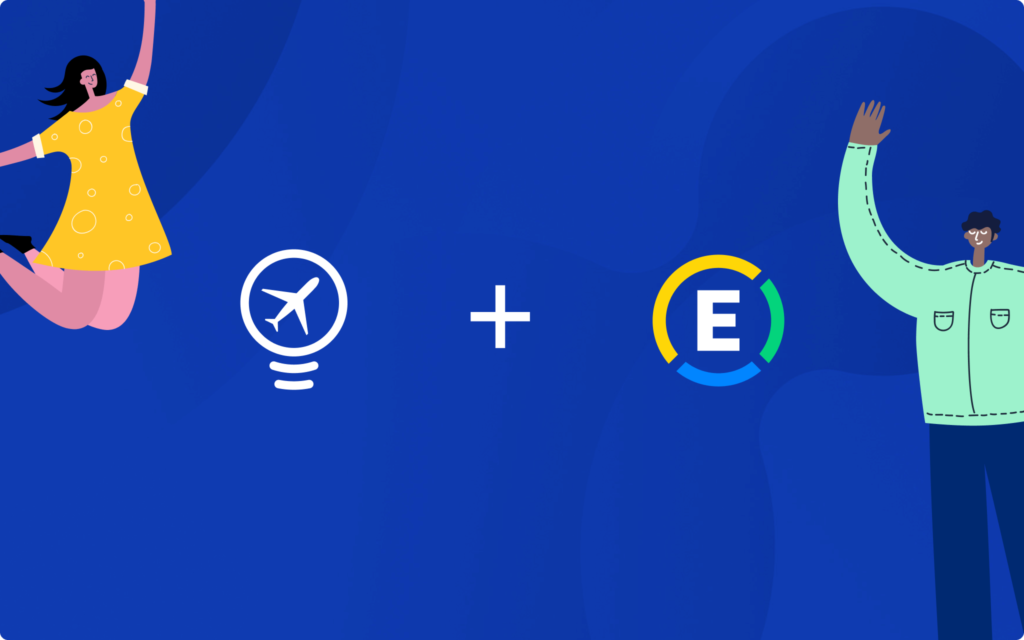 Updates for TravelPerk partners
Offer travel requirements information to your customers, without any development time
We've created a new, plug and play version of TravelSafe, our award-winning travel requirements API, so that you can drop travel requirements information directly into your website. And we've added a filter to allow travelers to get specific requirements information based on whether they are vaccinated or not. See TravelSafe in action here, or speak to us about how to use it for your site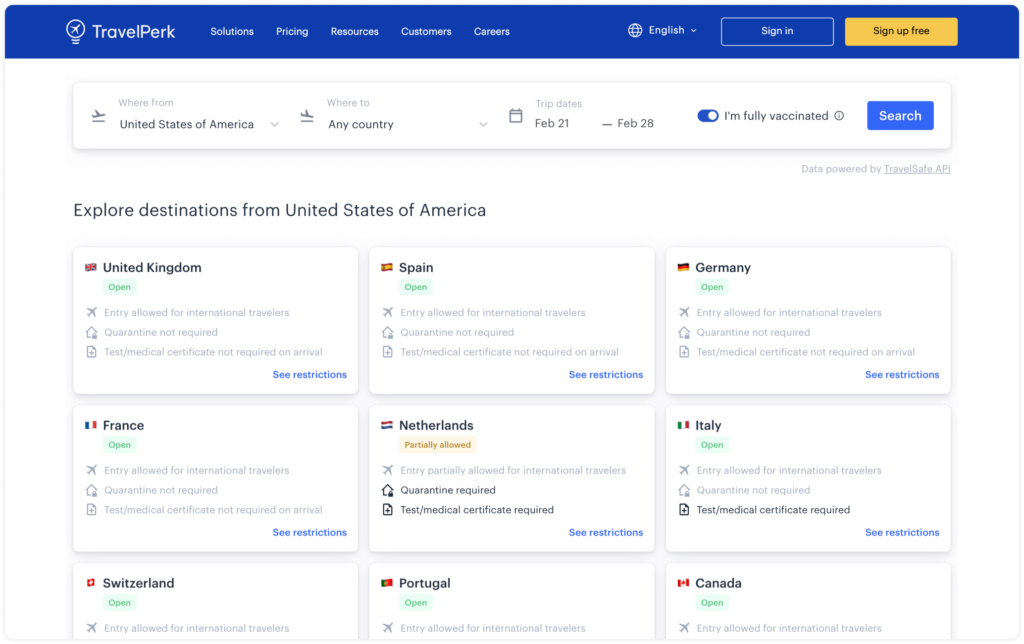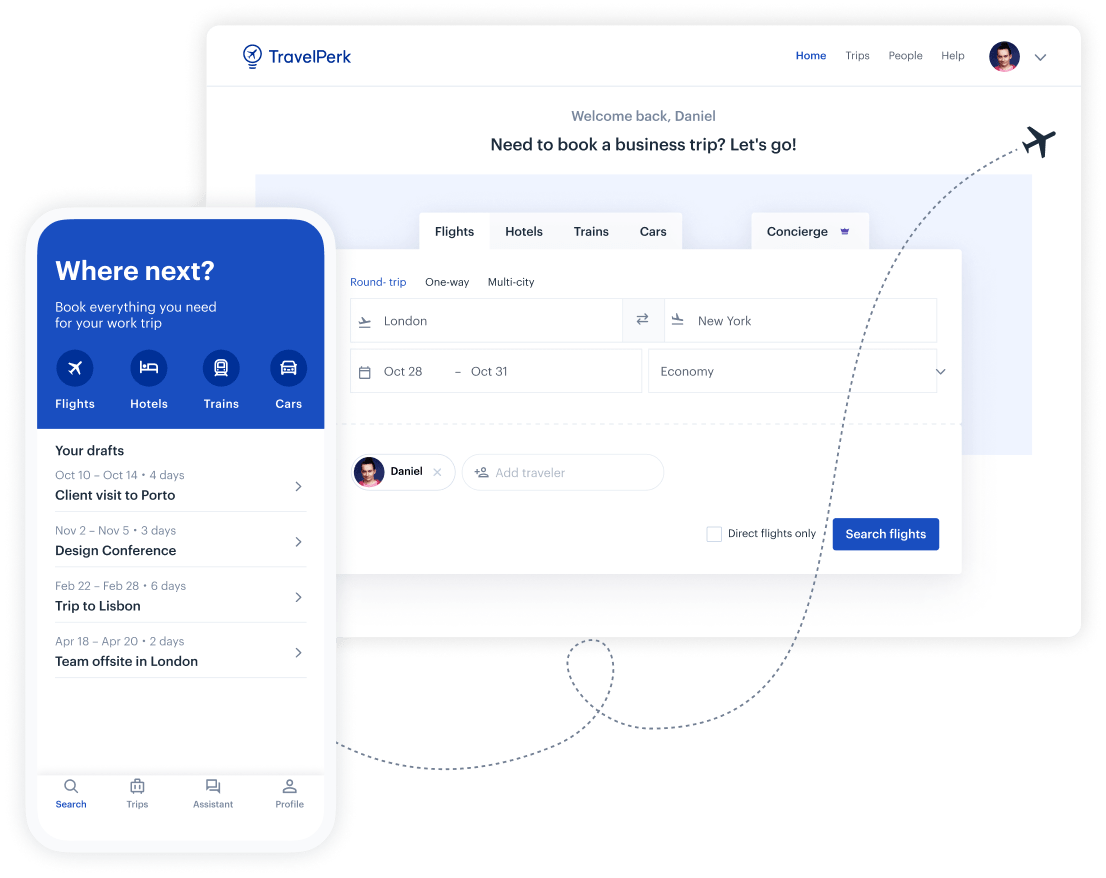 Make business travel simpler. Forever.
See our platform in action. Trusted by thousands of companies worldwide, TravelPerk makes business travel simpler to manage with more flexibility, full control of spending with easy reporting, and options to offset your carbon footprint.

Find hundreds of resources on all things business travel, from tips on traveling more sustainably, to advice on setting up a business travel policy, and managing your expenses. Our latest e-books and blog posts have you covered.

Never miss another update. Stay in touch with us on social for the latest product releases, upcoming events, and articles fresh off the press.