As we move closer to the new year, it's the perfect time to think about how we can get our teams working together in the best way. Creating or maintaining a dynamic and engaged company culture should be at the top of your list for 2019. After all, your team is the core of your business!
However, we know it can be quite stressful organizing a big group trip when really all you want to do is give your team a great day. So, we have made it a little bit easier for you by pulling together some of the most exciting and unique team building experiences, from igloo building in Germany, to comic strip creation in Disneyland Paris, to tuk tuk rallies in Amsterdam. So, here are some of the top company team building experiences in Europe for next year.
Team Building Activities in The UK
The Great British Bake-Off! One of the most loved British TV programs; this is your chance to show your colleagues and teammates your baking skills. Whether you're a novice or a skilled baker, it doesn't really matter; it's a delicious way to get your team together to have some fun. The Bake Off is available at various locations throughout the UK and is suitable for 5 – 100 participants.
Get your team's creativity soaring! Getting the opportunity to create your very own animated film, your team can make 'morph' characters out of clay and design a story around them. This is a great way to get everyone working together to decide on characters and storylines and you'll get to take home your very own animated film.
The ultimate survival game – your team must work together to learn survival skills, create your own bushcraft dinner, and 'survive the night' in the wilderness. From fire building, to hunting, to shelter building – everyone has a part to play and a new skill to learn. So step out of your office and into the great outdoors and watch your team flourish.
There's an enemy spy in the group! Your team must work together through a series of clues and missions to decipher who is the secret mole. Available in a number of different locations, the group will be given a number of codes, messages, and meetings that you must crack in order to find out who does not belong. It will make a fantastic day that your team will not forget.
Set in the beautiful backdrop of Loch Lomond, this is an adventure team building day. Getting in the spirit of 007, there'll be 4x4s, speedboats, cocktails, and a series of clues to locate the missing Bond Girls. The team must work exceptionally well together in order to solve the challenges they come across, and there's even a photo challenge. It's an action-packed day that is suitable for 15-120 wannabe spies.

Team Building Activities in Germany
Beer Fun Tournament
Pouring challenges, blind spot tests, measuring juggling, and many other games – this tournament is one that will really get your team having fun! In a country famous for its beer, why not? The tournament offers a great opportunity to develop a team spirit, which can be taken back to the workplace. This event is also customizable depending on the size of the team, and what games you want to include – you can also add a guided trip to the local brewery!
Adding some technology to your team day out, this GPS mapping game is a great way to build friendships, encourage teamwork and decision making. iSpy is highly customizable and includes a number of interactive elements throughout the day. With over 70 challenges and games, this is an event your team will be talking about for months to come.
One of the most effective ways to get your team on the same page is getting them to build something. Having to rely on each other for ideas, delegating tasks, and working to create one end product is the perfect way to hone these skills. That's why Igloo Building is a fantastic opportunity. After completing the Igloo, the team can warm up by the fire with a warm stew and get to know each other better.
With an impressive history, architectural prominence and an abundance of beer, Berlin is a great location for the Go Game Scavenger Hunt. Explore the city with a series of challenges and interactive puzzles, and your team will get to see Berlin in a whole new light.
Giving your team the opportunity to go a little wild on their ideas, this silent movie team building day is an ideal Berlin experience. With the help of some professionals, your team will create, write and get to try their hand at acting in their own silent movie. A guaranteed day of fun!
Team Building Activities in Spain
An authentic and truly Spanish experience, your team could be embracing the culture and learning how to make Paella. With an expert on hand, the team will be able to ask questions, grow their knowledge - and have some fun. After, everyone has the opportunity to sample their homemade Paella, while enjoying a bottle of wine together.
Journey through the 5 senses and learn what it takes to make your own wine. Ideal for smaller groups, this event gives your team the opportunity to make decisions together, learn from each other, and instill some leadership qualities. You could also make it a way for your team to learn more about your company culture by designing a wine that represents your brand.
For the more adventurous groups, a sailing regatta from Barcelona is one way to impress your colleagues. Sailing requires an exceptional team working ability, decision making, the ability to learn quickly and adapt to the changing environment – is there a better way to nurture the traits you want in your own team? Take these new found skills back to the workplace and watch your business flourish.
We did this for our own team building event this year! Yotuba are a not-for-profit organization who do snorkeling, kayaking, paddleboarding and beach combing activities to raise environmental awareness and sensitivity. You'll work together to help clean up Barceloneta beach and the sea while doing these fun activities. Afterwards, the Yotuba team weigh and analyse the composition of what you've found in a makeshift lab so you can see exactly what's polluting our beach and sea environments. It's a fun, helpful and informative way to build bonds as a team!
If you're looking for a way for your team to unwind, relax and just have a good time, then Flamenco Dancing is a great choice for you. Not only is it a fun way for your team to spend time together, it also allows everyone to get up and away from their desks for some exercise and the chance to let their hair down. Is there a better place to learn the art of Flamenco dancing than in beautiful, sunny Spain?

Team Building Activities in France
Disney has been one of the most influential companies of all time – they completely changed the yardstick for motion pictures with their creativity and animations. Now, your team can be inspired at the home of Disney, in Disneyland Paris, where they can really get their creative juices flowing. There are a number of different corporate team building activities, but creating a comic strip is one that is sure to impress your team! They will have a professional comic book writer to aid in the story creation and even have a photoshoot to help bring their idea to life!
One of the best ways to explore the city, this Paris Treasure Hunt will not only help your team to see all the best and biggest sites but will also get everyone working together and solving problems as they go. There are a number of different games, and photo and video challenges - and even some educational elements along the way. This is a great way to see Paris in all its glory while making sure your team is building relationships and having fun.
There's nothing like being at the top of a mountain to get a new perspective on life. So, why not take your business to new heights by embarking on an adventure at the top of Mont Blanc. The cable car takes you up from the center of the town and you'll be able to organize a guide to take you through the exhibition area of the Mer de Glace and see stunning views in every direction. If you want to go a little further, the company offers a bespoke crevasse rescue team building exercise. This is a truly unique (and breathtaking) opportunity to build bonds with your team members.
If you're looking for a change of scenery and a beautiful location to take your employees, then this is the place for you. La Petite Richardière is a countryside retreat 2.5 hours out of Paris. Ideal for smaller companies, they offer a number of outdoor team building exercises, such as horseback riding, fishing, rafting, and hiking. A weekend away is one of the best ways to get your team bonding and thinking about how to work together better.
Team Building Activities in The Netherlands
You might have heard of a "pub-crawl", but have you ever heard of "Tuk Tuk City Rally?" This is a truly unique way to tour the best of Amsterdam and get to sample a few of the finest breweries. You'll be divided into teams with your own Tuk Tuk and driver, and then given a map, some instructions and a series of assignments to complete. This is a sure way to 'wow' your team and ensure they have a fantastic team building day that they'll always remember.
The ultimate team building exercise, escape rooms are one of the best ways to get your team working together. Using the brains and problem solving abilities of everyone in the room, you are up against the clock to decipher the puzzles and find your way out of the room before it's too late. At the end of the challenge, the team will have learned more about each other and had a great time while doing so. (You can also add catering to this package.)
There's some amazing new technology out there, so why not make use of it for your next team building experience? Virtual reality is still a relatively new concept, and many people in your team might not have tried the 360-degree headsets and games that are available. In Amsterdam, you'll get the opportunity to run away from zombies on Omni-treadmills or solve puzzles while wearing Manus gloves – there are 5 different options and games, so the choice is yours.
Who doesn't love a game of mini-golf? In Amsterdam, there's a slight twist on the game with this glowing mini golf course. Get your team together and compete for the top-score. With over 15 holes to play for, your group will build friendships and learn to play as a team, all while getting the opportunity to have some fun.
Recently, there's been a lot of talk in the media about the amount of plastic in our oceans, seas, and rivers. The Netherlands has decided to tackle this issue head-on by creating a whole new approach to team building activities – getting your employees together to tackle the plastic! This 'plastic fishing' event is a great idea for companies looking to actively encourage an environmentally conscious workplace and actually make a difference by cleaning up the waters - it's a win-win! This is available in both Rotterdam and Amsterdam.
If you're interested in any of these excursions, you don't have to worry about group bookings or travel issues – we can book your group trips for you!
Just get in touch, and we'll do the rest.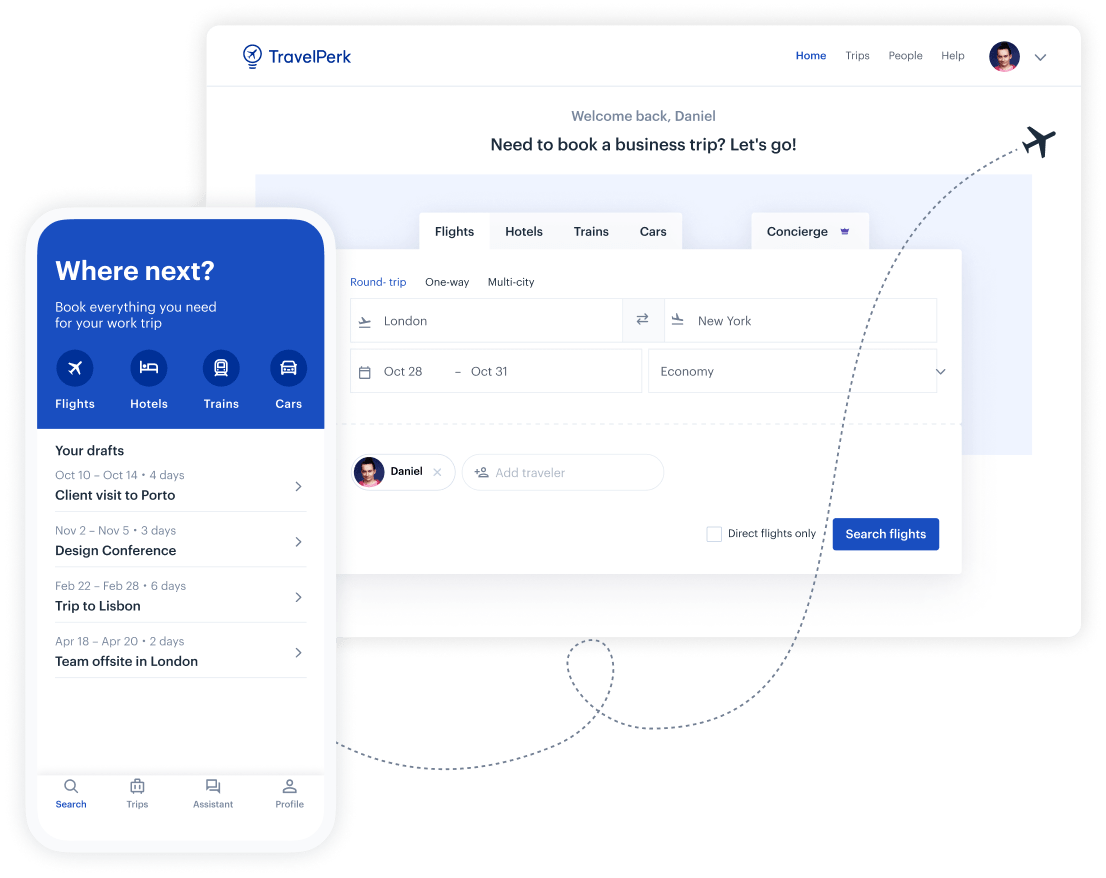 Make business travel simpler. Forever.
See our platform in action. Trusted by thousands of companies worldwide, TravelPerk makes business travel simpler to manage with more flexibility, full control of spending with easy reporting, and options to offset your carbon footprint.

Find hundreds of resources on all things business travel, from tips on traveling more sustainably, to advice on setting up a business travel policy, and managing your expenses. Our latest e-books and blog posts have you covered.

Never miss another update. Stay in touch with us on social for the latest product releases, upcoming events, and articles fresh off the press.