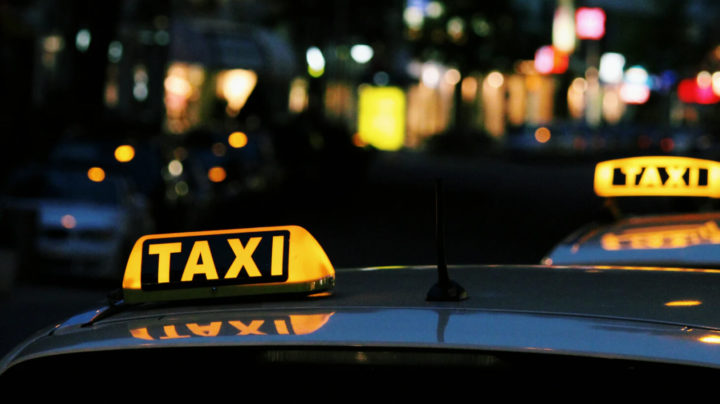 When you're traveling around a new city, from business meetings to client lunches, you want (and heck, you need) to be able to get from point A to point B with ease. That means you'll need a ride-finding app that's simple to use and always reliable — even late at night or in the middle of rush hour. The problem is, there is no single hailing app that works well everywhere.

After getting stuck more than once I figured, if I can't find a good resource, I might as well write one up myself. So behold, our frequent traveler's guide to the taxi apps you should be used in each city.

Recommended by locals, verified by us. We're ranking our best taxi apps by city. Most of these apps are available for iOS and Android.
The 8 best taxi apps in Europe
Are you looking for the best taxi app in Europe? Try one of these top apps:
1. FREE NOW
FREE NOW is active in over 100 European cities, particularly popular in Barcelona, London, Paris, Berlin, and Dublin.
2. Taxi EU
Taxi EU serves over 160 European cities, particularly popular in German metros.
3. Uber
While Uber hasn't launched in many large European metros, it is available in over 130 European cities, and it is particularly popular in London, Rome, and Milan.
4. Gett
Gett serves over 100 cities in Western and Eastern Europe, particularly popular in London, Tel Aviv, and Moscow.
5. G7
G7 over 120 European cities, particularly popular in Paris and other French metros.
6. LeCab
LeCab is a popular local taxi app that provides a great ride experience in Paris and the surrounding areas.
7. Cabify
Cabify is a popular Spanish taxi app serving Barcelona, Alicante, Madrid, Valencia and other Spanish metros. While it isn't available elsewhere in Europe, it is active in many South American countries.
8. Ola
Popular Indian cab company Ola launched in London in 2018 and now also serves South Wales, South West, Merseyside and West Midlands.
We've broken down your taxi app options by city for London, Paris, Barcelona, and Berlin.
Keep reading for our top recommendations in these cities!
London
Gett
Gett is a great black-cab app offering a fixed-fare charge without the minimum and surge fares of Uber. Besides FREE NOW, Gett is the only other taxi app available in other UK cities outside of London (25 cities to be exact). The app itself is neatly designed and offers a state-of-the-art user experience. During rush hour it seems harder to get a ride on Gett compared to Uber and other apps allowing surge rates.
Uber
Love to rideshare? Uber has been a long-time favorite of Londoners. However, legal disputes about the controversial app's city license are making their future hazy in the British capital. For now Uber is still the most popular way to get around but here are some of the best alternatives if you're after the black cab experience.
FREE NOW
FREE NOW is Europe's "most popular taxi app", with 100,000 registered taxi drivers in over 100 cities.  With Uber's service compromised, FREE NOW has come into its own with over 17,000 black cabs in London. This app gives you the famous black cab experience at the right price. There's the option to pre-book, all drivers are licensed and you can even store your favorite drivers. On the flip side, the app is a bit clunky, the "time to get a cab" shown before you book can't be trusted and it is not uncommon for drivers to cancel on you.
Addison Lee
Addison Lee is a premium car hiring service with fully vetted drivers and a range of vehicles to choose from. Addison Lee offers elevated and reliable service usually reserved for longer hauls, like trips to the airport or special occasions for hopping around London during your trip.
Paris
Chauffeur Privé
Chauffeur Privé is the local personal car hiring competitor to Uber (recently acquired by Daimler). It's as popular as Uber with over 18,000 drivers and 2 million customers. The app is user-friendly and the ride experience is better than Uber. The drivers are professional, the cars are great and you can choose your preferred car type. Chauffeur Privé is your answer to traveling around the historic streets of Paris like a VIP.
Uber
The Uber app remains a popular option in the city, but it's not ideal for airport pick ups due to the absence of fixed fares (surge pricing is a real pain). However, there are quite a few alternative options in Paris, ranging from local "Uber-like" apps hailing private drivers, to black car services and taxi apps.

Estonian rival Taxify arrived on the scene this year, and can often be the cheapest option thanks to its regular discounts and lower fees but availability still isn't great. The service reliability, though, remains to be seen.
G7
G7 was the original taxi booking app (and the only one) on the Parisian scene. With 8,000 drivers at your disposal, it offers the largest taxi fleet as well as pre-booking and personalization options (like English-speaking drivers). The app itself isn't bad but the biggest drawback is the ride experience. In comparison to apps like Uber with driver rating and strict quality control, the average ride quality on G7 is not quite there.
LeCab
LeCab is a great local taxi option and came really close to being our choice for Paris. It is a Parisian private driver service giving the city an alternative to taxis and personal cars (like Uber). The app is great and the ride experience is spectacular, offering fixed fares, high-end cars, iPads with entertainment and a 5-minute courtesy wait. LeCab also offers competitive airport fares (37€ ORY and 48€ CDG). However, availability is still not where it needs to be so average waiting time is too long in order for this to be your default go-to app.
Barcelona
Cabify
We recommend going local. Cabify was founded in bustling Barcelona itself in 2011, and is already a strong contender in the city thanks to its fully licensed black car fleet, spacious and clean vehicles, and the number of ways you can personalize your journey. While the app design could be improved, the ride experience is the best you could get anywhere in Europe, hands down! Cabify drivers are employees on a salary so they will never cancel on you. They are always punctual, reliable and cordial and by protocol will always offer you a bottle of water and free wifi – a whole different level of service for the same price or less.
FREE NOW
Missed the last metro in Barcelona? Early meeting near the Sagrada Familia? In Barcelona, there aren't a huge amount of taxi app options on the table. Uber isn't an option in the Catalan capital, meaning the popular local choice has always been FREE NOW. With thousands of taxis available no matter which area you're in, it's a safe bet to get you home, but be warned: the app will crash mid-booking and your driver might cancel on you last minute.
Berlin
FREE NOW
For the best taxi service in Berlin, FREE NOW is the only way to go. FREE NOW is Europe's largest taxi-hailing app so it works well in London, Barcelona and many other cities, which comes in handy. The service is highly available, the ride experience is decent and you get to rate your drivers. The app itself is nicely designed and offers pre-booking, favorite drivers, premium cars, pet-friendly cars and multi-seat vehicles.

The estimated time to arrival is usually 3 times longer than the app suggests, the payment process is clunky (you need to approve it via app in real-time) and sometimes fails during rush hour. So the app could be more reliable, but it has a lot going for it and if you're traveling in Europe you should have it on your phone.
Taxi EU
True Berliners don't really use taxis often, they prefer public transportation or their bicycle. The local taxi drivers lobby is strong and has been successful so far in keeping out the likes of Uber. Most taxis still work via good old local taxi stations so there aren't a lot of popular taxi-hailing apps out there, but here are some options:

Taxi EU was created by a number of taxi associations in Germany and claims to be connected with 160,000 taxis in 9 countries but the app's UI is clunky and not very user-friendly. As a result, the service just isn't reliable enough to be your go-to taxi app in Berlin.

So there you have it, your all-in-one, taxi app guide to buzzing around Europe seamlessly. Unfortunately, Lyft isn't available in Europe. So if you want to avoid using Uber, we recommend using our suggestions by city above. But when you're in a pinch, chances are that Uber is available in that city.

Gone are the days of opening your trusted ride-hailing app only to realize it doesn't work in your current area. When it comes to traveling around new European cities, you can be sure that this guide will get you from the airport to your meeting, to after-work drinks without any of the hassle or surprises.