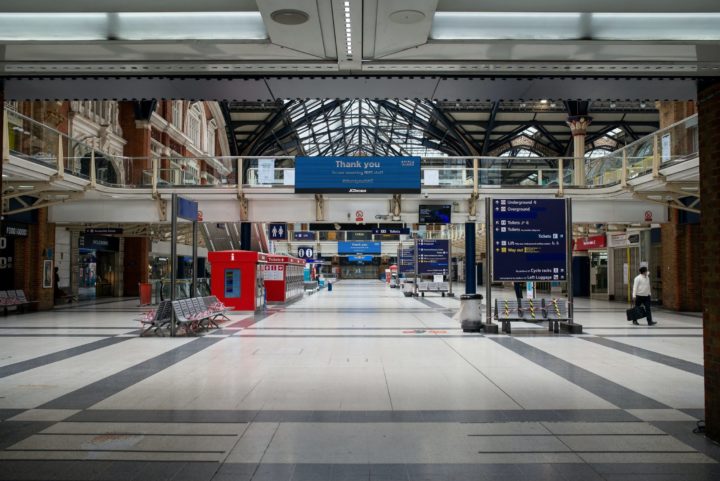 (a.k.a. were my earlier predictions right?)
Let's look at what may be the new normality for travel post-coronavirus. If you've arrived at this article looking for important travel information during the COVID-19 pandemic, you should look at our Coronavirus travel information center.

A few weeks ago, I wrote down some predictions for what the world of travel will look like post the COVID-19 pandemic. This turned out to be quite popular—a lot of people read it and commented on it, and of course speculated on my speculations.

This game of throwing out a hypothesis and seeing if people agree is a lot of fun, and to be honest sparking a conversation was my intention, but I usually prefer to bring some facts, or at least some indicative data to the table. So, I decided to make this commitment: over the next few weeks, I'm going to see how accurate my predictions were and use as much data as I can to see if I was right. If I don't have the data, I'm going to use anecdotes from people actually traveling.
When will it be safe to travel again?
All the questions relating to travel after coronavirus tend to circle back to this. However, there is no clear global timeline. Dr. Anthony Fauci is hoping for a degree of normality to return to the U.S. in November but as to how long it will take for domestic travel recovery to translate to international travel is still a guessing game. See the section below on the uneven global recovery for some data on this.

OK, so let's go through what I said and see if I was totally wide of the mark or hit the bullseye (or somewhere between those two absolutes).
1. You'll need more than a passport
Prediction Status: Not yet true, but "inevitable".
At this very moment, there are no countries asking for a special visa or any particular documentation for passengers traveling internationally. But, since I wrote my first article, the movement towards what are now being called "immunity passports" has gathered pace. At first the WHO urged against them, but only because they felt that immunity had not yet been proven. However, as South Korea announced that cases of people having caught the Coronavirus twice were most likely false positives, and the scientific community agrees that the virus is not mutating too fast, it seems reasonable that people who have recovered from the virus will have immunity at least for some time.

And, despite what the WHO are advising, several countries have taken steps to put into place some kind of immunity documentation. This article in the Telegraph calls these special passports "inevitable" and points to actions taken in Greece, Spain, and Chile to try and safely open up tourism.
2. Recovery will be uneven
Prediction Status: True
This is the first prediction I can say with absolute confidence has come true. Or rather, is coming true. Several sources help me feel this assured.

First, our own data at TravelPerk is telling us that. For example, we've seen that Germany as it eases lockdown measures is starting to travel again. The volume of travel across planes, cars, and trains, is only 5% of what it was in January, but that's 2-3 times higher than the rest of Europe.

There are specific corridors (sometimes called 'bubbles') of travel opening up. Our data for example shows an increase in flights between the US and China, and the US and South Korea.
News sources confirm this concept with nations like Denmark, New Zealand, Australia, and Germany all discussing opening up travel between their respective countries.

Second, Apple agrees with me! Apple and Google have published data that uses activity on their map apps to gauge how many people are traveling. As you can see, (according to Apple's data) the Danes are driving almost as much as they were before the crisis started! And in general, people in Germany are moving around at a much higher rate than people in Spain
3. You'll pack differently
Prediction Status: True
This prediction was around face masks and hand sanitizer. The sales of both are of course much higher than before the crisis. So reporting these numbers doesn't really make my prediction true.

Sanitizer sales are most likely not due exclusively to travel concerns. But face masks are a different story. News aggregators show that the following travel providers have mandated (or soon will) the usage of face masks:
Delta
United
American
Eurostar
JetBlue
Frontier
Amtrak
Lufthansa
By the time you read this, there'll probably be loads more .And my suggestion that face masks will be the next fashion trend, at least when traveling, seems more true now that GAP has announced they're going to sell them in stores next to their jeans.
4. You'll tick that little box every time
Prediction Status: True.
OK, so if travel is more difficult and less predictable, then more people will book flexible-fare tickets, right? Well that's what I thought, and certainly up until the end of March, that was spot on. The chart below shows the percentage of flights booked as flexible fares on the TravelPerk booking platform.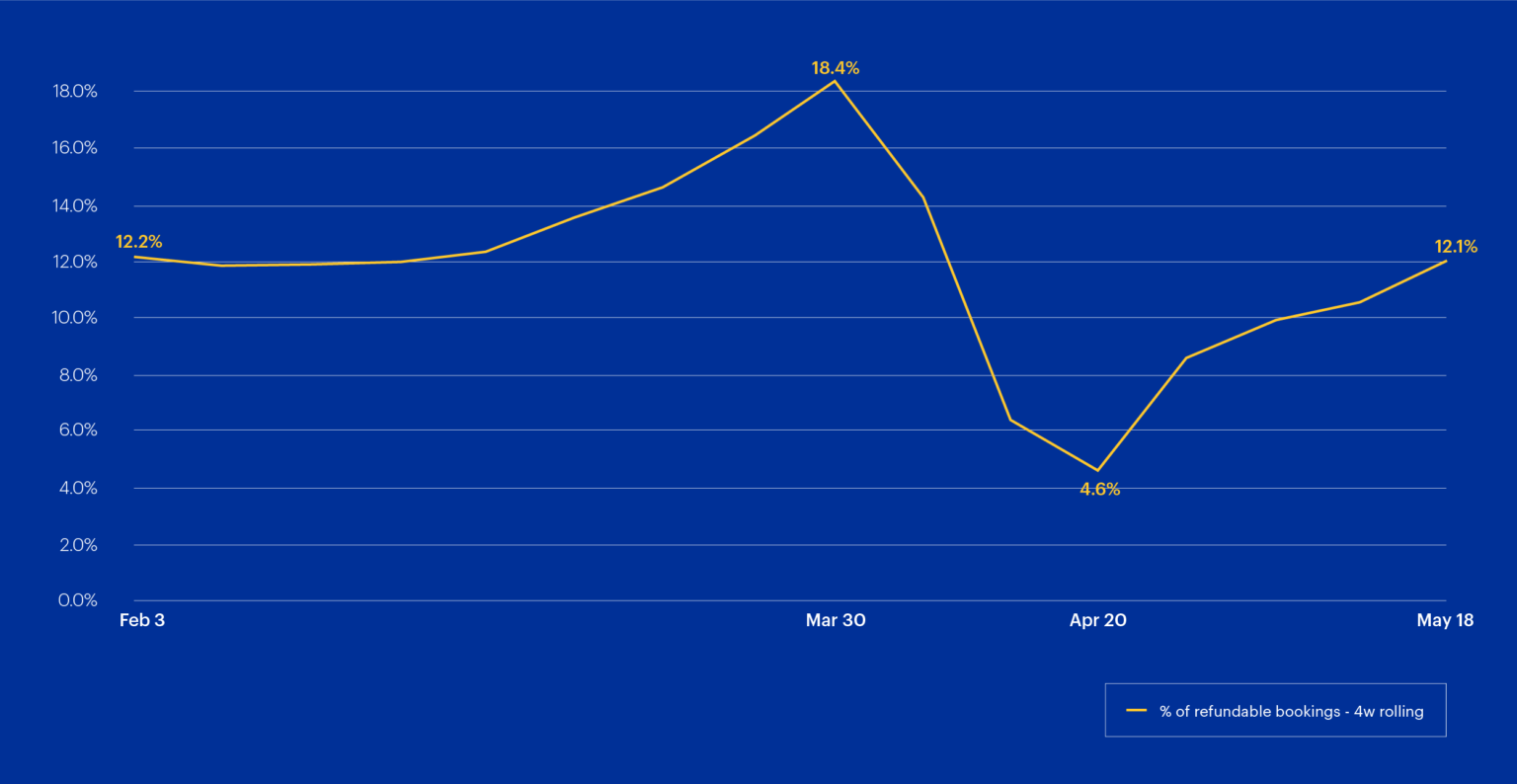 As more and more lockdowns kicked in, you can see the % of those booking flexible fares dropped, most likely because they're more costly, sometimes as much as 170% more expensive. This shows how the traditional "flexible" fare doesn't work for travelers, and how that's even truer in this crisis. When I look at the data for our own FlexiPerk product - where you pay an add on of just 10% for a guaranteed 80% refund, we've seen a big increase in bookings. Indeed, FlexiPerk trips contribute over 5x (2.8% up to 15.28%) more of our total bookings than back in March.

This shows shows that travelers want simple and affordable, flexible options, and when they get them, they increasingly use them.
5. Society won't like you when you're sick
Prediction Status: Impossible to tell.
This was a prediction about a social stigma. That's really hard to measure, so I won't try. But, I will point to a page on the CDC website that lists travelers as a group likely to suffer from a negative social stigma due to the COVID crisis. Unfortunately, listed alongside those who have traveled are "people of Asian descent" and "healthcare workers". Let's all hope that being afraid of someone sneezing and coughing is as far as the discrimination goes, and those that are sick don't travel.
6. You'll take the train before the plane
Prediction Status: True (Especially in Europe!)
If we concentrate our focus on the data coming out of Germany (where travel is recovering faster than in other countries), we see that trains are more important than ever before. Previous to the pandemic, our German travelers took around 0.5 trains for every 1 flight. Now they're taking as many as eleven times more trains than planes.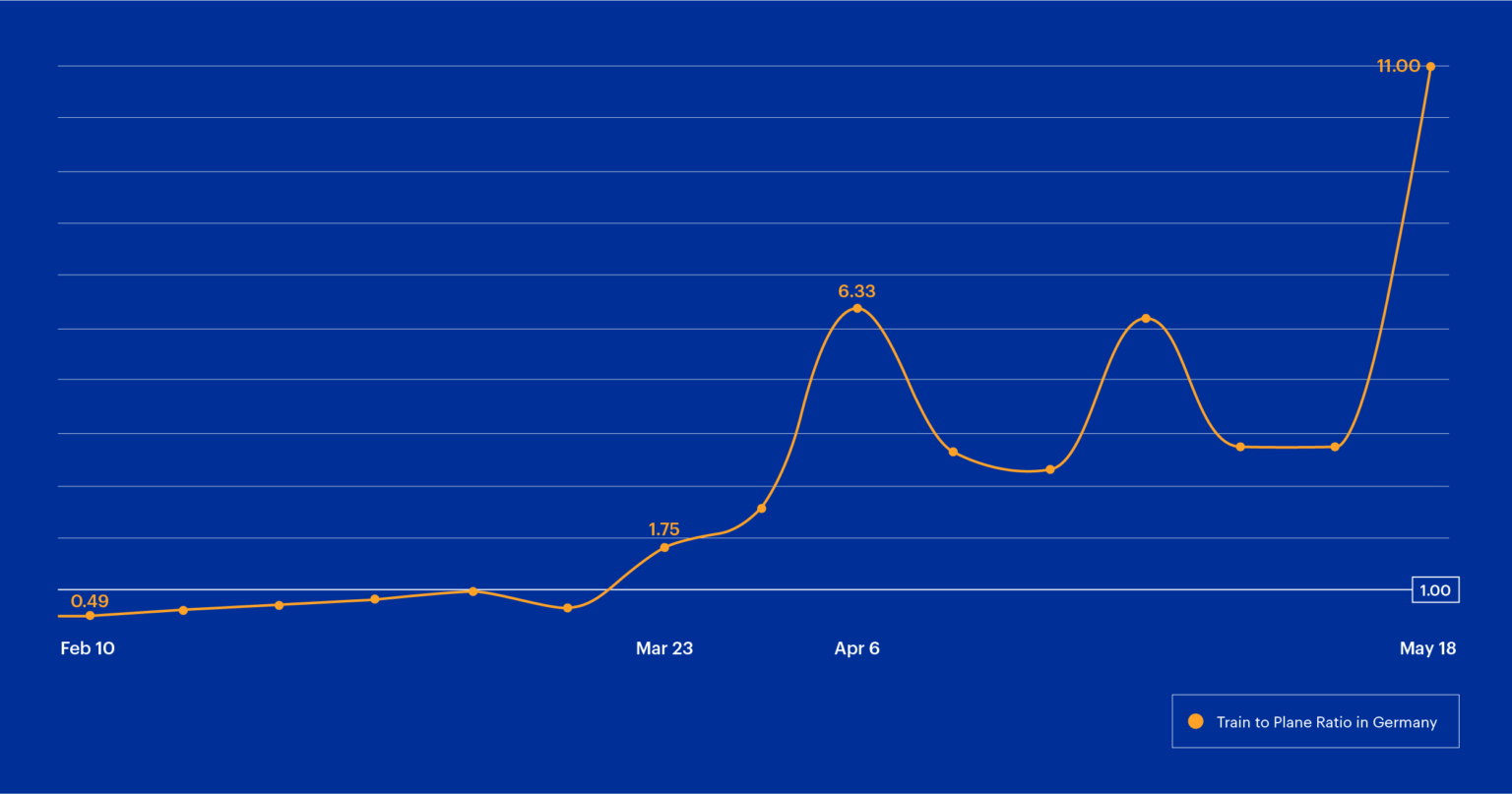 Great news for my predictions, and even better for the environment. There are promising signs that governments are trying to capitalize on the COVID-19 situation to have a sustained positive impact on our environment. Angela Merkel has said as much, and the French government's bailout of Air France stipulates that they must stop running flights on domestic routes with a train option.
7. Travel will have different (expensive) seasons
Prediction Status: Unknown, but hopefully won't come true
It's plain too early for this one. In my speculation, I pointed to a paper from Imperial College in London that suggested that lockdowns would be on and off. At the moment of writing, only the provinces of Sapporo in Japan and Shulan in China have had to re-enter a lockdown. For the moment, prices remain very low as providers try to get cash flowing into their business. If this crisis continues and a vaccine or treatment is further away than we all hope, then some will go out of business. It remains to be seen what effect this will have on prices.
8. Air quality will be an advertised feature
Prediction Status: Not yet true
So far, the only instance of an airline promoting an air filtration system that I've seen is an email from Wizz Air that went out to their existing customer base. There's certainly not been mass advertising in the shape of social media ads or retargeting banners and alike. This may well be because it's still too early to promote travel again, or because the airlines haven't yet improved their fleets. New stories do reveal some interesting development though. First, ACA, a company that makes a "virus killing" cabin air purifier has seen a rise in demand. And second, airlines including Qatar Airways are at pains to let customers know that they are using HEPA air filtration systems. Meanwhile, the Google search data seems to suggest that they've had some success in getting the term "HEPA" into the public consciousness.

9. The queue at immigration will be longer
Prediction Status: Not proven yet, but most likely true.
Unfortunately, there is not yet publicly available data on the length of airport queues. Trust me, I have checked. But maybe there will be soon. A company called iinside have started using their laser technology to measure distances between people at airports, as well as how long they are staying stationary. For the moment, this is only at select airports in the US, but it could prove to be a valuable tool in making the public feel safe. Something the travel industry really needs to do, and fortunately iinside's CEO agrees with me.
"We also believe that making metrics available to the public will restore confidence in venues where indoor social distancing parameters are being properly maintained,"

--Sam Kamel, CEO iinside
Airports (and hopefully the public), will be able to check that everyone is keeping their distance and know how long it takes to check into a flight. The very fact that this technology is being implemented tells us that the distances between us at airports are going to be longer. And longer distances means longer queues. That may not mean longer wait times as airlines look to implement contactless boarding, but it seems logical that a 2km line will take longer than a 200m one. For now, you probably won't feel this too much when traveling as the number of people actually out on the road is very small.
My Current Prediction Score:
Completely True: 4
Not yet provable with data, but almost definitely true: 2
Time will tell: 1
Impossible to tell: 1
Not true: 1

That's not a bad score, and with the confidence of at least a 66% hit rate, I'm going to make two new predictions:
New Predictions for Business Travel Post-COVID-19
Travel will bounce back faster in Europe compared to the US. There are already reports of the Schengen area seeing an increase. TravelPerk customers are of course well-positioned to take advantage of this thanks to our unmatched rail inventory!
People able to take a summer holiday in 2020 will take a domestic holiday (of course), and we'll see an increase in people camping vs those staying in large hotels or Airbnbs.
If you're looking for more information on travel during the COVID-19 pandemic right now, do make sure to check out our information center.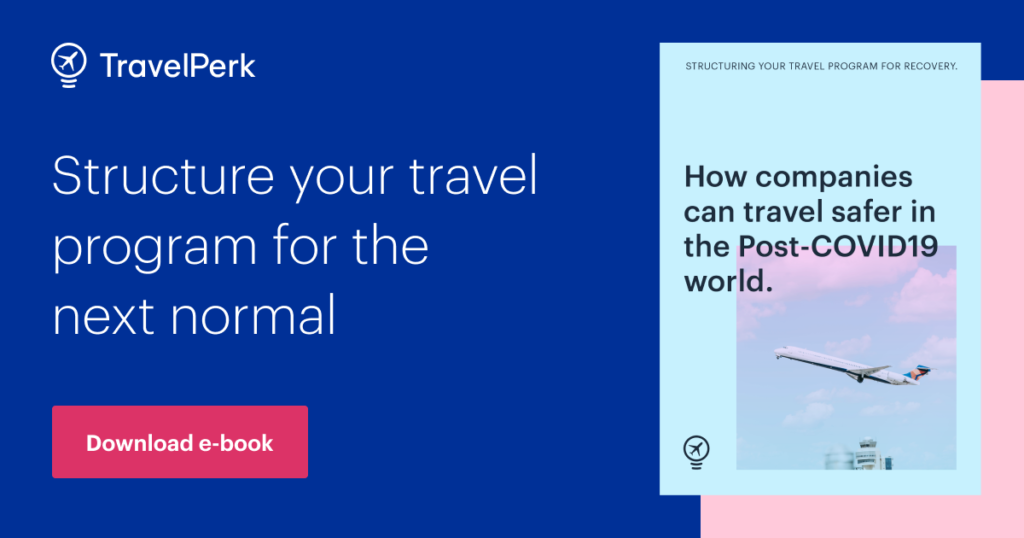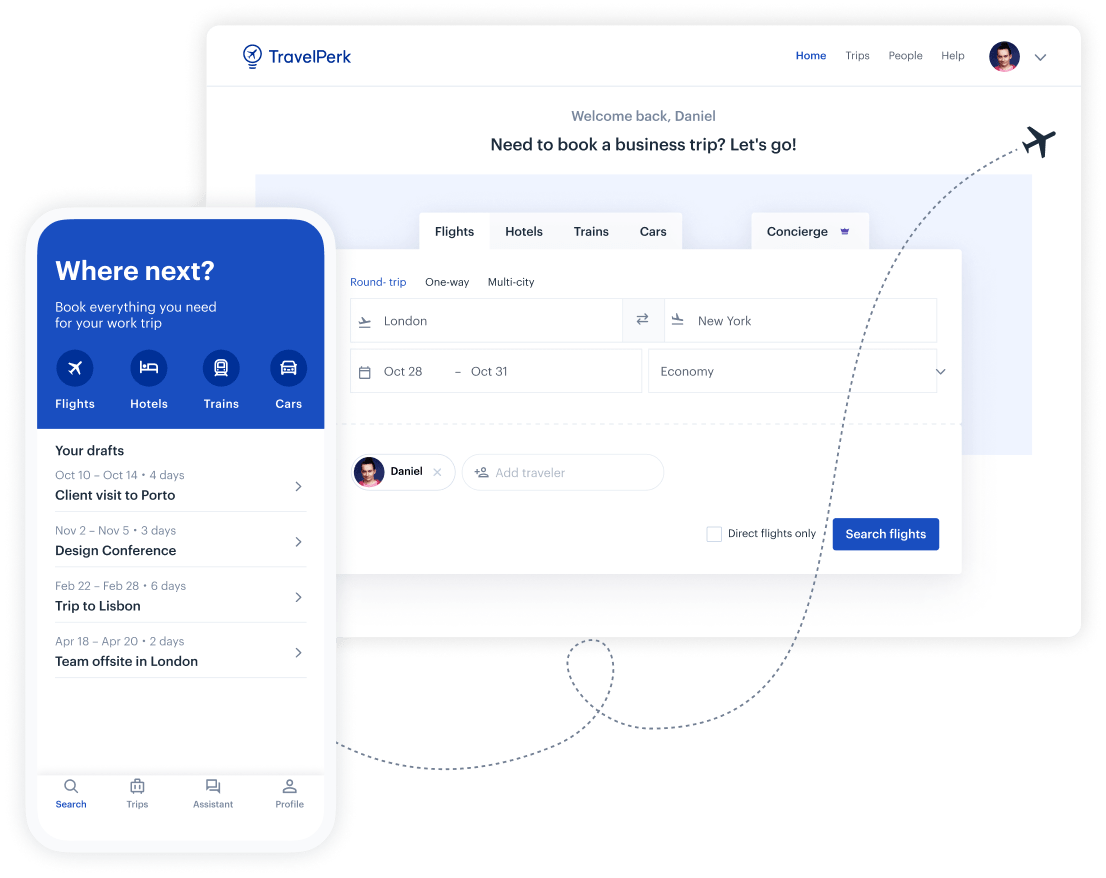 Make business travel simpler. Forever.
See our platform in action. Trusted by thousands of companies worldwide, TravelPerk makes business travel simpler to manage with more flexibility, full control of spending with easy reporting, and options to offset your carbon footprint.

Find hundreds of resources on all things business travel, from tips on traveling more sustainably, to advice on setting up a business travel policy, and managing your expenses. Our latest e-books and blog posts have you covered.

Never miss another update. Stay in touch with us on social for the latest product releases, upcoming events, and articles fresh off the press.