This year is proving to be a difficult financial hurdle for a lot of businesses. Whether you're heading up a small business, or handling the bottom line at an enterprise, there's a high chance that boosting cash flow and profitability is at the top of your priorities list.
With tech layoffs at an all-time high, bank scandals dominating our headlines and an impending recession on the horizon, you'll likely be looking for ways you can reduce business expenses this year—cash is still king.
You've come to the right place. We're sharing seven ways you can cut costs while remaining operational, innovative, and even continuing to grow throughout this cash crunch.
7 cost-cutting ideas to reduce business expenses
1. Embrace the gig economy
Since the pandemic, the gig economy has boomed. Close to 40% of the entire American workforce now identifies as independent workers. This is thanks to a 9% increase throughout the pandemic years—there are now 58 million gig workers in the US!
From entrepreneurs to CEOs, hiring freelancers, contractors, and gig workers is now more common than ever. The gig economy is a great way for businesses to reduce expenses on salaries, benefits, and training—especially for non-essential business functions, trialing new roles, strategies, or growth methods.
While gig providers certainly provide cost savings opportunities, they also provide a direct route to hyper-specialized talent. So, rather than training a new starter to be a "jack of all trades" you can work with multiple gig workers that are masters of one.
2. Consider more cost-effective marketing strategies
Now small business owners and finance managers know that most marketing efforts and high-vis marketing real estate don't come cheap. It's often the bane of a finance manager's to-do list to benchmark ROI against costs and accurately run spend forecasting for growth marketing teams.
However, marketing doesn't need to be a credit card sap. Here are a few alternative marketing avenues to consider outside of throwing cashing at ads.
Consider leveraging your organic social media channels or branching into new ones at low lift, high reward basis.
Partner up with other businesses with similar ICPs (Ideal Customer Profile) for newsletter swaps, link exchanges, webinars, and social campaigns.
Invest in SEO & Content Marketing: rather than getting quick wins until ad spend burns out, and often with high churn rates, consider an evergreen content strategy for more long-term investment. If you don't have these resources in-house, there are some fantastic content marketing agencies out there to consider.
Finance Managers, looking for smarter ways to work?
3. Try sharing an office space and hybrid work for better expense reduction
We're now well and truly in a hybrid working world: a healthy split between in-office and at-home life is the norm. How can you capitalize on this to cut business costs and trim down expenditures?
Consider 'collaborative consumption' as an active form of cost-cutting measures. For example, rather than having your own office space for five days a week, look at reducing this to two or three days and ensure your work from home policy never leads to an empty office again.
When you allow full-time employees limited days a week at the office, they'll soon be packing it out on allocated days, allowing more room for real-life, water cooler-style collaboration; while appreciating their work from home days even more—and keeping your costs low.
If you've got a smaller team, explore coworking space options. There are plenty of flexible hot desk options that make for a great work perk.
4. Implement energy-efficient practices and initiatives
The initial upgrade to energy-efficient equipment and appliances is well worth it if you're in it for the long run and own your own business real estate. Add to this by considering renewable energy sources in replacement of current solutions—solar panels, for example, are becoming more and more common.
Asides from this, implementing a company-wide energy-saving policy, and incentives if teams or the entire business hits certain goals, can truly help to create a more energy-conscious workforce. If your team is traveling for business, consider implementing a more sustainable travel policy too.
There are plenty of high-quality energy-saving apps on the market to help you maintain this initiative and keep staff engagement high.
5. Embrace technology and digital transformation for cost reduction
Software is a game of wins and losses. Some help you save money, while others can be a financial burden—especially when you're not actively using a paid plan that's slipping under the radar.
This year, take a look at software tools that you're no longer using. Do your teams truly need the subscription? Or is the free plan enough to get by? That's certainly the case for many small businesses using Zoom or Calendly, for example.
In addition to this, AI has come a long way in 2023, and will continue to rapidly evolve. Use free AI models to automate mundane tasks, keep optimization tasks low-cost, and outsource to the bots those time-consuming tasks the humans just don't enjoy doing.
6. Keep track of your expenses and look to optimize spend
Use financial management software to keep track of your expenses across the board: track everything from office supplies to work perks. For example, if your team has a travel budget, incentivize employees to stick to that budget when they're on the go.
If you're serious about reducing costs, then track spend across all employees: from contractors, to part-time to full time employees. Smart expense management software will be able to break down your most expensive assets, people, and teams, so you can review and find ways to minimize your spend in those budget-biting areas.


7. Invest in your people to proactively save
It may seem counterintuitive, reading about cutting down on your investments and then a heading like this one, but investing in your people is worth the investment. Whether the bulk of your workforce is in the gig economy, or you've got full-time hires onboard and in-house—you'll need to invest in them if you want to keep them.
Hiring is expensive and time-consuming. Replacing an employee can cost a business around 6-9 months of that employee's salary, on average.
If you are investing in training and skill development so employees feel valued and continue to grow, then it may be worth sending out a survey to better understand what employees are using vs. what they actually need. If you do end up swapping around your benefits to be more people-centric, here are a few initiatives to consider:
Physical wellness benefits: gym/yoga studio access
Mental wellness benefits: access to therapy, wellness apps, meditation classes, mental health days off
Volunteering time off: VTO for needs your employees are passionate about
Ample holidays: giving your employees time to recharge
A culture of continuous learning: via onsite training, buddy systems, and access to external courses
Whether you're working with service providers or a full-time, employed team, strive to keep them all, you'll be saving your business thousands in the long-run.
Start reducing your business expenses today
Whether you're a pre-seed startup or already have your feet firmly in the ground, it's no surprise you want to lower costs. Hopefully, you're walking away from this article with some actionable ways you can start cutting costs and start saving today.
Remember to track your business expenses, and look for optimization opportunities every step of the way, although these points are the starting blocks to saving, it's down to you, or your finance manager, to continue the journey.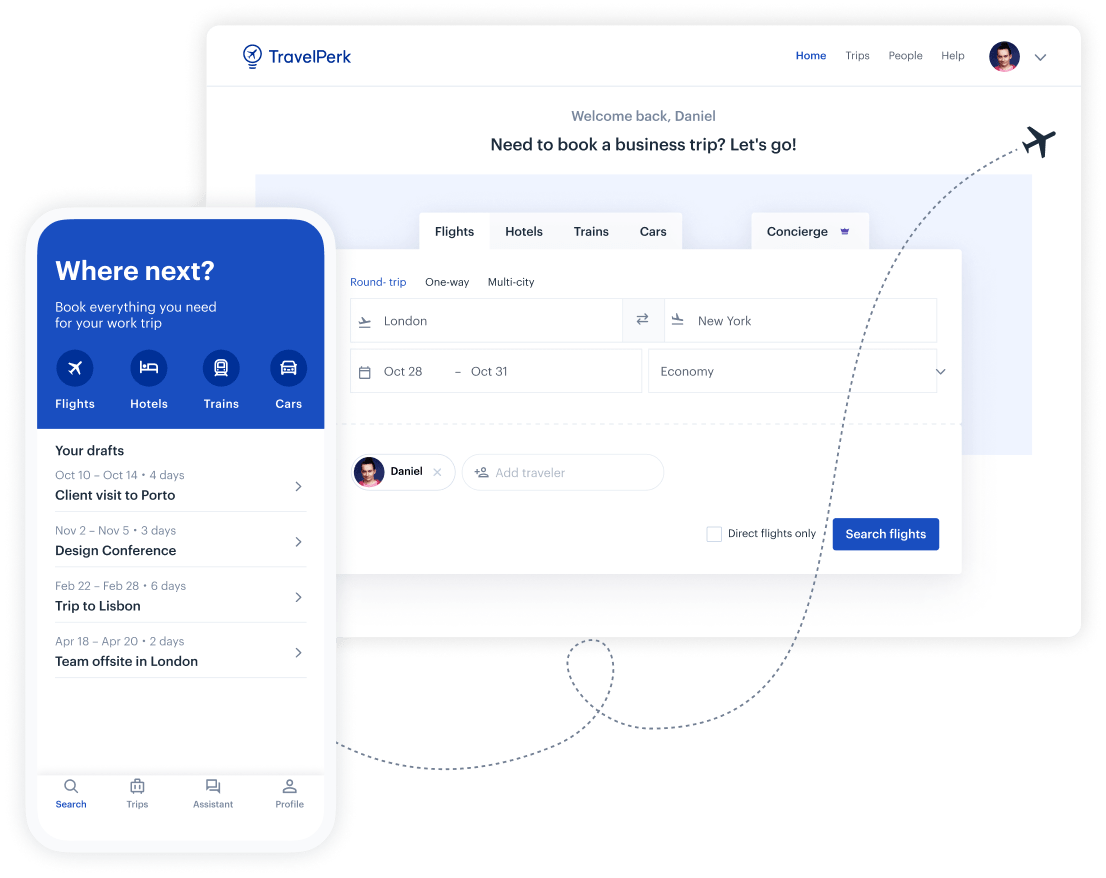 Make business travel simpler. Forever.
See our platform in action. Trusted by thousands of companies worldwide, TravelPerk makes business travel simpler to manage with more flexibility, full control of spending with easy reporting, and options to offset your carbon footprint.

Find hundreds of resources on all things business travel, from tips on traveling more sustainably, to advice on setting up a business travel policy, and managing your expenses. Our latest e-books and blog posts have you covered.

Never miss another update. Stay in touch with us on social for the latest product releases, upcoming events, and articles fresh off the press.