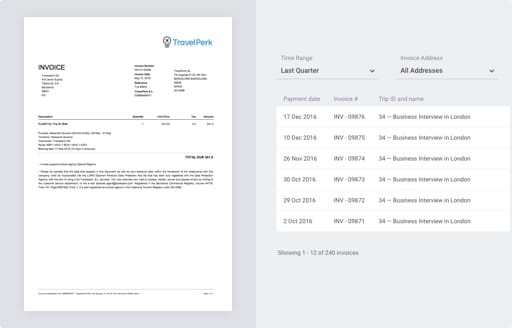 Here at TravelPerk, we enter 2017 riding the wave of an innovative and successful 2016, cementing our place as true disruptors in the corporate travel industry. With our platform, small and medium-sized businesses and their rockstar office managers who oversee employee travel have saved time, money and most importantly, headaches!

None of this would have been possible without the constant improvement of our platform, something we focused on a lot in 2016. Whether it's tweaking this here or adding that there, our team was vigilant about transforming corporate traveling for the better, and look forward to picking up the pace and doing even more amazing things come 2017.

Below is a list of everything we spruced up on our platform. Hope you find them as game-changing as we did!

Happy travels!
Instant access to your trip invoices
No more hunting through emails to find last month's invoice. You can now view and open your invoices from within TravelPerk, with the option to filter by invoice address and billing period.
Trip list got even better
We have revised the filters on the trip list to make it even easier to organise your trips by upcoming, traveling now and past. Oh, and you can also search by traveler name.
Increased low-cost airline coverage
We are constantly adding more and more integrations to TravelPerk to bring you the most competitive prices with the biggest choice of airlines. Starting this month, you will see more low-cost flights in the search results.
Clearer payment and confirmation pages
In the new payment page, you can now easily review all of the items in your trip before proceeding to payment. You will also be able to keep track of any special requests made during your booking.
New email design, new calendar attachment
TravelPerk confirmation emails have been improved to be even clearer and to work better with Google Calendar integration. You will also notice ICS calendar files attached to each confirmation email allowing you to keep track of what's coming up.
We'd love to hear your feedback
We have made these changes and improvements because customers like you have given us feedback and suggestions on how to make your travel booking experience better. If you would like to leave us any feedback, just click the green button from within the TravelPerk app.