So, you just landed an awesome new job—and it's hybrid?! Good for you! But now you're wondering what you can do to really thrive in this new work environment. Well, you're not alone. With the shift towards the hybrid work model becoming more prevalent in a pandemic and post-pandemic world, there are many professionals worldwide finding themselves in unchartered waters.
So, what are some of the best ways for you to make your hybrid work experience the best it can be? What can you do to get the most out of it? Check out our definitive list below.
1. Create a clear in-office and work from home schedule
Whether your company's done this for you or if you're able to choose the days you work from the office, create a very clear calendar for yourself. Remember, you're neither a remote worker nor an office worker. You're part of the hybrid workforce now, which means that your "new normal" will mean having to switch between spaces very quickly. Knowing when and how you're going to do that in advance is going to reduce a lot of stress and help you get into the swing of things quickly.
2. Organize as many meetings as you can on your in-office days
One of the best perks of going to the office a few days a week is that you get to run your meetings face-to-face. No more colleagues on mute. No more dogs barking in the background. No more looking at Jeff's Iron Maiden poster in the background. Make the most of your time in the office to meet with your coworkers in person. That's the great advantage hybrid work has over remote work—you actually get to check in with your colleagues physically. It's a great way to build relationships with them, get creative, brainstorm, and see the different ways that people work.
3. Set your limits and stick to them
No, hybrid work does not mean going to the office from 9-6 and then opening your laptop up again when you get home. 2020 was coined "the great exhaustion" for a reason, and working overtime in the past year has increased by 40% in the US alone, with similar trends spiking around the world. Take your work-life balance seriously—in fact, this is one of the greatest benefits of the hybrid work environment. It enables you to get the best of both worlds by giving you all of the perks of remote work and all of the perks of an office space. You just have to know how to use them.
4. Make your home office real nice
Remote employees don't get to have all the home office fun! If you're going to be spending 1-4 days a week working from home, then it stands to reason that you'll need a productive space that's conducive to you doing better work. No doubt your company will provide you with the basics—a laptop and an extra screen at least—but it's down to you to deck out your home workspace and make it your own.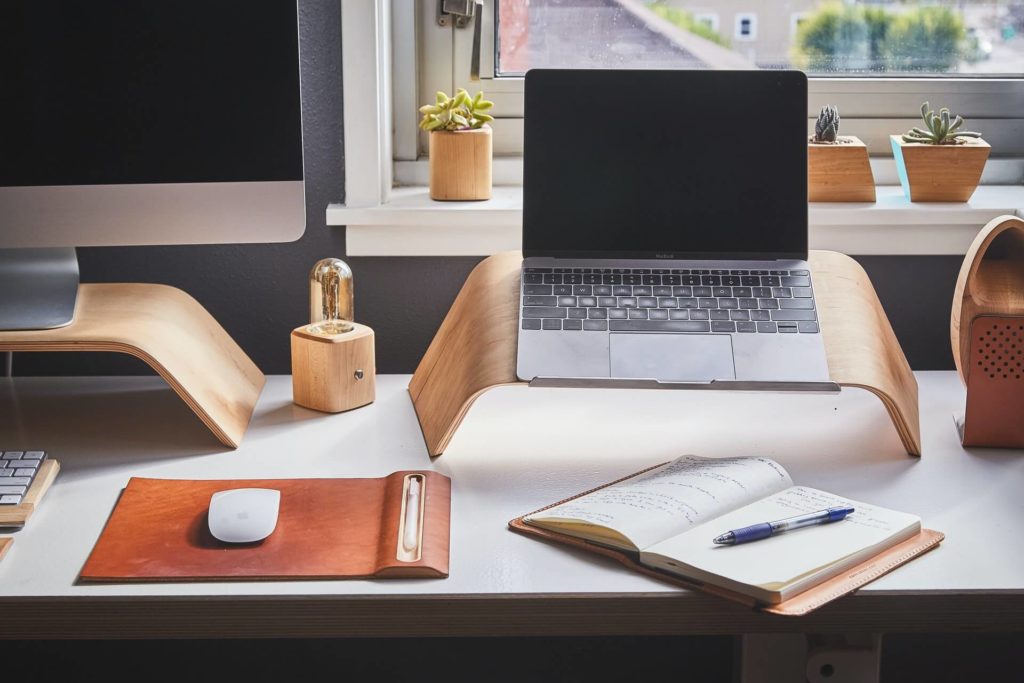 5. Keep it all light and flexible
Remember that a hybrid workplace is all about flexibility and fluidity. The idea is for you to be able to transition seamlessly between doing work at home and in the office. That'll mean some commuting, some videoconferencing, some in-person brainstorm sessions, and more. You don't want to need to lug around a laptop, 3 notebooks, 4 highlighters, 2 chargers, and a reusable water bottle every other day! Going paperless is one of the best ways to reduce the number of items you need to take with you between your home office and your office space. Integrating tools like Asana or Trello into your personal workflow is a great way to always have access to your to-do list. Not to mention that you should always store everything on the cloud, just in case.
6. Share your calendar with your team
An important tool in the hybrid workplace model is a shared calendar. Allow your team members access to your calendar so they can see what days you're in the office and what days you're working from home. You can also set "no meetings Mondays", or "face-to-face Fridays" to really optimize your productivity. It's also important for you to include all of your meetings in your calendar so you don't get double-booked—whether that's for in-person meetings or meetings on Zoom.
7. Communication is key
Back in the old, pre-pandemic days when virtually everyone was in the office full-time, there was nothing easier than to tap a colleague on the shoulder to ask a question. When working from home, even part of the time, you can't really do that. That's why it's so important to be communicative through messaging tools like Slack or Microsoft Teams. Update your status so people know when you're reachable, and when you're not. A hamburger emoji on your status is the digital equivalent of leaving your desk for lunch. A headphone emoji is, you guessed it, the same as physically putting on headphones at the office.
8. Socialize!
Don't be a house troll! Get out there and start making friends and memories with your colleagues early on. Immerse yourself in the company culture by attending whatever events may be going on, like weekly all-hands or after-work drinks. Even if having lunch with your team isn't part of your onboarding process, you should still try to squeeze in some time to get to know your coworkers on a personal level. There's nothing teams love more than when a new hire takes the initiative and invites everyone out for a drink (and not by the water cooler)! Being social at work is really going to make your employee experience at your new company one of a kind.
9. Don't forget to schedule some you time
Joining any new company, whether it's remote, hybrid, or on-site, can be overwhelming. And there's no shame in that! With so much new information, so many new people, and a totally new routine to get used to, it's normal to feel out of touch with yourself. But one of the greatest perks about hybrid, flexible work is that you're able to manage your schedule to suit the way you work best. So why not pencil in some time for your own personal well-being? Whether that's an hour at the gym, a 15-minute meditation, or a short walk or jog with your dog—make time for you.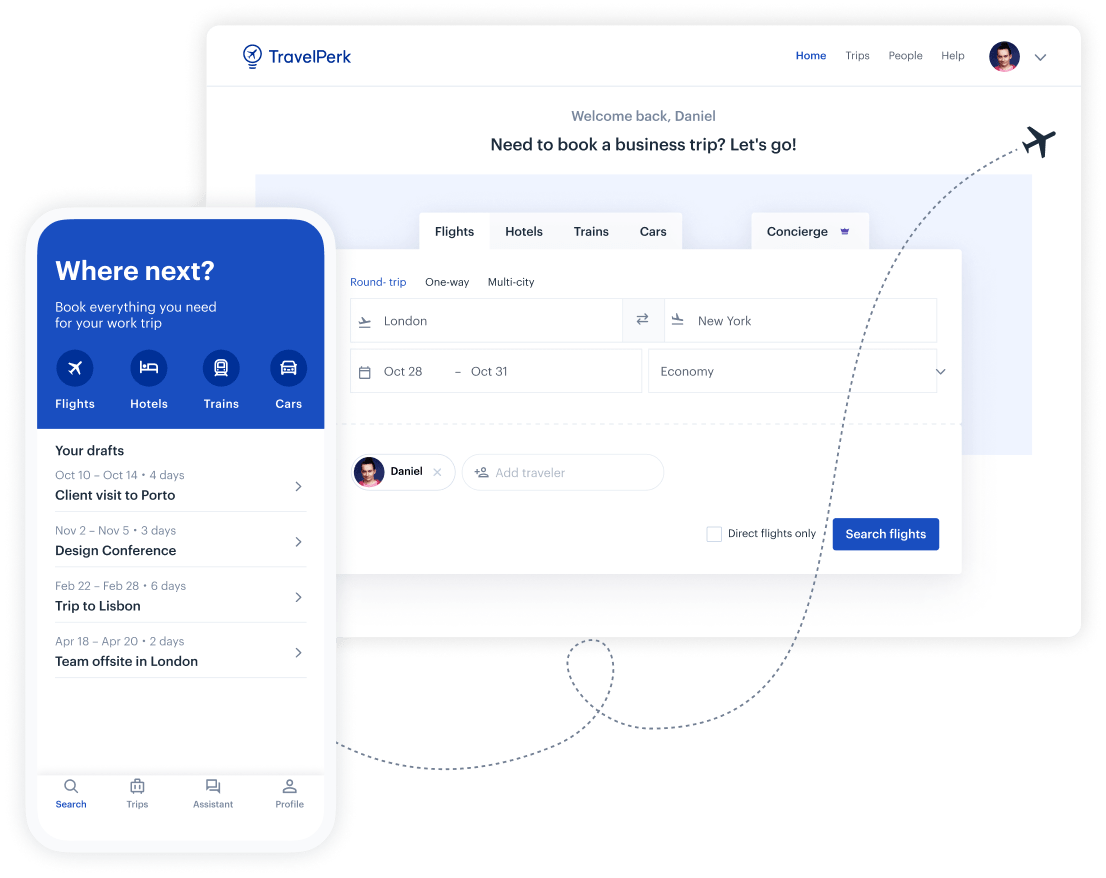 Make business travel simpler. Forever.
See our platform in action. Trusted by thousands of companies worldwide, TravelPerk makes business travel simpler to manage with more flexibility, full control of spending with easy reporting, and options to offset your carbon footprint.

Find hundreds of resources on all things business travel, from tips on traveling more sustainably, to advice on setting up a business travel policy, and managing your expenses. Our latest e-books and blog posts have you covered.

Never miss another update. Stay in touch with us on social for the latest product releases, upcoming events, and articles fresh off the press.