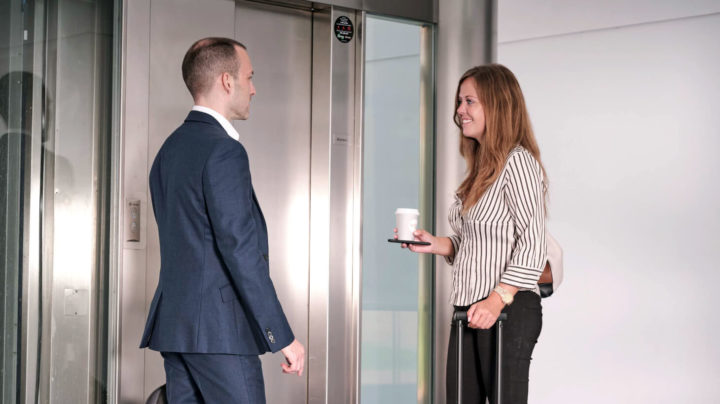 Finding the right corporate travel solution is a tricky business. Use an agency to manage travel, and you'll be stuck with bad rates and poor customer service – you'll be paying more per night than a leisure traveler!

But if you use a leisure travel website, you'll get even worse customer support, have no ability to enforce your travel policy and access to no data. It's a no-go.

So what should your business do? How do you pick a solution that not only works, but helps you save (or at least monitor costs) while making travelers happy? Because, believe us: a tool that doesn't satisfy travelers DOES NOT actually "work," no matter how many cool features it has.

Employees don't want to be forced to use something. They want to enjoy the experience when you add software to their workflow. That's why it's important to know that user experience is just as important as all the sexy features we're about to dive into.

With traveler happiness and business value-aligned, here's a step by step list for choosing a corporate travel management solution in the modern era.

Step 1. Understand what is and isn't working about your current solution
First, it's wise to revisit what solution you already use. Of all the ways you can manage corporate travel, they boil down to these 5 main categories:
Booking travel directly on leisure travel websites (like Expedia, Booking.com)
Travel agencies or travel management companies (TMC)
Niche "add-on" tools (like traveler incentivization, concierge chatbots etc.)
Enterprise travel management tools (like AMEX or Egencia)
Travel management platform (like TravelPerk)
Most likely, you're currently either booking travel on consumer sites, using a corporate travel agency, or are possibly using an outdated enterprise software.

Some travel management common problems include:
Lack of (or really bad) customer support
Lack of traveler satisfaction (travelers hate the booking process or support and feel they lack autonomy)
Difficulty enforcing travel policy
Challenges booking group trips and events
Difficulty tracking and analyzing spend to optimize travel budgets
Time consuming back-and-forth between travelers and administrators
Overspending
Limited inventory, no access to low-cost flights and hotels
Higher fares for businesses, very high commissions
Fees for each and every support call
Get clear on which problems your business needs to solve before you start hunting for a solution. This will make it much more likely that you choose the right option.
Step 2. Identify the criteria that matter to your business
Once you know the problems you need to solve, this part is much simpler! The criteria that matter to your business will be dependant on those unique problems as well as your company size and the amount of travel.

That said, there are certainly some factors that every business should look for:
Access to low-cost flights and hotels (as a business you should be able to book what a consumer can book)
An easy booking experience that saves time for administrators
Excellent customer support around the clock (with no extra charge)
All in one site with no redirects
Easy accounting and analytics, real-time visibility of your entire travel data
Based on your unique travel situation, you can add your own "must haves" to the list.
Step 3. Consider new criteria and new factors you hadn't thought of previously
The corporate travel industry is finally being disrupted. (It's about time.)

This means there are a whole host of features, both technology- and human-powered, that you may not know exist. One of these features is the ability to liberate yourself from micromanagement and allow travelers to self book within policy. Pretty cool, right?

Most likely, your business either allows travelers to book for themselves on sites like Expedia or Kayak with no oversight and no ability to keep that booking within policy. Or, on the other end of the spectrum, your business might require travelers to call an agency hotline to book their travel so that it stays within policy—even though travelers would prefer to book themselves.

What if you could have the best of both worlds and allow self-booking within policy? Smart, modern travel management platforms let administrators put limits and parameters on travel so that travelers can easily book their own trips within policy.

It gets better. These are some other features which you may not have thought to add to your list:
Travel spend reporting so you can review and optimize by department, office, project, date range, etc.
Ability to save all travelers' data including preferences and loyalty programs
Great mobile experience on the go
Integration with travel expense management tools
Travel Invoice Management in one place
Single vendor, and no need to pay multiple vendors
Easy and intuitive for travelers to use
Anything extra that you add to your list should ultimately increase convenience and ease for administrators and finance controllers.

But remember that the traveler is still #1. He's the one on the go, so his needs (mainly customer support and simple booking) should always come first. If he's not happy, then the solution isn't really working and they will always try to find ways to book out of policy.
Step 4. Vet options against your master list of necessary criteria
Now that you've got your custom list of criteria, it's time for the easy part. Vet any solutions that you are considering against this list.

You can review your options and mentally calculate how they match up, or you can rate each option on a scale from 1 – 5 for every criteria you've identified.

We've put together a list of over 40 criteria and a checklist to help you do this quickly.
Step 5. Choose the best solution and implement it
Once you've picked the best corporate travel management software (the one that fits all administrative needs and satisfies travelers), it's time to implement it.

You might choose to do this in stages. The office manager or travel manager can—for a time—book all trips for the company and then invite travelers to join to make sure that the solution is truly delivering on all promises before bringing everyone on board. Whatever you use, you want it to be easy for everyone to login and get started booking in just a few minutes.

Tips for implementing your new travel tool:
Add your main travelers with all their data to the system in advance to simplify onboarding so they could just start using.
Set policy limits before inviting travelers
Set approval workflows before inviting travelers
Add the tool name to the internal company wiki so employees know what they
should use for travel
Set up a reporting procedure for the finance team early on
Prepare a clear roll-out message with all the instructions, to invite the travelers to join
Get feedback from the company (especially the frequent travelers) after 1 – 2 months of use with a simple survey tool for feedback like Typeform or Airtable and continuously monitor traveler satisfaction
If you do all of the above, implementation will be smooth and the corporate travel management tool will more successfully solve those problems you identified, whether lack of visibility or control.

There might be some great features that aren't yet on your radar. That's why we put together a guide and checklist with over 40 criteria for you.