From travel managers to leisure travelers, everyone is on the hunt for cheaper airfare for their next trip—which is why finding the best flight booking website is a top priority.
Whether you're booking a round-trip journey to Los Angeles, a multi-destination trip ending in Paris, or a one-way ticket to London, you'll need to know the flight search sites that offer you the cheapest fares and streamline the trip booking and management process.
Before you hit the tarmac, let's explore the top 7 websites for booking flights for both business and leisure travel to help you make your next flight search a breeze.
1. TravelPerk: best website to book flights for business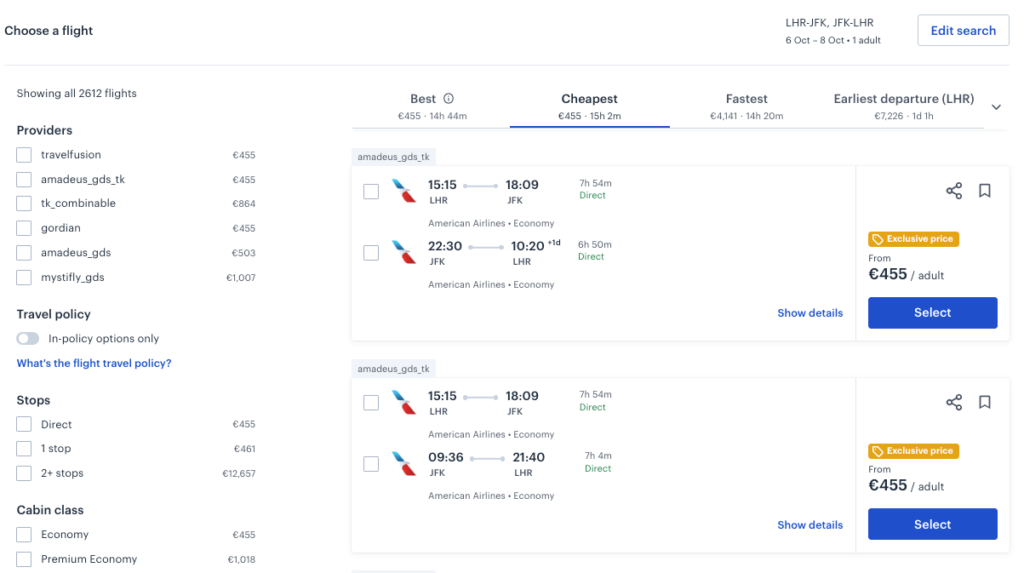 When searching for the best sites to book flights, businesses are not only looking for budget-friendly options; they also want a provider that can help them streamline admin, offer flexible booking options, and ensure seamless coordination of travel plans. 
As a result, travel aggregator sites and online travel agencies (OTAs) such as Orbitz, Priceline, Travelocity, and Kayak are often not the best websites for flights for corporate travel.
Designed exclusively for businesses, TravelPerk is the best online flight booking option for travel managers and employees. The all-in-one travel management platform provides access to an extensive flight inventory and exclusive negotiated rates and empowers travel managers to seamlessly book car rentals, flights, and accommodations.
In addition to its integrated traveler self-booking and management features, the platform offers travel managers complete control over itineraries, business expenses, and VAT refunds. Companies booking with TravelPerk also have access to a VAT recovery solution, helping them save up to 25% of their annual travel budget for travel throughout Europe.
Plus, there's no need to switch between airline booking portals and accounting systems since everything can be managed within the TravelPerk platform—including integrated travel policy and approval flows.
Key features:
Streamline business travel and expense management within a single platform and seamlessly link your flight plans with other travel arrangements.

Save money with access to one of the most extensive global corporate flight inventories and enjoy lower prices thanks to exclusive rates.

Access a consolidated booking and expense management process in one simple interface — plus, plane ticket costs are automatically added to your expense sheet.

Save time and money when booking group travel via the end-to-end platform and access exclusive rates for

group travel

.

Seamlessly integrate loyalty programs for hotels, airlines, and trains so that travelers don't miss out on the chance to accumulate and redeem valuable reward points.

Enjoy

24/7 business travel assistance

for travelers with a target 15-second response rate from the 7* customer care team.

With

FlexiPerk

, you don't need to worry about cancelations. In fact, you can retrieve 80% of the trip cost and forget about dealing with individual cancellation rules.

TravelPerk's Trip Assistant — a mobile app available on iOS and Android — stores all trip information in one place, even when passengers are offline.
Start saving money on business travel for your company today!
2. Skyscanner: best website for finding cheap flights
If you're in the business of finding the cheapest flights available for your trip, Skyscanner's travel fare metasearch engine is a great option. More reliable than Google Flights, Skyscanner aggregates flight prices from various travel agencies and booking and airline websites to help you discover the best deals.
In addition to comparing airfare prices and finding the best flight deals, you can also use the tool's "whole month" and "search everywhere" features if you have flexible travel plans. These options present the most affordable flights for various destinations departing from your chosen airport throughout a specific month.
Key features:
Flight comparisons include information on fares, layovers, airlines, and travel durations, Users can toggle between "cheapest" and "best" flights, with the latter factoring in prices, layovers, airlines, and travel times.
You can activate price alerts for particular flights and routes that prompt Skyscanner to inform you when price drops occur.
The multi-city search feature enables you to find and compare flight tickets for complex itineraries.
The platform displays user-generated reviews and ratings for OTAs and airlines to give you travel tips and insights into the quality of the choices available.
In addition to searching for flights, you can also explore deals for accommodation and car rental options.
3. Kiwi: best flight booking site for complex itineraries
For those who are traveling to multiple destinations within the same trip, online travel agency Kiwi specializes in innovative flight search features and creating complex, personalized itineraries at the best prices.
Especially useful for those taking multiple international flights, Kiwi utilizes virtual interlining—which involves combining flights from different airlines that don't have existing partnerships—to help users create custom itineraries within a single booking. Travelers can build their own connections between flights to access the best deals for their multi-destination trips.
Key features:
The platform's"Kiwi-Code" tool performs over 2 billion price checks and scans over 95% of the global travel inventory every day to ensure travelers have access to the best combination of flights for their journeys.
Travelers can create multi-carrier itineraries within a single booking and search for flights from nearby airports to help them explore cheaper or more suitable travel options.
The agency offers "guaranteed connection" protection, which provides assistance when trips are disrupted by carrier changes, cancellations, or delays, ensuring travelers reach their final destination.
The "Nomad" search option enables travelers to input their departure destinations to allow Kiwi to suggest the best multi-destination itineraries at the cheapest prices.
If you have flexible dates for travel, Kiwi's price graph displays flight prices from your departure city to destinations on a map to help you find budget-friendly options all over the world.
4. CheapTickets: best website for student travelers
With its dedicated Student Travel Hub, CheapTickets by Expedia is an online travel booking website that's ideal for younger adventurers. As well as travel deals explicitly designed for students, CheapTickets offers group travel options, popular student trip packages, and last-minute hotel deals. For those with flexible travel dates, CheapTickets also helps travelers find the best deals.
The platform's metasearch engine lets travelers compare prices for different travel dates, helping them find great deals on flights, hotels, car rentals, cruises, activities, concerts, and events. The "Nomad" search feature is perfect for students who want to explore various travel choices at the lowest prices.
Key features:
The platform enables travelers to compare prices from different airlines, hotels, and providers to help them find the best deals.
Users can access deals on cheap vacation packages that include flights and accommodation options.
Travelers also have the option to book various activities, tours, and experiences at their travel destinations.
Users can also search for hotels and filter the results page based on price, location, star rating, and guest reviews.
Group travel options help travelers book multiple flights and hotels together, which often unlocks group discounts.
When searching for flight and accommodation packages, you can find verified and detailed customer reviews and ratings for hotels.
5. CheapOair: best website for travelers on a budget
Traveling on a shoestring budget is easy when you know which flight booking websites offer the best deals. CheapOair is an online travel agency and booking website that helps travelers secure the best low-budget fares from over 500 airlines. CheapOair also frequently offers special deals, discounts, and offers on travel services, helping travelers give their credit cards a rest while making the most of their trips.
As well as price comparisons of cheap airfare, travelers can book vacation packages, accommodation, and car rentals via the platform, and access personalized assistance from dedicated travel experts.
Key features:
You can set up price alerts for your selected routes to access the best prices for your trip.
If you find flights at a lower price on another website within 24 hours of booking, CheapOair will offer you a price match by refunding the difference or canceling the booking with a full refund.
For peace of mind while traveling, CheapOair provides 24/7 customer support.
If you want to book your entire trip on one platform, CheapOair also offers vacation packages, car rental options, and cruise bookings.
CheapOair offers travel insurance options to protect travelers against unexpected changes and disruptions.
6. Opodo: best website for exclusive deals and discounts
If you're a frequent flyer, online travel agency Opodo is a great option for accessing exclusive deals and discounts through its Prime subscription option. Depending on your country of residence, the annual subscription price ranges from $46 to $68 for access to discounts on 100% of flights, accommodation, and car rentals.
Even if you don't opt for Prime membership, Opodo's travel search engine helps you easily compare and book flights from a range of airlines and create tailored packages of flights and hotel options.
Key features:
The website highlights special offers, discounts, and promotions for airline tickets, hotels, and vacation packages, making it easier for you to find budget-friendly options.
Opodo helps you search for and book trips with complex itineraries involving multiple cities.
You can consult real airline reviews written by Opodo customers before you book your flight.
Opodo's mobile app not only enables you to book flights on the go, but it also provides exclusive app-only discount codes for cheaper flights, automates check-in processes, and scans your carry-on luggage to verify that it will fit on the plane.
Opodo displays ratings and reviews directly from TripAdvisor when you search for hotel options on the platform.
7. eDreams: best website for last-minute flight deals
Online travel agent eDreams offers a specific search function for travelers booking last-minute flights to help them find the best deals. You can also search for multi-city journeys, explore alternative travel options that fit your schedule and budget, and bundle vacation packages that combine flights and accommodation.
You can also unlock more affordable deals and discounts by opting for the platform's Prime subscription. Depending on where you live, the yearly subscription fee ranges from $46 to $68, granting you access to reduced rates on flights, accommodations, and car rentals.
Key features:
eDreams promote special offers, discounts, and promotions for flights, hotels, and vacation packages, making it easier for you to find cheap travel options.
Using the mobile app, you can keep tabs on flights in real time and get instant access to essential information like gate assignments, baggage claim details, and updates on delays or cancellations.
eDreams enables you to search for flights based on your air travel preferences, such as departure and destination cities, travel dates, and cabin class.
You can also search for other travel services including car rentals, hotels, and vacation packages.
In case you need to get in touch via phone, the eDreams call center is available 24/7.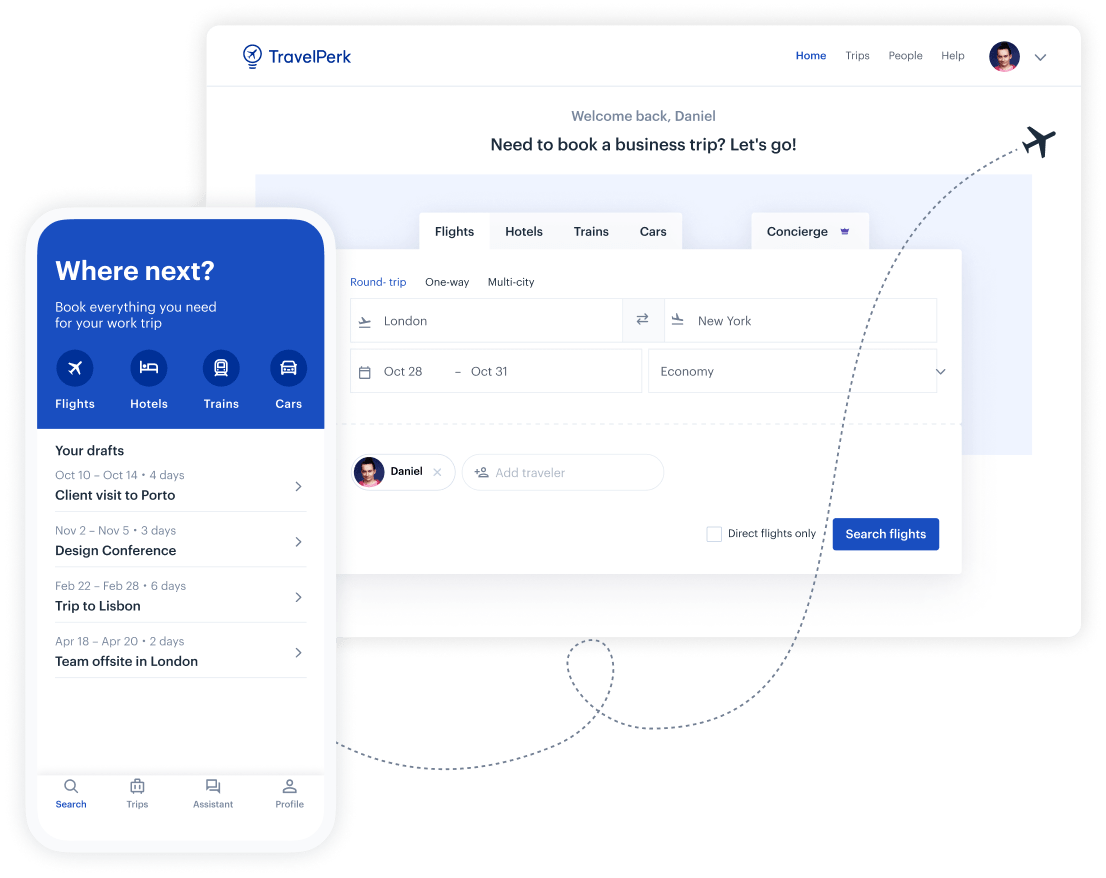 Make business travel simpler. Forever.
See our platform in action. Trusted by thousands of companies worldwide, TravelPerk makes business travel simpler to manage with more flexibility, full control of spending with easy reporting, and options to offset your carbon footprint.

Find hundreds of resources on all things business travel, from tips on traveling more sustainably, to advice on setting up a business travel policy, and managing your expenses. Our latest e-books and blog posts have you covered.

Never miss another update. Stay in touch with us on social for the latest product releases, upcoming events, and articles fresh off the press.