Did you know that 73% of travel and hospitality companies think data analytics are either "critically important" or "very important" to their success, according to a Statista survey?
Analytics offer companies valuable insights into where their travel budgets are going, allowing them to make more informed business decisions.

By tracking travel expenses, booking types, cancellations, and more, travel professionals can understand where money is being spent. Tracking carbon emissions is also important for meeting sustainability goals.

The right analytics tools will not only help travel managers track these metrics, but also create data visualizations that can be shared with key internal and external stakeholders.

So how can you choose the best travel analytics solutions for your company's needs? 
There are a number of important factors to keep in mind when evaluating software solutions for business travel. Some of these include:

Budget: How much money has your company set aside for a travel analytics solution? When setting a budget, be sure to take into account the cost of installation, the features you'll want (critical, essentials, and nice-to-haves), ongoing maintenance costs, training costs, and any unforeseen expenses.

Scalability: If the company grows, can the software easily be scaled to multiple departments, systems, offices, etc.?

Ease of implementation: How easy is it to get the software up and running? How much time will have to be dedicated to its installation? Is there a need for employee training, and will productivity be temporarily lower while the software is being installed? How is the user experience when engaging with the software?

Customer support: How well-rated is the software provider's customer support? Are they available 24/7? Do they have a good track record of solving users' problems? Is there installation support available if needed?

To help you evaluate these factors and make the best decision for your company, we've put together this list of some of the industry's top travel analytics solutions. 
The top 5 travel analytics solutions to consider for your business
Best for business travel
If employees at your company frequently travel for work, you'll want to invest in a travel analytics solution that's specifically designed for business travel programs.
1. TravelPerk
TravelPerk is an all-in-one corporate travel tool for bookings, travel management, expenses, event planning, and more. The platform offers a best-in-class travel management reporting feature.
With this feature, users have access to flexible corporate travel reporting via advanced travel and expense dashboards. They can break the travel data down by criteria like:
Person
Transport type
Booking type
Cancellations
Recoverable VAT
They can also configure and schedule custom reports, which can be exported and shared with other teams. 
Finance teams will benefit from TravelPerk's VAT insights, account management, and breakdown by cost data. And travel managers concerned about duty of care will be happy to know that TravelPerk offers travel restriction alerts through the TravelCare add-on. TravelCare sends automated alerts to both travelers and managers on health guidelines, airstrikes, and travel risks.
For sustainability managers, there's also the GreenPerk carbon footprint report, which is downloadable and can be configured to send alerts when your organization reaches certain goals. It offers an overview of your company's carbon dioxide emissions by flight routes and hotel stays, plus the cost spent on offsetting your carbon emissions.

In addition, travel managers can track travelers in real-time using an interactive map, no matter where they are in the world and how they're traveling.   
Start saving money on business travel for your company today!
Best for the travel and hospitality sector
Different industries may benefit from travel analytics solutions that are specific to their sector. Here are some examples:
2. Teradata
Teradata is a platform designed for transportation businesses. With this cloud analytics and data software, teams can implement a modern digital transformation strategy across their departments and regions.
The platform:
Features artificial intelligence and machine learning technologies, data storage, transactional workloads, and more
Allows customers to prepare data with powerful in-database functions and train models of various sizes to get the best results
Can be deployed in the public cloud, hybrid cloud, or on-premises
Is a flexible option for businesses in the manufacturing, retail, healthcare, or government sectors, among others
Teradata is used by a variety of travel industry businesses, such as airlines, transportation companies, and railway companies. 
3. Amadeus Travel Intelligence
Targeting online travel agencies, Amadeus Travel Intelligence uses shopping data to help identify traveler behavior patterns and improve the efficiency of online marketing. Companies can identify seasonal search patterns and adjust their offering in response, leading to an improved customer experience and enhanced supplier management.
Using the actionable insights gained from customer data, travel agencies can:
Improve their search engine optimization (SEO) marketing
Gain a deeper understanding of their agency's relevance to partner airlines
Identify new airline partners and capture new revenue streams
Better assess opportunities for expansion into new markets  
4. ACL Digital
ACL Digital offers an analytics solution for the travel and hospitality sector. They provide cargo and luggage transport analytics, as well as passenger behavior data.

Using data science, they build fact-based prescriptive and descriptive analytics, helping businesses maximize their revenue. To do this, they use advanced analytical functions like:
Text mining
Statistical modeling
Natural language processing
Predictive analytics
Neural science
Machine learning
They offer personalization, context-based data analysis, a 360-degree customer view, and high-value data processing. 
5. WNS
WNS has a travel and leisure analytics offering geared towards the hotel, airline, online travel agency (OTA), resort, and cruise industries. Using WNS's analytics services, clients can develop a better understanding of their customers and gain valuable insights to help them make data-driven decisions.

Some of the solutions they offer include:
Customer acquisition analytics: Using segmentation, clustering, and predictive analytics techniques, enables travel and leisure companies to identify customers who are most likely to make purchases or react to campaigns, promotions, and communications.

Retention analytics: Helps identify the factors which are most likely to drive customer engagement with a product or service, and helps retain customers through targeted personalized offerings.

Cross-sell and up-sell analytics: Helps travel and leisure companies get deeper insights into customer expectations, and map the right products and services to existing customer segments. To do this, the solution leverages predictive analytics techniques such as look-alike models and response models.

Customer lifetime value (CLV) analytics: Helps travel and leisure companies create sales and marketing strategies by forecasting the expected revenue from new customers and identifying high-value and profitable customer segments.
Other services offered by WNS include database marketing and the Direct Channel Shift solution. In addition, there are also airline-focused analytics solutions for commercial intelligence, pricing and revenue management, flight operations analytics, and scheduling and networking.  


Travel analytics can transform your business
With the right travel analytics solutions, your company can get the insights you need to make the most informed decisions. Whether you're a travel agency looking to understand customer behavior, a transportation business looking for a cloud analytics solution, or a hotel looking to retain more customers, analytics software can help you meet your goals.
It's important to look for a travel analytics platform that's suited to your specific needs and budget. For companies whose employees are frequently traveling on business, a business travel software solution may be the best choice to discover insights on travel spending, transport types, sustainability, traveler location, and more.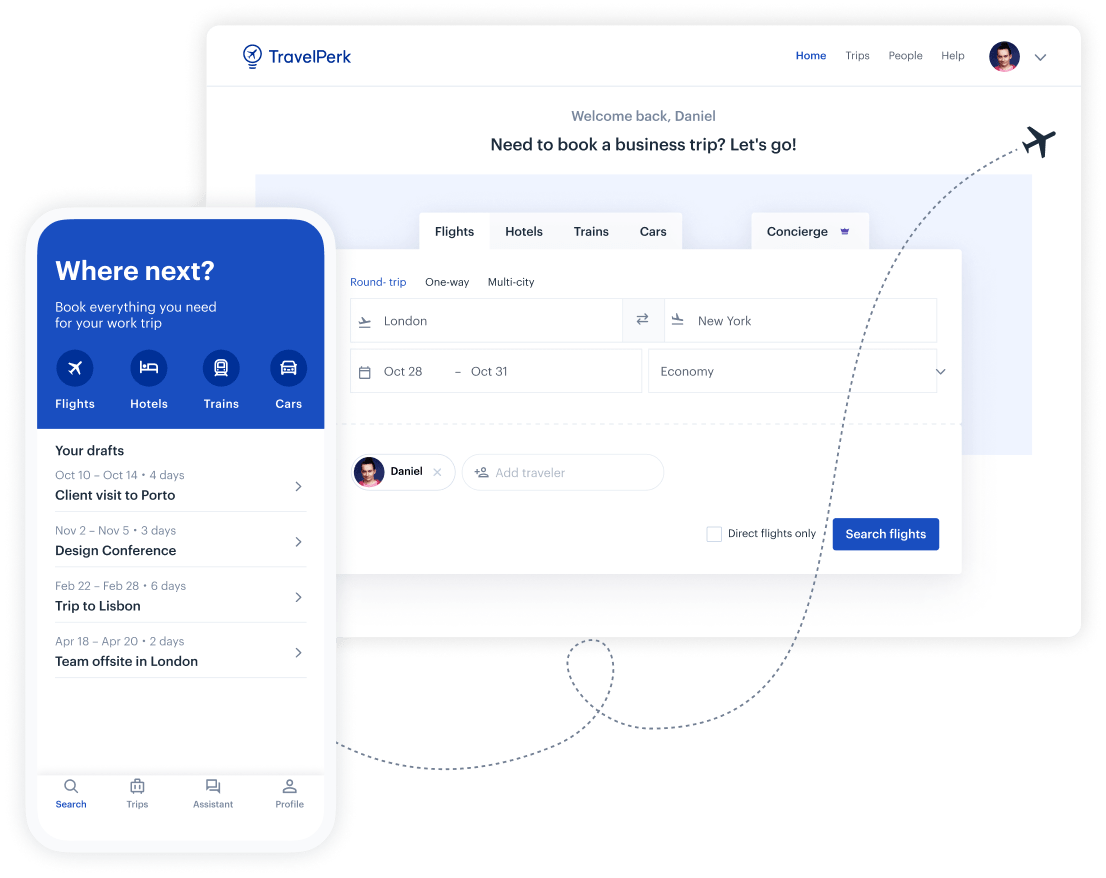 Make business travel simpler. Forever.
See our platform in action. Trusted by thousands of companies worldwide, TravelPerk makes business travel simpler to manage with more flexibility, full control of spending with easy reporting, and options to offset your carbon footprint.

Find hundreds of resources on all things business travel, from tips on traveling more sustainably, to advice on setting up a business travel policy, and managing your expenses. Our latest e-books and blog posts have you covered.

Never miss another update. Stay in touch with us on social for the latest product releases, upcoming events, and articles fresh off the press.