Lisbon, The Algarve, Sintra, The Azores, Porto, there's no question that Portugal is positively brimming with places to visit. And, what with Portuguese seafood and fruity Port wine helping bring more than 25 million holiday goers per year, it's no wonder you've found yourself here.
If you're planning a Portugal tour, then you'll want a tour operator that can cater to every step of the way. And, whether you're traveling for business, leisure, or a bit of both we're sharing the top 5 best travel agencies to get you from A to B(om dia)!
Best online travel agency for business travel
1. TravelPerk: perfect for taking the stress out of business travel
TravelPerk is a modern solution for modern corporate travel. Its easy-to-use online booking tool is a refreshing change from the clunky UI often associated with business travel. TravelPerk enables you to make flexible bookings for employees, and even offers the option to offset your carbon footprint. 
This platform is more than just an OTA, it's a comprehensive corporate travel management tool that helps your team book, manage, and report on business travel. TravelPerk ensures employees are traveling stress-free on the cheapest flights available, at no sacrifice to experience.
Main offerings and features:
TravelPerk gives employees access to the information and the security they need to travel with peace of mind. It gives organizations and travel managers access to the best corporate travel rates that you won't find on the market.
Start saving money on business travel for your company today!
Best online travel agencies for leisure travel
Picturing it, you're biking down the Douro River with friends. No, you're wandering the medieval streets of Coimbra with your partner. No, wait, you've taken yourself to dinner and you're tucking into fresh seafood in Belem. There's a lot to choose from when it comes to Portugal, and these top leisure travel agencies will ensure you do everything you're dreaming of—and a little extra!
Vamos lá!
2. Abreu: top-class service matched with a huge itinerary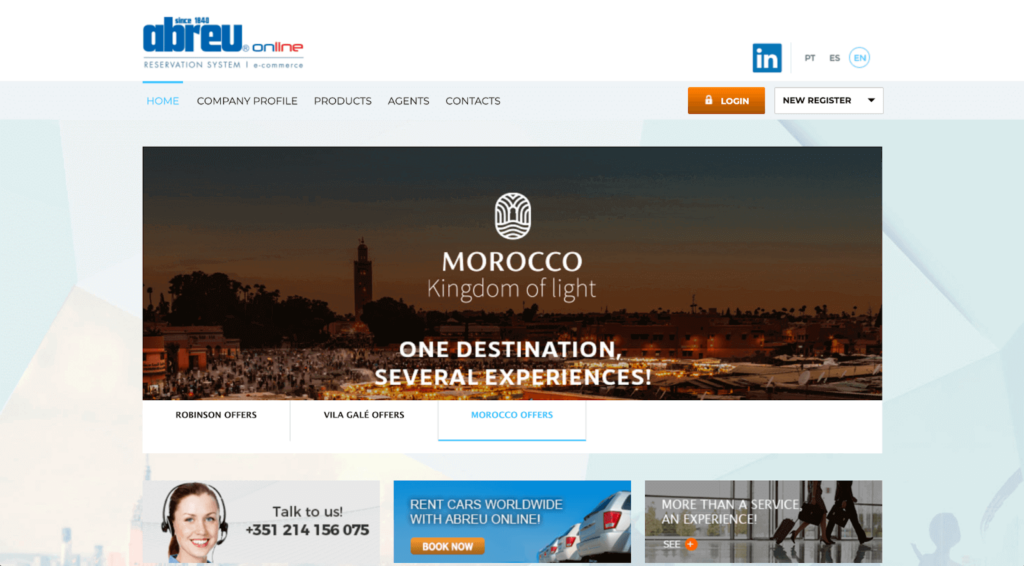 Abreu has close to 200,000 hotels on their roster, taking happy travelers around Portugal as well as over 120 other countries. They've partnered up with 8,500 tour operators across the globe to bring their customers a more holistic holiday experience. With over 175 years of experience under their belt, and originating from Oporto, Abreu now has headquarters in Lisbon, and sister offices in London - England, Madrid - Spain, and Orlando - Florida, USA.
Key features:
Offers services in English, Spanish, and Portuguese
Car rental service spanning Europe and beyond
Access their best travel technology with no registration fees
Engaging online travel tips to help you make up your mind
3. Tour Tailors: great for customized independent, self-guided tours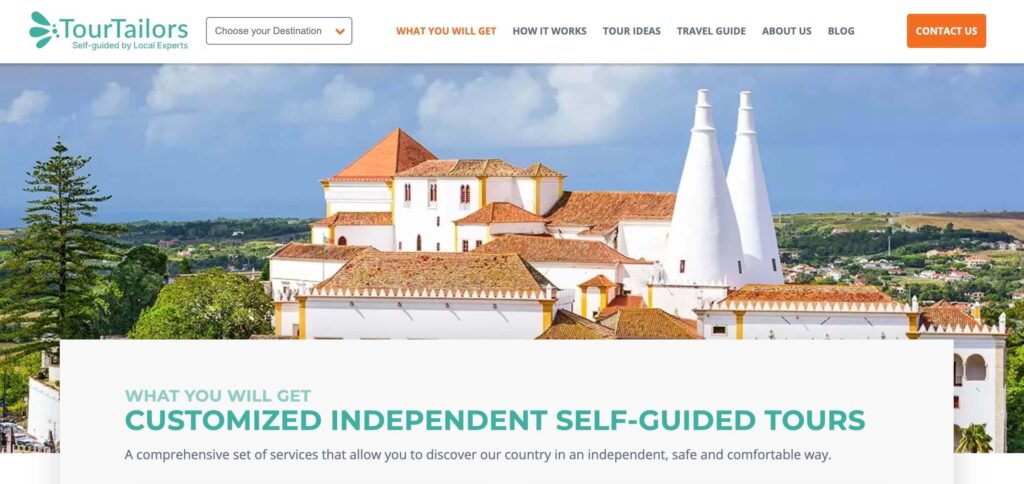 An all-together different travel agency. Tour Tailors work with local tour guides to provide you with a truly unique and bespoke travel experience. The travel agents are comfortable handling everything from solo travel to group tours and will continue to work on your itinerary until you're 100% happy with what you've got planned.
Key features:
Three hot travel destinations to choose from: Spain, Portugal, and Italy
Flexible cancellation policy: cancel up to five days before departure with no charges
Personalized roadbook, pre-programmed GPS, and walking tour options
Location welcome, hotel transportation & extra activities

4. Portugal Travel Center: perfect if you're looking to keep things local
Catch the surf in the Atlantic, walk the vineyards of the Douro Valley, or get lost in the Roman history of Evora. If you're looking for a tour operator that specializes in all things Portugal, then Portugal Travel Center is your best bet. The company is able to handle small group bookings, honeymoons, and is even worth considering if you're thinking of moving to the beautiful country.
Key features:
Day tours including: river cruises, private tours, wine tasting, and more
Tours by region including: Cascais
Specialized chauffeur services
Tailor-made solutions if you're considering moving to Portugal
5. ABC Travel: a simple solution for travel within Portugal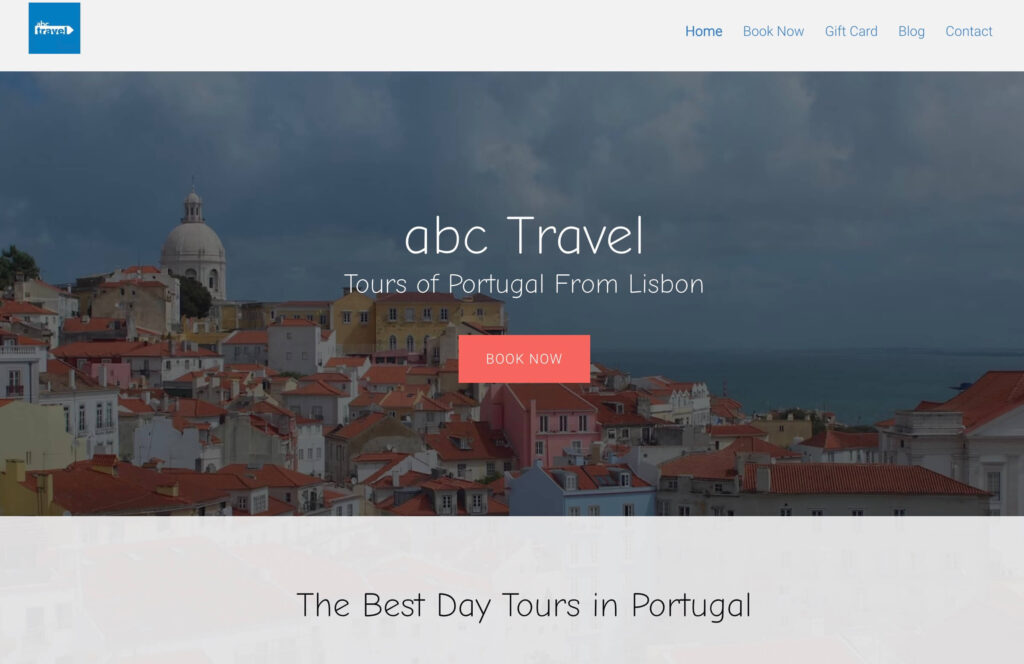 ABC Travel specializes in providing a travel experience you'll never forget. They run day trips from in and around Lisbon and some of their experiences are truly spectacular. Think horseback riding on the beach, dolphin spotting in the Atlantic, or combining multiple day tours to some of Portugal's most popular landmarks. Their booking engine is easy to use, and you'll have your trip planned in a few clicks.  
Key features:
Plenty of tour options if you want to keep things in Lisboa
An easy-to-use booking portal
City transfers or car rental options
Ability to handle air tickets and hotel reservations too
Closing out on the top online travel companies to visit Portugal
There you have it, the top tour companies to put on your radar if you're considering a tour of Portugal, or if you're based in Portugal and looking to fly further afield. If it's business travel you're after then TravelPerk is your perfect match: with flexible booking policies, a fantastic in-app booking experience, and 24/7 customer services, it will have your business trip tasting as sweet as a Pastel de Nata.
However, if you're looking to travel purely for leisure, then you've got a couple of options on this list. Abreu comes out on top if you're looking to travel to Europe or beyond, with a wide range of hotels, countries, and thousands of locations on their books. Whereas, if you want to keep things in Portugal then TourTailors, Portugal Travel Center, and ABC Travel all offer custom solutions that travelers love.
What's left for you to do? Take your pick, and enjoy that trip of a lifetime! Boa viagem!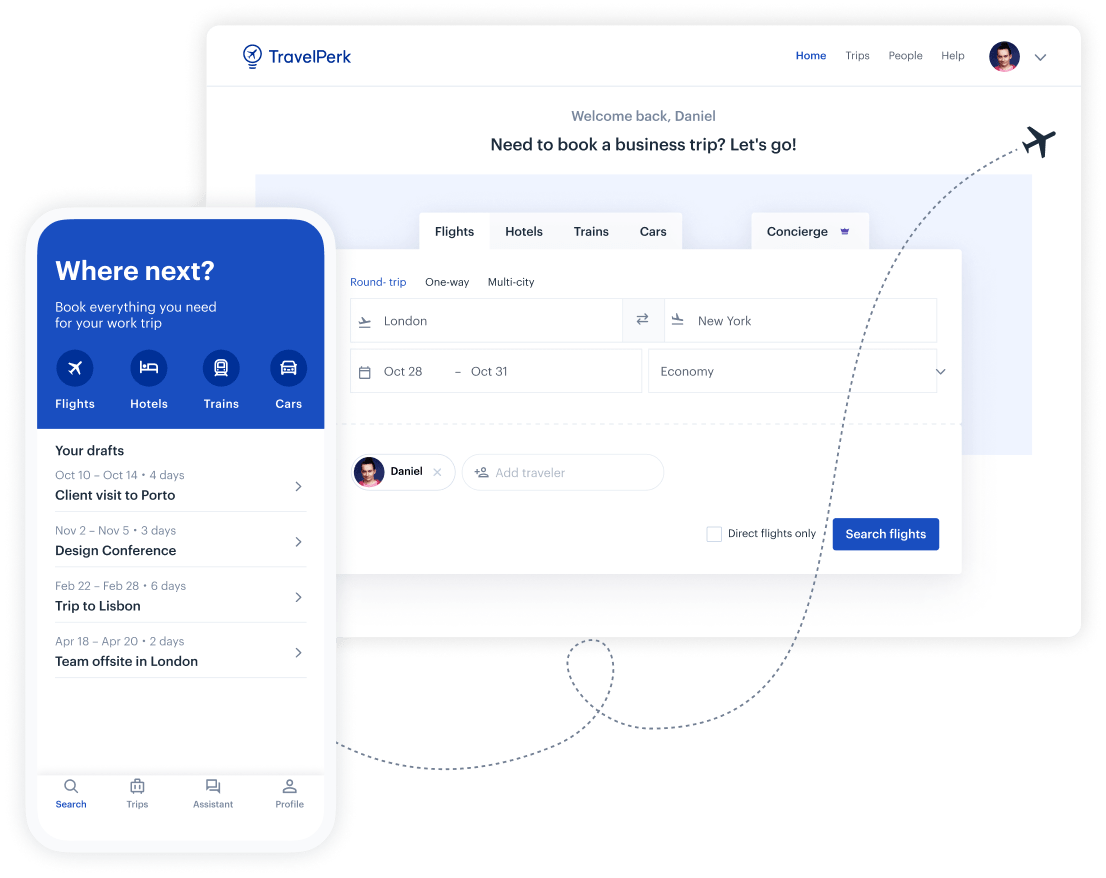 Make business travel simpler. Forever.
See our platform in action. Trusted by thousands of companies worldwide, TravelPerk makes business travel simpler to manage with more flexibility, full control of spending with easy reporting, and options to offset your carbon footprint.

Find hundreds of resources on all things business travel, from tips on traveling more sustainably, to advice on setting up a business travel policy, and managing your expenses. Our latest e-books and blog posts have you covered.

Never miss another update. Stay in touch with us on social for the latest product releases, upcoming events, and articles fresh off the press.