The Netherlands is a unique land built from craftsmanship, simplicity, and cycling—lots of cycling. If you're on holiday, a tour of Amsterdam might be on your mind, with visits to its museums, cobblestoned roads filled with keen cyclists, and famous nightlife venues. However, Holland offers much more than its capital city. The country is the world's second-largest exporter of food and beer, and with business centers in Rotterdam, The Hague, Utrecht, and more, you know this is the place for grandiose windmills, colorful tulips, and closing deals.
To make your travels as welcoming as the Dutch culture, we've compiled a list of the best six online travel agencies for business and leisure in The Netherlands.
Laten we gaan! Let's go!
Best online travel agencies for business travel
With some of the largest companies in the world like Shell, ING, Unilever, and the beloved Heineken, the Netherlands is a key player in global business.
For those trying to seize the corporate opportunities in Holland, we've looked for the best online agencies for all your corporate travel needs, so you can sit back and enjoy an Amstel. Groet!
TravelPerk is a Barcelona-based online travel agency that specializes in providing modern solutions for seamless business travel. Its easy-to-use online booking tool is a refreshing change from the clunky UI often associated with business travel. TravelPerk enables you to make flexible bookings for employees and even offers the option to offset your carbon footprint—say adiós! to stress and contamination.
When considering the best online travel agencies, TravelPerk is a top contender, with an innovative, end-to-end solution for modern corporate travel. It's an all-in-one, intuitive online booking platform, which is a refreshing change from the typically clunky UI of business travel apps and websites.
Corporate travelers have a mission with each journey they take—it's not the moment to waste precious time worrying about travel logistics. TravelPerk understands this, and efficiency is at the core of the team's offering.
Businesses can boost efficiency even further with TravelPerk's numerous tool integrations, centralizing expenses with software such as Expensify or Divvy, or sharing travel plans over Slack. Streamlining a workflow in a way that suits your company's needs is key to successful business travel.
Another huge plus is that TravelPerk enables you to make flexible bookings for employees with FlexiPerk. Business travel is often subject to last-minute changes, and TravelPerk's flexible booking feature gives you the necessary leeway to change plans and get 80% of your spend back. Plus, booking with TravelPerk gives you the option to offset your carbon footprint with GreenPerk—a must in today's eco-conscious world. TravelPerk strives to ensure employees are traveling stress-free and comfortably, without breaking the budget.
Main offerings:
Extensive inventory of travel services

Flexible booking with FlexiPerk

Safety alerts with TravelCare

Integrated travel policy & approval flows

Centralized invoicing

Easy & real-time expense reports

Carbon offsetting with GreenPerk
Embark on a journey of smart travel solutions with TravelPerk—Your perfect companion for your Dutch adventures
Best online travel agencies for leisure travel
If you want to visit the Netherlands for a tour of its enchanting villages, a taste of its famous Stroopwafel, or to watch a game of its renowned Oranje team, these are the online travel and tour companies you must check out.
2. Booking.com: best for custom itineraries
Booking.com is one of the world's largest travel marketplaces. It offers flights, car rentals, attractions, and stays. Its accommodation ranges from seven-star hotels to cozy boat houses and even private house rooms. This gives you the flexibility to book, plan, and live your trip to the Netherlands exactly as you wish.
Main offerings:
Supports almost all languages including: English, German, French, Italian, and more
Possibility to stay in unique properties
Genius Rewards Program
Traveler Review Awards given to the best properties reviewed by real users
Prijsvrij Vakanties offers travel experiences at affordable prices and it even won the Netherland's best site of the year. Since its beginning in 2011, it has proved to be a travel agency to add to the list. They offer a best-price guarantee—from Dutch-affiliated ANVR/SGR travel organizations and renowned German travel companies—and have all sorts of holidays: from child-friendly trips to honeymoon escapades, summer and winter holidays, and their popular last-minute deals. However, they only offer services in Dutch.
Main offerings:
Many travel categories available: child-friendly, adults-only, all-inclusive, honeymoon, and more
City trips to Valencia, Rome, Barcelona, Lisbon, Prague, Marrakesh, and more
Easy-to-use website
No booking fees
Money-back guarantee in case of cancellation
4. Sunweb: support in many European languages
When it comes to leisure travel, Sunweb stands out as a popular choice in Europe. Specializing in curating holiday experiences that cater to a range of preferences, Sunweb offers a variety of packages that combine adventure and relaxation. If you're especially interested in alpine adventures—Switzerland is just a stone's throw away from the Netherlands—Sunweb was the winner of the World's Best Ski Tour Operator, 2022.
Main offerings:
Diverse vacation packages: from European Gay Ski week tours to Tomorrowland winter in Belgium, and river cruises
Local experiences with local tour guides
Traveler support in English, French, Dutch, German, Italian, Danish, and Swedish
Repatriation Guarantee to ensure you always get back home safely no matter where you travel
ABTA and ATOL memberships for financial protection
5. Corendon: for excellent service
Coredon is a Dutch-only travel agency that can help planners create their custom itineraries. Although the site might look a little bit outdated, the categories it offers make up for it and allow you to have control over all the aspects of your trip. For example, for travel types, you can choose between artist tours, car vacations, cruises, excursion trips, fly-drive vacations, and even Formula 1 holidays. The one thing this travel agent does not offer is day trips.
Main offerings:
Various categories for you to tailor your trip
Last-minute trips available
Reviews from users
On bookings up to three weeks before departure, you get two days to change your mind and get a free cancellation
Flexible rebooking up to eight days before departure
6. D-Reizen: with over 50 years of experience
D-Reizen is another Dutch-only travel agency that has over 50 years of experience. They don't only offer an online booking system but users can go to any of their 75+ in-person stores to book their holiday. Their most popular options fall under categories like sun vacation, last-minute travel, distant travel, and city trips.
Main offerings:
No booking fees when you book online
Website and customer service rated at 9.2 on Trustpilot
Physical stores available for holiday booking
City trips to London, Disneyland Paris, cities in Germany, America, and many more
Make the most out of your visit to the Netherlands by choosing the best travel agency for your needs!
Whether you visit the world's famous Rijksmuseum, go on a canal cruise through Amsterdam, gaze at the masterpieces from Van Gogh, or attend a business conference in The Hague, these six online travel agencies will make your Netherlands tour one to remember.
TravelPerk is one of the best options for corporate travelers. In addition to having a highly-rated customer system, TravelPerk's TravelCare gives you the peace of mind of knowing that whatever happens, you'll be taken care of. Additionally, its third party integrations make expense management a party your HR team will love.
Fasten your seatbelts—we're going to the Netherlands!
Goede reis!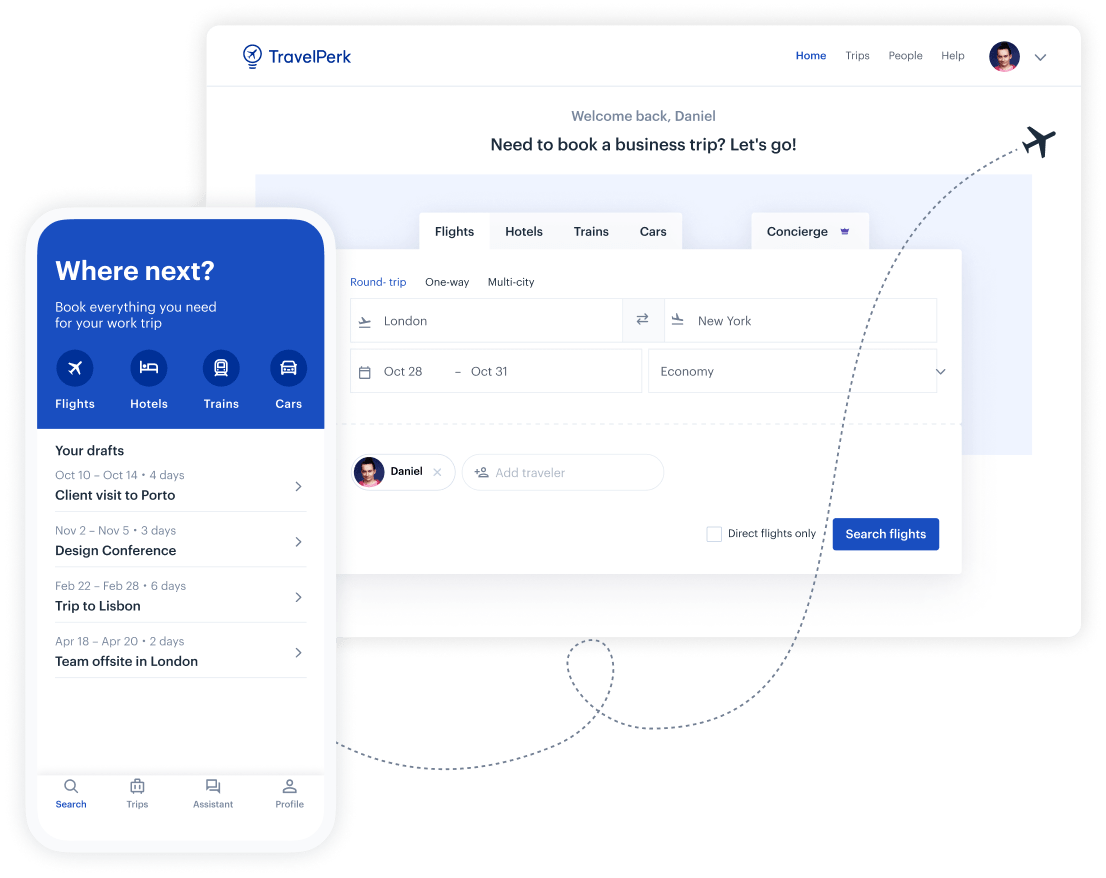 Make business travel simpler. Forever.
See our platform in action. Trusted by thousands of companies worldwide, TravelPerk makes business travel simpler to manage with more flexibility, full control of spending with easy reporting, and options to offset your carbon footprint.

Find hundreds of resources on all things business travel, from tips on traveling more sustainably, to advice on setting up a business travel policy, and managing your expenses. Our latest e-books and blog posts have you covered.

Never miss another update. Stay in touch with us on social for the latest product releases, upcoming events, and articles fresh off the press.