From the savvy streets of Tel Aviv to the holy history riddled through Jerusalem, to the beautiful beaches of Eilat, Haifa, and Akko; Israel has a ton going for it. Be it for business, leisure, or a blend of the two, tourism to Israel is picking up year on year. There's no wonder you've found yourself here.
Of course, you'll want a world-class travel experience for such an incredible country, and that all starts with the travel company you decide to tour with. In this article, we've rounded up the best Israeli tour operators on the market. All you need to do is pack!
Best online travel agency for business travel
1. TravelPerk: best for a productive business trip in Israel
TravelPerk is a modern solution for modern corporate travel. Its easy-to-use online booking tool is a refreshing change from the clunky UI often associated with business travel. TravelPerk enables you to make flexible bookings for employees, and even offers the option to offset your carbon footprint.
This platform is more than just an OTA, it's a comprehensive corporate travel management tool that helps your team book, manage, and report on business travel. TravelPerk ensures employees are traveling stress-free on the cheapest flights available, at no sacrifice to experience.

Main offerings and features:
Extensive inventory of travel services
Safety alerts with TravelCare
Integrated travel policy & approval flows
Centralized invoicing
Easy & real-time expense reports
Carbon offsetting with GreenPerk
24/7 customer support with a 15s target
Integration with 3rd party tools, such as expense management or HR software like Expensify and BambooHR
TravelPerk gives employees access to the information and the security they need to travel with peace of mind. It gives organizations and travel managers access to the best corporate travel rates that you won't find on the market.
Start saving money on business travel for your company today!
Best online travel agencies for leisure travel in Israel
Now that's business out of the way, let's get down to leisure travel—there's a lot of it! Maybe you want to learn the phenomenal history of Golan Heights, dawdle along in the Dead Sea, or soak up some nature at Masada National Park; the list is long, blink and you'll miss it.
Not to worry, these travel agencies will ensure you don't miss a trick—or flight!
2. Tourist Israel: perfect for an Israel tour in English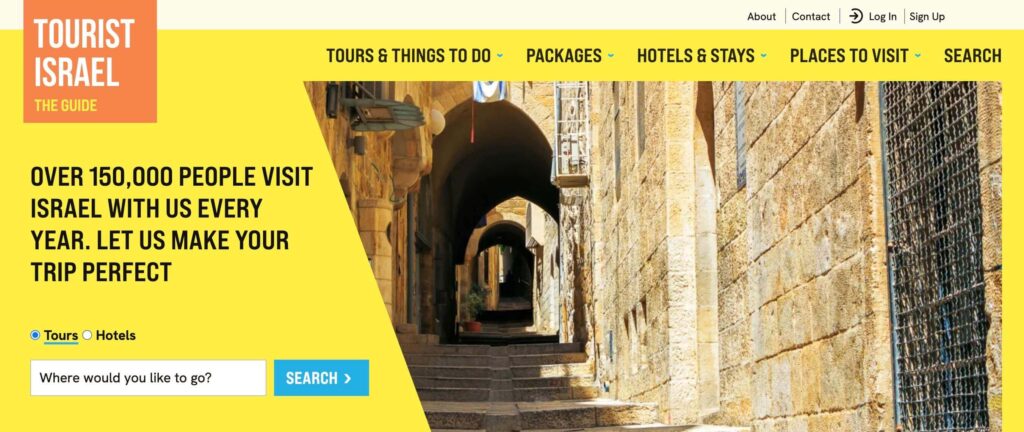 With over 150 local travel experts, 24/7 customer service, and managing tours and hotel reservations across the country, Tourist Israel states they're Israel's leading travel agency. They're able to organize group tours or keep things private for just you and a loved one. The team will help you travel through Israel and even take things as far as Petra, Jordan, or Egypt.
Main offerings and features:
Day tours including: The Tower of David, The Galilee heritage tour, and more
Longer tours exploring other Mediterranean countries
Hand-picked hotels vetted by experts: with special rates and benefits
Tours & packages come with a best price guarantee
Religion focused tours: for example, Christians can choose the holy land tour in Bethlehem
3. Issta: perfect for Hebrew speakers looking to explore the world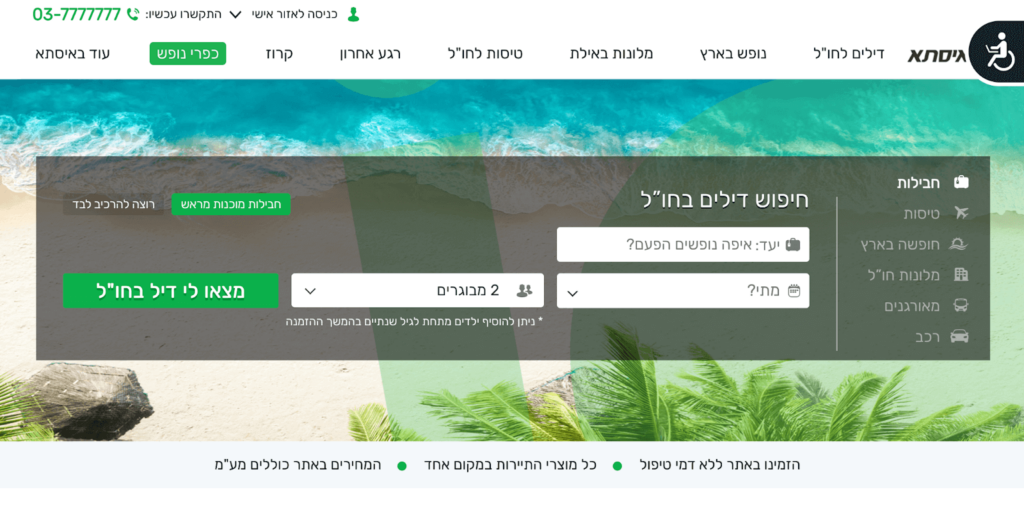 Issta is a popular option on the market for Hebrew speakers looking for a tour of Israel—and beyond. This travel agency specializes in package deals, hotels abroad, and car rentals. They're a great match if you're looking to explore Europe, hosting locations like Greece, Holland, Slovenia, Austria, and more. They also have various cruise options to consider if you're looking for a vacation on the water.
Main offerings and features:
A large European inventory
Cruise options: Norway, Iceland, The British Isles, The Canary Islands, and Asia
Inclusive locations and deals only available with Issta
A fully accessible site for anyone with sight or movement difficulties
4. Bein Harim Tourism Services: with a host of multilingual travel agents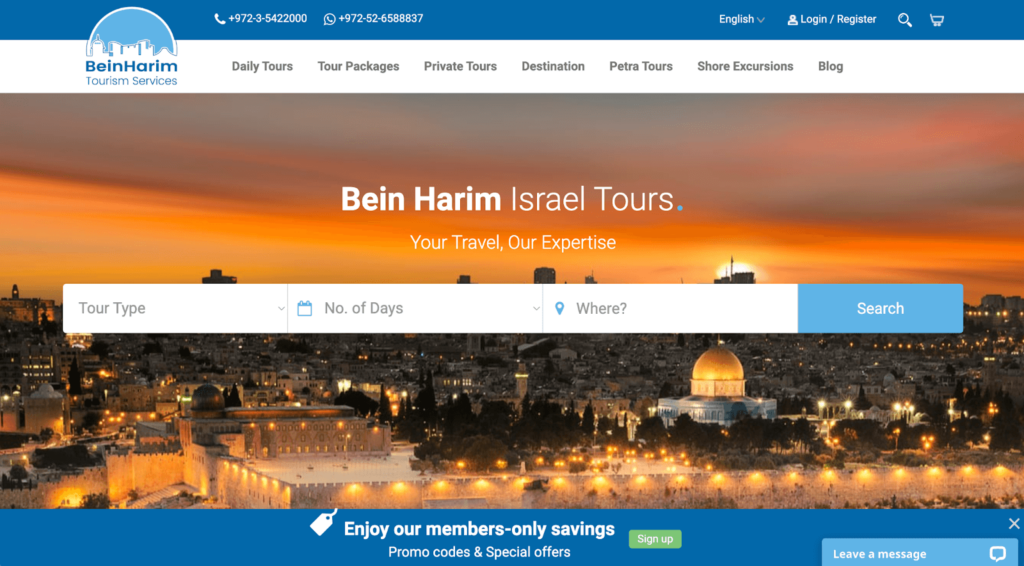 Bein Harim Tourism Services run more than 15 day tours every week. You can tailor a private tour, or kibbutz-style it by tagging on to a small group if your Israel trip is a solo trip. Their small group tours run across Israel, and you can pick your orientation, duration, departure, and language— choose between English, Spanish, Russian, German, or French. The company offers 24/7 support, has a TripAdvisor certificate of excellence, and guarantees low prices.
Main offerings and features:
Tour packages and multilingual tour guides: group your one-day tours up for the ultimate Israel experience across a week or two
Ship to shore: a private service if you're coming in on a cruise ship, running from the Port of Haifa and Ashdod
Airport pick up and transfers to get you to your hotel smoothly
5. Eshet: Israeli tour operators to take you around the world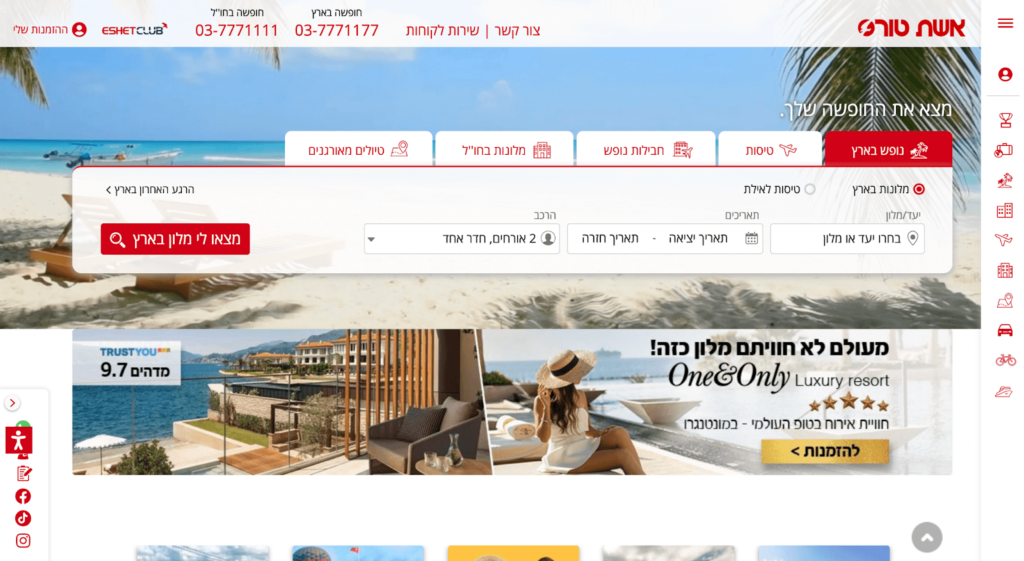 Another tour company for the Hebrew speakers. Whether you're looking to explore the Middle East, or take things further afield, Eshet has a good inventory of hotels, flights, and package deals to choose from. Eshet has some great last-minute options on the table, cruises, car rentals, and has been a leader in tourism abroad for over 30 years.
Main offerings and features:
Eshet only market hotels that have been recommended by previous customers
An easy-to-navigate website, enabling you to book in a few clicks
A wide selection of trip types: biking, hiking, jeep, and nature tours
Closing out the top 5 tour companies in Israel
There you have it, the top five online travel agencies to help you visit Israel in style. From Nazareth to Nevada, some of these agencies specialize in Israel travel, while others are fully equipped to take you overseas.
Now, it's up to you to figure out where you want to go, and when. And, if you're still struggling, don't forget to check out some of the last-minute options a couple of the providers have available.
If you're planning a business trip in Israel then TravelPerk is your best bet to ensure you get the job done with a smile on your face—and have a little time to relax and enjoy along the way. You deserve it!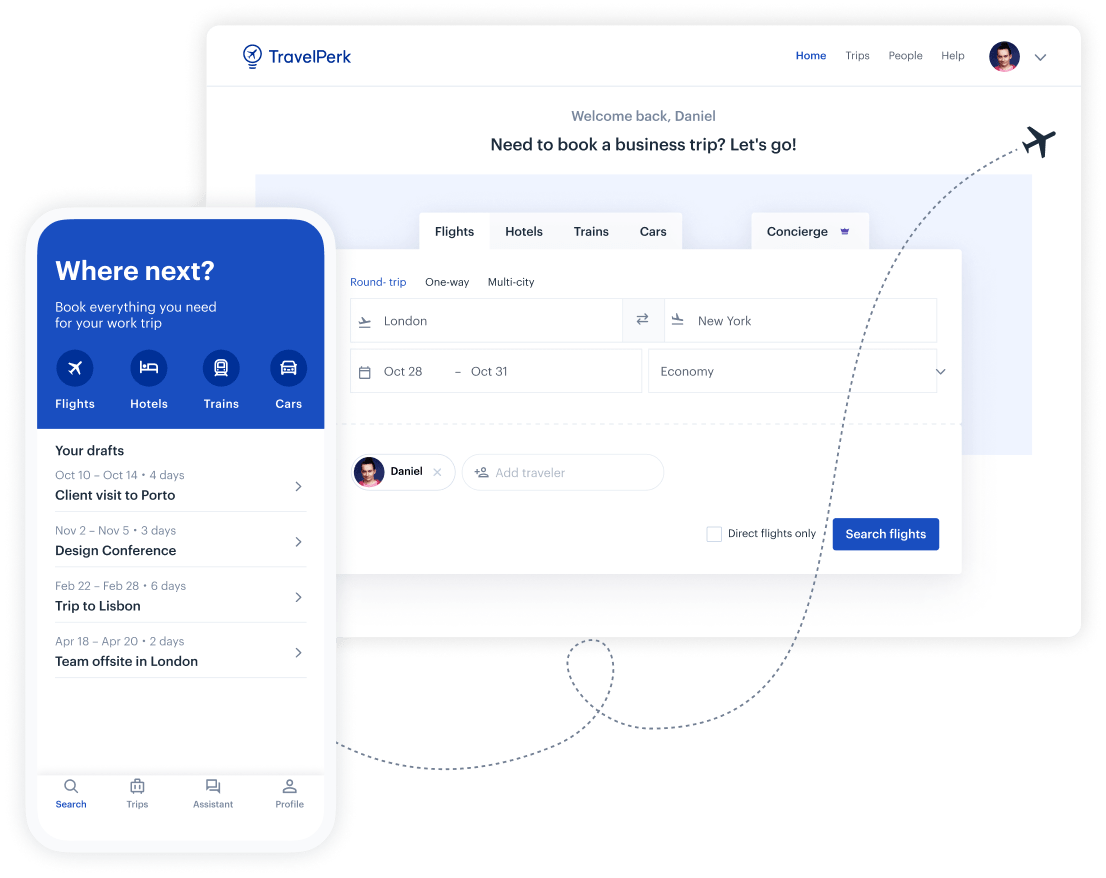 Make business travel simpler. Forever.
See our platform in action. Trusted by thousands of companies worldwide, TravelPerk makes business travel simpler to manage with more flexibility, full control of spending with easy reporting, and options to offset your carbon footprint.

Find hundreds of resources on all things business travel, from tips on traveling more sustainably, to advice on setting up a business travel policy, and managing your expenses. Our latest e-books and blog posts have you covered.

Never miss another update. Stay in touch with us on social for the latest product releases, upcoming events, and articles fresh off the press.