CTM Travel isn't your only option when it comes to corporate travel management software and solutions. There are ample companies to choose from, and we've listed the top five alternatives for you to consider.
Let's dive straight in.
1. TravelPerk
TravelPerk is an end-to-end travel management company with an all-in-one digital platform for businesses and corporate travelers.
The modern platform is built with traveler self-management at its core and enables users to manage the business travel booking process from beginning to end from its centralized platform. From travel management reporting and trip approvals to policy compliance and traveler safety features, TravelPerk provides a best-in-class experience for business travelers and finance managers.
As well as access to the most extensive travel inventory for flights and accommodation, TravelPerk offers the most comprehensive and unique set of corporate travel features. These include a VAT recovery solution, a carbon offsetting program, and FlexiPerk, an add-on that allows users to cancel their travel plans up to two hours before departure with a guaranteed refund of 80%.
TravelPerk noteworthy features
How customers rate TravelPerk
G2 rating: 4.6/5 (as of June 2023)
Capterra rating: 4.8/5 (as of June 2023)
TravelPerk pricing
Since TravelPerk is suitable for businesses of all sizes, there are four pricing plans to choose from, starting with a free tier. All plans have access to a huge travel inventory and the 7* customer care support team, and customers can add an unlimited amount of travelers or administrators to the platform.
Across all of TravelPerk's paid plans, businesses only pay the monthly fee if they travel that month. Here's an overview of TravelPerk's pricing tiers:
Starter: The first 5 bookings each month are completely free, with a 5% booking fee thereafter. Users have access to consolidated invoicing, unlimited cost centers, one policy and approval workflow, and travel restrictions information and alerts.
Premium: Priced at $99/month with a 3% booking fee, this plan offers concierge services for special requests, savings of up to 25% with VAT-ready invoices, and secure traveler sign-in and automated user setup.
Pro: This plan costs $299/month with a 3% booking fee and provides unlimited policy and approval workflows, unlimited budgets by cost center, custom reports and insights, and access to negotiated rates.
Enterprise: This tier is designed for enterprise businesses that want to customize their requirements. To find out more about this plan, get in touch with an expert.
Languages supported by TravelPerk
TravelPerk supports the following languages: English, Spanish, German, Italian, and French.
Start saving money on business travel for your company today!
2. BCD Travel
BCD Travel, founded in 2006 and headquartered in the Netherlands, is a corporate travel management company that supports businesses worldwide. They offer a wide range of services, including travel booking, itinerary management, expense management, policy compliance, risk management, and consulting.
BCD Travel noteworthy features
Real-time alerts in BCD's mobile app to make sure all travelers are safe
Data reporting within 90 minutes of making a booking
TripSource®, a tool allowing admin staff and travelers to manage trips in one place
24/7 customer service
BCD Pay provides T&E spend management features to travelers and finance managers
Access to Connect by BCD platform to network with industry peers and develop travel management skills
BCD Developer Hub provides APIs and developer tools to power the next generation of corporate travel
How customers rate BCD Travel
G2 rating: BCD Travel has no G2 ratings (as of July 2023)
Capterra rating: BCD Travel has no Capterra ratings (as of July 2023)
BCD Travel pricing
Pricing is available upon request.
Languages supported by BCD Travel
English, Dutch, French, German, Italian, Spanish, Portuguese.
CTM Travel vs BCD Travel
Looking to reviews to compare these two solutions doesn't provide much insight—neither solution has enough reviews to provide a user-focused comparison. In terms of functionality, both businesses offer similar corporate travel management solutions and tools, including booking tools, safety and risk management, expense management and reporting, and post-travel insights.
3. CWT
CWT, previously known as Carlson Wagonlit Travel, is a global travel management company helping businesses create, maintain, and operate corporate travel programs. Their goal is to help organizations optimize their travel programs, control costs, improve traveler experiences, and ensure compliance with corporate travel policies.
CWT noteworthy features
myCWT™ app provides travelers with itineraries, details, and support around the clock and on the go.
Risk management solutions—including incident notifications, traveler tracking, and international SOS—ensure you meet your legal and ethical obligations to support employees.
Use RoomIt to choose from over 800,000 accommodation options with a global distribution system.
Analytics and visualization capabilities from AnalytIQs to track your travel expenses with actionable insights.
Access to a global cybersecurity team for assisting employees with navigating data threats and security issues.
Industry-specific travel programs to support a wide variety of businesses.
How customers rate CWT
G2 rating: 3.7/5 (as of July 2023)
Capterra rating: CWT has no Capterra ratings (as of July 2023)
CWT pricing
Pricing isn't available on the website so you'll need to get in touch for a custom quote.
Languages supported by CWT
The myCWT app is available in English, French, German, Italian, Simplified Chinese, Spanish
CTM Travel vs CWT
The only review site on which either of these tools appears is G2. CTM score 1.8/5 stars (based on 3 reviews) and CWT score 3.7/5 (based on 6 reviews). This could be interpreted as CWT edging ahead of CTM, but the lack of reviews makes it difficult to compare the two.
Both solutions provide similar offerings—from mobile apps for on-the-go travel management to custom booking tools for accommodation.
4. AMEX GBT
American Express Global Travel is a relatively new corporate travel management company (est. 2014) that benefits from AMEX's long-standing business knowledge and connections. AMEX GBT typically provides travel management solutions to enterprise businesses and acquired Egencia to support SMEs.
AMEX GBT noteworthy features
A unified system for managing bookings and travel expenses.
Mobile app for on-the-go travel management and updates.
Data and analytics with Amex GBT's Premier Insights™ to compare your program to industry peers and identify opportunities to improve your program.
Monitor rate drops and easily rebook tickets to save money with re-shop tools.
Airline credit reporting: a holistic view of total refund amounts and any unused tickets available is visible in the easy-to-use reporting tool.
Risk alerts provide you with direct communication during disruptions.
Navigate business travel challenges while traveling with personal assistants ready to assist.
How customers rate AMEX GBT
G2 rating: 4/5 (as of July 2023)
Capterra rating: AMEX GBT has no Capterra ratings (as of July 2023)
AMEX GBT pricing
Pricing information isn't available on the site; you'll need to get in touch for custom pricing.
Languages supported by AMEX GBT
AMEX GBT provides support in English, Czech, Danish, Dutch, Finnish, French, French Canadian, German, Hungarian, Italian, Japanese, Norwegian, Polish, Portuguese, Spanish and Swedish.
CTM Travel vs AMEX GBT
Looking at G2, AMEX GBT outperforms CTM considerably (4/5 stars vs 1.8/5 stars respectively)—however, we again encounter the issue of too few reviews to reach a definite conclusion. 
Despite CTM being founded in 1994 and having almost 20 years of experience on AMEX GBT, both solutions provide all the tools necessary for corporate travel management.
5. TravelBank
TravelBank, founded in 2015, is a relative newcomer to corporate travel management, but it's already competing with the top names in the industry. The all-in-one travel management platform provides all the tools and solutions you need for end-to-end corporate travel management.
TravelBank noteworthy features
Book flights, hotels, and cars with custom budgets and approvals, all from the same platform.
Manage corporate cards, create virtual cards, track transactions, and manage budgets with the corporate card functionalities.
Get greater visibility into business spend with expense capture, spend reports, automated approval flows, and expense insights.
Monitor spend, leakage, and trends on a fully customizable dashboard.
Integrate with your existing ERP and HRIS for a seamless experience.
How customers rate TravelBank
G2 rating: 4.5/5 (as of July 2023)
Capterra rating: 4.7/5 (as of July 2023)
TravelBank pricing
TravelBank pricing isn't available online—get in touch for a custom quote.
Languages supported by TravelBank
TravelBank is currently only available in English.
CTM Travel vs TravelBank
TravelBank provides a modern, tech-led approach to corporate travel management. CTM provides a more traditional, customer service-oriented approach—but that's not to say it doesn't also provide innovative tech solutions. 
In terms of reviews, TravelBank is the clear winner. They score highly on both Capterra and G2, and have enough reviews to consider it an accurate representation of their services. The same can't be said for CTM.
Wrapping up
Whether you're sending employees to Tokyo or San Francisco, you can streamline the entire corporate travel management process with the right tool. That could be CTM Travel, or it could be any other of our solutions.
Make sure to do your own research and consider your own travel needs before deciding on a solution. We at TravelPerk are ready to talk when you are.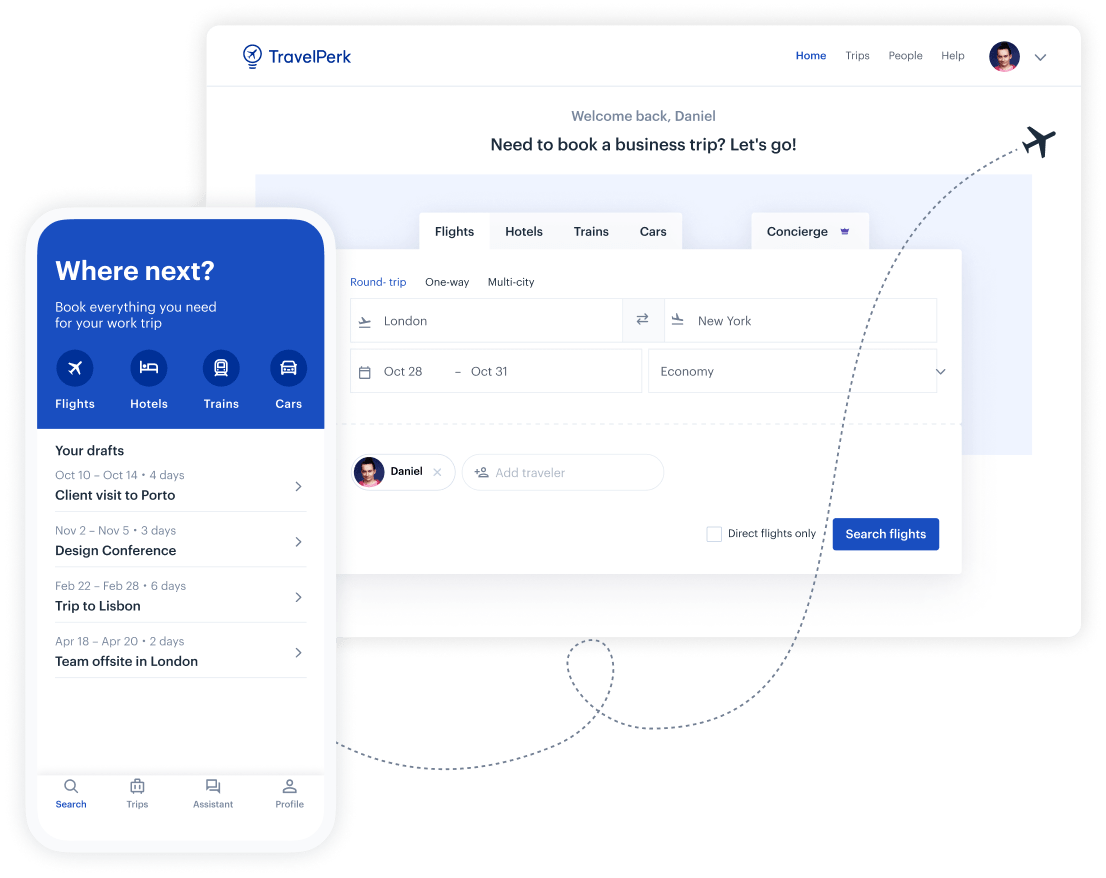 Make business travel simpler. Forever.
See our platform in action. Trusted by thousands of companies worldwide, TravelPerk makes business travel simpler to manage with more flexibility, full control of spending with easy reporting, and options to offset your carbon footprint.

Find hundreds of resources on all things business travel, from tips on traveling more sustainably, to advice on setting up a business travel policy, and managing your expenses. Our latest e-books and blog posts have you covered.

Never miss another update. Stay in touch with us on social for the latest product releases, upcoming events, and articles fresh off the press.