If your business is based in Washington and you're looking to better manage your business travel program and save time on repetitive processes, several travel management companies can help you do just that.
Many corporate travel agencies in Washington offer travel technology to assist with booking processes or have dedicated corporate travel consultants to help you manage business trips.
However, a local travel management company with a brick-and-mortar office isn't always the best option for managing business travel because it simply might not offer all of the features you need to optimize your travel program.
Choosing a travel management company without these features leaves you back at square one with all of the same limitations you faced in the past. Here, we take a look at:
The core features to look for when choosing a travel management company
A review of the top four corporate travel management companies for businesses based in Washington
Features to look for when choosing a travel management company 
Below, we detail the essential features you need to look out for when comparing travel management companies to help you save money, protect business travelers, and streamline your entire travel management program.
Extensive travel inventories: It's essential that the travel management company you choose gives you access to comprehensive inventories of transportation and accommodation, as well as enabling you to compare prices, dates, and offers that best suit your travel needs.
Built-in approval workflows: Embedding your travel approval workflows and travel policy into your travel management company's platform helps you increase policy compliance rates and eliminates the need to manage travel and expenses via long email threads.
Centralized invoice collection: Some travel management companies don't act as a single vendor meaning that you'll still need to collect and collate invoices from various companies. Travel management companies that offer a system that consolidates all of your monthly invoices into one single vendor invoice can save you a lot of time and hassle.
Flexible booking options: Flexible booking options enable businesses to accommodate any last-minute changes to trip dates or cancellations after booking for free or at a reasonable cost.
24/7 Customer support: Unexpected events are inevitable in business travel, and you need to know that your travel management company will be there to help you should things go wrong. A prompt, easy-to-access customer support function is essential to help your travelers manage any issues that arise.
Reporting capabilities: The ability to access travel data that is broken down by individual business travelers, mode of transportation, booking type, and cancellations, helps you carry out significant spend optimization activities.
The 4 best corporate travel companies for businesses based in Washington
Your business needs a travel management company that's equipped to serve your unique needs, industry, and budget.
Let's take a look at the four best business travel companies for businesses based in Washington.
TravelPerk is a full-service travel management company with an all-in-one digital platform for businesses and their corporate travelers.
TravelPerk's 2021 acquisition of US business travel specialist Next Travel enabled the company to establish itself as the best option for corporate travel management not just in Washington, but across the whole of the United States.
With traveler self-management at its core, its cutting-edge platform manages the complete business travel booking process from beginning to end. Every element of corporate travel can be controlled from TravelPerk's centralized platform.
Along with access to the world's largest travel inventory for flights and accommodation, TravelPerk offers the most comprehensive and unique set of corporate travel features. These include a carbon offsetting program and FlexiPerk, an add-on that allows users to cancel their travel plans up to two hours before departure with a guaranteed refund of 80%.
TravelPerk users also benefit from:
On top of these exhaustive features, TravelPerk also offers a solution for meetings and events management and the ability to book alternative transportation options, such as trains and rental cars from the TravelPerk platform.
TravelPerk's unique and comprehensive features combine to provide you with the end-to-end travel management platform you need to streamline and enhance your travel management programs.
As you move down this list, you'll notice that TravelPerk is the only company that focuses solely on corporate travel management and the needs of your business to provide stellar travel experiences.
If you want to learn more about how TravelPerk can optimize your business's corporate travel program, reach out today for a free demo.
See how TravelPerk makes business travel stress free
2. Connoisseur Travel
Founded in 1988, Connoisseur Travel is a Washington-based agency offering personalized travel services. The company offers three primary travel management services: Corporate, leisure, and meeting and events travel.
Connoisseur Travel primarily supports businesses within the law/legal, financial, consulting, industrial, and medical industries, as well as government contractors, educational institutions, non-profit organizations, and public relations offices.
Connoisseur Travel's main corporate travel management features and services include:
Online booking tool and mobile app
Trip approvals
Risk management tools including travel support and traveler tracking
Travel and expense management
Reporting tool
Relationships with airlines, hotels, and car rental services for discounted services
Although Connoisseur Travel offers clients a range of helpful corporate travel features, it lacks flexible booking options that business travelers need to be able to rely on. For example, unlike TravelPerk's FlexiPerk add-on that enables you to cancel trips up to two hours before departure, the company doesn't allow travelers to book any flight, hotel, car, or train at any rate, and cancel at any time.
Additionally, the company does not offer a carbon offsetting program, nor any third-party integrations with expense tools.
Finally, while Connoisseur Travel does offer security alerts and traveler tracking, unlike TravelPerk's TravelCare, it's not a comprehensive tool that enables travelers to travel with complete peace of mind.
3. CIRE Travel
Headquartered in New York City, CIRE Travel is a travel agency that supports clients in all industries and has offices in Washington, Boston, Los Angeles, Atlanta, Washington, DC, Miami, Kennebunkport, and Maine.
The company provides travel management for corporate and leisure travel, meeting and events, group travel, and honeymoon and wellness trips.
Although CIRE Travel isn't solely a corporate travel management company, the company does offer the following corporate travel services specifically for business travel:
Corporate travel planners
Traveler tracking
Relationships with airlines and hotels for discounted services
Monthly and quarterly travel reports
CIRE Travel's main focus is on luxury travel and saving businesses money on corporate travel on advance purchase fares, room upgrades, and waived change fees for traveler name changes.
While saving money on corporate travel is important for businesses, a travel management company needs to do more than just provide discounted fares. For example, with CIRE Travel, you don't get access to TravelPerk's large inventory that includes low-cost carriers and Airbnb. You also don't get access to TravelPerk's events management tool to help you book and schedule events-based trips.
Unlike TravelPerk's FlexiPerk add-on that enables you to cancel trips up to two hours before departure, the company doesn't offer any features that help business travelers make flexible bookings. In fact, CIRE Travel doesn't provide a sophisticated tech solution that modern businesses need to make sure their employees can travel safely and flexibly.
4. World Travel Service
World Travel Service is a travel planning and management company that provides services for both business and leisure customers.
The company's corporate travel agents and travel professionals tailor their services to businesses' needs when booking flights, hotel rooms, and transportation.
As well as World Travel Service's travel experts, they provide the following corporate travel management features:
Online tools for access to itineraries and reports
Online booking platform
Traveler tracking
Travel spend analytics
24/7 emergency support
Corporate retreats
While World Travel Service offers a good range of features to support travel programs, the agency doesn't offer as big an inventory as TravelPerk with better negotiated rates. The company also doesn't offer as much flexibility as corporate travelers need -- for example, they don't offer businesses the ability to cancel bookings with a full refund. 
Finally, World Travel Service does not offer a complete solution for meetings and events management.
Enhance your corporate travel experiences with TravelPerk
Optimizing business travel doesn't need to be complicated. TravelPerk's comprehensive travel management platform has got every one of your business travel needs covered.
If you're eager to learn more about how TravelPerk can streamline your organization's business travel program, help you save money, and protect business travelers, reach out today for a free demo.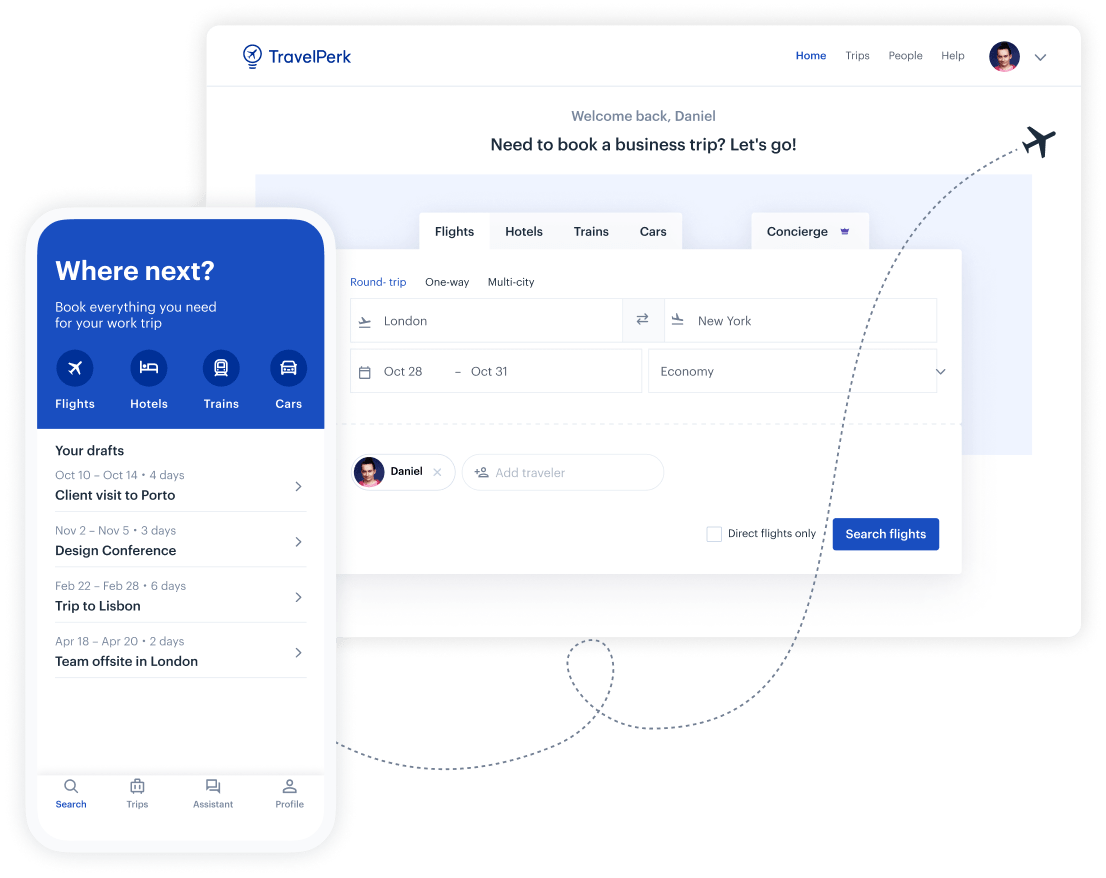 Make business travel simpler. Forever.
See our platform in action. Trusted by thousands of companies worldwide, TravelPerk makes business travel simpler to manage with more flexibility, full control of spending with easy reporting, and options to offset your carbon footprint.

Find hundreds of resources on all things business travel, from tips on traveling more sustainably, to advice on setting up a business travel policy, and managing your expenses. Our latest e-books and blog posts have you covered.

Never miss another update. Stay in touch with us on social for the latest product releases, upcoming events, and articles fresh off the press.