Hallå! to companies based in Sweden with employees on the move. Whether traveling to Stockholm or around Scandinavia for work, engaging a corporate travel management company will take care of traveler safety, efficient policy enforcement, expense management, and all the hassle involved in travel.
Business travel management can be complex. It involves not only booking hotels, flights, and car rentals but also managing intricate itineraries, assisting traveling employees, streamlining expense management, enforcing travel policies, and much more. Corporate travel solutions simplify reservations with self-booking features, improve policy compliance, offer real-time travel data analysis for decision-making, and most importantly, deliver you cost savings with exclusive offers.
Global business travel management companies (TMCs) like TravelPerk take care of all of these factors, freeing travelers to focus on what matters the most.
With TMCs such as TravelPerk, travelers can access the best transport and accommodation rates on the market, 24/7 customer support from travel experts, and an easy-to-use booking platform—all in one place. An all-in-one booking solution benefits both companies and travelers.
In this guide, dive deep into the best corporate travel management solutions and providers you can rely on during your next business trip to Sweden.
The best in business travel management for companies based in Sweden
TravelPerk gives you everything you need to manage corporate business trips all in one place. Book, manage and report on business travel with the integrated online booking tool.
Find the best fares and enjoy exclusive rates for flights, rail, car rental, and accommodation worldwide. Get the latest travel alerts and safety information, and enjoy the flexibility to cancel or change what you need to and get an 80% refund for added peace of mind with TravelPerk's exclusive extra FlexiPerk.
Access 24/7 support from actual people when you need it most, and utilize modern technology for a more efficient way to manage corporate travel all year round. TravelPerk is packed with an arsenal of awesome features including:
Extensive inventory worldwide - Book flights, trains, hotels, car rentals, or even an Airbnb for a hassle-free corporate travel experience.
Fast, 24/7 customer support - Speak to a real person by phone or online chat to get your travel issues resolved immediately. Available 24/7 all year round, you're never left in the lurch when a travel emergency arises.
FlexiPerk - Gives you the most flexible business travel, ever. Book any flight, hotel, car, or train at any rate, and cancel anytime and get 80% of your money back, no questions asked.
TravelCare - TravelCare keeps your employees safe during their trips, alerting them to any urgent information affecting their travel. 
Integrated travel policy & approval flows – Create and customize your ideal travel policy in under two minutes. Built-in policies make it simple for employees to stay within budgets and stay in control of their travel without being micromanaged.
Centralized invoicing – Get one invoice for all your purchases and pay just one provider. Don't waste any more time chasing down invoices.
Easy & real-time expense reports – An intuitive, easy-to-use expense management interface enables you to track employee spending in real-time.
VAT recovery helps you save up to 25% on your annual corporate travel expenditure.
GreenPerk – Set travel emissions targets and drive down traveler emissions through accurate data, and work with carbon compensation solutions.
Integration with third-party software – Easily connect with a catalog of third-party software integration partners and access some great apps from health and wellness to meeting spaces.
Events management – From kick-offs and offsites to seasonal parties, organize your work events with ease and enable remote and hybrid teams to connect in real life.
TravelPerk is a leading travel management company offering businesses and travelers complete control and visibility over the travel management process. Everyone benefits from time and money saved, while all aspects of managing business trips are connected and aligned.
Start saving money on business travel for your company today!
2. Resia
Many companies pick Resia for their business trips to the Nordic region. Founded in 1974, this travel agency specializes in sustainable travel management solutions, conference travel, and travel expense management. Currently, they operate out of their headquarters in Gullbergsvass. Their key services include:
Self-service option for booking flights, trains, transfers, hotels, and car rentals
Offset carbon footprint with eco-friendly travel options
24-hour service for traveler safety
Company expense accounts for managing out-of-pocket expenses
Resia's travel inventory, despite their reputation and years of experience as a TMC, falls short when compared to what modern TMCs like TravelPerk offer. With TravelPerk, businesses can also enjoy over 25,000 exclusive corporate accommodation rates. Unlike Resia, TravelPerk also lets you reclaim VAT and cancel bookings at any time.
3. Lingmerths
Lingmerths is a popular choice among corporate travelers visiting southern Sweden. Since 1950, this TMC has been dedicated to providing personalized travel services for travelers attending business conferences, events, and meetings. The company became a wholly owned subsidiary of Höglandets Invest AB in 1992. Their corporate travel services include:
Business travel consultation
Group and conference travel arrangements
Corporate travel management
Air, hotel, and rail reservations
Despite their decades of experience, Lingmerths lacks self-booking features and travel policy integration options. IIf self-booking is important for your team, consider TravelPerk's services. Besides offering a consumer-grade self-booking platform, TravelPerk offers larger inventory for all sectors. Plus, you get to enjoy centralized invoicing, travel reports, and VAT reclaiming as well.
4. Rex Travel
Rex Travel is one of the popular Swedish corporate travel companies that help small and large businesses save money by mapping travel costs to their travel policies. Founded in 2003, they operate out of Sweden's capital Stockholm. Their key offerings are:
Flight, hotel, and rental car booking
Travel booking by phone or email
Dedicated travel agents for helping you pick the right hotels
Custom travel plan for conferences and events
Despite their two decades of experience in the corporate travel program management industry, Rex Travel lacks third-party and HR software integrations. Modern TMC solutions like TravelPerk don't only offer these integrations but also provide 24/7 customer support andlet you reclaim VAT. Plus, you can access over 25,000 exclusive accommodation rates and a large travel inventory.
5. Egencia
Owned by American Express Global Business Travel (AMEX), Egencia is another popular travel management solution among corporate travelers. This TMC specializes in travel risk management and improving business travel program ROI. Key services include:
Robust API integrations for expense management automation
Seamless flight, hotel, car rental and train booking experience
Travel risk management services
Business travel reporting
Despite its popularity among travelers in over 60 countries, Egencia can be confusing to navigate due to its overwhelming amount of information. TravelPerk as an alternative offers an easy-to-use user interface, no hidden fees, extensive inventory, and 24/7 customer support. Moreover, TravelPerk offers a no-questions-asked cancellation policy, FlexiPerk, which entitles travelers to an 80% refund when canceling up to 2 hours before departure.
How to choose the right corporate travel management company in Sweden
Amid a changing business travel industry landscape, you need the right corporate travel management support from your TMC. When selecting a TMC, the following key attributes are crucial:
Technology - The driving force of modern travel, your chosen corporate travel company in Sweden should be able to integrate the right travel tech for your business. The right travel technologies can help you manage risk, automate repetitive processes, and identify time and cost savings.
Flexibility - Travel plans can change. A TMC that makes adjusting travel arrangements simple is a must to make life easier for travel planners and travelers alike.
Responsiveness - Travel disruptions happen. When they do, you want a business travel management company that's available and responsive to tackle any problems that arise. Ideally, you want to communicate with a real human rather than a bot when time is of the essence.
Comprehensiveness - You want a corporate travel management company that covers everything. A TMC should be your one-stop shop for all things business travel related. From booking flights and accommodation to managing travel expenses, you want to limit the number of touch points to ensure a streamlined travel management process.
Head out on a hassle-free business trip in Sweden
That's the go-to list of corporate travel management companies in Sweden. While many of these business tour operators have their own niche, TravelPerk takes the lead with its 24/7 customer support, easy-to-use platform, and extensive inventory. Plus, it offers speedy traveler assistance, carbon offsetting with GreenPerk, and peace of mind with FlexiPerk.

Want to see how TravelPerk can be your ally in unlocking business travel savings? Request a demo today to see TravelPerk in action.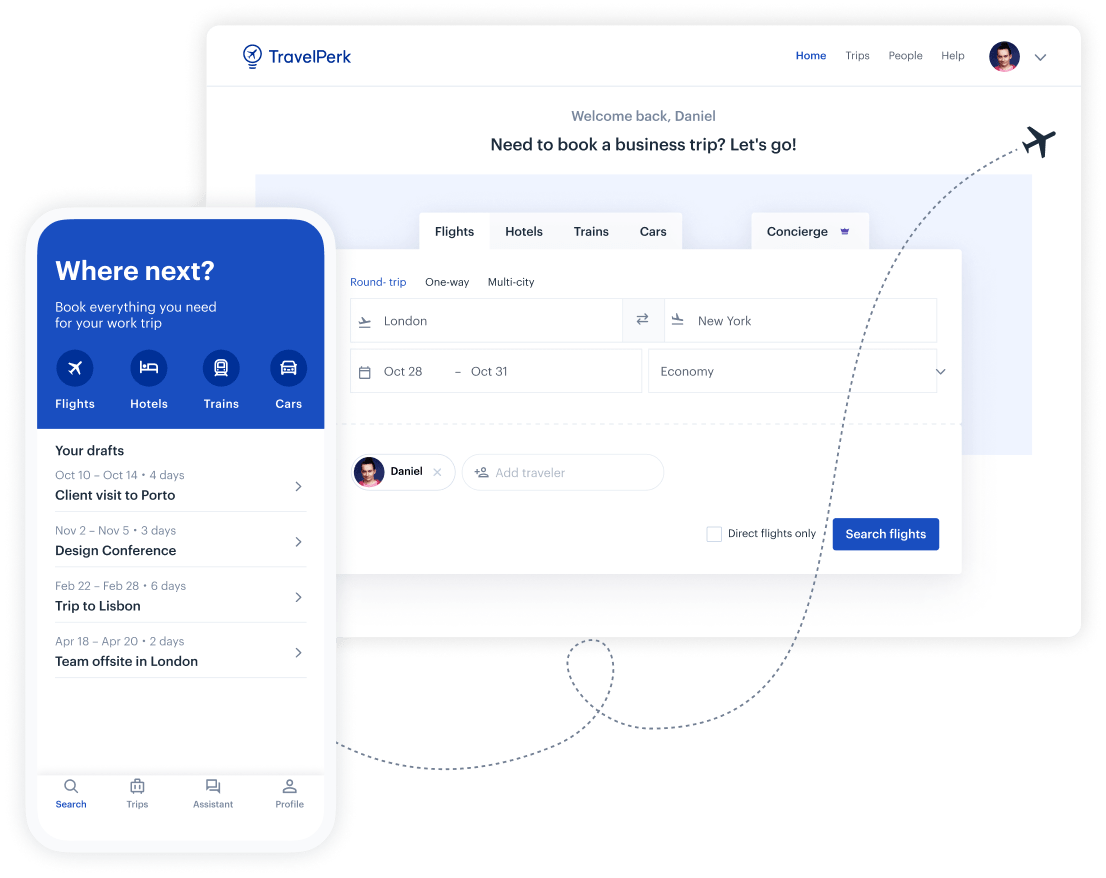 Make business travel simpler. Forever.
See our platform in action. Trusted by thousands of companies worldwide, TravelPerk makes business travel simpler to manage with more flexibility, full control of spending with easy reporting, and options to offset your carbon footprint.

Find hundreds of resources on all things business travel, from tips on traveling more sustainably, to advice on setting up a business travel policy, and managing your expenses. Our latest e-books and blog posts have you covered.

Never miss another update. Stay in touch with us on social for the latest product releases, upcoming events, and articles fresh off the press.