As a business in Seattle, it's important that you have efficient business travel management in place. For any travel manager, the challenge of juggling multiple business trips can be hard. It's not easy managing multiple itineraries at once, especially if you're responsible for booking all business travel for the organization.
In this article, you'll find a quick comparison of the four leading travel management companies in Seattle, so you can pick the best on for the job.
Benefits of using a travel management company
There are many benefits that come with utilizing technology to assist in your travel arrangements. Some of the benefits of using a travel management company and their platform are:
Out-of-office hours customer support: If you operate standard office hours, having a travel management company that has a 24/7 customer support service, can be extremely helpful.
Makes booking and managing travel simple: With a centralized system, you can book, manage existing bookings, and run a variety of features to make the whole process more seamless from one place.
Helps save money: Using business travel management platforms can be helpful in cutting costs on flights, accommodation, car rentals, and more. Seattle may be great for cyclists, but let your TMC cover the rest and keep your travel spend low!
Features to look for when choosing a travel management company
Any Seattle-based business, needs a travel management company, even if you're keeping things within the seaport city, but especially if you're traveling further afield: out of city, out of state, out of country. Having a corporate travel agency in place will help you elevate your employees' experience when traveling, and make any travel manager's day run that much smoother.
With that said, let's explore some key features you'll need to look out for when assessing your potential platform.
Travel consultants that are available around the clock
While regular 9-5 customer support services are all well and good, there's nothing quite like access to 24/7 support. This can be crucial for a lot of corporate business trips, where help may be required outside of working hours, especially in different time zones.
With that being said, look out for platforms that offer 24/7 customer support to all its clients, no matter what their company size. Try to find a TMC that has a speedy response time too, so your travelers aren't left on hold when they need help most.
Flexibility when booking travel
Last-minute changes and cancellations, as well as bookings, often come up. Having an online booking tool and customer support team that's flexible in how you book, when, and with who—as well as with your cancellations—is key in keeping costs low.
Be sure to look out for companies that offer flexibility in their global business travel management services.
A large selection in their travel inventory
Always be looking at the travel inventory that these travel management companies are offering, as some may have a very limited catalog, whereas others have plenty on offer.. You'll want a TMC that offers flights and hotel rooms, sure, but what about car rentals, rail tickets, and fully-serviced apartments? The more options you have, the better.
A customizable platform and third-party integrations
Customizable workflows that allow you to integrate your own business travel policy, as well as other software integrations is handy. As a result, you're able to supply your employees with travel booking autonomy and connect their travel management with the tech they're already using.
Reporting functionalities for tracking expenses and improved bookings
Look for reporting functions so that you're able to track your employee spending in real time. Not only that, but being able to access historical data on previous bookings can often help improve future travel bookings and management.
One important thing to stress here is you'll want a platform that's able to translate your data into digestable dashboards, so you're able to read it, and take action on it.
Benefits and features: check. Let's explore these travel management companies to help lift your business travel strategy; from Pike Place Market to Phuket, these TMCs can get you there.
4 of the Best business management companies in Seattle
There are some fantastic business travel management companies caterings to businesses in Seattle. Choosing the right company is crucial to the growth of your business travel strategy. Here are four of the best options you need to know about.
1. TravelPerk
TravelPerk is a great place to start when it comes to finding the best business travel management platform for corporate travel booking. Used by thousands of clients, Uber, Wise, and Farfetch to name a few, it's a trusted service for elevating the business travel experience for all your employees.
With a feature-rich platform that's centralized for ease of use, TravelPerk can truly help you go places.
Some of the features TravelPerk includes:
Book with safety in mind: TravelCare will provide your employees with real-time safety alerts to keep them informed when traveling to other states or countries.
Make changes to your bookings with FlexiPerk: Versatility is important for business travel, so FlexiPerk allows you the opportunity to cancel trips up to two hours before departure and get 80% of your money back. 
Events management: TravelPerk offers events management capabilities to make group bookings and events—national or international—that much easier to organize. You'll be able to manage attendees, book venues and transport, and schedule meetings all from within the TravelPerk platform.
Centralized invoicing: Book and manage trips from one app and get one invoice covering the entire trip. Your finance team will be very happy.
Best-in-class travel inventory: TravelPerk's travel inventory covers rail, car rentals, accommodations, flights, and so much more—it's the largest travel inventory in the world.
3rd-party software integrations: This will help you get your travel solution up and running with your tech in a few clicks, not days. Integrate with tools like Rydoo, International SOS, WeWork, Planetly, and more.
A platform like TravelPerk is where you should be benchmarking other businesses that you're browsing for travel bookings. From a large inventory of airfare, accommodation, and car rental providers, to a strong focus on risk management, TravelPerk offers everything to make your business travel easier, keep your costs low, and your travelers' experience Space Needle high.
See how TravelPerk makes business travel stress free
2. North Travel
When it comes to catering to your travel needs, North Travel is a good option. They offer executive-level, customized travel experiences that many businesses can enjoy.
Here are some of their benefits:
40k properties in inventory: For an inventory catalog, they have over 40,000 properties, including access to 800 airlines and 36,000 car rental providers
Robust technology services: To help with budgets and expenses, their robust technology comes as standard for any business needing an all-in-one solution
Private Air travel: An exceptional feature on offer for those businesses with the budget to do so offer private air travel
North Travel is an agency that's focused on offering travel services for corporate and leisure purposes. As such, the focus isn't directly placed on corporate travel, which can reduce quality and attentiveness. On the other hand, TravelPerk specializes in business travel. The TravelPerk ability to offset your travel carbon emissions is a winning feature for many.
What's more, TravelPerk also offers FlexiPerk for on-the-day cancellations, an events management tool, 3rd party integrations, and a traveler tracker to keep tabs on your team no matter which business trip they're on. It's for these features that TravelPerk comes out on top against North Travel.
3. CTM
CTM is a global solution providing all you'd seemingly need for business travel and management services. It offers personalized and customer-focused technology. For any modern-day business, such features are a must.
Here are a few of the perks offered by CTM:
Online booking tools: Their self-serving online booking tools can help book travel fast and with very little effort on your part.
Traveler tracking: As one of their great features, they utilize travel data by showing you where your employees are located at all times.
Industry-specific: CTM offers a more tailored approach to the clients it offers its services too. These include event travel, sports travel, energy, and marine travel.
TravelPerk is a lot more diverse in its offerings to clients, rather than being industry-specific. Not only that, but it offers more flexibility in its bookings with FlexiPerk. CTM doesn't offer this and unlike CTM, TravelPerk offers 3rd-party integrations, a large inventory (including Airbnb, and better customer service.
4. Corporate Traveler
As a travel management solution, Corporate Traveler is a good platform to find everything in one place. Powered by Melon, the tech behind CT's management software, it's a centralized system that helps manage all aspects of corporate travel.
Some of its key features include:
Affordable corporate rates: Using their travel industry connections, they offer clients negotiated corporate rates.
Concierge services: To tailor your employee travel even further, CT offers concierge services to find everything they're looking for during their trip.
Specialized travel agents available 24/7: A travel agent like Corporate Travel is always available for its clients around the clock.
With Corporate Traveler, you don't get the same third-party integration options, the extensive travel inventory, or features like GreenPerk and FlexiPerk that so many TravelPerk customers love.
Unlike Corporate Travel, TravelPerk also helps to create travel profiles for clients outside of your organization. For businesses that value client satisfaction, this is a great feature that CT doesn't offer.
Click below to compare both platforms' features and benefits
Enhance your corporate travel experience with TravelPerk
It's time to better look after your bottom line. Whether you're weighing up options for yourself or a travel manager, you'll want the very best in travel for employees and clients alike. If you're still unsure on what's best for your travel program, jump over to Capterra or G2, where TravelPerk has tallied up over 1,500 reviews from happy customers.
It's time to make booking and managing travel easy. Try out TravelPerk's platform today.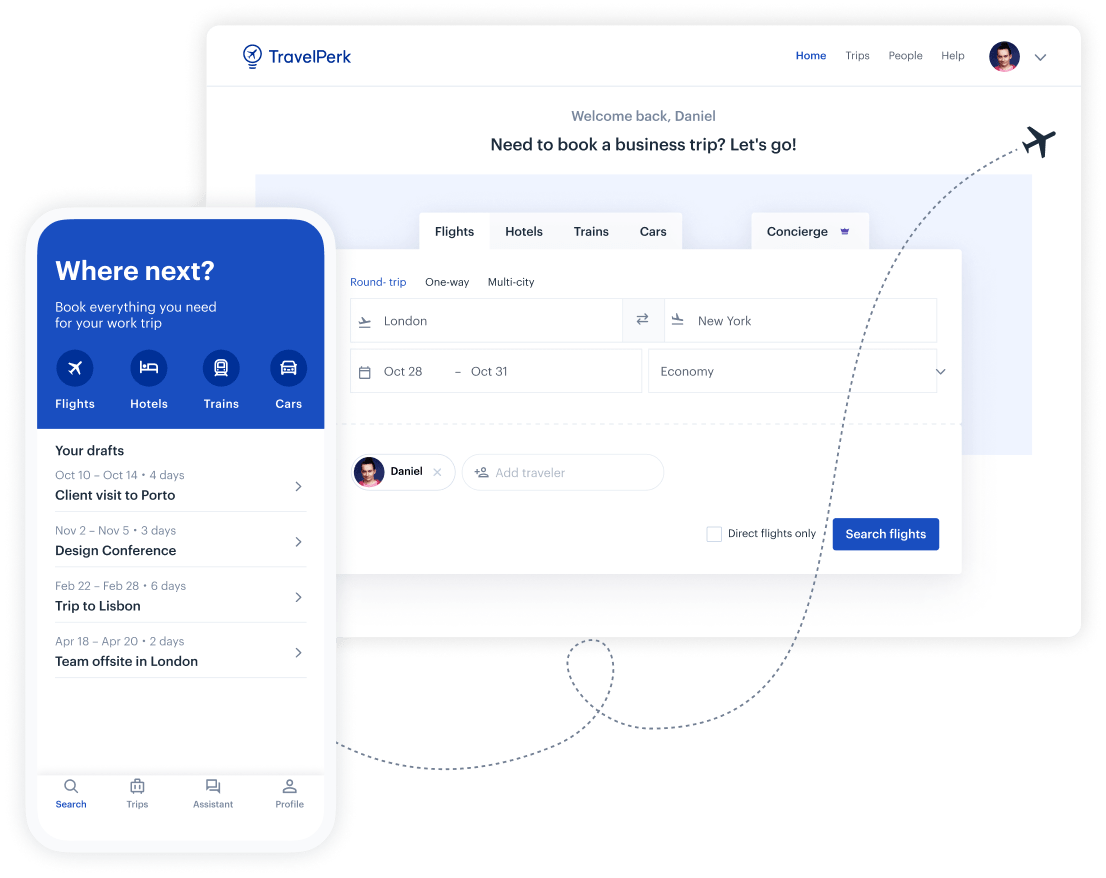 Make business travel simpler. Forever.
See our platform in action. Trusted by thousands of companies worldwide, TravelPerk makes business travel simpler to manage with more flexibility, full control of spending with easy reporting, and options to offset your carbon footprint.

Find hundreds of resources on all things business travel, from tips on traveling more sustainably, to advice on setting up a business travel policy, and managing your expenses. Our latest e-books and blog posts have you covered.

Never miss another update. Stay in touch with us on social for the latest product releases, upcoming events, and articles fresh off the press.