Hallo! to all companies based in the Netherlands with employees on the move: working with a corporate travel management company (TMC) can help you optimize your business travel and ensure your corporate travelers are getting the most out of their trips.
Travel management services include hotel and flight reservations, but they can also provide duty of care resources, ensure policy compliance, put together itineraries, provide support when faced with unforeseen circumstances, cover expense management, and much more. Travel solutions like these unlock a much more efficient booking and travel management process that enables those traveling for work to focus on the task at hand.
In this guide, we've put together the best options for companies based in the Netherlands looking for a reliable, high-quality TMC to work with.
Let's get going!
The best in business travel management for companies based in the Netherlands
TravelPerk gives you everything you need to manage corporate business trips all in one place. Book, manage and report on business travel with the integrated online booking tool.
Find the best fares and enjoy exclusive rates for flights, rail, car rental, and accommodation worldwide. Get the latest travel alerts and safety information, and enjoy the flexibility to cancel or change what you need to and get an 80% refund for added peace of mind with TravelPerk's exclusive extra FlexiPerk.
Access 24/7 support from actual people when you need it most, and utilize modern technology for a more efficient way to manage corporate travel all year round. TravelPerk is packed with an arsenal of awesome features including:
Extensive inventory worldwide - Book flights, trains, hotels, car rentals, or even an Airbnb for a hassle-free corporate travel experience.
TravelPerk is a leading travel management company offering businesses and travelers complete control and visibility over the travel management process. Everyone benefits from time and money saved, while all aspects of managing business trips are connected and aligned.
Start saving money on business travel for your company today!
2. VCK Travel
If you're based in the Netherlands and seeking a local TMC, VCK Travel is Dutch through and through. Prioritizing transparency both in their operations and pricing system, VCK offers a range of specialized travel management, including corporate travel, government travel, and group travel. Here are some of VCK's stand-out travel services:
Insurance and risk management
Expense management system
'Personal full service' booking option
Extensive international network
End-to-end itinerary management
No hidden costs
Travel experts on hand
Despite their strengths, TravelPerk takes the lead over VCK when it comes to their travel inventory. TravelPerk offers a highly impressive inventory with over 25,000 exclusive rates in corporate travel and accommodation. These prices, which you won't find anywhere else, enable you to optimize your travel spend and access the best rates available for your trip.
3. Egencia
Egencia is a corporate travel management platform designed to help businesses manage risk and ensure traveler well-being—operating in over 60 countries. Egencia offers an exclusive B2B travel platform, providing a number of travel management solutions designed for corporate travel programs. Its top features include:
Supports business travel policy compliance
Travel expense tracking features
Authorization workflow
AI-driven travel insights
24/7 customer support
VAT recovery and reimbursement
Duty of care and risk management
While Egencia has a great offering to corporate travelers, TravelPerk offers a much more transparent pricing system, with no hidden charges, as well as a freemium model with no minimum contract. Additionally, TravelPerk offers an exclusive feature, GreenPerk, which provides real-time, actionable data on your company's carbon emissions—with one small donation per trip you can offset 100% of your business travel.
4. Munckhof
Munckhof is a Dutch travel management company offering global business travel with years of experience in passenger transport and travel. They offer in-house expertise to coordinate and manage their travel partners, catering to a variety of corporate travel needs. They work on a large scale: Munckhof transports a daily average of 30,000 individuals. Their services include:
Single point of contact for customers
Logistical transport management for small-scale and large-scale events
Shuttle services
Real-time travel notifications and updates
Working with customized tech solutions developed in-house
End-to-end travel solutions
While Munckhof offers excellent Netherlands-specific travel management, unlike TravelPerk they do not offer a consumer-grade booking platform for self-booking. Neither do they offer any software integration possibilities, while TravelPerk provides a vast selection of popular choices (such as Slack, Divvy, and Expensify) to fit with your company's existing tech stack.
5. Alliance Travel
Alliance Travel is an established TMC based in the Netherlands offering travel services around Europe. Established 18 years ago, they're a recognised full-service logistic provider with a growing global network. Their main offering is an online booking tool allowing travelers to access competitive rates from one place. Their other services include:
Travel insights and reports via their MIS (Management Information System)
Travel policy management and compliance
Events management
Car and transport rental booking
Travel insurance services
Personalized account management
Expense management services
Alliance Travel may be a good option for those with local travel needs, but TravelPerk outperforms them in more than one area. First, Alliance does not offer 24/7 customer support. TravelPerk does—and with a target 15-second response time. TravelPerk also offers VAT reclaim services, which Alliance does not.
How to choose the right corporate travel management company in the Netherlands
Amid a changing business travel industry landscape, you need the right corporate travel management support from your TMC. When selecting a TMC, the following key attributes are crucial:
Technology - The driving force of modern travel, your chosen corporate travel company in the Netherlands should be able to integrate the right travel tech for your business. The right travel technologies can help you manage risk, automate repetitive processes, and identify time and cost savings.
Flexibility - Travel plans can change. A TMC that makes adjusting travel arrangements simple is a must to make life easier for travel planners and travelers alike.
Responsiveness - Travel disruptions happen. When they do, you want a business travel management company that's available and responsive to tackle any problems that arise. Ideally, you want to communicate with a real human rather than a bot when time is of the essence.
Comprehensiveness - You want a corporate travel management company that covers everything. A TMC should be your one-stop shop for all things business travel related. From booking flights and accommodation to managing travel expenses, you want to limit the number of touchpoints to ensure a streamlined travel management process.
Book your next corporate trip today
So, there we have it: the top five corporate travel management companies in the Netherlands, catering to your company's specific travel needs and more. Whether you're based in Europe, Asia, or even Australia, working with these TMCs will ensure a smooth, seamless travel experience.
Working with a global travel management company like TravelPerk ensures that, wherever you are in the world, you can enjoy the best rates on the market, access 24/7 customer support care, and use an all-in-one booking solution to plan your business trips.
With its user-oriented platform, world-class travel inventory, and fast, helpful customer support, TravelPerk consistently comes out on top. Want to find out more about how we can make your next business trip that much easier? Request a demo today to see TravelPerk in action.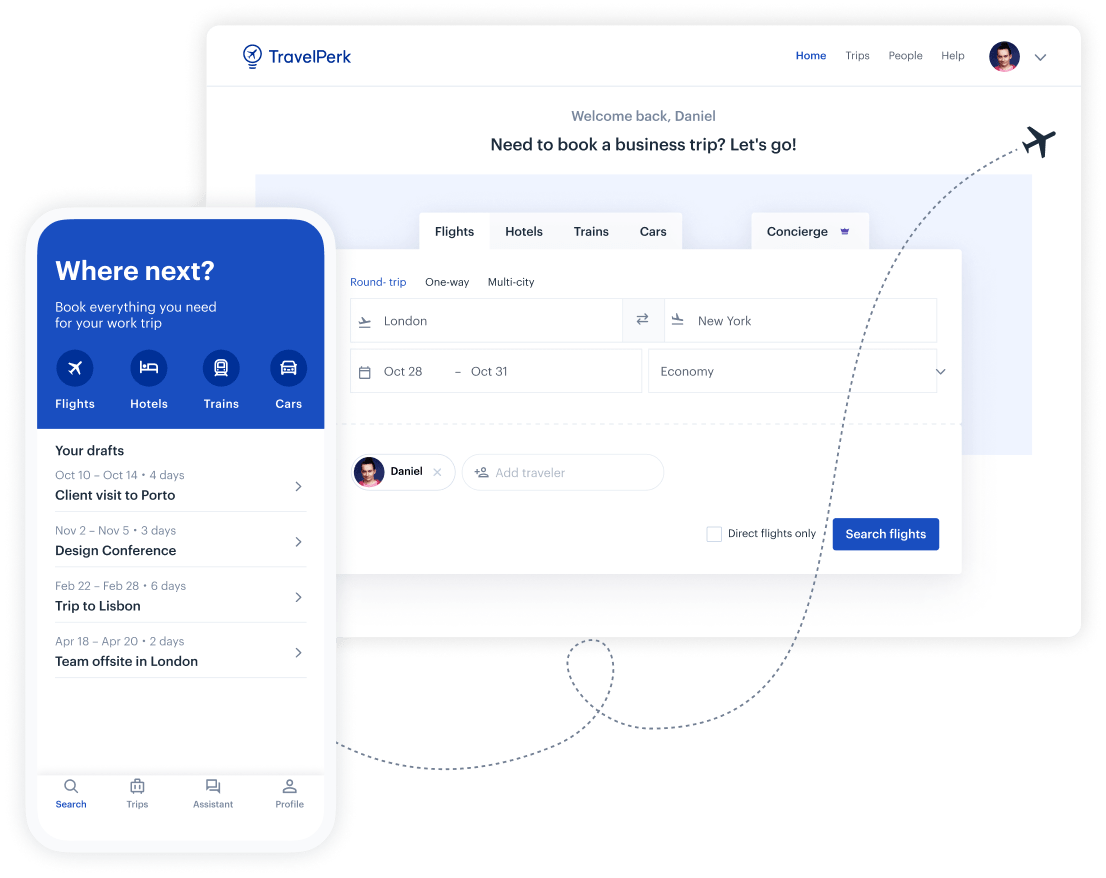 Make business travel simpler. Forever.
See our platform in action. Trusted by thousands of companies worldwide, TravelPerk makes business travel simpler to manage with more flexibility, full control of spending with easy reporting, and options to offset your carbon footprint.

Find hundreds of resources on all things business travel, from tips on traveling more sustainably, to advice on setting up a business travel policy, and managing your expenses. Our latest e-books and blog posts have you covered.

Never miss another update. Stay in touch with us on social for the latest product releases, upcoming events, and articles fresh off the press.