Corporate travel management involves a lot of moving parts and finding the best deals on flights, accommodation, and more can take hours—days, even.
Travel management companies simplify this process by giving you everything in one place—from travel booking to post-travel reporting. TMCs save you time, money, and energy by streamlining the entire business travel process.
If you're looking for the best travel management companies in Dallas, we've rounded up our top four picks in this guide. We'll cover:
The benefits of using a travel management company
Top features to look for when choosing a travel management company
The four best corporate travel management companies in Dallas
5 Benefits of using a travel management company
Working with a travel management company can streamline the booking process and improve compliance. Not just that, partnering with a business travel company will allow you to:
Give employees more autonomy over their trips using self-booking engines
Find negotiated fares and choose the best options from a vast inventory
Make data-driven decisions to optimize your travel budget using real-time reports
Centralize all processes, such as making reservations, tracking expenses, and reporting
Ensure employees have access to real-time support when traveling for business
Put simply, a corporate travel agency can help you save time when planning business travel and get more visibility into your travel spend.
Features to look for when choosing a travel management company
Traditional travel management involves working with travel agents in brick-and-mortar agencies to find the best deal. It's time-consuming, inefficient, and often doesn't result in the best deal.
Online travel management companies are changing this, and provide a more transparent booking process for businesses. That being said, choosing the right TMC is no small task—you need to consider your corporate travel wants and needs.
We've put together a handy checklist of features to look for when choosing an agency for your corporate travel needs:
A great inventory size
The more options you have, the better. A comprehensive inventory with access to flights, rail travel, car rental, and accommodation is an absolute must when deciding on a TMC.
Flexible booking options
Business trips are often prone to last-minute changes. Choose a company offering the flexibility to change or cancel bookings when needed.
Solid customer support
A corporate travel agency should easily address employee concerns with a prompt and accessible customer support team.
Easy expense management
Look for your TMC's expense management capabilities to prioritize cost control and stay within budget.
Easy-to-digest reporting and analytics
A TMC can bring real-time data and analytics to improve decision-making at the top and improve your travel policy.
Compliance and approval processes
Give employees the autonomy to book and manage their itineraries with a fail-proof system for review and approval aligned with the policy.
Group travel options
No doubt you'll often need to be booking travel for more than one employee, perhaps you've got a company-wide event or team meet. You'll need a TMC that can accommodate group travel and VIP special guests into your travel plans.
The 4 best corporate travel management companies in Dallas
Based on these parameters, we reviewed a wide range of companies offering corporate travel management in Dallas.
Here are our top four picks to make the decision easier for you:
1. TravelPerk
TravelPerk is a travel management platform offering all-in-one travel services for businesses of all sizes. Built with cutting-edge technology, the tool offers advanced features to plan and monitor your business travel experiences seamlessly. Plus, you only have to pay when you book a trip with the platform—so no unnecessary spending.
Here's what makes TravelPerk the ideal solution for your business:
Best-in-class travel inventory: Find the best flights, accommodation, railway tickets, and car rentals using TravelPerk's unmatched, worldwide inventory. You can even book Airbnbs through the platform for added options.
Flexible bookings with FlexiPerk: Enjoy the freedom to change plans and cancel bookings at the last minute (up to two hours before departure) and get a guaranteed 80% refund—no questions asked.
Hit sustainability goals with GreenPerk: Act on your carbon control targets by offsetting 100% of the carbon emissions generated by your corporate travel.
Ample third-party integrations: TravelPerk partners with a wide variety of your favorite solutions—such as Divvy, Ramp, and Slack—to offer complete travel management from one platform.
Ease of expense management: Control your corporate travel spending with policy compliance, spending limits, and business travel reporting for better decision-making.
Efficient risk management with TravelCare: Check the latest travel alerts before planning any business getaway and offer a direct line of contact with the support team.
24/7 customer care support: The 7-star TravelPerk support team is available 24/7 to resolve your corporate travel troubles in real-time.
TravelPerk offers a more innovative and hassle-free alternative to working with a traditional travel agent for your business itineraries. You can customize the tool any way you like and enforce your policy effortlessly.
See how TravelPerk makes business travel stress free
2. North Travel
North Travel is a full-service travel management company offering business and leisure travel options. With almost seven decades of experience in the travel industry, they are a trusted name for travel services in Texas.
Here's how North Travel takes an edge over some corporate travel agencies in Dallas:
Personalized setup: Work with the best of their robust technology and seasoned travel experts to create a booking process tailored to your needs
Large inventory: Choose from a wide range of options on Travelport's powerful GDS, including 40,000 properties worldwide and 800 airlines
Robust reporting: Stay on top of all travel expenses and maximize policy compliance with over 100 reports created for different aspects of a trip
Fly in private jets: Tap into the agency's network of private air partners to fly anywhere across the world at any time without planning all the transport
24/7 customer support: Get answers to any questions before, during, or after the trip with a simple text or call
Even though North Travel is among the best travel agencies in Dallas, it falls behind TravelPerk on many fronts. Since its primary focus is on personal travel and vacation packages—for example, honeymoons, luxury travel, river cruises, Disney, and so on—their corporate travel services aren't as comprehensive or foolproof.
TravelPerk has a significantly more extensive inventory and flexible booking options. North Travel also fails to offer perks like traveler tracking, carbon offsetting, and flexible booking options.
3. CTM
Corporate Travel Management (CTM) is a multifunction TMC with unique services for travel managers, arrangers, and business travelers. It delivers a tried-and-tested service to easily manage all business trips using smart technology.
Here are the biggest benefits of choosing CTM as your business travel partner:
Intuitive technology: CTM's customer-centric suite of tools can help you with reporting, approvals, forecasting, sustainability, risk management, and more
Online booking tool and app: Plan and book your itinerary seamlessly using their award-winning OBT and get real-time updates on their mobile app
Dedicated account managers: Optimize your corporate travel program with a strategic travel advisor taking care of reporting, negotiations, unused tickets, etc.
Industry-specific solutions: Find service packages tailored for specific use cases, like sports, university, small businesses, and entertainment
Make sustainable choices: Fully understand the environmental impact of your trips and participate in the carbon offsetting program CTM Climate+
Even as a global service provider, CTM remains a notch below TravelPerk. The travel agency offers zero flexibility to cancel or modify bookings at the last minute. You also don't have enough options to enforce policy compliance.
More importantly, CTM charges additional fees for some services—such as booking over the phone and amending bookings—whereas TravelPerk doesn't.
4. Corporate Traveler
Corporate Traveler is a business travel management solution that delivers end-to-end travel experiences. The tool has an intuitive and sleek interface with a wide inventory offering ample options to travelers. You'll also get negotiated rates, a dedicated travel consultant, and in-depth reporting.
Here's what Corporate Traveler offers to travel managers in Dallas:
Book via mobile app: Find the best travel deals, book your reservations, track expenses, and do more on your trip with Corporate Traveler's mobile app
Global inventory: Pick from over a hundred airlines and millions of accommodation options at exclusive prices with promising savings
Experienced consultants: Get rid of the guesswork and rely on the knowledge of a dedicated team of travel experts
Risk management: Access 24/7 emergency assistance and track any potential risks with a full-fledged safety dashboard
Maximize productivity: Corporate Traveler plans your itineraries with the lowest transit times to boost productivity on every trip
Despite these features, Corporate Traveler isn't the most power-packed option. TravelPerk offers a wider array of features—such as third-party integrations, guest account access, traveler tracking, and flexible travel options—than Corporate Travel, making it the superior TMC for businesses of all sizes.
Click below to compare both platforms' features and benefits
It's time to pick your corporate travel management partner
Finding a TMC that can handle your travel needs is key for optimizing your corporate travel management process. You need speedy support, ample travel options, comprehensive reporting, and flexible bookings to ensure you're checking all the necessary boxes.
TravelPerk offers this and more to travel managers and organizations worldwide, and is a trusted TMC in Dallas and beyond—and it's not just us that think that. Rightly so, it's earned an average of 4.6 stars from G2 reviews.
Join the thousands of companies saving time and money with TravelPerk by signing up for a demo today.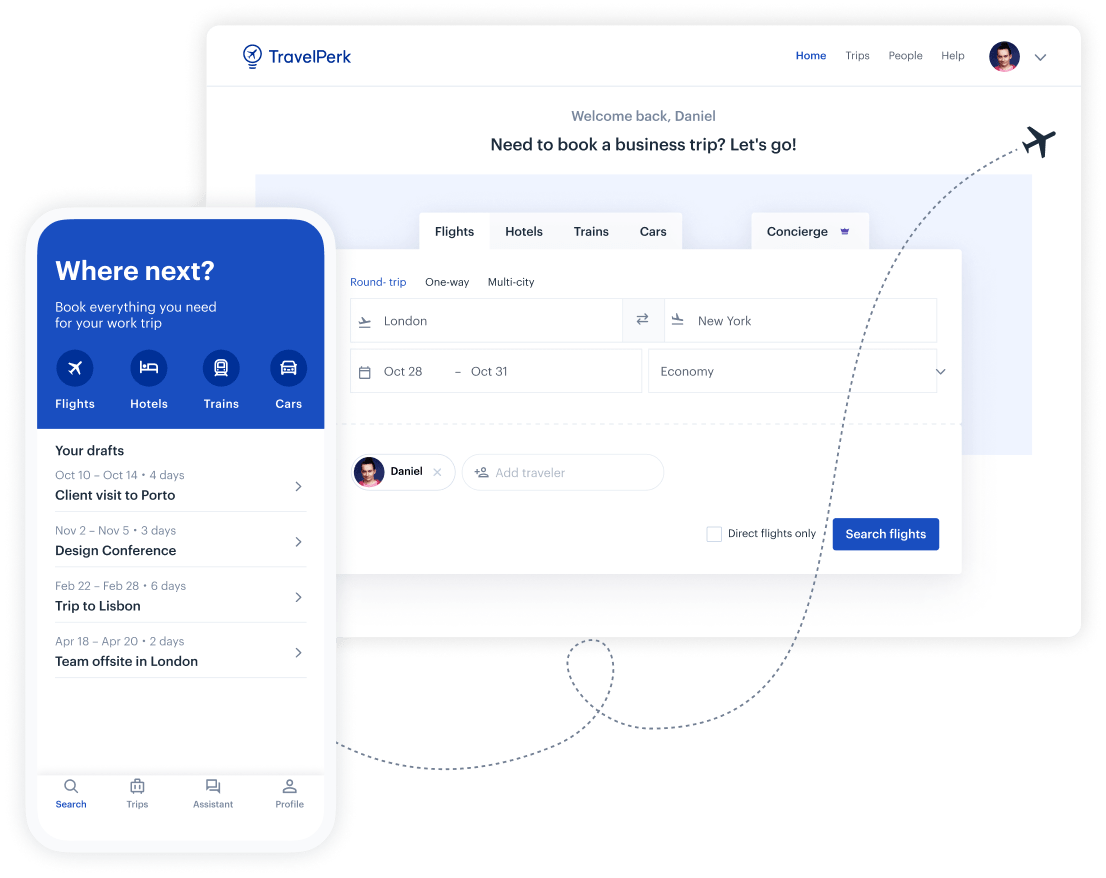 Make business travel simpler. Forever.
See our platform in action. Trusted by thousands of companies worldwide, TravelPerk makes business travel simpler to manage with more flexibility, full control of spending with easy reporting, and options to offset your carbon footprint.

Find hundreds of resources on all things business travel, from tips on traveling more sustainably, to advice on setting up a business travel policy, and managing your expenses. Our latest e-books and blog posts have you covered.

Never miss another update. Stay in touch with us on social for the latest product releases, upcoming events, and articles fresh off the press.