Planning a European road trip to experience the wonders of Portugal? Hiring a rental car can be a low-cost alternative to public transportation that allows you to discover what the country has to offer in a way that suits your schedule.
When you're on the lookout for the best car rental company in Portugal, you'll come across many car rental deals that offer some of the best prices available. But here's the thing: sifting through all those search results and FAQs takes up a lot of your time. Plus, reading the fine print to make sure each car hire option checks all your boxes is even more challenging when you're not up to speed on Portuguese road rules and local customs in Europe.
So, before you set off on your adventure, let's drill down into the details to help you find the best car rental in Portugal for your needs.
To help you make the best choice and better compare the best car rental companies in Portugal, we searched each site for a 3-day midweek car rental in Lisbon for dates two weeks out from the time of writing. We've included a thorough breakdown of comparison details for every car rental company featured.
The top 5 best car rental companies in Portugal
1. TravelPerk: Perfect for corporate trips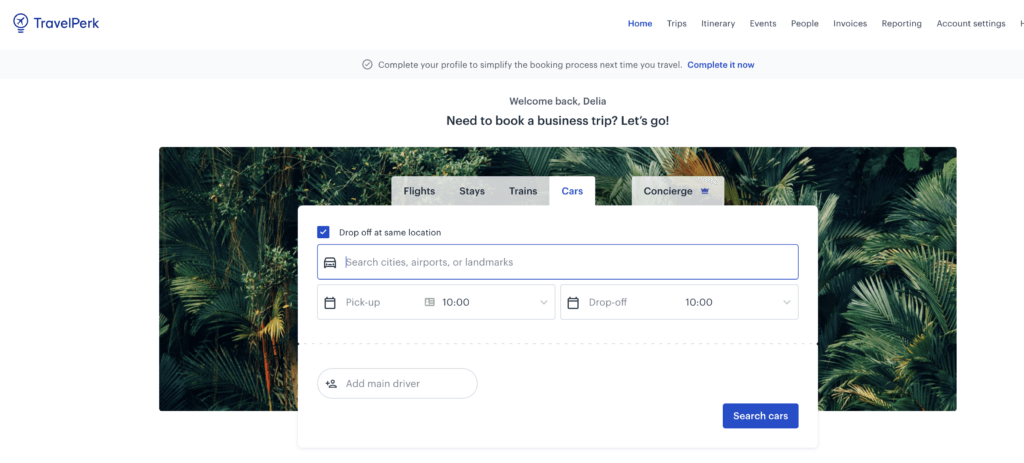 If you're searching for the best car rental deals for business trips, travel management company TravelPerk might be your best bet. With multiple types of car available, from Compact to Economy, Intermediate to Mini, you're free to pick the style that best caters to your specific needs.
TravelPerk offers a vast inventory, including both manual and automatic cars, from which to choose your rental car. If you're looking for a sustainable option, there's also a selection of electric cars available.
Plus, VAT-friendly invoices are available for a number of car rental companies offered by TravelPerk, saving you a lot of time, hassle, and money.
TravelPerk works with some of the top names on the market, including Avis, Enterprise, Europcar, Hertz, National, and Sixt. The list doesn't end there—if you have specific needs requiring a specialized service, TravelPerk can get in touch with extra providers to find your ideal vehicle.
From pick-up trucks to lorries to group convoys, the options available at TravelPerk are second to none.
TravelPerk's key features include:
Partnerships with leading car rental companies

24/7 customer service with a target 15-second response time

Intuitive booking tool and all-in-one platform

Available in four languages: German, English, French, and Spanish

Bonus feature GreenPerk to offset your carbon emissions

Paid extra FlexiPerk, enabling passengers to cancel up to two hours before a journey starts and receive at least 80% of their money back

A vast number of software integrations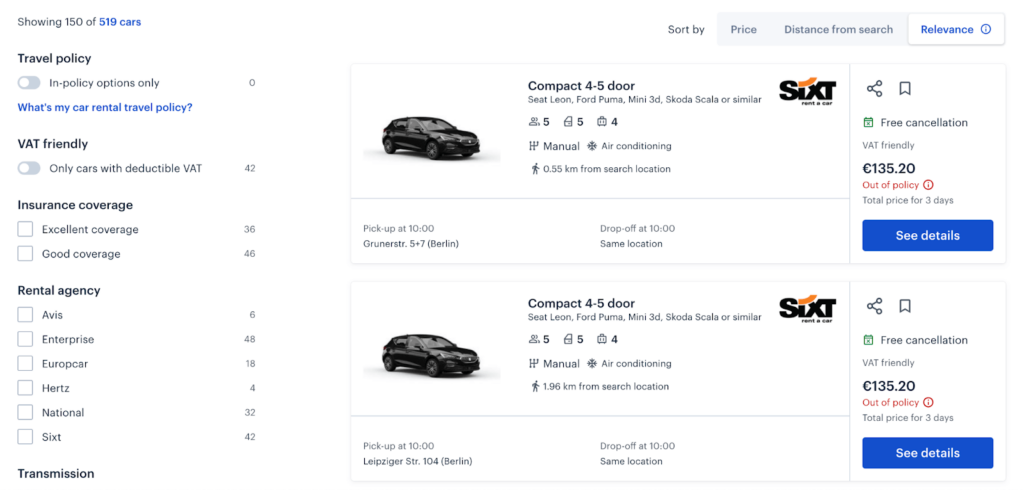 A three-day car rental for the middle of August, booked two weeks in advance, with pick-up and drop-off in central Lisbon offered a compact 4-5 door starting at 57.69€.

2. Amoita Car Rental: Ideal for making reservations directly with the company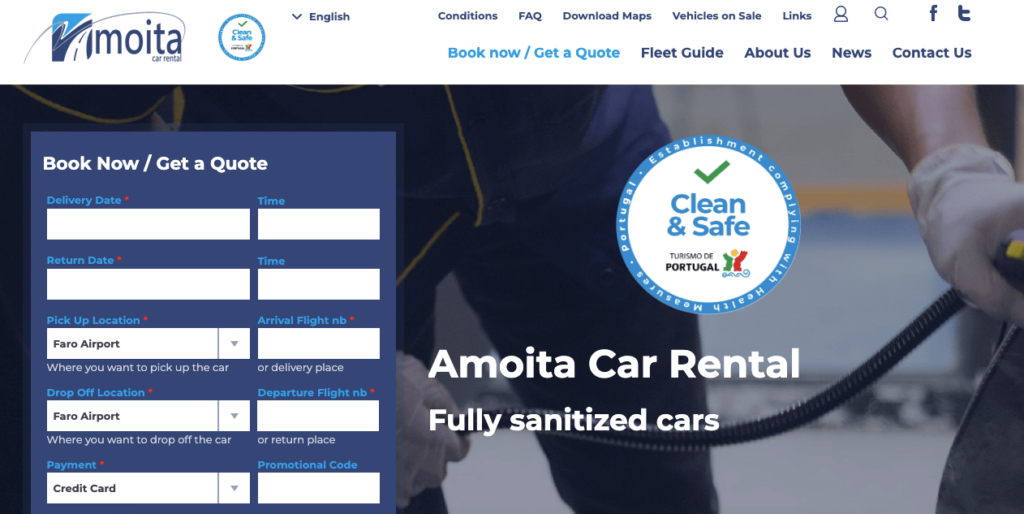 With over 20 years in the business, Amoita Car Rental offers car rental vehicles throughout the whole of Portugal from a private fleet of over 400 cars including everything from economy compact vehicles and SUVs to luxury saloons.
Amoita Car Rental is not a car hire broker, meaning that you don't need to deal with intermediary agents when you book with them. This makes it one of the best car rental companies in Portugal since you'll have direct access to their customer support without any middlemen.
For an extra fee of €20, the company also provides an automatic toll payment service from Portugal's Via Verde system, allowing visitors to Portugal to travel on all national motorways without stopping for toll roads, electronic tolls, or bridges. Additionally, Amoita applies one-way rental charges depending on your location and the duration of the rental.
Key Features:
No hidden fees -- Amoita's quote price is the final price you'll pay.
24-hour customer service via telephone.
Customers can also drive their rental car within Spain (once they've purchased the Green Card document that proves the existence of Motor Third Party Liability Insurance).
Customers can be met in the arrivals hallways at Faro, Porto, and Lisbon airports by Amoita representatives to be escorted to their hire cars.
Amoita can deliver and pick up cars from hotels, villas, and apartments anywhere in the Algarve, as well as from within the major cities of Faro, Lisbon, and Oporto.
Free deliveries to Faro airport rental offices.
Sample Pricing:
Rates for our search started around $56/day for a total car rental price of $169 for the three-day trip.
What's Included:
A small car with five doors and space for four passengers
Room for two suitcases
Unlimited mileage
Collision damage waiver and full comprehensive insurance
3. Luzcar: Best to cover the Algarve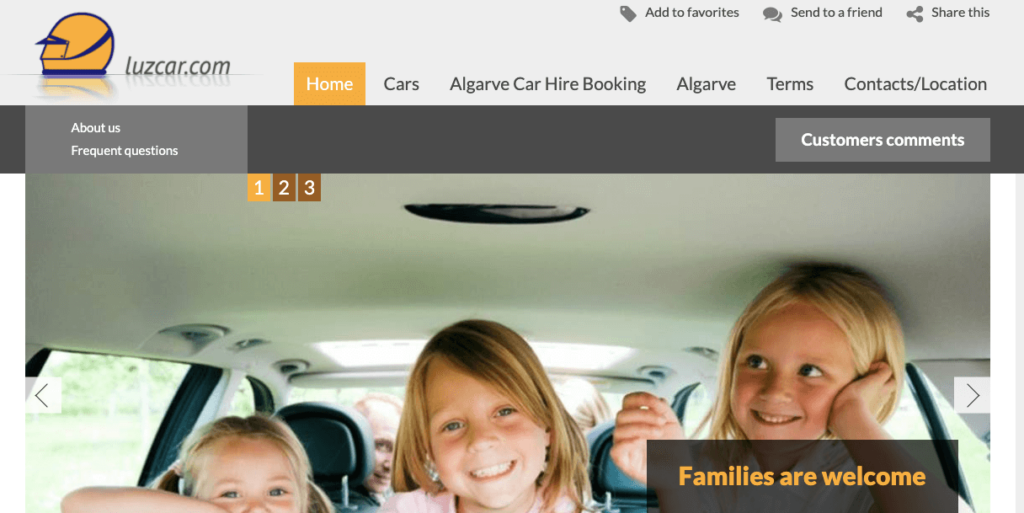 Based in Lagos for over 30 years, Luzcar specializes in providing car rental hires throughout the Algarve. The company has a fleet of more than 800 vehicles available to rent, ranging from family and group cars to economy vehicles.
Unlike most car rental companies, Luzcar takes a different approach. They ask for your personal information, your preferred car category, and your pick-up and drop-off dates before calculating the total cost to match your needs. However, once you've provided this information, Luzcar requires you to send a booking request to their team. This process, unfortunately, doesn't allow you to compare different options and choose the exact car and terms that you'd like.
Luzcar requires renters to be at least 21 years old and to have held a valid driving license for a minimum of two years.
Key Features:
The price includes insurance and provides protection against all risks with zero deductible.
Customers can also venture into Spain with their rental car, and the price includes insurance for driving in Spanish territory.
The final price includes an additional driver.
Sample Pricing:
If you're looking for cheap car rentals, then Luzcar is a good option — rates for our search parameters began at €120 for the entire three-day trip.
What's Included:
Collision damage waiver, excess waiver insurance, and third-party insurance
Unlimited mileage
Car rental insurance for Spain
Baby car seats upon request
4. Azores Rental Cars: Best car rentals to cover the Azores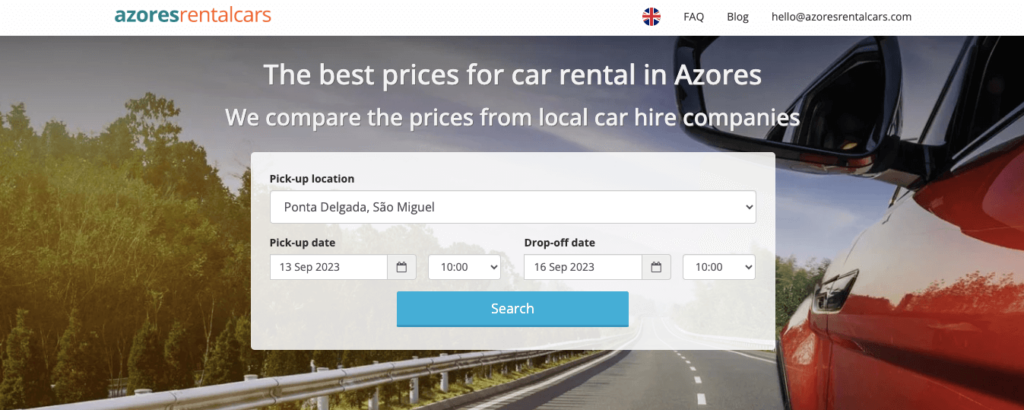 If you're looking for the best car rental agencies in Portugal -- or more specifically, the nine islands of the Azores -- then Azores Rental Cars is a solid choice.
The company's car hire comparison website supports local businesses on the islands by partnering exclusively with local rental car companies. These local businesses offer a wide range of vehicle options, including smaller cars, family vehicles, vans, and even scooters.
The car rental search page provides handy filters including the number of passengers, automatic or manual transmission, and the currency you want to use in your search (euros, dollars, or Canadian dollars).
The website makes it easy to understand what to expect when it comes to extra charges and the different terms associated with various vehicles and suppliers. For instance, there's an additional fee of €15 for airport pickups, and the security deposit can range from €100 to €700 depending on the vehicle.
Plus, the minimum age for renting a car can vary depending on the supplier and the type of vehicle. With some suppliers, you'll need to be at least 21 years old and have held a driver's license for a minimum of one year, while others apply a young driver fee to those 24 years old and younger.
Key Features:
No fees for cancellations made 24 hours before your pick-up time.
No charges for returning the vehicle to a different location on the same island from where you picked it up.
All rental cars come with public/third-party liability insurance.
You can book many of the available rental cars without a credit card.
Sample Pricing:
Rates for our search started around $67/day for a total car rental price of $201 for the three-day trip.
What's Included:
Toyota Aygo
Unlimited mileage
Collision damage waiver and public liability insurance
Free amendments
Free cancellation
Fair fuel policy (full tank to full tank)
5. Madeira Rent Car: Best to cover Madeira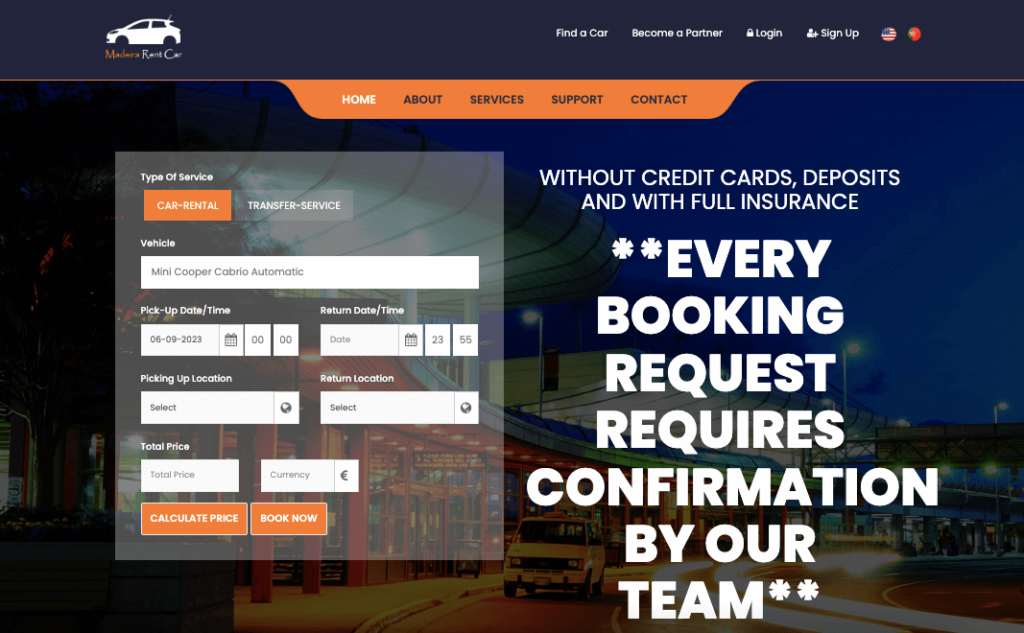 With a fleet of over 500 cars to choose from, Madeira Rent Car is a great choice for travelers wanting to explore the Madeira islands.
Similar to Luzcar, Madeira Rent Car also asks you to enter your trip details, preferred car model, and drop-off and pick-up locations, and will then calculate the final price. All prices include a super collision damage waiver, and the team provides 24/7 customer support in case of any questions or assistance you may need.
Key Features:
No excess, no deposit, and no credit cards are necessary to make a booking.
The car rental can be delivered and picked up from wherever you're staying.
Free car delivery within the city of Funchal.
For bookings of five days or more, the company will deliver the car directly to your hotel for free.
Sample Pricing:
Rates for our search started around $80/day for a total car rental price of $240 for the three-day trip.
What's Included:
Full insurance included in the price
24/7 roadside assistance
Unlimited mileage
Start saving money on business travel for your company today!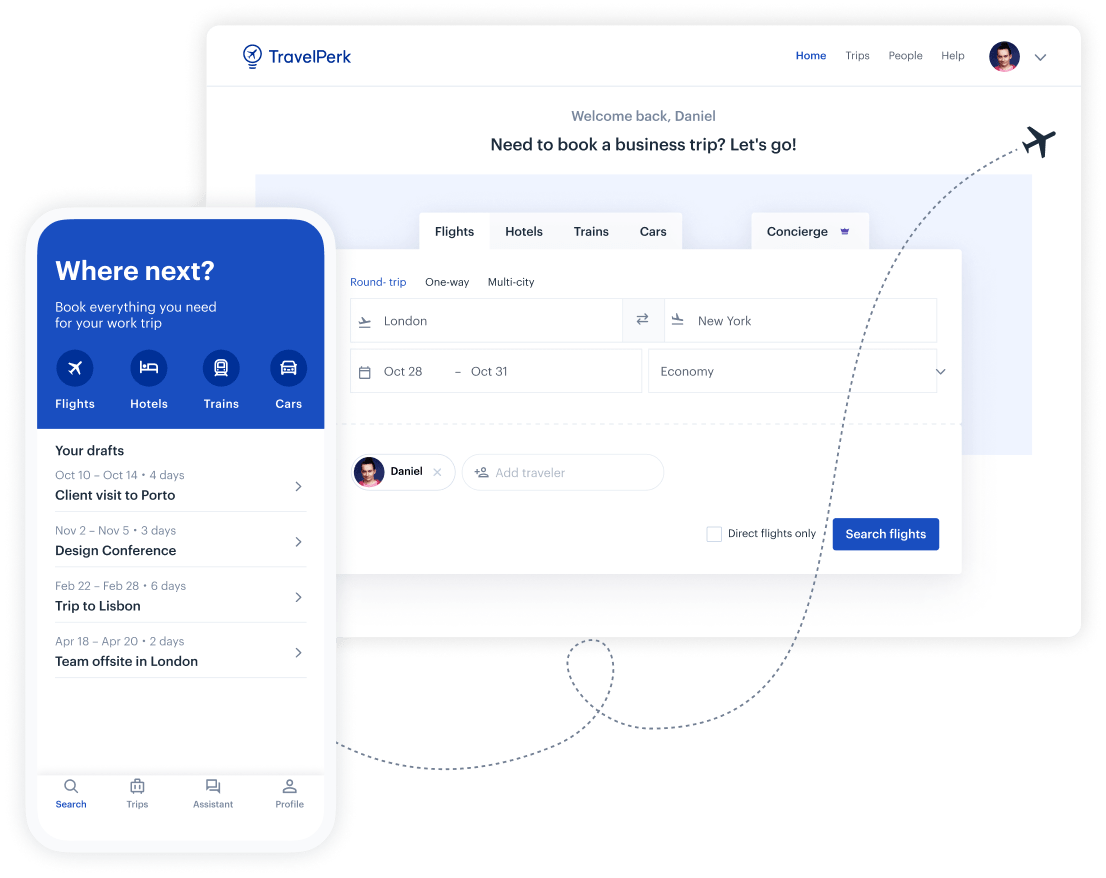 Make business travel simpler. Forever.
See our platform in action. Trusted by thousands of companies worldwide, TravelPerk makes business travel simpler to manage with more flexibility, full control of spending with easy reporting, and options to offset your carbon footprint.

Find hundreds of resources on all things business travel, from tips on traveling more sustainably, to advice on setting up a business travel policy, and managing your expenses. Our latest e-books and blog posts have you covered.

Never miss another update. Stay in touch with us on social for the latest product releases, upcoming events, and articles fresh off the press.