If you're looking for a French car rental site offering both high quality vehicles and competitive rates, you've come to the right place. Finding the right car rental company—especially when you're abroad—can be a real headache. It's a competitive market, and so much choice can result in a serious case of option paralysis.
France is home to some of the top car rental agencies in Europe. Think road trips around the French Riviera, meetings in Marseille, family trips to Provence or a weekend break to Bordeaux. France is a very driveable country with hundreds of beautiful destinations on offer.
To save you time—and headaches—we've gone through the top car rental companies in France with a fine tooth comb. To best compare the options, we searched each website for a 3-day midweek rental in Paris, for dates two weeks out from the time of writing this piece.
Armed with this list (and a valid driver's license) you'll be zipping down the French national highways in no time, knowing that you've got one of the best deals on the market.
Let's go! Or, should we say, on y va!
1. TravelPerk: perfect for corporate trips
If you're searching for the best car rental deals for business trips, travel management company TravelPerk might be your best bet. With multiple types of car available, from Compact to Economy, Intermediate to Mini, you're free to pick the style that best caters to your specific needs.
TravelPerk offers a vast inventory, including both manual and automatic cars, from which to choose your rental car. If you're looking for a sustainable option, there's also a selection of electric cars available. Plus, VAT-friendly invoices are available for a number of car rental companies offered by TravelPerk, saving you a lot of time, hassle, and money.
TravelPerk works with some of the top names on the market, including Avis, Enterprise, Europcar, Hertz, National and Sixt. The list doesn't end there—if you have specific needs requiring a specialized service, TravelPerk can get in touch with extra providers to find your ideal vehicle. From pick-up trucks to lorries to group convoys, the options available at TravelPerk are second to none.
TravelPerk's key features include:
Partnerships with leading car rental companies
Intuitive booking tool and all-in-one platform
Available in four languages: English, French, Spanish, German
Bonus feature GreenPerk to offset your carbon emissions
Paid extra FlexiPerk, enabling passengers to cancel up to two hours before a journey starts and receive 80% of their money back
A three-day family car rental for the start of August, booked two weeks in advance, offered various options between 147€ - 690€.

Save money on car rentals for business trips. Book a demo today!
2. France Cars: with all the local know-how
Established in 1952, France Cars is a solid option if you're looking for a French rental agency. Offering both a 'utilitaire' section for van hire, and a 'tourisme' option for comfortable car hire, France Cars offers a great selection for many requirements.
In addition to car rentals, France Cars offers a minibus hire for a minimum of nine passengers. Whether you're organizing a school trip or bringing a group of employees to a conference, it's an affordable and effective option. Partnered with international Avis Budget, France Cars are known for their competitive rates, expert local knowledge, and impressive fleet of vehicles. Be careful though—they're closed on a Sunday, meaning you can't return cars on that day!
Here are their top features:
Over 80 office locations in France, open 6 days a week
Varied selection of insurance options, including young drivers
Optional GPS systems
Real-time availability updates
Free child seat hire
Electric vehicles for hire, including cars, mini buses and vans
Exclusive rates for one-way journeys and drop-offs
We found that a three-day family car rental for the start of August, booked two weeks in advance, offered various options between 201€ - 577€.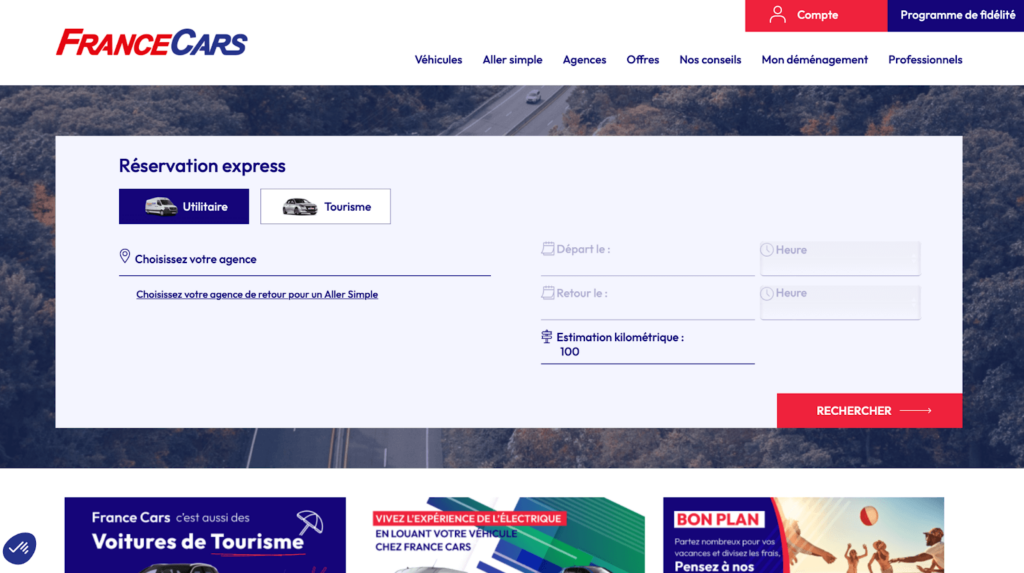 3. Europcar: a well-established, reliable choice
With over 70 years of experience in the industry, Europcar has become a household name in the world of car rental agencies. Operating around Europe, Europcar was actually founded in Paris in 1949.
It's well-known and well-respected in France, but their reputation means they don't necessarily come cheap. In a recent study by TravelPerk, Europcar emerged as nearly 20% more expensive than the average car rental cost.
Europcar's stand-out features include the Europcar Privilege Club, which entitles members to a permanent 10% discount off every rental, free weekends and discount coupons. Rewards are frequent and varied, helping members make daily savings. Another notable feature is Europcar's list of partnerships, with various hotels, credit cards, airlines and tramlines to discover.
More features include:
Cancellation policy enabling users to cancel for free up to 48 hours before the pick-up time
A wide selection of partnerships
A lucrative loyalty program for members
24/7 customer service
Impressive and varied fleet of vehicles
Wide selection of bonus features, including child seat hire
According to our research, a three day rental for a family car in the middle of August, booked with two weeks' notice, comes out at around 236€ - 323€.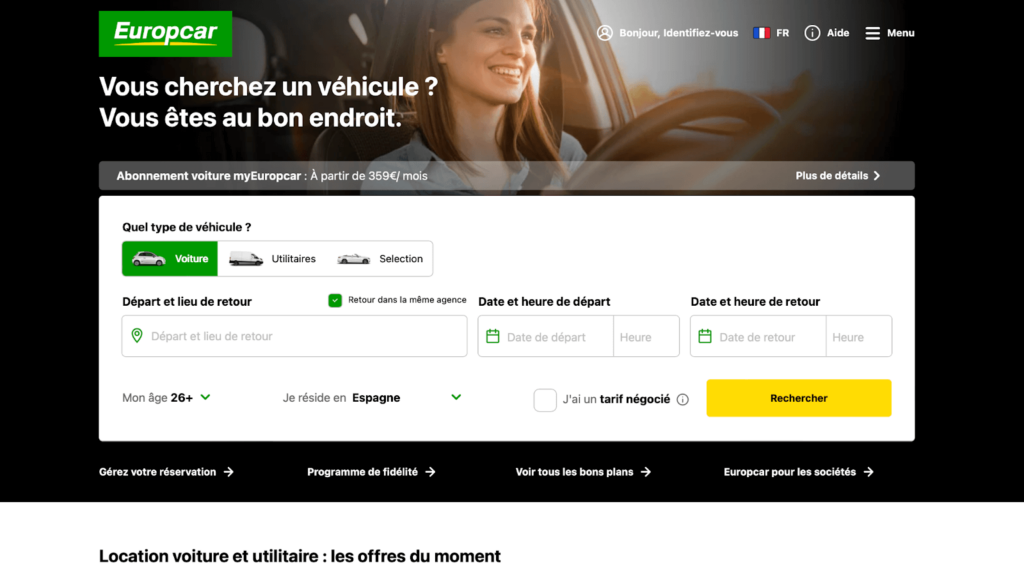 4. ADA: French through-and-through
Set up in 1984, French enterprise ADA is a go-to choice for many people seeking a rental car in France. Their website is intuitive and easy-to-use, clearly stating prices and available vehicles. ADA has offices all around France, from Toulouse to Lille. They're not the cheapest, but they're a go-to option for many French residents.
Some of their stand-out features include:
Scooter and motorbike rental
Removal van hire
Open 7 days a week
1200 agencies in France
20,000 available vehicles
During our research, prices for a family car rental at the start of August, booking two weeks' in advance, gives options at around 336€ - 432€.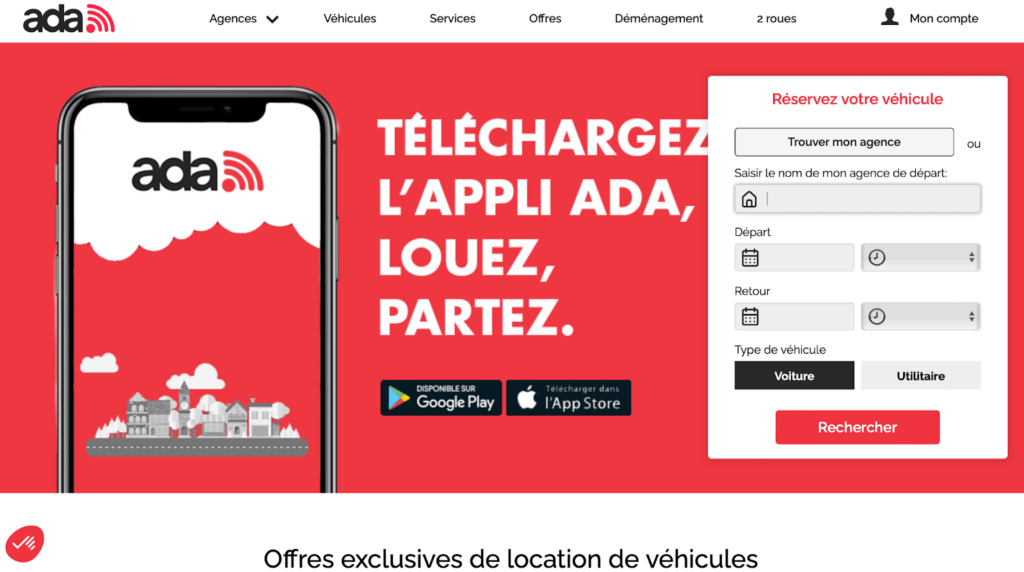 5. Ucar: ideal for a range of vehicles
Offering 24/7 customer service, Ucar is another leading agency with numerous car rental locations around France. Ucar offers competitive deals, such as a 'solution week-end' which gives discounts at the weekend. They also offer long-term rentals for those seeking to hire a car for over a year, with their 'location long durée' plan which enables users to rent a vehicle for up to 36 months. They also offer a wide variety of vans, ranging from 2m3 to 22m3.
Ucar offers a wide selection of bonus equipment for your vehicle at little-to-no extra cost. From GPS to booster seats to snow chains, they've got every requirement covered. Like many of the other agencies, you can rent your vehicle one-way, returning it to another agency without worrying about bringing it back. With prices from 59€ per day, you'll be sure to find your ideal car.
Here are some notable features:
Over 150 pick-up locations around France
24/7 customer service
Bonus features for hire
Moving equipment for removals
Our research showed prices for a three-day family car rental, booked for the start of August two weeks in advance, gives options at around 177€ - 249€.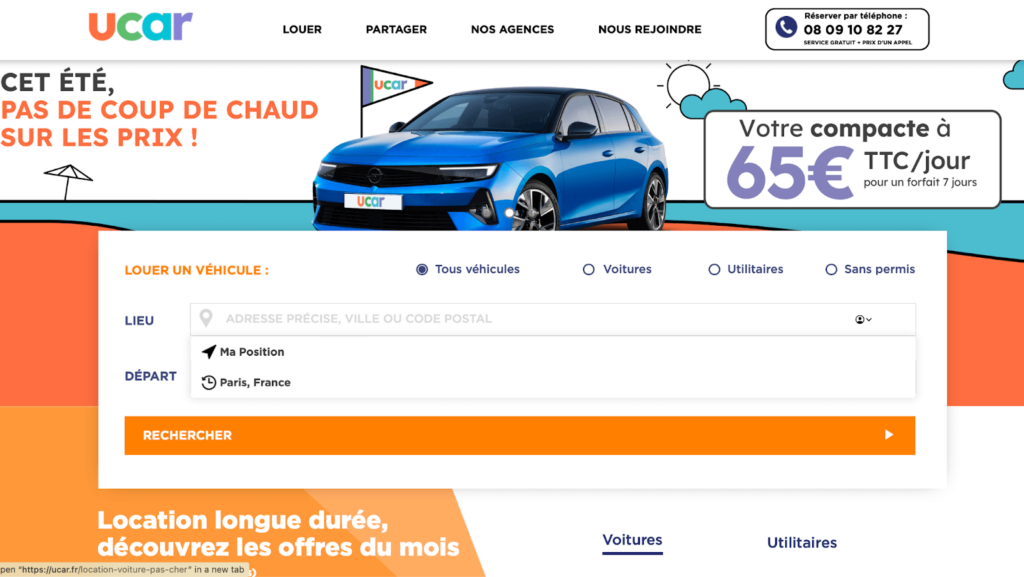 Find the right vehicle for you—aujourd'hui!
Whether you're heading up to the snowy Alps or down to sunny Nice, now you know the top France car rentals you'll be using to get you there. When it comes to comparing these agencies, we'd recommend watching out for additional fees, read insurance small print, and understand mileage rates.
In terms of minimizing hassle, TravelPerk comes out on top for corporate travelers. Its all-in-one platform means that you can easily visualize your options, get access to the best rates on the market, and avoid lengthy booking processes. It's also ideal for those non-French speakers out there, as the website's available in English, French, German, or Spanish.
Bon voyage!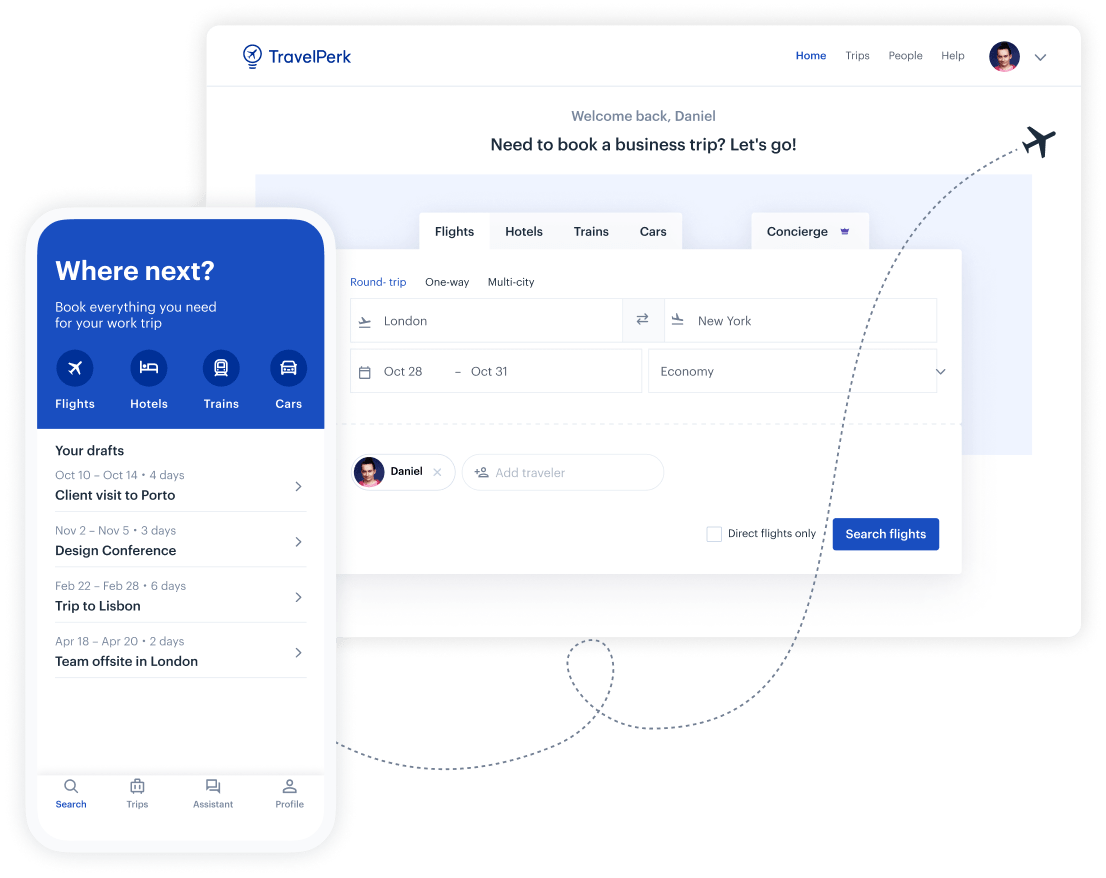 Make business travel simpler. Forever.
See our platform in action. Trusted by thousands of companies worldwide, TravelPerk makes business travel simpler to manage with more flexibility, full control of spending with easy reporting, and options to offset your carbon footprint.

Find hundreds of resources on all things business travel, from tips on traveling more sustainably, to advice on setting up a business travel policy, and managing your expenses. Our latest e-books and blog posts have you covered.

Never miss another update. Stay in touch with us on social for the latest product releases, upcoming events, and articles fresh off the press.