With the increase in the number of travel management solutions on the market, businesses that regularly have employees traveling for work are tasked with choosing the right travel management platform from a large pool of contenders.
BCD Travel is a popular corporate travel management tool, but it's not the best option for every business. In this article, we'll take a look at the five best BCD Travel alternatives, discussing the features, benefits, and pricing of each solution, so you can make an informed decision when it comes to selecting the right solution for managing your business travel program.
5 Best alternatives to BCD Travel
1. TravelPerk
TravelPerk is an end-to-end travel management company with an all-in-one digital platform for businesses and corporate travelers.
The modern platform is built with traveler self-management at its core and enables users to manage the business travel booking process from beginning to end from its centralized platform. From travel management reporting and trip approvals to policy compliance and traveler safety features, TravelPerk provides a best-in-class experience for business travelers and finance managers.
As well as access to the world's largest travel inventory for flights and accommodation, TravelPerk offers the most comprehensive and unique set of corporate travel features. These include a VAT recovery solution, a carbon offsetting program, and FlexiPerk, an add-on that allows users to cancel their travel plans up to two hours before departure with a guaranteed refund of 80%.
TravelPerk noteworthy features
On top of the comprehensive features listed above, TravelPerk also offers a meetings and events management solution and enables users to book alternative transportation options, such as trains and rental cars from within the TravelPerk platform.
How customers rate TravelPerk
G2 rating: 4.6/5 (as of February 2023)
Capterra rating: 4.8/5 (as of February 2023)
TravelPerk pricing
Since TravelPerk is suitable for businesses of all sizes, there are four pricing plans to choose from, starting with a free tier. All plans have access to the world's largest travel inventory and the 7* customer care support team, and customers can add an unlimited amount of travelers or administrators to the platform.
Across all of TravelPerk's paid plans, businesses only pay the monthly fee if they travel that month. Here's an overview of TravelPerk's pricing tiers:
Starter: The first 5 bookings each month are completely free, with a 5% booking fee thereafter. Users have access to consolidated invoicing, unlimited cost centers, one policy and approval workflow, and travel restrictions information and alerts.
Premium: Priced at $99/month with a 3% booking fee, this plan offers concierge services for special requests, savings of up to 25% with VAT-ready invoices, and secure traveler sign-in and automated user setup.
Pro: This plan costs $299/month with a 3% booking fee and provides unlimited policy and approval workflows, unlimited budgets by cost center, custom reports and insights, and access to exclusive negotiated rates.
Enterprise: This tier is designed for enterprise businesses that want to customize their requirements. To find out more about this plan, get in touch with an expert.
Languages supported by TravelPerk
TravelPerk supports the following languages: English, Spanish, German, Italian, and French.
BCD Travel vs TravelPerk
Since BCD Travel does not have any user reviews across the most well-known third-party review sites, it's difficult to compare the solution with TravelPerk from a user perspective.
TravelPerk provides users with a consolidated user experience from start to finish. Speaking of the user experience, one reviewer said, "It's like having a personal assistant! I loved it! The experience was so intuitive and easy, it took the stress out of the idea of booking travel for work - which is normally a chore. And I adored the fact that I don't have to pay up front for travel. Such a relief!"
Plus, TravelPerk's concierge services, real-time alerts and notifications, and easy-to-navigate mobile app make the entire process -- from booking to travel -- efficient and stress-free.
Here are the benefits of TravelPerk according to one reviewer:
"The best thing about TravelPerk is that you can book all you need (flight, accommodation, transport) for your next business trip and forget about it all until it's time to travel.
You don't have to get any invoices or additional documents, as everything is directly sent to whoever is in charge of managing finances and approving it (the moment you receive a confirmation email). It is an intelligent tool that will also tell you what you can book, as per the company budget, so you know what not to book."
Start saving money on business travel for your company today!
2. Egencia
Egencia is a corporate travel management software solution designed to help businesses manage risk and ensure traveler well-being. As well as a travel and expense solution, Egencia also provides data-driven insights and analytics to help companies measure and improve their travel programs and boost their ROI.
The company was acquired by American Express Global Business Travel (Amex GBT) in 2021 in a bid to target SMEs. However, Egencia does not offer centralized itineraries for multiple bookings, offers limited economy airfares, and charges additional fees for customer support.
Egencia noteworthy features
Egencia offers an integrated travel and expense solution.
Egencia offers comprehensive reporting and benchmarking dashboards.
An AI-powered approval recommendation tool to ease travel approval workflows.
Users can create traveler profiles and booking preferences to encourage policy compliance.
Egencia offers simple API integration with existing systems, platforms, and processes.
How customers rate Egencia
G2 rating: 4.4/5 (as of February 2023)
Capterra rating: 3.9/5 (as of February 2023)
Customers are generally happy with Egencia's user interface, with one purchasing and supply chain manager commenting that, "The site is very easy to use and convenient for hotel and flight bookings. There have been no technical issues and the confirmations have been very prompt and comprehensive."
Of Egencia's customer support, however, one office manager said, "The account management team is not helpful at all and sometimes will take 2-3 times following up to get a response to your issue. We have had multiple bugs and issues that still have not been corrected, this is making our employees NOT use Egencia so they don't have to deal with these issues."
Egencia pricing
Egencia doesn't share pricing information on their website -- this means you'll need to contact them to get a quote.
Languages supported by Egencia
Egencia supports the following languages: English, French, German, Dutch, Italian, Spanish, Portuguese, Swedish, Turkish, Polish, Danish, Norwegian, and Finnish.
BCD Travel vs Egencia
While BCD Travel and Egencia have similar feature offerings, as far as we can tell, BCD Travel doesn't have a strong presence on SaaS user review platforms like G2 and Capterra. Therefore, it could be said that it isn't a popular, modern corporate travel management solution.
However, bear in mind that while using Egencia, you will pay to use the platform whether a traveler travels or not, meaning it might not be the most cost-effective option.
3. FCM Travel
FCM Travel is an online travel management solution that offers end-to-end travel account management, expense management, and safety and risk management.
The company also provides travel consulting and reporting services, as well as destination and event management services.
FCM Travel noteworthy features
FCM Travel offers a travel approval system that can be customized to suit specific company travel policies.
The company provides 24/7 access to a range of travel risk management tools to ensure traveler safety.
The platform enables omnichannel approvals by consolidating all travel approvals from all booking tools and devices into one unified dashboard.
Users can personalize dashboards to help individual departments track and control travel expenses.
The platform's reporting module provides on-demand reporting and custom metrics for deeper business travel insights.
How customers rate FCM Travel
G2 rating: 5/5 (Note that this rating is based on only one user review. As of February 2023)
Capterra rating: FCM Travel is not listed on Capterra.
FCM Travel pricing
FCM Travel doesn't share pricing information on their website -- this means you'll need to contact them to obtain a quote.
Languages supported by FCM Travel
FCM Travel only supports the English language.
BCD Travel vs FCM Travel
Neither BCD Travel nor FCM Travel has a presence on the most popular user review sites. However, one user on another review platform spoke of their experience with FCM Travel, saying, "It took an agent 2 hours, over the phone, to book a southwest flight for the same day, only for the traveler to arrive at the airport with no flight booked."
However, in a direct feature comparison, FCM Travel does offer a more modern approach to corporate travel management with several modular tools to assist travelers and managers throughout the booking process.
4. SAP Concur
SAP Concur is an expense management app with a travel module created by one of the world's leading accounting software providers.
The platform has a strong focus on expense and invoice management and builds companies' policy rules into the product. It also integrates near real-time data and uses AI to audit all transactions to give businesses visibility into what they're spending and how to better align their travel budgets.
SAP Concur noteworthy features
The platform automates expense reporting and reimbursements by creating, categorizing, and itemizing expenses from uploaded receipts.
SAP Concur supports multiple currencies and automatically calculates currency exchange rates and car-mileage allowance.
The tool's TripLink feature sends real-time alerts, notifications, and reminders for traveling employees.
SAP's Concur Request tool provides optimized forecasting and helps businesses enforce policy compliance.
The platform's TripIt solution provides tools to book flights, hotels, restaurants, events, and activities, and creates a single itinerary from all bookings.
How customers rate SAP Concur
G2 rating: 4/5 (as of February 2023)
Capterra rating: 4.3/5 (as of February 2023)
SAP Concur pricing
SAP Concur doesn't share pricing information on their website -- this means you'll need to contact them to obtain a quote.
Languages supported by SAP Concur
SAP Concur supports the following languages: Danish, Dutch, English, Norwegian (Bokmal), Korean, German, Chinese (Traditional), Italian, Swedish, Spanish, Japanese, French, Polish, Czech, Indonesian, and Chinese (Simplified).
BCD Travel vs SAP Concur
While SAP Concur provides quality expense management features for finance managers, BCD Travel's expense management function appears to be an add-on that comes at an extra charge. For those looking for a consolidated travel management platform with strong expense management features, SAP Concur beats BCD Travel.
However, be aware that users claim that SAP Concur can be clunky and that there are too many steps involved in the approval workflow. One user said, "I don't like that there are too many loops to go through to get expenses, travel, etc... approved. There are too many moving parts to get to what is needed."
5. American Express Global Business Travel (Amex GBT)
Amex GBT is a multinational travel management company that typically serves larger corporations.
The tool is designed for booking trips, managing expenses, and looking after travelers, and also offers spend management, 24/7 support, and an all-in-one travel app. Amex GBT also provides a risk management tool, policy compliance support, and carbon emission monitoring.
Amex GBT noteworthy features
Amex GBT monitors fare rate drops and rebooks tickets to save businesses money.
The tool provides businesses with insights into benchmarks, data integration, ways to improve, and what-ifs.
Amex GBT offers personal assistants to help with the travel booking process and to assist traveling employees.
Managers can set spending limits and increase bookings with preferred hotels via a virtual payment method.
Teams responsible for travel management and business travelers can access travel and expense policies and submit their expense claims in one place.
How customers rate Amex GBT
G2 rating: 4.7/5 (as of February 2023)
Capterra rating: Amex GBT is not listed on Capterra.
Amex GBT pricing
Amex GBT doesn't share pricing information on their website -- this means you'll need to contact them to get a quote.
Languages supported by Amex GBT
Amex GBT supports the following languages: English, Czech, Danish, Dutch, Finnish, French, German, Hungarian, Italian, Japanese, Norwegian Bokmål, Polish, Portuguese, Spanish, and Swedish.
BCD Travel vs Amex GBT
Amex GBT doesn't have much presence on third-party review sites and doesn't appear to be suitable for businesses that aren't large corporations.
However, Amex GBT does offer a more comprehensive suite of travel management features than BCD Travel, and also acquired Egencia to provide services to smaller businesses.
Wrapping up: Which BCD alternative is best for your business?
If you're on the hunt for the best BCD Travel competitors, this guide is a great starting point for comparing the top alternatives. Depending on the unique business travel challenges you're facing and your requirements, each solution offers features and capabilities to consider.
Ultimately, if you're managing a business travel program, you need an all-in-one travel management solution that helps you automate expense tracking, provides employee self-service capabilities, helps you meet duty of care obligations, provides you with deep insights, and makes employee reimbursement a breeze.
TravelPerk is a top-tier travel management platform that provides the experience both managers and travelers need, with features like employee tracking, real-time updates, business travel and expense management, and more.
To find out how you can optimize business travel spending and maximize ROI, get in touch with us today.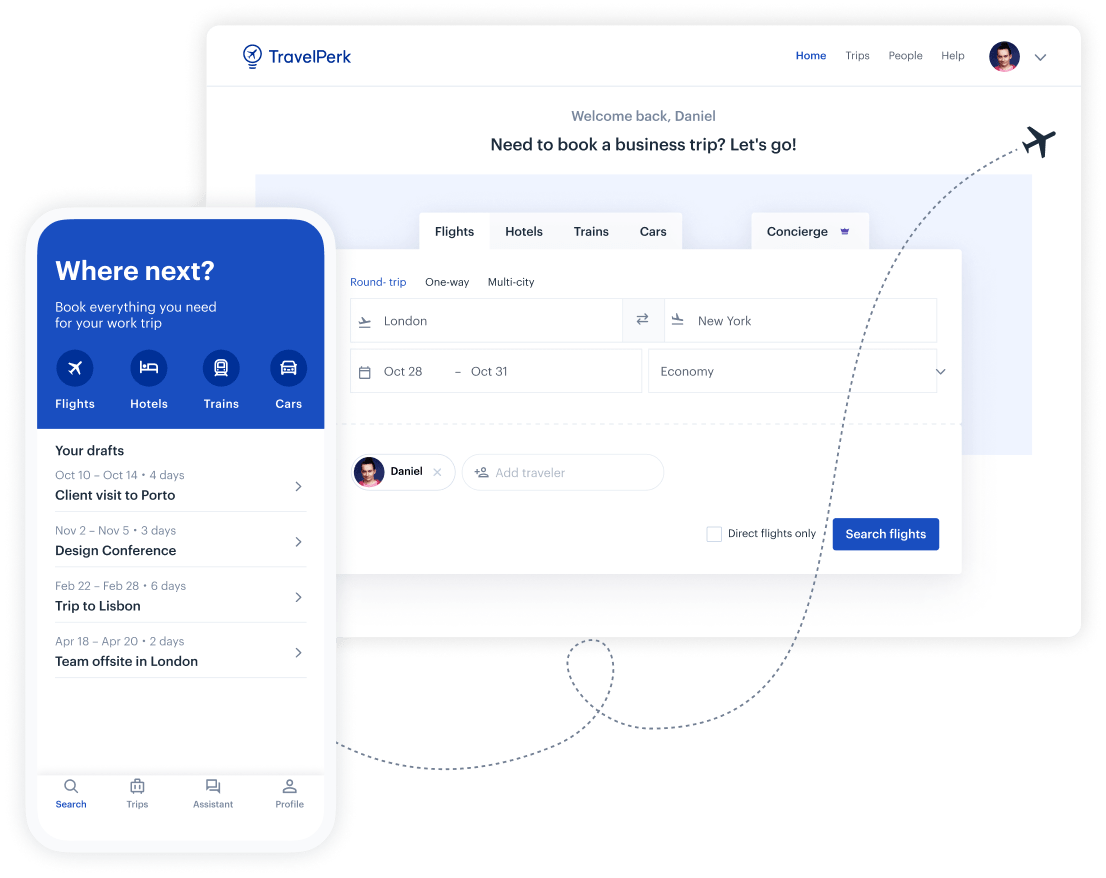 Make business travel simpler. Forever.
See our platform in action. Trusted by thousands of companies worldwide, TravelPerk makes business travel simpler to manage with more flexibility, full control of spending with easy reporting, and options to offset your carbon footprint.

Find hundreds of resources on all things business travel, from tips on traveling more sustainably, to advice on setting up a business travel policy, and managing your expenses. Our latest e-books and blog posts have you covered.

Never miss another update. Stay in touch with us on social for the latest product releases, upcoming events, and articles fresh off the press.