When flying for work, choosing one airline over another can have a real impact on your business trip. Although business travelers are an important part of any airline's business, some of them offer this customer group a much better service than others.

So what is the best business airline? Let's take a look at what are the aspects that companies should consider when choosing an airline before we share our complete list of the top 9 best airlines for business travelers.
What factors should companies take into account?
When considering the right airline to fly with, there are different aspects to keep in mind. These may vary between different companies, and even between different occasions.

Some factors to consider are:
Airport lounge access: Is it necessary? Probably more than you think. Airport lounge access can definitely improve the overall trip experience, especially if there will be long layovers and waiting times at the airport. They're the ideal place to work in total comfort, enjoy good quality meals, relax, and even sleep or shower. When traveling long-distance, airport lounges can be a real business life-saver!
Ground experience: From priority counter service to skip-the-line access, it's things like these that save time and help a business trip go a lot more smoothly. Depending on the airline, flight class, and rewards programs, these extras may be included in your ticket—and that is definitely something to keep in mind!
Seat: Let's talk about the main part of the flight, which is, well, sitting down while you wait to reach the destination. Whether you're choosing economy or business class, seat characteristics vary from airline to airline. How much room does it allow for legs? How much does the seat recline? Especially when it comes to medium- and long-distance flights, seat size, and comfort are definitely among the top things to keep in mind.
Other services included: Business travelers should also check what extras are offered on the different airlines. Some of our favorite features are flexible baggage allowance, flexible conditions, Wi-Fi, and meals. Depending on the distance traveled, as well as your preferences, all these can go from a nice-to-have to an important requirement.
Customer service: Top-quality customer service is crucial for a business trip to succeed. When things don't go as planned, you want to have access to the best customer service to help you solve it with as little inconvenience as possible.
Price: Whether your company is willing to pay first-class or economy, at the end of the day we all want to get the best value for the money we're spending. Again, not all airlines are the same, so a little research beforehand can help you make the best of your trip.
Rewards program: If an organization's employees will be traveling with the same airline often, then a rewards program can be a big incentive to choose one airline over the other. Loyalty programs often include earning miles towards free air travel, hotel stays, car rental, airport lounge access, upgrades, and other rewards.
Food and beverage: Having access to top-quality meals is also important for employees to stay healthy and productive. Depending on the airline and fare selected, in-flight food may be included in the price, available at an extra charge, or not even available at all! So if this is a priority for your business trip, make sure to check it beforehand.
List of the best airlines for business travel
Although there's a lot of competition when it comes to corporate customers, let's take a look at which of the airlines are your best bet to fly with on your next business trip.
1. Delta Airlines
Great for: best airline for domestic business travel within the US, excellent service

Delta Airlines has been ranking first for business travel in North America year after year, and there's no wonder why. Its business class offers total comfort with spacious seats, a sliding door for each seat, luxury bedding, and amenity kits, and even in-flight loungewear.

Corporate travelers from small and mid-sized companies can also benefit from Delta's Skybonus, a corporate rewards program that allows companies to earn points for flying with Delta Airlines and Skyteam partners. Another perk for corporate travelers is the Delta SkyMiles American Express Business Credit Card, which offers unique member benefits and the possibility to be rewarded for everyday expenses.
2. Emirates
Great for: comfort, service, intercontinental flights

Whether you travel in business or economy class, Emirates offers one of the best flight experiences around the world. The flight attendant service, comfort, and attention to detail offered by Emirates on all flights and classes is truly outstanding. Emirates' hub, Dubai, offers thousands of connections between all five continents thanks to its convenient location in the Middle East.

When it comes to business class, Emirates goes above and beyond to ensure a perfect experience. From on-board comfort to a flexible baggage allowance, Wi-Fi, exclusive airport lounges, and a complimentary chauffeur service, every detail is taken care of. Emirates also offers corporate travel solutions for organizations that fly often, such as discounts and tailored solutions.
3. Virgin Atlantic
Great for: business class

Virgin Atlantic's business class is called "Upper Class" and offers a top-level travel experience, including fully flat beds, big in-flight entertainment screens, and even a new bar area recently introduced. "The Loft" is a social space that allows passengers to gather and enjoy a drink, a meal, a movie hangout, or even a silent disco.

Other perks included in their business class include a chauffeur service, roomy seats, access to stylish airport lounges, and fine food and drinks. Business travelers can sign up for Virgin's corporate loyalty program, Bluebiz, which allows to earn points and rewards for flying with Virgin Atlantic and other airline partners.
4. Qatar Airways
Great for: long-haul, business class, service

Having won five of last year's Business Traveller's Awards, there's no doubt that Qatar Airways will always be a perfect choice for your business trip. If you choose to travel in business class, you will enjoy one of the world's best business class experiences there is.

Doha-based Qatar Airways introduced a new business class cabin in 2017 called Q-Suite, which features sliding doors and double beds, and adjustable panels to create spaces that can accommodate up to four passengers. These features provide the space and comfort to work or relax, contributing to a successful business trip.

When it comes to the airline's rewards program, a great benefit is that it allows customers to redeem their points on flights with all Oneworld airlines, including Alaska Airlines, American Airlines, and Cathay Pacific.
5. British Airways
Great for: short-haul, frequent flyer program

British Airways has won numerous awards, including Business Traveler's Best Short-Haul Carrier, Best Frequent Flyer Programme, and Best Airport Lounge in 2020. Some of British Airways' top features for business travelers include a special rewards program called "On Business", which is free to join and available to companies of all sizes. Points can be redeemed on American Airlines, British Airways, and Iberia flights.

Business-class on British Airways offers premium levels of comfort and service, exclusive lounges, faster check-in and boarding, and a generous baggage allowance. When it comes to long-haul, a new suite concept was introduced in 2019 which includes a door, direct-aisle access, and modern, luxurious seats.
6. Singapore Airlines
Great for: both business and economy class, customer service

The world's widest business class seats on Singapore Airlines' Airbus A350 and Boeing B777 aircraft are just one of the reasons why business travelers will love flying with this airline. Other interesting features include direct access to the aisle for every passenger, fine dining, and outstanding customer service.

Singapore Airlines offers a corporate travel program for large businesses, which includes preferential corporate fares and access to the KrisFlyer reward program. Special perks are available to small and medium-sized businesses too, such as the airlines' HighFlyer program, which allows business travelers to earn miles and redeem them on tickets.
7. EasyJet
Great for: low-cost European flights

It is still possible to enjoy an excellent business travel experience even when traveling with a limited budget, and EasyJet is the perfect proof of that. EasyJet's extensive network covering most of Europe's biggest cities, their flexible fares, and their Plus membership including fast-track access make the airline a perfect choice for business travelers across Europe.

Furthermore, EasyJet is set to become the world's first major airline to operate net-zero carbon flights across its entire network. In fact, in 2019 the airline announced it would start offsetting 100% of its jet fuel emissions, which makes it not just one of the most convenient options but also a sustainable one—and we always support that!
8. Swiss Airlines
Great for: European flights

Swiss Airlines was named Best Airline for Business Travellers in Europe in 2020, and it's clear that flying for work with this airline will always be a great choice. In fact, business travelers are a key segment for Swiss Airlines, and they do strive to keep this customer base satisfied and happy.

Some of the pros of flying with Swiss Airlines for business include PartnerPlusBenefit, a special bonus program for small and medium-sized businesses, corporate contracts, and an award-winning business class. Business-class passengers on Swiss Airlines flights benefit from priority check-in and boarding, access to exclusive airport lounges, a 2-meter flat seat on long-haul flights, and plenty of baggage allowance. The airline is a member of the Star Alliance network, which means a wide range of airline partners for connecting flights and redeeming your rewards.
9. United Airlines
Great for: rewards program, business class

United Airlines offers interesting benefits for corporate travelers, from dedicated counters and security lanes, premium travel services, free checked baggage, and a corporate rewards program. United PerksPlus, United's corporate program, is aimed to reward small- and mid-sized businesses who fly with United, United Express, All Nippon Airways (ANA), Austrian Airlines, Brussels Airlines, Lufthansa, and Swiss International Airlines.

The airlines' business class, Polaris, offers an excellent premium experience for business travelers. From a modern design to luxury bedding and fine dining, as well as exclusive Polaris lounges, flying business class with United will not disappoint!

With TravelPerk's platform, booking business travel and flights has never been easier! Avoid the hassle of searching and booking business flights on multiple websites, as well as keeping track of costs. Access the largest inventory for booking corporate flights at the best rates, enjoy the executive experience you deserve, and benefit from a dedicated 24/7 support team!
Save money when booking flights for business travel today!
Did you find this article useful?
If you did, please follow us on our social media accounts on LinkedIn or Instagram. Please share the article with your friends or colleagues!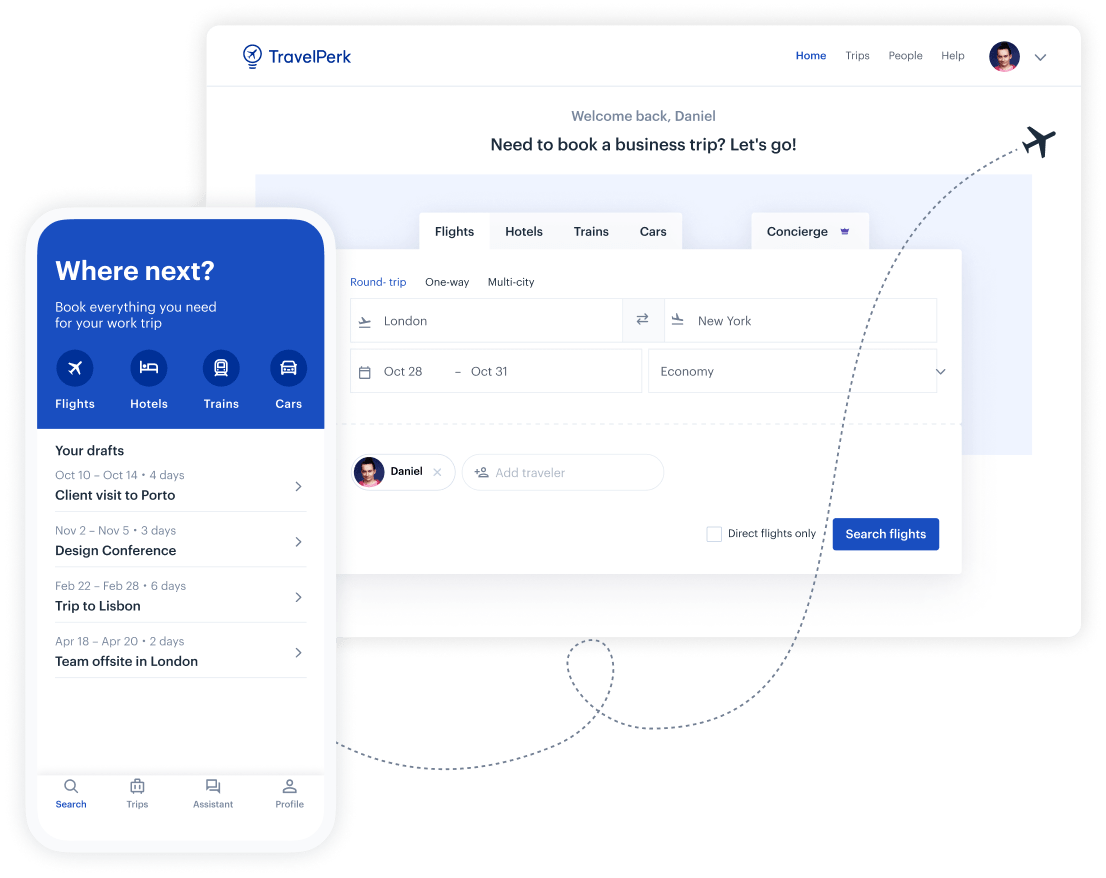 Make business travel simpler. Forever.
See our platform in action. Trusted by thousands of companies worldwide, TravelPerk makes business travel simpler to manage with more flexibility, full control of spending with easy reporting, and options to offset your carbon footprint.

Find hundreds of resources on all things business travel, from tips on traveling more sustainably, to advice on setting up a business travel policy, and managing your expenses. Our latest e-books and blog posts have you covered.

Never miss another update. Stay in touch with us on social for the latest product releases, upcoming events, and articles fresh off the press.