As the deadline for the sustainable development goals (SDGs) fast approaches, the public sentiment towards protecting the environment is stronger than ever.

Governments are gathering to speed up their responses to global warming, and are adopting more environmentally friendly practices. This will be a crucial focus for organizations in the next few decades. With customers and employees increasingly concerned about climate change, wise business strategies will include serious sustainability goals and a commitment to being passionate advocates for the planet!

With this in mind, we have gathered our favorite carbon-busting case studies from the companies we admire most to give a bit of eco-friendly inspiration. Below we share our list of the top five things the world's most aspirational organizations are doing to curb their carbon footprint!

1. Hewlett-Packard's commitment to transparent carbon reporting
The first step companies who are serious about curbing their carbon footprint take is to have clear metrics of their current impact. Undertaking an audit of sustainability issues is essential as it demonstrates a clear commitment and provides a benchmark to measure future success. It can also be an excellent tool for creating incentives to get teams on board and excited about making eco-friendly changes.

Computer giants Hewlett-Packard were one of the first major corporations to have been transparent about their greenhouse gas emissions and energy efficiency. Afterward, they implemented a series of sustainability initiatives to minimize their impact on the planet, including bold recycling programs to cut back on landfill waste and reduce the chemicals used to manufacture their ink cartridges. Moreover, Hewlett-Packard has become a passionate spokesperson for corporate sustainability, safe in the knowledge they have put in the work to back up their advocacy.
2. A truly green Apple offsets their carbon emissions
After establishing their current rate of carbon emissions, companies are using a range of techniques to either reduce or offset their environmental impact. Apple is among the numerous organizations trying to give back to the area's most affected by climate change. Pledging to plant over 27000 trees in vital mangrove forests, they hope to mitigate carbon emissions, support biodiversity and protect islands from the ravages of coastal erosion.

Various non-profit organizations can help companies and individuals offset their carbon emissions. From supporting bio stove initiatives to replanting rainforests, organizations can sponsor a scheme that best reflects their values and sustainability strategy.
3. Apple and Microsoft charge towards carbon neutrality
Aiming for net-zero emissions is an ambitious goal that certainly catches the eye of conscientious customers. Some of the biggest brands are making significant strides towards these aims. For example, companies like Apple are already switching from fossil fuels to run their production facilities entirely on renewable energy.

Aside from running offices and production spaces on clean energy, there are many measures organizations can take to significantly reduce their carbon emissions. Some organizations such as Microsoft are looking at their servers and switching to providers that run off greener solar energy. Others like eBay are working to provide greener shipping services for their customers.
4. Google says goodbye to waste
Another sustainability effort organizations are employing to reduce their impact on the planet is to take a hard look at their production methods. From selecting eco-friendly raw materials to checking their water use and chemical emissions, reducing waste is another critical element in minimizing businesses' carbon footprints.

Google is just one example of a company that, after making the switch to renewable energy, is now analyzing its supply chain in order to be carbon-free by 2030. Google's partnership with the Ellen MacArthur Foundation has helped them to adopt more circular economy practices. With a new ethos of refurbishing, repairing, reusing, and recycling parts in their data centers, they have already seen a profound impact.

Not only do these sustainability efforts appeal to various stakeholders, but their effect on Google's bottom line also demonstrates a clear business case for adopting greener practices. Globally, Google has achieved an 86% rate of diversion from landfills, with six data centers attaining a staggering 100% diversion rate.
The scale at which we repurpose and reuse materials is astounding. The positive impact it has is not only environmental but also economical.

Shobhit Rana, Google Networking Planning Lead.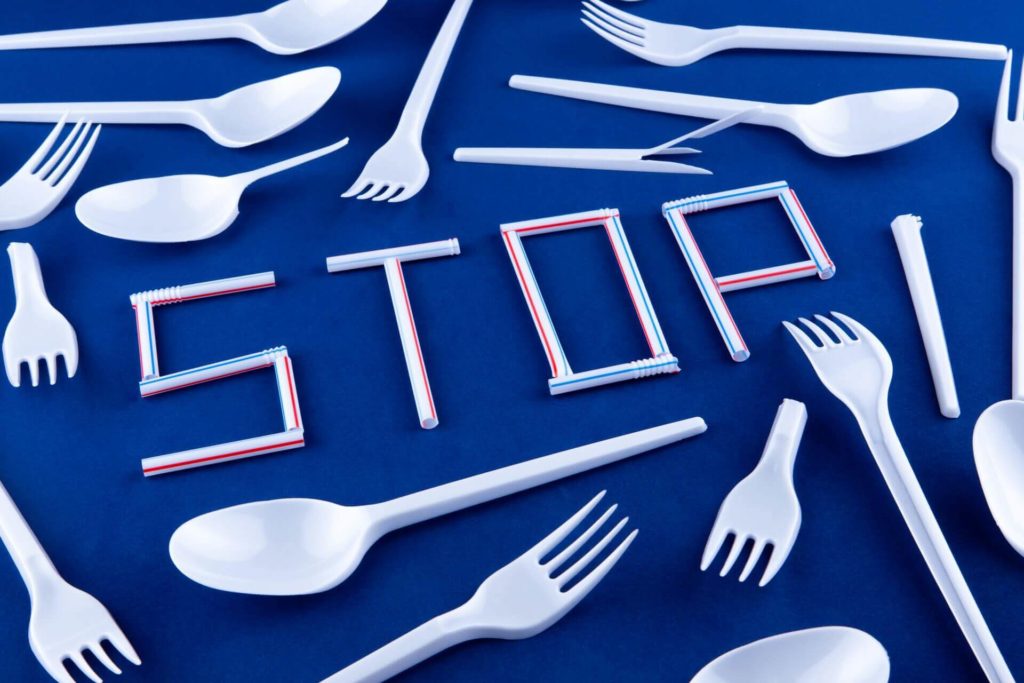 5. Disney ditches single-use plastics
Disney is another organization that has implemented a zero-waste policy to ensure nothing they produce ends up in a landfill. Also aiming to be carbon neutral by 2030, they scrapped several single-use plastic products across their parks, saving 175 million straws and 13 million stirrers each year.
6. Ford welcomes in an age of eco-friendly fabrics and paints
Car producers are regarded to be some of the largest contributors to carbon emissions. However, Ford has been at the fore of industry changes with a comprehensive environmental policy they have been implementing for years. Boasting some innovative solutions, Ford uses eco-friendly fabrics for their interiors and recycles paint fumes into fuel at their Michigan-based plant.
7. Patagonia mobilizes its in-house eco-warriors
Some of the world's most innovative businesses are winning unparalleled customer loyalty and brand awareness through significant corporate social responsibility policies. Clothing company Patagonia is perhaps the most well-known in this regard, thanks to their inspiring work protecting vast swathes of national parks and their associated natural resources.

On top of these initiatives, Patagonia has also established itself as a keen activist with several high-profile media campaigns that have won the hearts of environmentally conscious consumers worldwide. They are also well respected as business leaders for some of their left-field ideas, including incorporating a seemingly counterintuitive second-hand e-commerce platform into their core business model.

Patagonia's unrivaled success is a testament to their conviction and commitment to their brand principles. Their CEO recently stated there would be no end to their process of becoming more environmentally friendly. After being named 2019's Champions of the Earth by the United Nations, perhaps Patagonia's sentiment is one we could all stand to adopt.
8. Bosch knows knowledge is the key to sustainable success
Appliance empire Bosch also stands out amongst the pack for making significant contributions to research to help support ecologically minded technology get off the ground. What these brands have tapped into is the importance of sustainability to upcoming generations. Generation Z is fast entering the workforce, and studies have shown that 62% of this age group prefer to purchase from sustainable companies.

By sharing eco-friendly values with their customers, organizations are not only participating in the critical task of protecting the planet they are also ensuring their sustainability as a brand. Not only can a more environmentally minded approach give a business a competitive advantage in terms of sales, but it's also going to prove vital for attracting and retaining top talent in future generations.

From big strategic moves to small eco-friendly changes, there are many things organizations can do to make a difference. Whether it's as straightforward as switching cleaning products or reducing food waste, you can get the ball rolling today. If you would like to discover more ways your company can go green, check out our guide of 12 tips to make your office more environmentally friendly.

Did you find this article useful?
If you did, please follow us on our social media accounts on LinkedIn or Instagram. Please share the article with your friends or colleagues!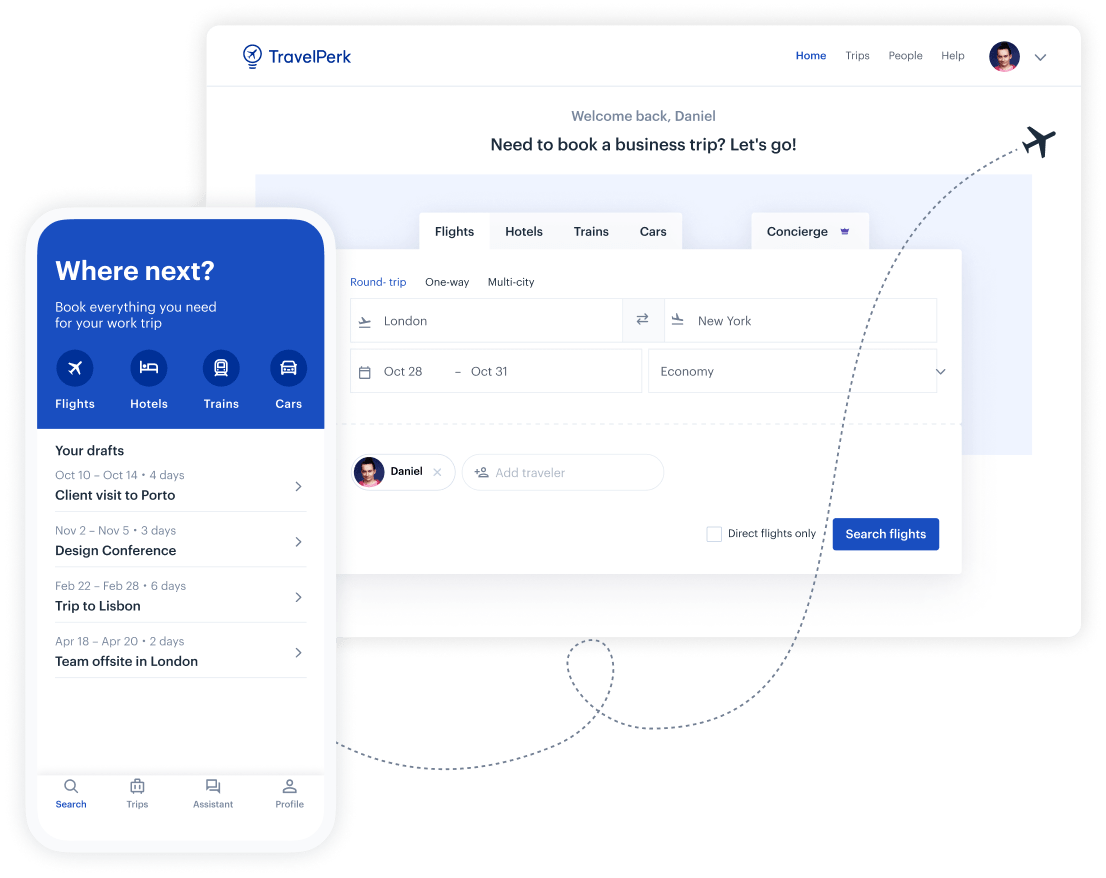 Make business travel simpler. Forever.
See our platform in action. Trusted by thousands of companies worldwide, TravelPerk makes business travel simpler to manage with more flexibility, full control of spending with easy reporting, and options to offset your carbon footprint.

Find hundreds of resources on all things business travel, from tips on traveling more sustainably, to advice on setting up a business travel policy, and managing your expenses. Our latest e-books and blog posts have you covered.

Never miss another update. Stay in touch with us on social for the latest product releases, upcoming events, and articles fresh off the press.