I couldn't be more excited to announce that TravelPerk has acquired the market leader in UK domestic business travel—Click Travel! I've always admired Click Travel, and I know that I speak for all TravelPerkers when I say that we're so proud and humbled to welcome all of their talented employees, broad inventory, all-in-one booking technology, and customers to TravelPerk.

I'm overjoyed to announce that we will be building the future of business travel hand in hand. We have a lot to win together. By joining forces, we will bring together all our people, our culture, our knowledge, and our tech to be bigger, better, and faster. We'll be unstoppable!

Click Travel is the UK's fastest-growing corporate travel management company. With award-winning technology, world-class inventory, and 24/7 customer support, Click Travel makes business travel easier and more cost-efficient for over 2000 awesome customers. And now, they're joining TravelPerk to take business travel into the future.
The intel on our acquisition of Click Travel
I know you're bored of hearing how the coronavirus pandemic brought the travel industry to a halt. But you know what? It didn't put the breaks on TravelPerk. We spent this last challenging year focusing on the future and investing in both our people and our product. We thought about what business travel would be like in a post-COVID world, knowing that face-to-face interaction could never be fully replaced by virtual mediums. Why? Because the meetings that matter happen in person.

We also didn't conduct any layoffs throughout the global health crisis. We focused our strategy on getting growing when times are tough, not winnowing down for survival. We called it the "6-pack bear" strategy—because while all the other bears went into hibernation during this time, we braved the elements and got a 6-pack to show for it. That's why we made bold moves in difficult times. From acquiring Albatross to developing our own TravelSafe API in 2020 to acquiring NexTravel at the beginning of 2021, and landing a $160 million Series D funding round in May, we've been gaining speed ready for take-off in the new normal.

And that's where this acquisition comes in. It is our third and largest acquisition to date. We are working to shape the future of business travel, and Click Travel represents a giant step forward in achieving that goal. They're everything we were looking for! They are truly the undisputed leader in UK domestic business travel. They have outstanding talent and a culture that mirrors our own. They have the best offering for UK companies, incredible know-how, and a deep understanding and appreciation of the value of technology as a staple of the business travel of tomorrow. We're the perfect match.

With internal travel restrictions easing up first, domestic travel is the first to bounce back. Business travelers can go back to interacting with their colleagues, clients, or partners in person, at long last. With this acquisition, we are making that even easier by combining Click Travel's UK domestic travel expertise and our savviness with international business travel. With a focus on technology and a drive to understand our customers' needs, we are creating an unbeatable, one-of-a-kind solution for companies in the UK and beyond—the only future-ready business travel platform out there.
When market fit meets cultural fit
Click Travel and TravelPerk are a natural great fit because we share the same vision, philosophy, and culture. We are driven by our values and our belief that the foundation of our success lies in our mindset and who we are as a team. Cultural fit is so important to us that we passed on other acquisition opportunities because the chemistry just wasn't right. Then we found Click Travel.

We are both obsessed with providing the best customer service. It's not only about having the "the customer is always right" attitude—it's about going above and beyond to bring them the best service and care no matter what they ask for. A customer once asked us for a monkey to wait for him in his hotel room. He didn't specify what kind, so we sent over a furry monkey toy. We got a stellar 5-star review. True story.

We both also know that technology is the future of business travel. There's no way around it. This is the digital revolution. Both Click Travel and TravelPerk invest heavily in making our technology the most user-friendly and efficient as can be so that everything, from booking to reporting, is easy and smooth. We're bringing every aspect of the booking journey into one, centralized platform. That's the digital revolution in travel. And we're making it even better together.

This is a really exciting time for our teams as well. We're all growing in size together, bringing in Click Travel's 150+ employees with 500 TravelPerkers. Harder, Better, Faster, Stronger is the collective soundtrack to our lives. We're going to be bigger. We're going to be better. That's how we lead the global future of business travel as one.
A look back at 2020 and 2021
As we move forward in a post-COVID world, we look to the future with great optimism. Travelers are eager to get back on the road, and colleagues are excited to meet their coworkers face-to-face. We have this saying at TravelPerk that the meetings that matter happen in person. After so long apart, it's great to see people coming back together again safely and confidently. Here are just a few things we did over the last year to make that happen:
… And now, we're so excited to welcome Click Travel to our team. I can't wait to sit down with our new colleagues and share some of TravelPerk's famous cold lemonade. Or a cup of tea.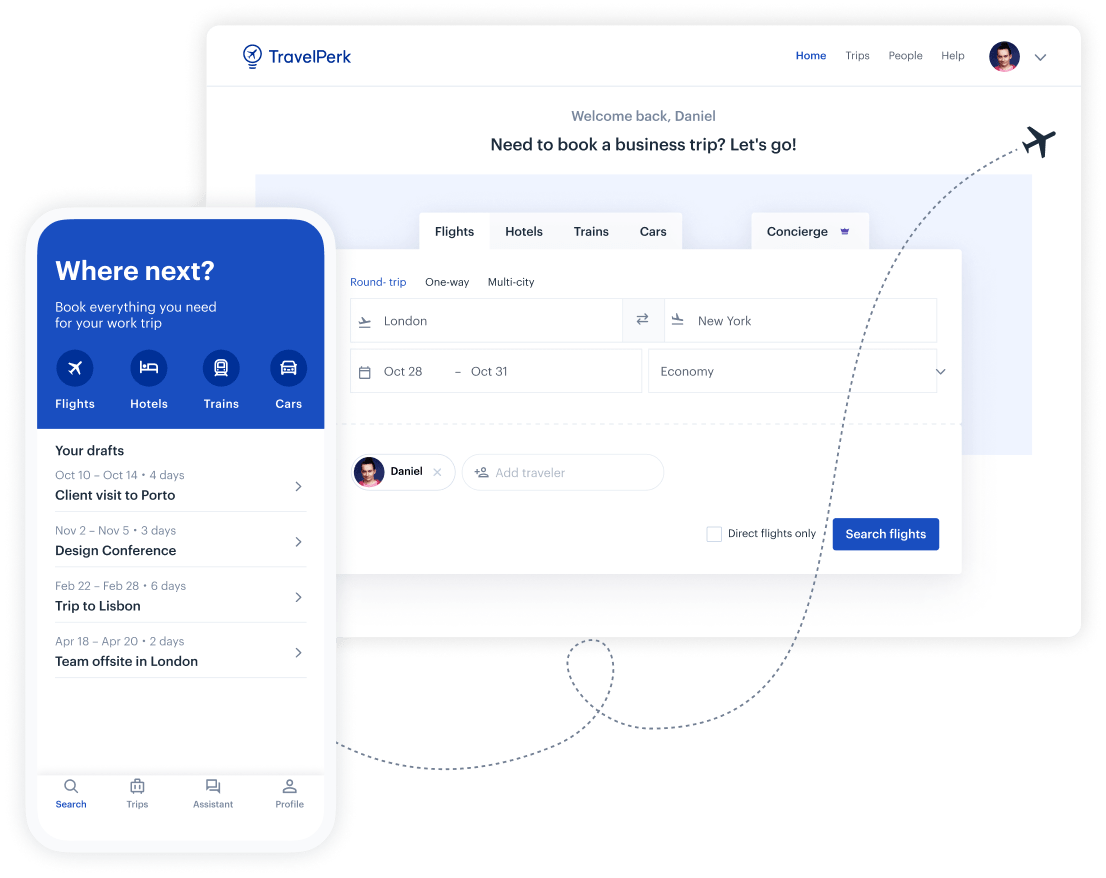 Make business travel simpler. Forever.
See our platform in action. Trusted by thousands of companies worldwide, TravelPerk makes business travel simpler to manage with more flexibility, full control of spending with easy reporting, and options to offset your carbon footprint.

Find hundreds of resources on all things business travel, from tips on traveling more sustainably, to advice on setting up a business travel policy, and managing your expenses. Our latest e-books and blog posts have you covered.

Never miss another update. Stay in touch with us on social for the latest product releases, upcoming events, and articles fresh off the press.