Business trips can be stressful for everyone involved. For your boss, their time away might be filled with back-to-back meetings, trying to keep up with the office across time zones, and combating jet lag. It can be a serious headache for administrative assistants trying to coordinate travel while handling a roster of other responsibilities.
Thankfully, solutions are available to help simplify executive travel, alleviate the admin and remove many past pain points. Booking tools can streamline everything from picking great accommodation and booking flights to automating your travel expenses. With time freed up, you can focus on the personal touches that will impress your boss and take their business trip to the next level. So let's delve into the 8 easy steps that make organizing business travel arrangements for your boss a breeze.
See how to save your company time and money on business travel
1. Communicate to create a successful experience
A positive travel experience comes down to a few key factors.
Clarity: Always up-to-date knowledge of all travel plans and details
Support: Ability to reach out for help at any point, whether its for changes, cancellations, or what have you
Time management: Quickly taking care of administrative tasks while on their business trip
Personalization: Getting the travel experience they expect
Fun: Special or restorative moments
The tips that follow will handle the above, but there is a very simple question you can ask your boss to ensure they get the most from their corporate travels: What needs to happen for this trip to be a success?
They might say, "No matter what, I need to be on time," meaning you should have alternate plans in place if the first fails. Or there might be some other small thing they want to do like, "I can't forget to buy my daughter macarons."
For each trip, identify the non-negotiable priorities and (for longer trips) one or two personal things that will make the stay more enjoyable. Remember, everyone is at their best when balanced, fully rested, and connected to their personal motivation for success.
After the trip, have a quick conversation with your boss about how the trip went and what you can do differently next time. Build upon each experience and continuously improve.
When you can supersede the necessities of business travel by thinking ahead, streamlining documentation, reducing stress, and increasing enjoyment, you become an invaluable asset. Or, in other words, a Travel Superhero!
2. Find a travel management tool to arrange travel and accommodation
Harnessing the latest technology can help businesses streamline the corporate travel booking process. Rather than scrolling through several websites to find the best prices, office managers can use a travel management tool to find suitable options quickly.
Boasting the largest travel inventory in the world, TravelPerk allows companies to input their corporate travel policies in minutes. After establishing these parameters, business travelers or executive assistants can search through options safe in the knowledge they are compliant.
Plus, whether it's securing an aisle seat for their flight or a room away from the hustle and bustle of reception, TravelPerk's concierge services can ensure executives' preferences are honored.
When selecting transportation, keep in mind the details that will make the trip more comfortable for your boss. Do they prefer an aisle or window seat? Do they have airlines or rental car companies where they accrue loyalty points or can get access to lounges? After noting these preferences, by using a travel management tool like TravelPerk, you can book flights, trains, car hire and accommodation in just a few clicks.
When choosing accommodation, consider the amenities your boss might appreciate. Good wi-fi is a given, but they might also want a decent-sized desk or even a coworking space on site. They might want to have gym facilities or 24/7 room service if their flight gets them to their destination late at night. Another important consideration is the location. Take a look at your boss's schedule and pinpoint an area that makes the most sense for their itinerary.
A travel management tool should provide a wide range of accommodation options, from well-known chains to boutique options. TravelPerk users can also benefit from booking Airbnb rentals through the concierge service for trips where travelers might appreciate some extra space or having access to a kitchen or laundry facilities.
Once you have selected your arrangements, quickly vet your choices to double-check if they are suitable for your boss. Use Hotel Wi-Fi Test to make sure connection speeds are up to scratch and screen reviews for elements you know will matter to your boss. Whether it's noise levels or the quality of the breakfast, the best insights will come from recent guests.
TravelPerk users can benefit from seeing where other colleagues have stayed, making it easier than ever to get the inside scoop from trusted sources. Finally, when selecting a travel management tool, confirm that the system is backed by a mobile app so that your boss can access their itinerary and other services while they are on the move.


3. Have a point person for itinerary changes in the eleventh hour
Like any trip, business travel can spring the unexpected. Bad weather can ground a flight, or a hotel suddenly becomes unavailable. But corporate travelers often face additional challenges that require last-minute changes to their schedule. A situation back at the office calls for them to get back early, or negotiations with clients mean they need to extend their business trip.
Busy executives won't have time to make these changes themselves, and with time differences, you might not always be available to lend a hand. Whichever travel booking solution you decide to use, ensure they have comprehensive support 24/7. Check the fine print, as your boss is unlikely to appreciate having to wait for an email response or spending hours sitting on hold.
At TravelPerk, your boss can reach our team of human customer support agents in just 15 seconds, 24/7, 365 days a year. We are available by local call, email, or chat, so you can rest easy knowing your execs have assistance round the clock.
4. Help prepare your executive's cell phone
Cells are for more than just phone calls—they're great tools for eliminating hassle when it comes to traveling. Recommend a currency converter app and a translation app to help your boss navigate international travel. XE's currency converter is available on Android and iOS and will help your exec stay on budget during the trip. Meanwhile, Google Translator is still the best option for getting to grips with a local language.
Undoubtedly, your boss will experience some patchy service or potentially long breaks in WiFi access, so whenever possible, encourage them to download offline features. Tripadvisor and Google Maps will even let you download city maps and place information in advance!
TravelPerk users can benefit from the system's travel management solutions even after departure. Corporate travelers can book travel arrangements, get updates to their itinerary and receive 24/7 support thanks to the easy-to-use mobile app.
5. Always keep track of preferences
Preferences change with time and circumstance. Your exec might prefer proximity to the client or local office for short trips but want to be near walkable restaurants and the city sites to enjoy their free time on longer trips. They might even prefer traveling with ground transportation like trains or car rentals over flights.
Never assume you'll remember, even with the most diligent and careful planning. Keep a running list on an easy-to-edit file (like Google docs) or use TravelPerk to safeguard this info for every user. Here are some important categories to note:
Frequent flyer programs in use
Transportations and seating preferences
In-flight meal preferences (especially any allergies)
Contact details of family members, friends, or spouse that they would like to have a copy of their itinerary
As we alluded to earlier, with TravelPerk, you can add a special request to each booking that our concierge service will take care of (like a late checkout or extra legroom). Some preferences might hold true for every trip. Others might be more specific. Maintaining this list of priorities will eliminate repetitive conversations and save everyone time in the long run.
6. Simplify expense reporting
Expense reporting can feel like a massive waste of time for all staff members. Tracking money takes longer than spending it.
Help your boss get expense reporting done in a flash. Download a receipt-scanning app, such as Receipt Bank or Expensify. Even if your company hasn't officially onboarded such an app, it can be a lifesaver. If your exec handles expense reporting on their own, you can pre-fill some of the trip details so that they can complete the task faster.
But nothing beats automation. TravelPerk integrates with various expensing apps, including Expensify, so that trip costs are stored safely, and travel spend reports can be rapidly generated.
7. Prepare an in-depth travel itinerary for your boss
With a travel management solution like TravelPerk, the details of each trip can be found in one place (with just one login!). However, for those times when your boss can't get online, it's important that the information is accessible offline.
While screenshots are a quick and easy method of ensuring your boss has access offline, you can go the extra mile to prepare a travel itinerary that includes elements specific to your particular business trip. By taking their existing itinerary and adding useful details, you can remove tonnes of stress for your traveling exec.
Break down each day and walk through their activities step by step. For any travel arrangements on top of departure times, include more details to help things run more smoothly. Note the booking confirmation numbers and contact numbers for car rentals. For flights, include airline phone numbers, the terminal's address, confirmation numbers, flight numbers, seat reservations, and any membership numbers for loyalty programs.
For train journeys, it's worth keeping in mind that stations will often have multiple trains traveling between major cities, typically one express service and one longer, less direct option. Include the specific departure details and the platform for your boss' ticket to avoid losing time and money if they board the wrong train. If you have any pre-booked car services, include these details and the contact numbers for the driver and the company.
There can be several hotels in major cities from the same well-known brand. To ensure your boss' trip gets off to a good start, include the address of their specific hotel and the contact details for the front desk just in case. Note down the booking reference, any relevant loyalty program numbers, and finally, the check-in and check-out times to make their stay as straightforward as possible.
Add your boss' meetings to this itinerary and include details that will save them delving through their emails or other documents while rushing between appointments. In addition to the time and location, jot down the purpose of the meeting and who will be attending.
Find the LinkedIn profile pictures of the people they will be meeting with, so they are easier to recognize on arrival and any contact details for the attendees and the location if your boss needs to get in touch. Finally, include the travel times between their first meeting and their subsequent appointments so they can keep this in mind as the day progresses.
Highlight any periods where your boss has free time. If they have an hour between meetings, offer suggestions for where they can get a bite to eat or a coffee. For longer stretches, provide some nearby attractions they could visit or the travel time back to their hotel if they wish to return for some downtime.
After you have completed the itinerary, save it as a PDF and email it to your boss and their spouse or designated contact so that loved ones can know where they are in case of emergencies during their trip. Print a couple of hard copies to make the information easy to access at all times.
8. Take care of the "little extras"
The best part of automating and outsourcing aspects of corporate travel management is being able to focus on the extra details that your boss will really appreciate. This attention to detail will set you apart from other administrators and propel your career to new heights.
Here are some examples of little extras that you can prepare in advance for your boss:
Backup luggage tags
Extra business cards
Information and contact details of the local host (client or office manager)
Healthy, compact snacks with protein
Restaurant recommendations based on their favorite foods - you can even use a concierge service like TravelPerk to secure reservations
Tips for how to spend any downtime. Be sure to highlight any options that require tickets and book these in advance.
Travel adapters and surge protectors for their equipment
Take a second to brainstorm the little things that will make a big difference for your exec, and again keep a running list for future business trips.
The ultimate executive travel arrangements checklist
Having a checklist that you can refer to before your trip helps you prepare for both the expected and the unexpected. Anticipating your boss's needs ahead of time will make the journey more successful and save you time.
To get you started, we've recapped the tips above into a handy checklist you can refer to when planning your boss's next trip, and the next, and the next!
Establish the key markers for success
Ask your boss what needs to happen to make this business trip a success
Make arrangements in line with their priorities
Ask for feedback on their return to improve future plans
Find a travel management tool
Select a travel management solution that has a mobile app so execs can keep track of their itineraries and receive updates on the road
Use automation to choose accommodation and transportation within corporate travel policies
Cross-check options against your boss's personal preferences
Use Hotel Wi-Fi Test to check connection speeds
Check reviews
Verify the location of the hotel
Suggest your boss downloads the following apps
TravelPerk mobile to access itineraries and receive updates on the go
A currency converter app, such as XE currency converter
A translation app, such as Google Translator
Any hotel apps relevant to their stay
Recommend your exec takes advantage of apps offline features for those times they can't get online.
Keep track of your executive's preferences and necessities
Any frequent traveler programs in use
Flight seating preferences
In-flight meal preferences
Any hotel preferences or loyalty programs
A note of allergies
Late checkout needs
Extra legroom preferences
Transportation preferences (trains, car rentals, flights, etc)
Contact details to send itinerary to designated loved ones
Prepare all documentation
Check passport is in date
Double-check any travel visas
Print car/travel insurance information
Print any COVID-19 travel documents (vaccination certificates, test documentation, etc)
Prepare and print an in-depth itinerary including meetings and other planned activities
Ensure designated family members or have contact information and details of the traveler's entire trip in case of an emergency
Prepare the "little" extras
Backup luggage tags
Pack extra business cards
Store information and contact details of local hosts
Pack your boss's preferred snacks
Find restaurant recommendations
Research travel tips for any free time
Keep all travel details in one place offline
Create a PDF document for each trip
Ensure your boss has printed copies of the in-depth itinerary
Save screenshots of important information
Prepare for expense reporting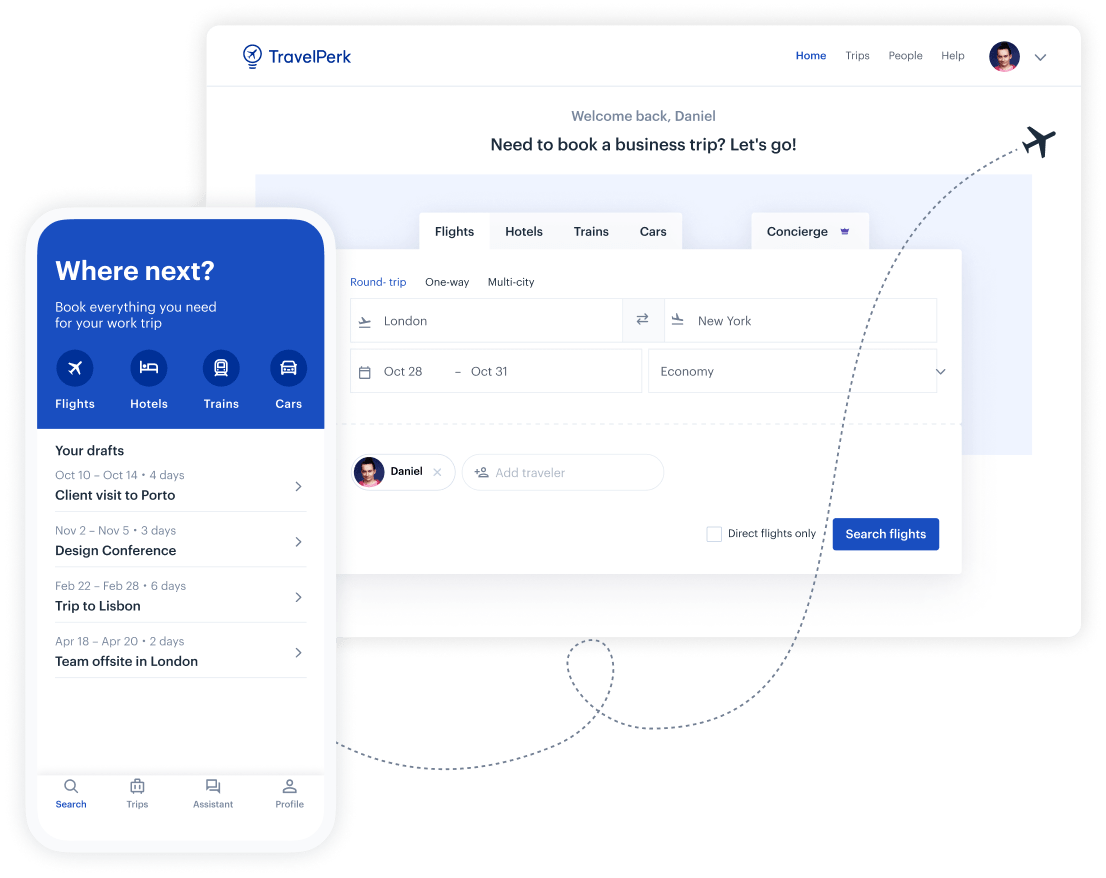 Make business travel simpler. Forever.
See our platform in action. Trusted by thousands of companies worldwide, TravelPerk makes business travel simpler to manage with more flexibility, full control of spending with easy reporting, and options to offset your carbon footprint.

Find hundreds of resources on all things business travel, from tips on traveling more sustainably, to advice on setting up a business travel policy, and managing your expenses. Our latest e-books and blog posts have you covered.

Never miss another update. Stay in touch with us on social for the latest product releases, upcoming events, and articles fresh off the press.