Despite the travel restrictions of 2020, it is clear that corporate travel is here to stay. A vital part of any growing business, professionals will need to continue making business trips to meet with clients, assess products, and other essential business needs.

Traditionally business travel has been considered a hassle due to the time-consuming nature of making arrangements. Travel managers were required to sift through hundreds of websites to find the best airfare rates and hotels. Time restraints left corporate travelers with limited options for their accommodation as coordinators raced to stay on top of their workload. Alternatively, companies would use the corporate travel services of a travel agency in tandem and be left at the mercy of their opening hours when facing an emergency.

Setting up a corporate travel program might seem complicated at first glance. Thankfully technology has made it more straightforward. Regardless of the stage your organization is currently at, implementing a clear corporate travel policy and an efficient corporate travel program will pay off massively both in saved revenue and resources. So let's jump in and look at five ways a corporate travel program can streamline your business travel program.
1. It saves valuable time when making business travel arrangements.
Organizing the travel program for an entire company without taking advantage of the latest technology can be a logistical nightmare. Juggling multiple itineraries, trying to stay compliant with your company's travel policy, and keep business travelers happy is a difficult job. Consolidating the booking process is the first step to making travel managers' workload more efficient and less stressful! Besides, travel booking needn't be a headache!

With a corporate travel management system like TravelPerk, you can make all your arrangements within one easy-to-use online booking tool. Plus, with the most extensive travel inventory globally, we can negotiate the best rates and fares for you, saving time and money!

2. It helps keep your business travelers safe.
As an employer, traveler safety is paramount and a massive obligation in your duty of care towards your employees. After the upheaval of the pandemic, it's more crucial than ever to keep track of your business travelers and ensure you know the latest security developments.
A managed travel program like TravelPerk can provide up-to-date safety advice and help you effortlessly track all current itineraries in real-time. If the situation changes, our customer support team is on hand 24/7, 365 days a year, to assist with any changes and answer any questions. Systems like this are especially vital in situations like we saw in 2020, where multiple countries closed their borders overnight.
Outsourcing the risk management of your business trips is undeniably more efficient. However, it's the peace of mind of accessing this information at a click of a button and reacting to unexpected situations faster that is invaluable.
3. Flexibility will continue to be critical to corporate travel in a post-lockdown world.
Even as restrictions ease, there is a great deal of uncertainty about when we will be able to travel. If 2020 taught us anything, it's that circumstances can change rapidly, and flexible fares will be essential for the foreseeable future. As countries contend with new variants, fresh outbreaks, and differing vaccination rates, each will have rules and restrictions that will shift accordingly.
Trying to navigate this time of upheaval will be tricky for corporate travelers. Keeping abreast of any changes will be a lot easier if your itinerary is booked and stored in one place.
At TravelPerk, we understand that sometimes plans need to change. That's why with FlexiPerk, we offer a guaranteed refund of 80% on any cancellations you need to make, no questions asked. Plus, thanks to TravelPerk's Trip Assistant mobile app for IOS and Android, your corporate travelers can stay on top of any changes and travel stress-free, with access to all their itinerary details even when they can't get online. 
4. It keeps employees happier and healthier while traveling.

Previously travel managers had to sift through a dozen websites or rely on a travel agency to find the best business hotels for their travelers. Time restraints or poor recommendations meant business travelers often ended up with limited accommodation options. With TravelPerk, you can input your travel policy for employees, including travel budgets, in less than two minutes. Then employees can select from our comprehensive travel inventory to find the best fit within your price range.

Using a system that gives employees some autonomy over their travel options increases their satisfaction at work. Knowing they won't be stuck near the airport when they would prefer to be closer to their business meetings makes a big difference to corporate travelers. Or perhaps they would like to fly with American Airlines to pick up some air miles or stay in a Hilton hotel to take advantage of their loyalty program.
Our simple interface makes selecting options intuitive. Meanwhile, both travel and finance managers can manage travel budgets and ensure corporate travel policies are respected with our in-app approval system.
5. It helps to track travel expenses and reduce travel spend.
Keeping tabs on the travel costs of an entire team, let alone an organization, can be a laborious task. In attempts to work out the bottom line, you can waste considerable time locating various invoices, updating records, and paying accounts. With TravelPerk, you receive only one invoice reducing the number of payments and the associated admin.
Additionally, you can obtain a detailed report of your travel spend at any time. Fully customized, you can break down these reports with many filters, including team, project, date range, or location, for a more detailed insight into travel costs. Plus, if you are VAT registered, we can help you save up to 25% on your annual travel expenses with our itemized reports, ready to send to the taxman!
Technology can streamline all your travel management needs.
At TravelPerk, we know how complicated business travel has been in the past. That's why we strive to make corporate travel seamless and straightforward with a travel solution that fits in your pocket. If you would like to find out more about how TravelPerk can aid your business in establishing a travel policy, travel booking, expense management, and risk management, please reach out to our sales team.
In a short demo, we can walk you through our online platform and explain the features that could simplify corporate travel management for your organization.
Did you find this article useful?
If you did, please follow us on our social media accounts on LinkedIn or Instagram. Please share the article with your friends or colleagues!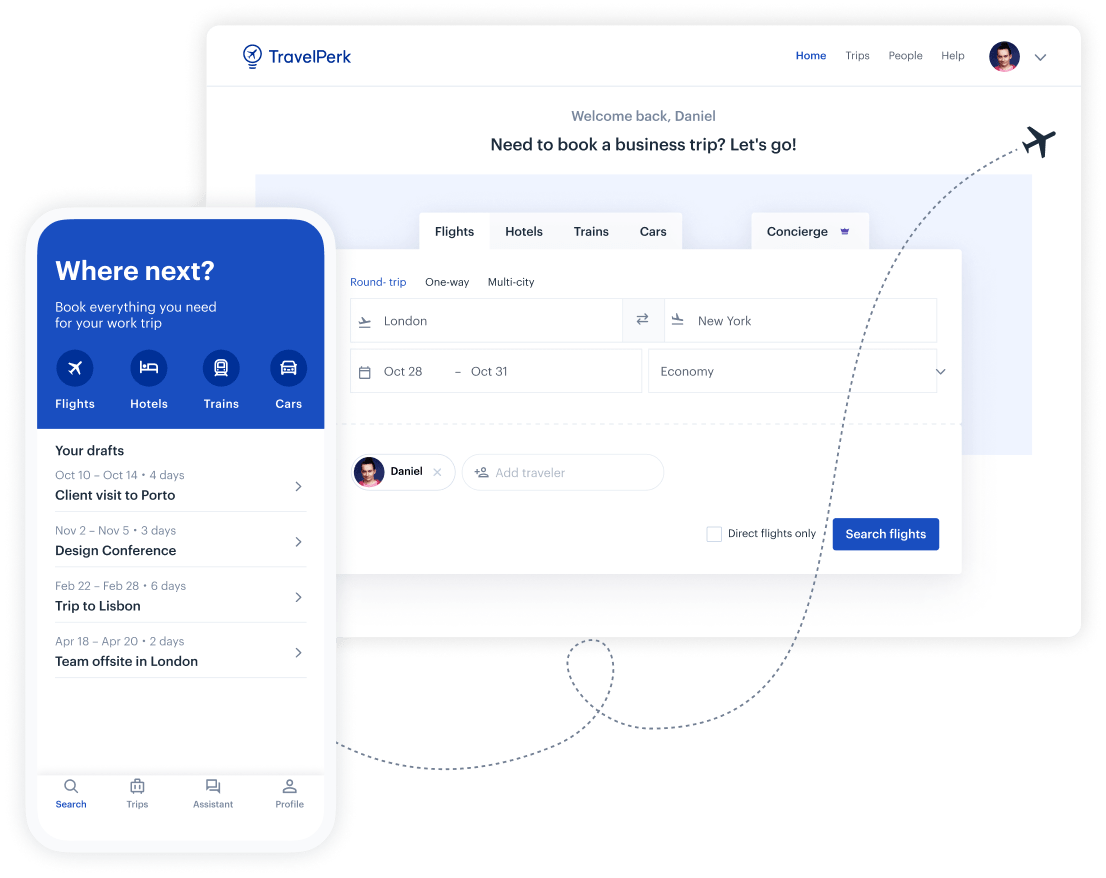 Make business travel simpler. Forever.
See our platform in action. Trusted by thousands of companies worldwide, TravelPerk makes business travel simpler to manage with more flexibility, full control of spending with easy reporting, and options to offset your carbon footprint.

Find hundreds of resources on all things business travel, from tips on traveling more sustainably, to advice on setting up a business travel policy, and managing your expenses. Our latest e-books and blog posts have you covered.

Never miss another update. Stay in touch with us on social for the latest product releases, upcoming events, and articles fresh off the press.