For many of those operating within the travel industry, the past couple of years have been tough.
With the travel industry bouncing back from Covid-19, new opportunities to make changes to your business travel checklist are emerging. As an executive assistant (EA), booking travel might not be as simple as before, to begin with.

While some businesses have come out of the pandemic relatively unscathed, many have had to make financial cuts to stay afloat. That means organizing travel as an executive assistant might be a little different from how you previously managed it for C-suite-level staff members.

The importance of business travel might also be influential for what you book and don't book going forward.

For those that are apprehensive about organizing travel in the current global climate, an executive assistant travel template may be a good place to start.
What to include in a travel checklist for executive assistants
A travel checklist can be a great way of enabling an EA to ensure everything is organized for upcoming business trips for employees. It may also help prevent a lot of stress and hassle that comes with booking travel during a pandemic and in the new normal to come.
1. Start by gathering intel for the upcoming trip
Before booking anything, it's important to gather info from the staff member you're responsible for. Whether the executive you're organizing travel for is a frequent flyer or not, travel looks different today than it was yesterday and will continue to change with each day that comes.

You'll need as many specifics as possible, down to the minutest trip details. Plus, it's a good idea to get your executive's travel preferences too. This way, you can ensure the trip is operationally—and personally—a smooth experience.

Start by getting all the intel on the trip itself, including key information like:
Destination
Planned meetings
Stakeholders
Personal preferences
Time zones
Currencies
Consider the objectives that the executive has for the trip alongside the budget available. It doesn't hurt to triple-check personal details are correct; it'll be tricky changing them when your exec is at the boarding gate!

A few personal details that may be needed in advance are:
Full name (as it appears on passport or driving license)
Email and home address
Cell phone number for contact information (notification of delays or cancellations to journeys)
Credit card details
Frequent flyer details and any loyalty schemes or rewards available
For overseas travel, make sure your executive has a valid passport and any necessary visas needed to get into the country itself. This may include proof of vaccinations as well, with many countries issuing vaccination passes.

Depending on the staff member, they may have preferences for certain services and locations of interest. Be sure to get details on these to make your traveler's experience that much more enjoyable. When you include personal touches like this into your travel planning process, your traveler feels appreciated and is more likely to travel for work in the future.
2. Put together a travel itinerary
For all travel arrangements, most executive assistants will be accustomed to the benefits of a travel itinerary. Let's remember, an executive assistant's role provides great value to the organization and particularly to those C-suite level employees that need the support.

A whopping 91% of travel management will fall into an executive assistant's lap, so creating even a loose itinerary to begin with is going to avoid any flustered or panicked phone calls.

The pandemic has been a struggle for many socially. Regardless of whether your executive is a social butterfly or prefers to keep to themselves, there's likely going to be an increased need for social interactions and in-person connections. Keep this in mind as you plan trip itinerary and weave in some downtime for your exec.

Many bookings for restaurants and activities will need to be organized ahead of time to cater for popular spots filling up due to increased demand. Be sure to have a hold of reservation numbers, follow up on bookings made, and clarify check-in times for hotel stays.

A travel itinerary is super beneficial for ensuring corporate travel goes smoothly. In order to maximize the business trip for your executive, be proactive with it.
Feel free to check out our business travel itinerary template for your upcoming business trips.
3. Prepare for changes in travel and safety information
As the travel industry navigates the route back to normality, you can expect a lot of change and last-minute amendments to your travel plans that are simply out of your control.

Depending on the corporate travel being booked, a degree of uncertainty is to be expected—if not, a lot of it. Many travel businesses have had to remain flexible due to the changing guidelines set by their own country and others that have alternative procedures in place.

Whether it's international travel you're booking, or simply want to organize a car rental, prepare with ample time to make room for changes. Being flexible is essential and is something you should relay to your executive.

Where applicable, it's useful to get in touch with a travel agent to help with any complex business trips, especially when it comes to travel insurance. In today's climate where budgets are tight, yet everything is literally up in the air, travel insurance is critical.

TravelPerk has its own solution to combating the gruesome paperwork and hidden costs notorious in travel insurance: FlexiPerk. FlexiPerk allows you to cancel any flight, hotel, car, or train at any time, and get 80% of your money back—no questions asked.
How to cancel and get a refund on a trip with Flexiperk
FlexiPerk offers executive assistants the most flexible business travel ever. You a pay a small fee on top of your booking and if plans change, you can cancel up to two hours before and get 80% of your trip refunded. No questions asked.


While you can do all you can to ensure travel plans go smoothly, the pandemic continues to take away control that you may have as an EA. Executives should be prepared for travel to be slightly different from the norm, especially when communicating in different time zones.

Additional safety procedures like temperature checks and COVID-19 testing might vary from one country to the next. It's important to know what to expect in each destination and make your executive aware of this too.

TravelPerk's TravelCare solution ensures any executive assistant has the most up-to-date information possible on ever-changing safety procedures. You never need to worry about missing an alert or your exec getting to the boarding gate or a hotel, only to be turned away for not having the right paperwork.
Brief your executive or staff member before the trip
With so much transition and change in the way business travel will operate, it's necessary to brief your executive or staff member before their trip.

It's important that the itinerary has everything that the individual needs for their excursion and that they are satisfied with everything that's been booked and organized ahead of time. Spontaneity isn't something that will be achievable for a lot of activities until COVID-19 is a distant memory, so keeping to a schedule is important.

This briefing is where you will be able to hand over all the necessary documents, including hard copies, in the event that WIFI might be down or the executive cannot use their phone.
Your travel checklist for executive assistants
Be more detailed in the travel itinerary and make additional checks to bookings and reservations as required. While many have adapted to the pandemic, some venues and service providers may be struggling to keep up.

Good communication is necessary to brief the executive successfully, hopefully leading to a business trip with few complications.

As it's been a while since your executive may have traveled for business. Here's a checklist of things to keep in mind—and to hand—during their upcoming corporate travel trip:
Travel & logistics
Travel itinerary
Travel documents: VISAs, passports, vaccine certificates & hotel reservations, etc
Confirmation numbers
Carry-on requests
Google maps or some form of mobile map service
Loyalty or reward membership numbers
Car rental and parking information
Accommodation and venue bookings
Protocol for any last-minute changes
Finances
Company credit cards
Spending money in various forms (bank cards, prepaid cards, and cash/local currency)
Expense information and spreadsheets—or an app
Meetings and events
Bios on attendees
Location for meetings/events
Notes on dress code and business etiquette (for international travel)
Business cards and other relevant stationary
Hot spots and recommendations for sightseeing and extra travel time


Closing out with some extra travel tips for good measure
Turn on travel notifications and alerts
In the event of cancellations or changes to any form of travel, turning on travel notifications, alerts and opting for updates when booking is handy.
Wrapping up this travel checklist
Booking corporate travel can certainly be challenging with the ever-changing results of the pandemic. However, with a travel checklist like this one, organizing travel for your executives can be made easier and that much more efficient.

As you may have seen, TravelPerk can help you conquer a lot of the unknowns in travel. With the help of a 24/7 support team for business travel assistance operating at a target 15-second response time, a user-friendly app for your traveler's phones, and a powerful booking tool, you can rest assured that your executive is as prepared as can be for their travels. Give TravelPerk a try, and see for yourself.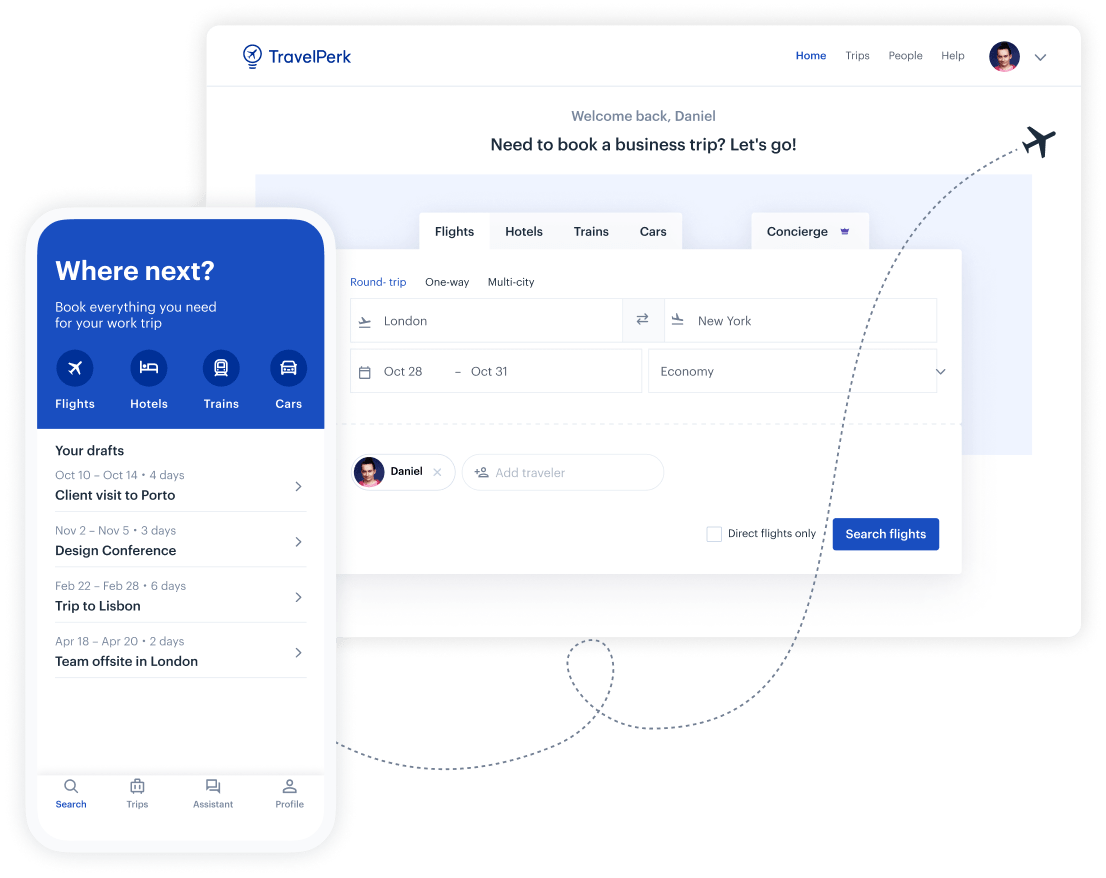 Make business travel simpler. Forever.
See our platform in action. Trusted by thousands of companies worldwide, TravelPerk makes business travel simpler to manage with more flexibility, full control of spending with easy reporting, and options to offset your carbon footprint.

Find hundreds of resources on all things business travel, from tips on traveling more sustainably, to advice on setting up a business travel policy, and managing your expenses. Our latest e-books and blog posts have you covered.

Never miss another update. Stay in touch with us on social for the latest product releases, upcoming events, and articles fresh off the press.