From corporate travel agencies and TMCs to a new generation of travel management platforms — this is your guide to business travel management.

Travel is an essential component of many businesses. Whether it's face-to-face sales meetings, customer visits or trade shows, the majority of companies rely on corporate travel in some form or another to help them achieve success.

But all of this travel can get complicated...and quickly.

How do business travelers know what flights and hotels to book? What happens if they need support while on a business trip? What is the best way to track and manage travel spend?

Enter: business travel management.

As corporate travel needs become more complex, many companies start to add tools, processes and people that can help them streamline the online travel booking process, improve employees' business trip experience, and help them stick to their travel budget.

But what are these tools, processes and people that help when traveling for business? And how are the best companies using them to improve their business travel programs?

In this article, we'll walk through:
The challenges of business travel management (cost in time and money), and
How you can overcome them to provide a better, more cost-effective system for your business travelers and travel managers (adopting the right corporate travel management solution). 


Understanding business travel management
To say that companies spend a lot of time and money on corporate travel would be a vast understatement.

In fact, business travel is typically the second biggest line item in the average company's budget — only topped by salaries. Knowing this, it's easy to see why companies need to be thoughtful and deliberate about how they manage business trips and travel expenses.

The first step of this process is creating a corporate travel policy.

These internal documents provide booking guidelines and expensing procedures to help travelers pick flights and hotels that are within budget and get reimbursed for these expenses as quickly as possible. Travel policies help communicate consistent flight and hotel booking expectations for travelers and streamline the approval process.

But, a travel policy is just the first step.

Most companies find that they need another layer of oversight and management to help control costs, provide support for business travelers, and book on behalf of busy employees.

Historically, companies have turned to one of two main options for this type of corporate travel management: corporate travel agents and travel managers.

What are business travel agencies?
For years, some companies have relied on travel agencies to help them manage business travel.

These organizations offer many benefits, including:
Industry expertise to help secure discounted or refundable travel options
Absorbing some of the time lost to booking and adjusting trips
Offering personalized support to corporate travelers on the road
But these benefits are counterbalanced by some serious downsides.

Relying on a corporate travel agency can be expensive, and it sometimes takes a lot of back and forth to finalize an online booking, negating much of the time saved by outsourcing in the first place. Plus, these agents tend to several corporate accounts at once, meaning they can be slow to respond and provide support when needed.

Given these tradeoffs, many companies insource the corporate travel management, bringing on an employee whose main job is to oversee the company's business travel program from the inside.
What are business travel managers?
Like travel agents, corporate travel managers can help your business coordinate travel logistics, book on behalf of frequent travelers, negotiate directly with airlines and hotels, and more.

Unlike corporate travel agents, these people are typically full-time employees of your company.

Sometimes corporate travel managers have other responsibilities (like office management or finance duties), but their primary job is to communicate and enforce travel policies, book travel for executives, and provide support before, during, and after a trip.

Given that these people are full-time, and can manage millions of dollars worth of corporate travel, it's important to find the right corporate travel manager for your business. What should you look for? Three places to start are:
Industry knowledge
Attention to detail
Collaborative mindset
But, just as there are with corporate travel agents, there are some downsides to employing a full-time corporate travel manager:
They can be expensive
May not be as effective as agents at negotiating discounts
Have to juggle other responsibilities in addition to booking and managing travel
So, before committing to a full-time corporate travel manager, you should make sure you actually need one, and that there aren't more lightweight, cost-effective solutions that could be just as (or more) effective.

Deciding whether your company should invest in a corporate travel agency or a travel manager (or something else) comes down to identifying your company's specific needs and balancing them with the general challenges of business travel management.
Challenges in business travel management
We've already discussed some of the difficulties of managing a corporate travel program, and some of the inherent shortcomings of corporate travel agents and managers.

But now let's look at this problem more closely and answer three important questions:
What should you look for in good travel management?
What should you avoid in business travel management?
What obstacles might affect global business travel in 2021 and beyond?


What to look for in business travel management?
An effectively managed corporate travel program has some important hallmarks: you will be saving time and money on bookings, you'll know exactly where you stand against your travel spend budget, and, most importantly, your business travelers will be happy.

If you can accomplish these three things, you'll find that your travel program is a lot more effective and streamlined than before.
What to avoid in business travel management?
But there are still some aspects of corporate travel that you'll need to make sure you're avoiding or minimizing.

The most important is booking and change fees.

Most corporate travel agencies charge a not-so-small fee every time you book a flight or hotel room through them. These fees add up quickly and can eat away at any savings you might be getting from negotiated fares.

Another important thing to avoid is a lack of visibility into your travel spend and budget.

Outsourcing travel management may save you time on the booking end, but if it makes it harder to track spend and stay under your budget, it's a net loss.

And finally, you'll want to avoid leakage, which occurs when travelers are put off by the process or delay of having their travel booked by someone else.

Instead, they use a consumer online booking tool like KAYAK for travel bookings, meaning that they're not getting access to negotiated fares and their travel expenses aren't visible in a centralized reporting tool.

Given all these nuances and complexities, it's no surprise that business travel management is changing. New tools and tactics are quickly emerging to help companies solve this vexing problem.
Trends in business travel management
In the last couple of decades, many manual, labor-intensive processes have been supplanted by lightweight, software-based solutions, and business travel management is no exception.
What's driving the latest business travel trends?
It wasn't long ago that booking and managing business trips took a lot of industry know-how and specialized tools. But improved technology (including consumer booking tools) and travel industry disruption have changed the landscape.

Now, many companies are turning to corporate travel software to replace the manual, cobbled-together processes that have been part of corporate travel management for years.

More and more companies are realizing that user-friendly travel management platforms that connect directly to flight and hotel inventory can save them time, money and headaches when managing their travel programs.
What are some expected developments in business travel?
As these tools mature, new trends in business travel management are emerging. Business travelers can more easily book their own travel, thanks to more intuitive interfaces and simpler workflows.

And, finally, spend management software is making it easier for travelers to get reimbursed for travel and expenses and for finance teams to view travel spend in real-time.
Why is it important for companies to keep abreast of developments in business travel?
As new tools emerge to help companies manage global business travel, it's more important than ever for you to keep up. If you're still paying fees for every business travel transaction, or providing lackluster support for your traveling employees, you're jeopardizing your company's success.

Given that corporate travel is such a large expense, companies who find incremental gains and more efficient processes will give themselves a meaningful competitive advantage.

Conversely, companies still relying on outdated, expensive options will be set up for failure.

But where should you start in your quest to bring on more modern, effective corporate travel management solutions?
Tools and resources for managing business travel
By this point you should know that new travel management platforms are emerging as a modern way to book, manage and report on corporate travel. All with lower costs, more flexibility and better support than older methods.
What is business travel management software?
At its core, corporate travel management software digitizes the work of a corporate travel manager. 

Travelers can use these apps in place of online consumer booking tools to book their own travel — while ensuring that they're staying within policy, earning personal loyalty points, and easily sending travel expenses for reimbursement. 

Travel managers can use the platforms to book on behalf of frequent travelers and provide consistent booking guidelines for employees who book for themselves. 

Finance teams can use these tools to get real-time visibility into travel expenses, reimburse employees automatically, and forecast future travel spend.
How can using a business travel management service reduce costs?
Perhaps the biggest advantage of the new generating of business travel management tools is their ability to help you save money in three ways:
The best corporate travel tools can give users access to negotiated fares and other cost-saving perks that were typically only available to companies spending millions in travel every year.
Because you can add bookings guidelines and limits directly into these tools, companies can save significant money, as travelers can more easily book within policy and finance teams are automatically notified when a booking exceeds suggested limits.
Finally, because business travel websites like Travelperk are easy to use and provide 24/7 traveler support, companies can save a ton of time they once had to invest in booking trips and providing support to road warriors. That freed up time allows employees to focus on the more important aspects of their jobs.

Business travel management is an important part of any successful companies, but the best aren't happy with the status quo — they're looking for new and better ways to book, manage and report on corporate travel.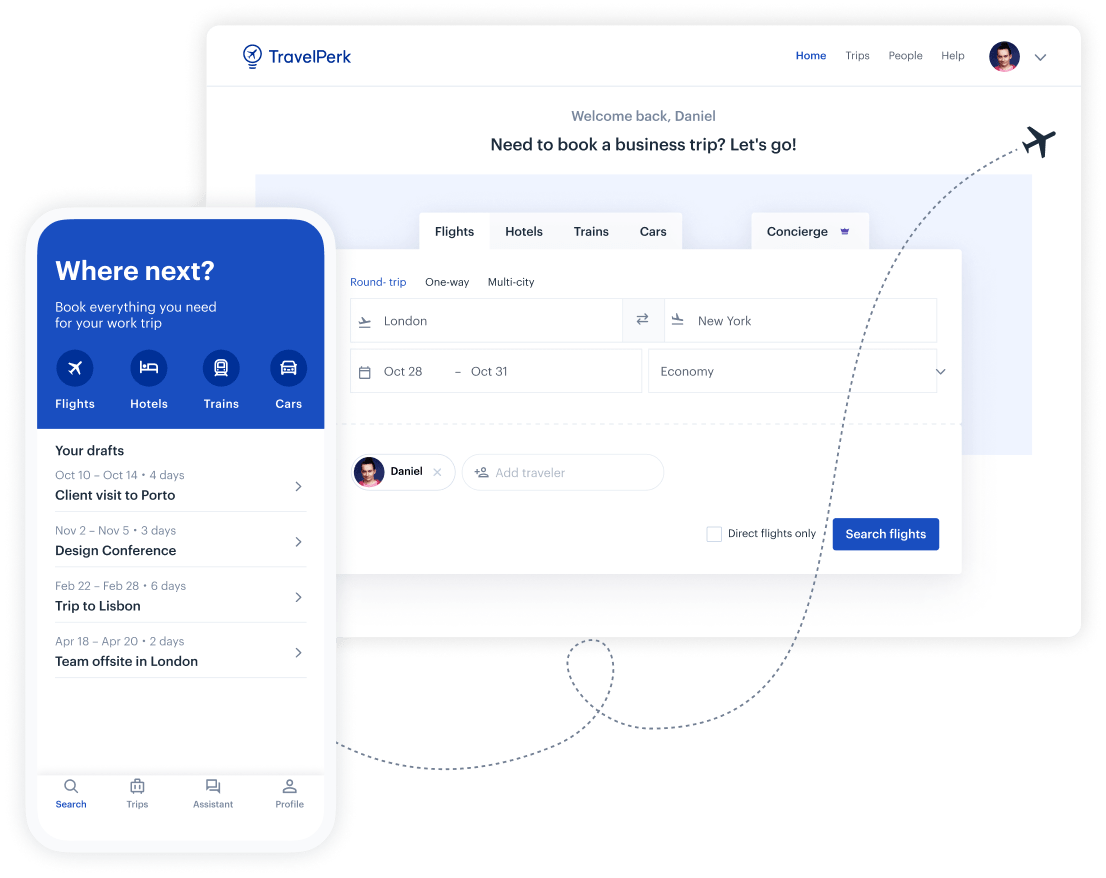 Make business travel simpler. Forever.
See our platform in action. Trusted by thousands of companies worldwide, TravelPerk makes business travel simpler to manage with more flexibility, full control of spending with easy reporting, and options to offset your carbon footprint.

Find hundreds of resources on all things business travel, from tips on traveling more sustainably, to advice on setting up a business travel policy, and managing your expenses. Our latest e-books and blog posts have you covered.

Never miss another update. Stay in touch with us on social for the latest product releases, upcoming events, and articles fresh off the press.