Some say is a fact of life: there is little about "economy class" that is economical. Not by the time you add in the not-so-hidden extra fees, the inconvenience and the discomfort.

So will you never enjoy the efficiencies and creature comforts of business class unless your business wins the lottery?

Not necessarily. Road warriors are tough and savvy, and you can use your business traveler miles to book better flights without blowing out your budget. But if you hope to score cheap business class tickets for yourself or your employees, you have to understand what drives fares for different cabin seats, know which airlines offer cheap flights and what's reasonable to expect.

Airlines with the least expensive business class
If you're a frequent flyer for personal reasons you know that certain airlines promote themselves as a low-cost carrier. Even when it comes to business class, some airlines are routinely a better bet for cheap flights. And while "business class" standards can vary dramatically, lowest cost doesn't always mean fewest perks. So, which airlines have the least expensive business class fares?

At least on certain routes, these airlines are always worth looking into:
Aer Lingus
Aero Mexico
Air Asia
Avianca
British Airways (surprised you with this, didn't we?)
Emirates (seriously -- Emirates business class fare sales are notoriously attractive)
Hawaiian Airlines
Icelandair
JetBlue
Jetstar Airways (a subsidiary of Qantas)
Norwegian Air (which claims status as the world's best low-cost carrier for long-haul flights)
TAP Portugal
Turkish Airlines
Keep in mind that air travel and airlines themselves are constantly evolving, so what is true today may not be so tomorrow. It always pays to compare before you buy, and not only outright cost. As noted, what you get for those cheap business class tickets might be a magnificent array of amenities without any service fees, or it might be barely better than coach. You might not care on a short flight, but the longer you'll be in that seat the more you'll appreciate a quality experience.
Business class airfare changes throughout the year
Not surprisingly, supply and demand can drive business class costs up or down. Fly to a popular destination during high season, and expect to pay a lot. During low season, you may more easily score a cheap business fare. But there are other factors that affect the best time to buy business class flights, including day of the week. Weekends are worst, Tuesdays are best, so if you can be flexible with booking, you could save big.

Business class fares can actually change through the day as well as throughout the year. You can't predict which direction they'll go, though, so at some point you'll have to make a buying decision and move on. After all, you have work to do.

Booking last-minute will virtually guarantee the highest possible price. Airlines know you're desperate to secure that seat, at any price, so they increase fares as the flight date nears. One of the best business travel tips you'll ever hear: book at least 21 days out and you'll have the best shot at landing cheap business class flights.
Best airline discounts for business class
While some airlines have a reputation for offering generally cheaper fares for international flights, many more offer periodic discounts on business class. Typically, you'll pay less for your ticket and also save money by avoiding service fees for everything from airport lounge entry to baggage check and in-flight entertainment. That said, the perks associated with business class are vastly different from one airline to another, so if you're expecting a lie-flat bed or otherwise posh treatment, research airlines before you look for cheap flights.

A few airlines that offer great discounts on business class are:
Emirates, considered to be the ultimate in traveler pampering. Emirates often holds business class flash sales and sometimes offers business class BOGO (2-for-1) fares, which can save thousands if you're traveling with a colleague.
La Compagnie, a French carrier that offers 100% business class seating.
Cathay Pacific, Etihad (a UAE-based airline) and Virgin Atlantic, known for auctioning off available premium seats as flight dates get close.
How can you track business class discounts and flight prices?
You can find discounted fares on international flights as well as short, domestic routes if you learn the best ways to track fares and keep your eyes open for bargains:
Watch individual airline websites for special promotions or online fare auctions.
Bookmark websites such as First Class Flyer and MightyTravels that highlight deals on premium airfare, and sites such as Google Flights to receive fare alerts.
Take quick advantage of mistakes. Airlines are known to accidentally advertise one-way fares as round-trip or inaccurately list prices, and most of the time they'll honor what they promoted if you book.
Look for promotions and discounts on first class fares as well as business class.
Book with a low-cost carrier. For example, JetBlue Mint and Icelandic Air WOW offer cheap business class tickets with nice amenities that require no service fees, but the seat itself won't be much of an improvement over coach.
When do airlines offer discounts on business class?
Aside from periodic special promotions of one kind or another, you may also score cheap business flights if you plan your travel during school holidays. While economy may be packed with families, business and first class seats often go empty because parents are on break with the kids.

One option that's always in season is frequent-flier programs. You can use accrued miles (loyalty points) from the rewards program to purchase upgrades to business class if seats are available, or even buy your entire ticket if you have enough points. You can also take a chance on using miles to upgrade at check-in, but the closer you are to flight time the less likely there will be upgradeable space available.


How to get a cheap airline upgrade to business class
Back in the not-so-distant old days, airlines would upgrade passengers to a premium cabin seat – especially if you were a loyal frequent flyer -- just as a courtesy, if there was space. It could still happen, if you ask nicely and are dressed as if you belong in business/first class, but don't count on it. Upgrading as a nicety has been replaced by computer-generated eligibility based on factors such as frequent flyer or loyalty program status or purchase of an upgradeable ticket.

That said, there are steps you can take to increase your odds of flight upgrades, both paid and free. But you have to know how airline upgrades work these days. Each one is a bit different. First, know what you'll get so you can decide if upgrading will be worth it. For example, not all airlines provide lie-flat beds on long and international flights.

Interestingly, airlines are more likely to upgrade passengers if the main cabin is full. Since they deliberately oversell seats, they may need to shift some passengers to business/first class to accommodate everyone. It's easier to move a business person traveling alone than couples or families.
How can you get upgraded to business class?
Racking up miles as a frequent flyer is a sure way to get free future upgrades. Attaining elite status with an airline opens the door to occasional automatic upgrades, but you can always use miles to "buy" an upgrade if seating is available.
You can also pay cash for an upgrade, again depending on availability, if you aren't able to score cheap business class flights to begin with.
Check in as early as possible if you're hoping to buy a last-minute upgrade, so you'll have the best chance of availability.
It never hurts to ask. Please.
If the airline has seriously inconvenienced you by fouling up your travel plans, ask if you can get an upgrade to business/first class for your rebooked flight, if possible.
If your company works through a corporate travel agency, ask their rep if they can boost your seating quality.
Watch for discount promotions and 2-for-1 offerings that will provide the best deals on business class tickets.  
Join airline rewards programs
There is no downside to doing this, and the rewards (so to speak) can be considerable. Be sure you sign up for the loyalty program of every airline your employer uses for business travel. Do this before you ever book, so you don't miss out on miles. Most companies allow employees who travel for business to keep the miles they earn, which means you can use those points to purchase future tickets or upgrades for business trips or personal travel.

If you rack up enough points with a specific airline, you can achieve elite status, which comes with additional perks – things such as exclusive security lines (think shorter and faster), airport lounge memberships, free bag check, and early boarding (which increases your chance of stowing your carry-on directly over your own seat).  

Most airlines and travel-associated credit cards offer sign-up bonuses, either a big slug of miles to get you started or a free upgrade to a premium seat. Right away, you benefit. But the real value is in accrual of miles/points you can redeem for already-cheap business class tickets and upgrades. You earn points every time you purchase a ticket, and every time you use the credit card. Card points are often applicable to hotel stays and other travel-related needs as well as airfares.
How to find the best deals for business class
We talked earlier about some of the resources you can use to find cheap business class flights. To review:
Sign up for updates from individual airlines (and always check their sites to compare fares).
Sign up for websites that alert you to cheap flights.
Watch for discount promotions, flash sales, auctions, etc. that can translate to cheap business travel. Etravelbid, First Class Flyer, Flyfirst, Google Flights, ITA Matrix, MightyTravels and Skylux Travel are popular.
Follow cheap fares blogs such as AirfareSpot, The Points Guy, No Mas Coach, and View from the Wing.
Watch for mistake fares that could inadvertently save money.
Talk to corporate travel agents about discounted fares and how to skip paying service fees.
Sign up for frequent flyer rewards programs.
What about packages?
Instead of looking for cheap business class tickets, should you purchase a package that includes hotel and other travel-related needs as well as the flight? Maybe. You can definitely save by bundling, but for business travel, beware. If something goes awry with one part of your package, that will affect (negatively, no doubt) the rest of your arrangements as well.

On the upside, booking a package can be a financial life-saver for last-minute business trips, helping offset or even erase the high cost of last-minute flights.
What should you consider when buying inexpensive business class tickets?
Timing. Booking as early as possible is always better than last-minute. Less convenient scheduling is usually cheaper. And if you can be flexible regarding which day(s) you travel, you might benefit in two ways. You can find cheaper fares, and if you have to add a day or two to your trip, you've just given yourself a bleisure opportunity. Smart planning!
Destination. Low fares are unlikely to hot spots during high season.
Distance. Long flights virtually demand business class travel.
Total cost. What do you get for your purchase versus what are you sacrificing? Intangibles such as having to make multiple connections, travel at a weird time, stay in a hotel that's inconveniently located, or foregoing that lie-flat bed you so wanted can outweigh monetary savings.
Frequent flyer miles. Use 'em if you've got 'em!

Conclusion
Business class travel, especially on long-distance and international flights, may be expensive, but its appeal is rapidly growing among road warriors who've had it with the hassles and discomfort that now define economy/coach. The simple ability to choose your seat, work comfortably on your laptop or lie down for a snooze are well worth the extra cost, even if you don't get all the other perks that sometimes come with premium tickets.

Still, saving money is a smart business move. And there are find cheap business class flights to be had, once you know how to play the game.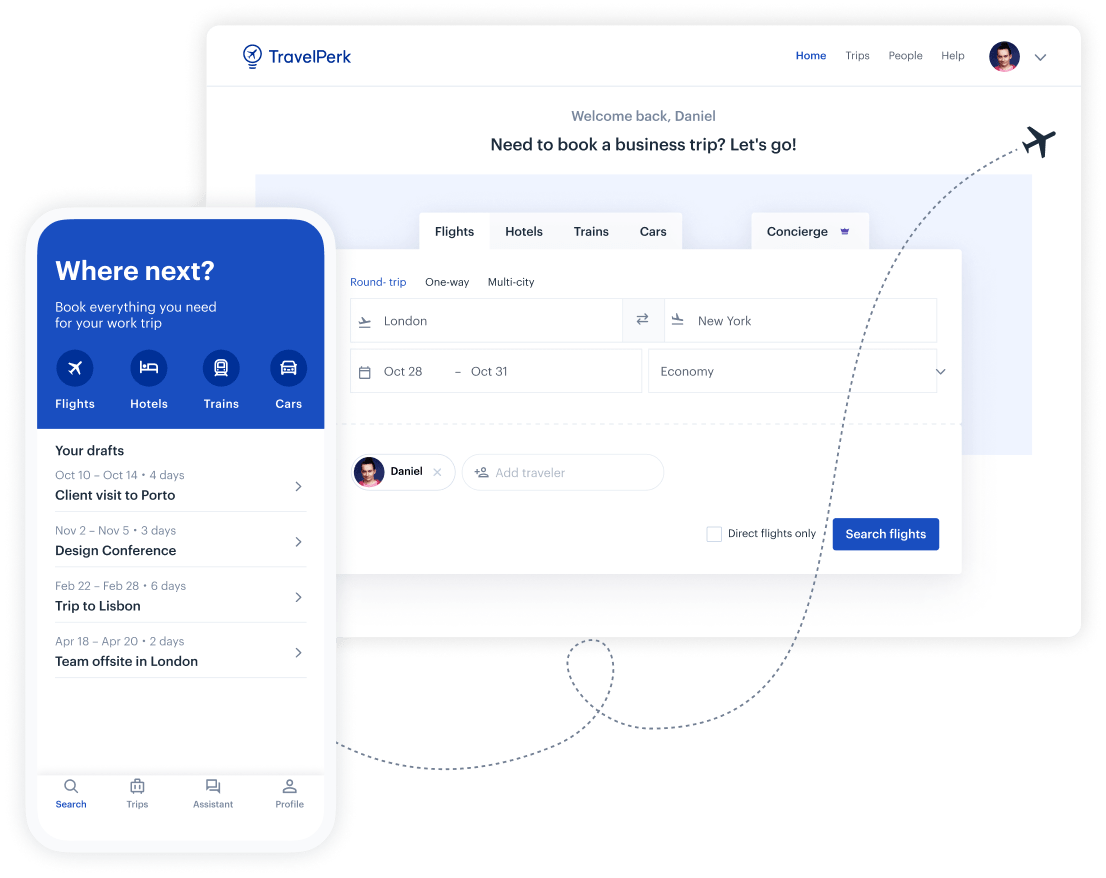 Make business travel simpler. Forever.
See our platform in action. Trusted by thousands of companies worldwide, TravelPerk makes business travel simpler to manage with more flexibility, full control of spending with easy reporting, and options to offset your carbon footprint.

Find hundreds of resources on all things business travel, from tips on traveling more sustainably, to advice on setting up a business travel policy, and managing your expenses. Our latest e-books and blog posts have you covered.

Never miss another update. Stay in touch with us on social for the latest product releases, upcoming events, and articles fresh off the press.