The hospitality industry is adapting to a post-pandemic world defined by remote working, virtual meetings, mobile accessibility, and new concerns about health and safety.
The hospitality industry's main goal is to provide an enjoyable experience to customers. It's the hotels, restaurants and bars, airlines, and travel agencies that focus on ensuring you're having a great time.
The hospitality industry is a key contributor to both national and international economies worldwide—let's take a look at the statistics and trends defining it right now.
The international hospitality industry at a glance
These are the can't-miss stats outlining the state of the hospitality industry heading into 2022.
Important accommodation and hotel industry statistics
Accommodation is a key part of the hospitality industry, and priorities are shifting when it comes to the consumer's ideal stay. Take a look at these stats for a better look at what consumers want.
Check out these transportation statistics
It's crucial to understand the state of the transportation and travel industry, as it heavily impacts the rest of the hospitality industry.
Take a look at how the travel industry is doing.
Business travel looks a little different now
Remote working has opened a new opportunity for people to travel–wherever they go, they can take their office with them. Additionally, despite online events booming in 2020, people are ready for some irreplaceable human interaction again.
Let's take a look at key statistics of business travel and how these indicate a deep–and seemingly lasting–change in the industry.
Employment in hospitality is shifting
The hospitality industry employs millions of people directly and indirectly–here's how things are looking as of 2022.
Millennials are an important demographic to pay attention to
Millennials are a key player in the hospitality industry. About 65% of millennials consider business travel a sign of status and tangible proof of their importance to the company.
Since millennials are becoming the main players in the world's workforce, it's important to pay attention to what they do.
Ecotourism and sustainability are now a major concern for travelers
More and more people are becoming conscious of the importance of protecting the environment—and hospitality is having to respond to demands for greener alternatives.
How is the US hospitality industry doing?
The hotel and lodging industry is one of the most important drivers of economic growth in the US. Big names in the industry like Expedia, Booking.com, Airbnb, and even Disney Amusement parks all originated in the US.
Here are some interesting stats relating to US the hospitality industry you don't want to miss.
What about UK-specific hospitality stats and trends?
According to the House of Commons, the hospitality sector contributed up to £59.3 billion in Gross Value Added to the country's economy—around 3% of the overall UK economic output—in 2019.
Here are some of the key hospitality numbers in the UK-specific market.
How COVID-19 has impacted the hospitality industry
Travelers, hoteliers, and managers are adapting to the changes that COVID-19 has made to the industry.
These changes include more online bookings, the increased importance of mobile accessibility, new remote working possibilities, new tech in the industry, and other key changes that give a fresh new look to an old age industry.
Safety first approach for hotels and airplanes
Travelers want to feel safe undergoing post-pandemic travel. They want a contactless experience that complies with social distancing measurements, as well as increased attention to hygiene in hotel rooms, airplanes, and restaurants.
In fact, 66% of travelers also worry about maintaining social distancing through spacious seating on flights. Putting these worries to rest is key for the future of the hospitality and travel industry.
User experience and flexibility are now more important
Being able to quickly reach providers is the top concern of 70% of travelers. Plus, over 50% of business travelers said that travel restrictions put them off booking arrangements for fear of not having them refunded.
These trends indicate that travel managers and providers will need to provide better assistance and more flexible cancellation policies, in order to attract and maintain customers.
Scheduling will be different
Travel planning windows are becoming shorter. Travelers will look for tickets and accommodation closer to the date of departure than they did pre-pandemic.
Our data reveals that searches for trips less than 6 days away are now almost equal to searches for trips between 7 and 30 days away. Before the pandemic, the vast majority of trips were searched for and planned 7 to 30 days in advance.
'Bleisure' is the next big trend in hospitality
Thanks to remote working more people are traveling for bleisure—business trips that turn into leisure trips. According to a report by Future Market Insights, the bleisure tourism market is expected to reach a valuation of $ 497.5 billion in 2022, with sales growing at an impressive 19.5% CAGR over the assessment period.
Taking bleisure into account when establishing travel policies is key for the harmony of this new type of travel. In fact, 57% of companies allow employees to extend business trips as part of their policies.
Wrapping up on hospitality statistics and industry trends
The hospitality sector focuses on giving customers what they want—understanding these wants is key to success.
These up-to-date trends and statistics highlight the current state of the hospitality industry, as well as some of the key areas for consideration in upcoming years.
Whether it's new technologies, streamlined upgrades, or simply more available rooms—the hospitality industry must adapt to consumers' evolving wants and needs.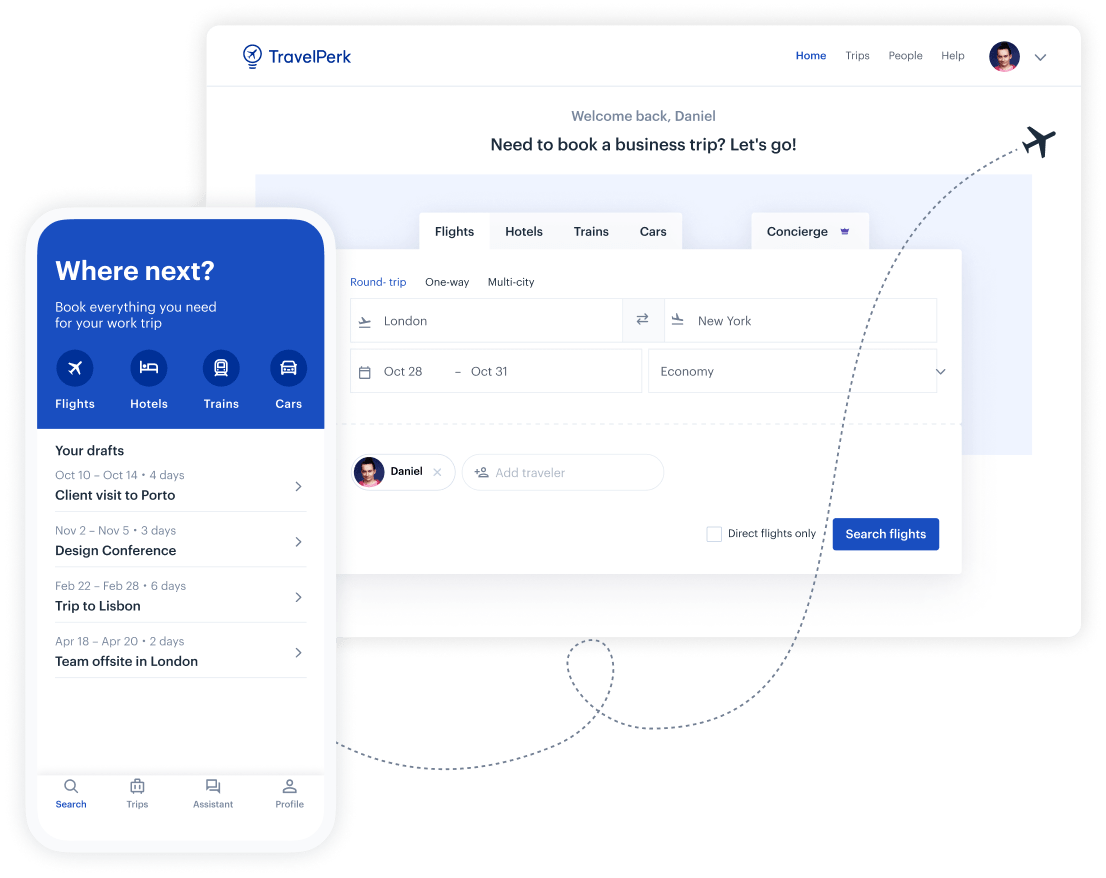 Make business travel simpler. Forever.
See our platform in action. Trusted by thousands of companies worldwide, TravelPerk makes business travel simpler to manage with more flexibility, full control of spending with easy reporting, and options to offset your carbon footprint.

Find hundreds of resources on all things business travel, from tips on traveling more sustainably, to advice on setting up a business travel policy, and managing your expenses. Our latest e-books and blog posts have you covered.

Never miss another update. Stay in touch with us on social for the latest product releases, upcoming events, and articles fresh off the press.